Living Trust Georgia - Everything You Need to Know
If you are looking for ways to manage your estate in all stages of life, a living trust is a great option for you to make sure your assets are well taken care of. While you might think that trusts are only for the ultra-rich, anyone can make a living trust no matter how much money you have. DoNotPay can help you create a living trust for your assets quickly and easily, saving you both time and money. Read more about living trusts and how DoNotPay can help you make yours below. 
Living Trusts - The Essentials 
Before you consider making your own living trust, you first need to know what exactly a living trust is. Living trusts, also known as revocable trusts, are a way for you to legally manage your assets while you are alive, incapacitated, as well as after your death. When you create your revocable trust, you can place assets into the trust to be managed by the chosen trustee. This trustee can either be you, or a third party that you chose to handle your assets. Living trusts can help you:
Make sure your assets are managed responsibly

Avoid probate after your death

Help your beneficiaries avoid fees in the future
Irrevocable vs. Revocable Trusts - Which is Better?
There are two major kinds of trusts that are often used to manage people's assets. These two types of trusts are:
Irrevocable trusts

Revocable living trusts
The biggest difference between revocable and irrevocable trusts is that revocable living trusts can be easily changed any time after they have been created. With a revocable trust, you can adjust how your assets are managed, add or remove beneficiaries, and make other changes after you initially start the trust. With an irrevocable trust, it is very difficult to make any changes to your trust after you have created it. Because of this, a revocable living trust is a much easier way for you to handle your assets. Read more about the differences between the two kinds of trusts here. 
Living Trusts in Georgia
While the basic components of a living trust are similar in every state, it is always important to make sure you know the specific process for establishing a revocable trust in your state. In the state of Georgia, making a living trust can be a simple process. To make a revocable living trust in Georgia, you need to:
Create your trust document

Name your beneficiaries and trustee

Sign your document in front of a notary public to transfer your assets into your trust
In Georgia, a living trust is an easy and accessible way for you to manage your property during your life and ensure that your assets are properly taken care of after your death. To read more about how to set up your living trust, click here. 
Trusts vs. Wills - What's the Difference?
Living revocable trusts are a great way to make sure your property is distributed and taken care of the way you want after your death. But, you might be wondering what makes this document any different from a common will. To see the differences between the two legal documents, look at the table below. 
| | |
| --- | --- |
| Living Trust | Will |
| In effect while you are living, even if you are incapacitated, and after your death | Only in effect after your death |
| No need for any probate | Must go through the probate process |
| Does not publish your private documents or information | Makes your private documents and information public record |
| Avoids future costs for your beneficiaries | Potentially creates costs for your beneficiaries |
| Avoids court disputes | Possible disputes in court |
The most key difference between the two documents is that a living trust is effective as soon as you create it, and after your death is still effective without the need for probate. Creating a living trust does not mean you can't or shouldn't also create a will, but a living trust can help you take care of your property without extra costs or hassle for your beneficiaries. Learn more about the difference between wills and trusts here.
How to Set Up Your Living Trust
If you want to create your own revocable living trust to manage your assets, there are many ways for you to start your process. You have a lot of options to choose from to help you set up your living trust. You can:
Use an online template

Write it yourself

Hire a lawyer to create your trust

Use

DoNotPay

to help you create your trust
While you can try to write your living trust documents on your own or using a template, that is not advisable given how important these legal documents are. Hiring a lawyer can reassure you that your trust is properly created, but lawyers' fees can be extremely expensive and the process can take up a lot of your time. Luckily, DoNotPay can help you create a well-written living trust document while saving you time and money. To learn more about how to create a living trust, you can read more of our articles linked below. 
Set Up Your Revocable Living Trust with DoNotPay
If you want to create a living trust and make sure your assets are taken care of throughout your lifetime, DoNotPay can help you make a well-written trust without wasting your time or money. To set up your revocable living trust with DoNotPay, all you need to do is:
Search for the Revocable Living Trust product in

DoNotPay

Answer some of our questions about your area, your trustee, beneficiaries, and assets

Once your document is created, sign the document in front of a notary public
After you sign your document, you have created your living trust!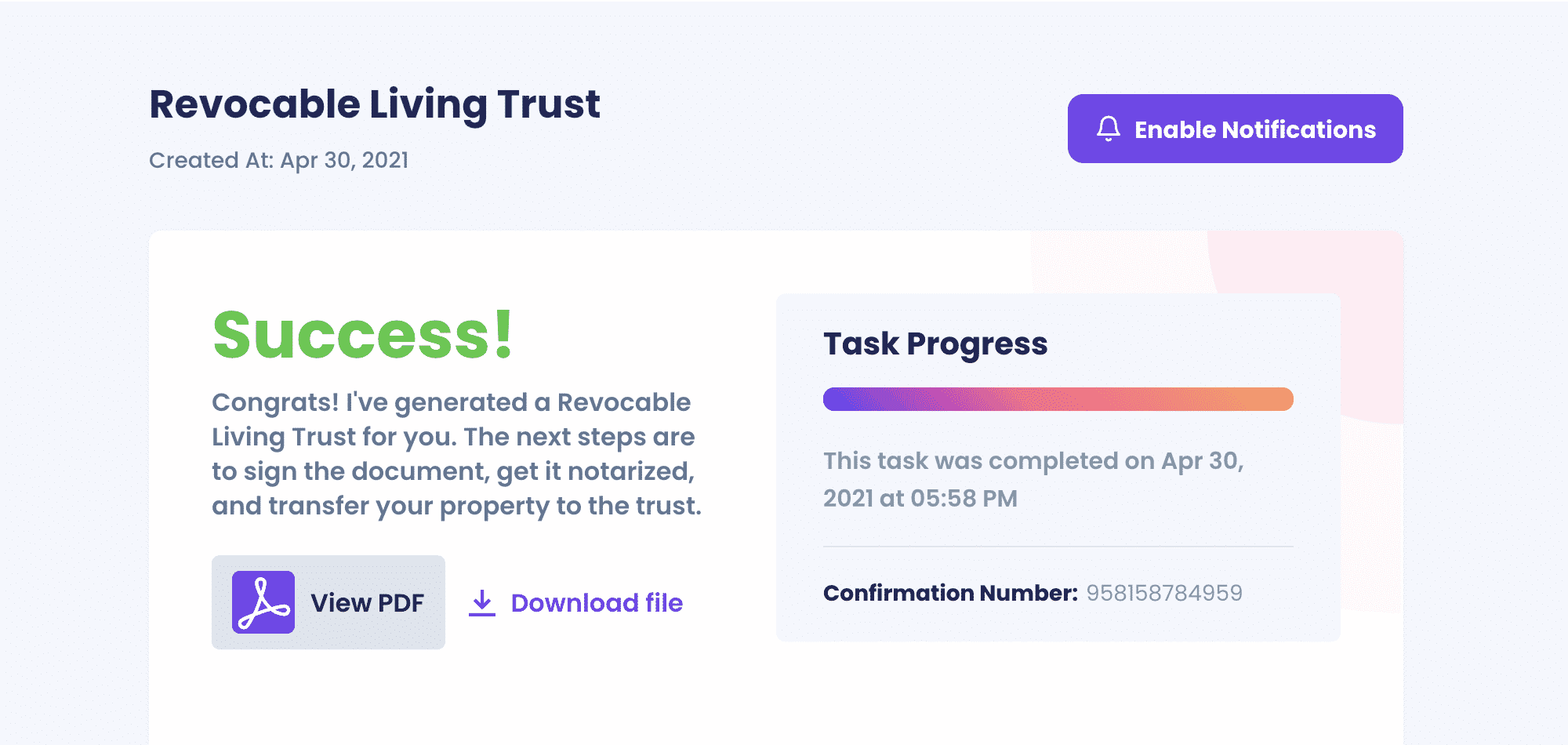 What Else Can DoNotPay Do?