The Complete Guide to Setting Up Your Living Trust Funds
Before you set up your living trust, the three major elements you need to determine are:
Who will benefit from your trust 

Who will manage your trust

How to fund your trust
Funding your living trust simply entails selecting which properties and assets should go into the trust and how you can add them. 
The rest of this article will help you understand different asset classes and what you need to do to transfer them into your trust, legally. Once you're ready, you can start setting up your living trust with !
Living Trusts in Your State
Want a more detailed guide about living trusts about your state? Find your state in the table below:
Living Trusts Explained
A living trust is an estate planning tool that allows for the seamless transfer of your assets to your loved ones after your demise. Generally, a living trust functions like a will but there are specific differences you should note. With a will you:
Have an estate plan that is only active at death

Need probate clearance before your beneficiaries can inherit your estate

Leave the transfer of property at the hands of the court
A living trust helps you manage your estate while you're still alive. It also avoids probate because the trustee will be the one overseeing the trust, not the courts.
Types of Living Trusts
There are two major types of living trusts — revocable living trusts and irrevocable living trusts. When you fund and activate a revocable living trust, you reserve the power to make changes as you please and directly bear the responsibility of taxes. On the other hand, no changes can be made to an irrevocable trust once legally active. However, an irrevocable trust becomes its own entity and is issued its own tax ID. It's important to weigh the pros and cons of both and select the type that best fits your needs.
Funding a Living Trust
One of the most technical aspects of setting up a trust is funding it. Some assets, by the nature of their acquisition, are easy to add to trust while others aren't. When done right, you benefit from:
Avoiding probate
Having a trustee over your asset
Having your assets go to your chosen beneficiaries
Assets you can add to a living trust
Types of assets for your living trust
Examples
What do you need to do?
Assets with titles

Yachts, motorcycles, private jets, exotic cars, etc.

Change the title of the property and assign it under the trust.

Assets without titles

Furniture, jewelry, paintings, and other items.

Prepare a legal document that assigns the asset(s) to the trust. 

Stocks and securities

—

Contact your broker to effect a title transfer of your stocks in the name of the trust

Bank accounts

—

Depending on the bank, you may have to change the holder status of the account or close it altogether and transfer it to a trust account.

Certificate of Deposits (CoD)

—

You will have to wait for the maturity date before transferring a CoD to a trust.

Corporate interests

Co-founder status or business partnership shares in liability companies and corporations. 

Contact other shareholders and request a transfer of share title to the trust. 

Real estate

Properties, houses, complexes, etc.

You can officially relinquish your claims through a special quitclaim deed.

If you have a pending mortgage, you will need to visit your bank or contact the homeowners association to know how such debts can be transferred. 
How to Set-Up a Living Trust
Here is a complete list of steps that must be taken to create a living trust:
Choose what type of living trust you prefer —

a joint living trust

(which is ideal for couples) or an independent one

Choose your beneficiaries as you please

Register yourself as a grantor and select persons to become your trustee

Select what assets to add to your living trust

Fill out a trust

form

Legalize your completed living trust form at a state court and obtain a certificate of the trust
Create a Living Trust With DoNotPay
Ready to start your living trust process? DoNotPay can help you avoid exorbitant legal fees. Here's how:
Log-in to

and select the Revocable Living Trust product
Enter the state you live in
Assign your beneficiaries
Assign your trustee(s)
Name the assets and properties that will go under the trust
Once you're done, DoNotPay will have a revocable living trust ready for you! Just download and print the forms and get the living trust notarized.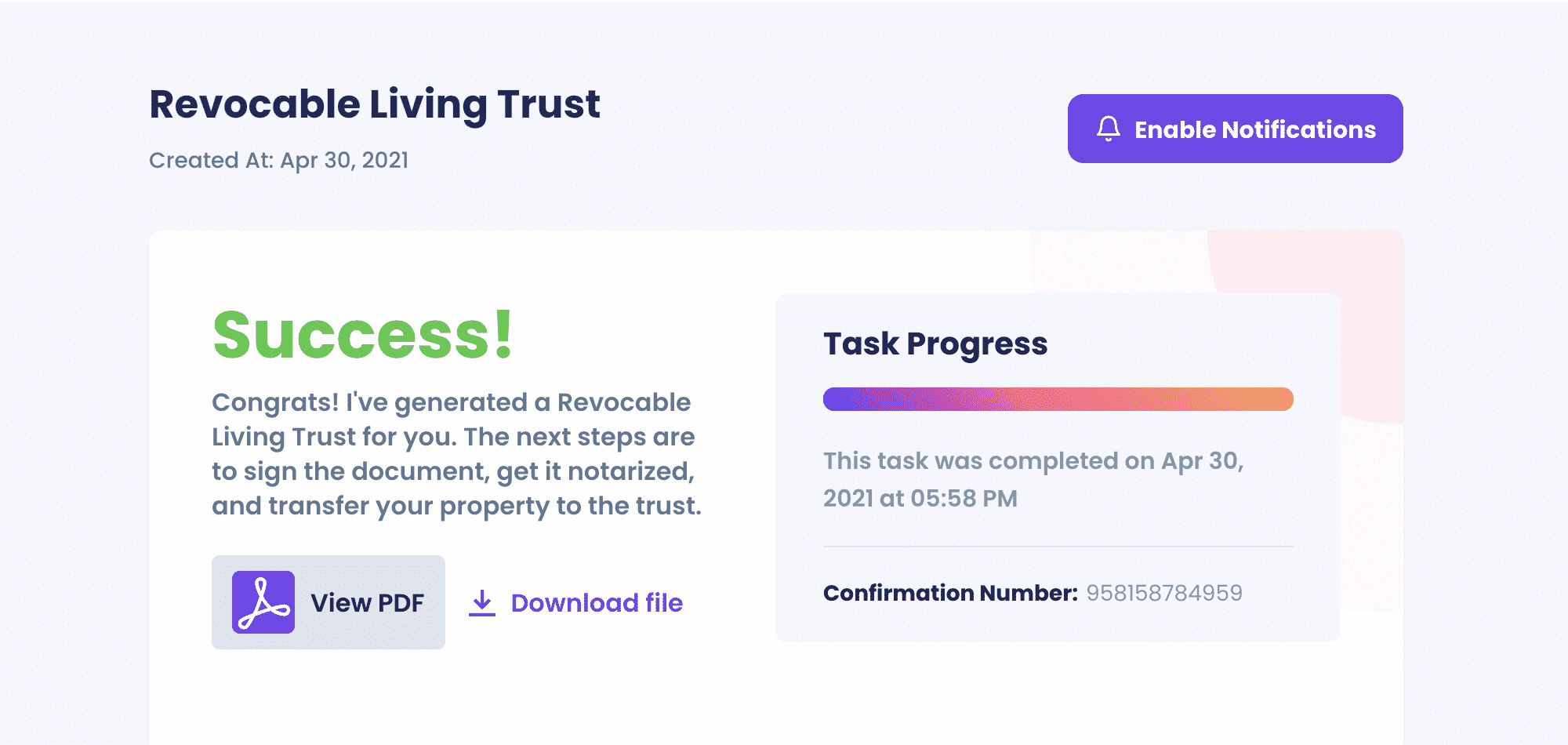 DoNotPay Puts in Work
Estate planning isn't all - the robot lawyer can help manage subscriptions and appeal parking tickets in just a few clicks! Here's what else DoNotPay can do: