DIY Legal Documents: Living Trust Forms
A living trust is an important estate planning tool that can help you manage your estate after you pass away. A ready-to-fill-out living trust form lets you create this legal document without the high expenses or the stress. In this article, we will explain what living trusts are and how you can create one on your own with DoNotPay.
What is a Living Trust?
A living trust is a legal document that allows you to distribute assets to loved ones and organizations after you have passed away. It is an entity that has ownership of assets that you will fund into it while allowing you to maintain control over it. Any property that has value can be funded into a trust and these include real estate, savings accounts, stocks, bonds, jewelry, artworks, and many others. It is different from a will in that it doesn't have to go through probate and the details remain private. There are two types of living trusts:
Revocable trusts

– Also known as 'revocable living trust' or simply 'living trust', this is the most common and flexible type of living trust. It allows the grantor to revoke or amend the trust at any time before he/she passes away. Changes may include adding or removing more properties, adding or removing beneficiaries, amending provisions, or selling an asset in the trust. A

revocable trust becomes irrevocable

once the grantor passes.

Irrevocable trusts

– An irrevocable trust cannot be canceled or changed once ownership has been transferred. There have been extremely isolated instances of an irrevocable trust being changed, but these are very time-consuming and expensive processes that require the consent of all the beneficiaries or a judge's order. Despite its rigidity, grantors with large estates set up an irrevocable trust for

tax

benefits. Since it can remove assets from a person's taxable estate, it is handy in keeping estate values below the federal estate tax exemption.
Advantages of a Living Trust
A living trust has become increasingly popular because of the bevy of benefits it offers. With the right trust language, a trust can address many challenges. They are not restricted to avoiding probates or minimizing estate taxes. Let's go in-depth on the many reasons why you should consider a living trust:
Lets you avoid probate – A probate is a court proceeding that supervises how a deceased person's estate is distributed. It is often winded and so costly that it can eat up a beneficiary's inheritance. Estates in a living trust don't have to go through probate because the appointed trustee steps in to distribute assets according to the specifications of the trust. This cuts the distribution process from months and years to merely weeks. 

Lets you save money – Although a living trust is more expensive to set up than a

will

, a living trust can provide better protection against loved ones who wish to challenge the distribution. It's in this way that a trust can save you and your beneficiaries money.

Lets you maintain your privacy – A will is a public record whereas a trust is not. It is a private document between the parties involved only and the details do not become a public record.

Can assist you in the event of incapacitation – If the grantor becomes physically or mentally ill, the successor trustee can step in to manage the affairs of the grantor's estate without the need for court intervention. 
Disadvantages of a Living Trust
It would not be fair to talk about the benefits of a living trust without going through its drawbacks. Despite its popularity, a living trust also comes with its own set of disadvantages. Here are some of them:
Requires extensive paperwork – Drafting and signing a trust before a notary public is not more difficult than that of a will. However, the crucial step of funding the trust can be a lot of work. In the said step, you must ensure that ownership of the assets that you moved to the trust is also legally transferred to that of the trust. This includes re-titling of properties or preparing and signing a new deed.

Record-keeping must be maintained diligently – If you move or remove properties from or into the trust, you must keep written, daily record records.

Transfer taxes could be levied – In some states, transfer taxes could be applied whenever you transfer real estate to your trust.

Difficult to refinance –  Lenders and financial institutions may refuse to deal with you in your capacity as a trustee when refinancing. If this happens, you may have to move the property out of trust first and move it back after you can refinance it.

No protection from creditors – Properties that go through probate have some protection from creditors. It's because creditors need to file claims against your estate before a certain period, in some states, which could be six months.
How to Make a Living Trust on Your Own
Living trust forms can help you easily execute wishes on your estate planning. These documents allow you to specify who will inherit your estate but also provide you and your family with peace of mind. Here are some of the elements that you need to prepare for your living trust:
| | |
| --- | --- |
| Element | Description |
| Beneficiaries | The individuals or organizations that will inherit the estate at the grantor's death. |
| Grantor or Settlor | The individual who is setting up or creating the trust. |
| Trustee | The person who will step in to take charge of the trust when the grantor dies. He/she will take full control of the assets in the trust and have a fiduciary responsibility to make sure the trust is carried out as specified. |
| Successor Trustee | If the trustee is not able to make decisions or take action on behalf of the trustee, the successor trustee takes over.  |
Get a Living Trust from DoNotPay
When you are ready to set up your living trust, you can also hire a legal expert to do it for you. However, expect to pay around $2,000 and around $8,000 for joint living trusts. DoNotPay offers a more cost-effective option. Our AI lawyer can help you set up a living trust in just a few clicks:
Create a

DoNotPay

account

Enter the name and address of your trustees and living children.

Enter the location where the document will be notarized.

Enter the details of your beneficiaries.

Enter all other details such as the name of trust, assets, and audits.
That's it! DoNotPay will automatically create a revocable living trust for you!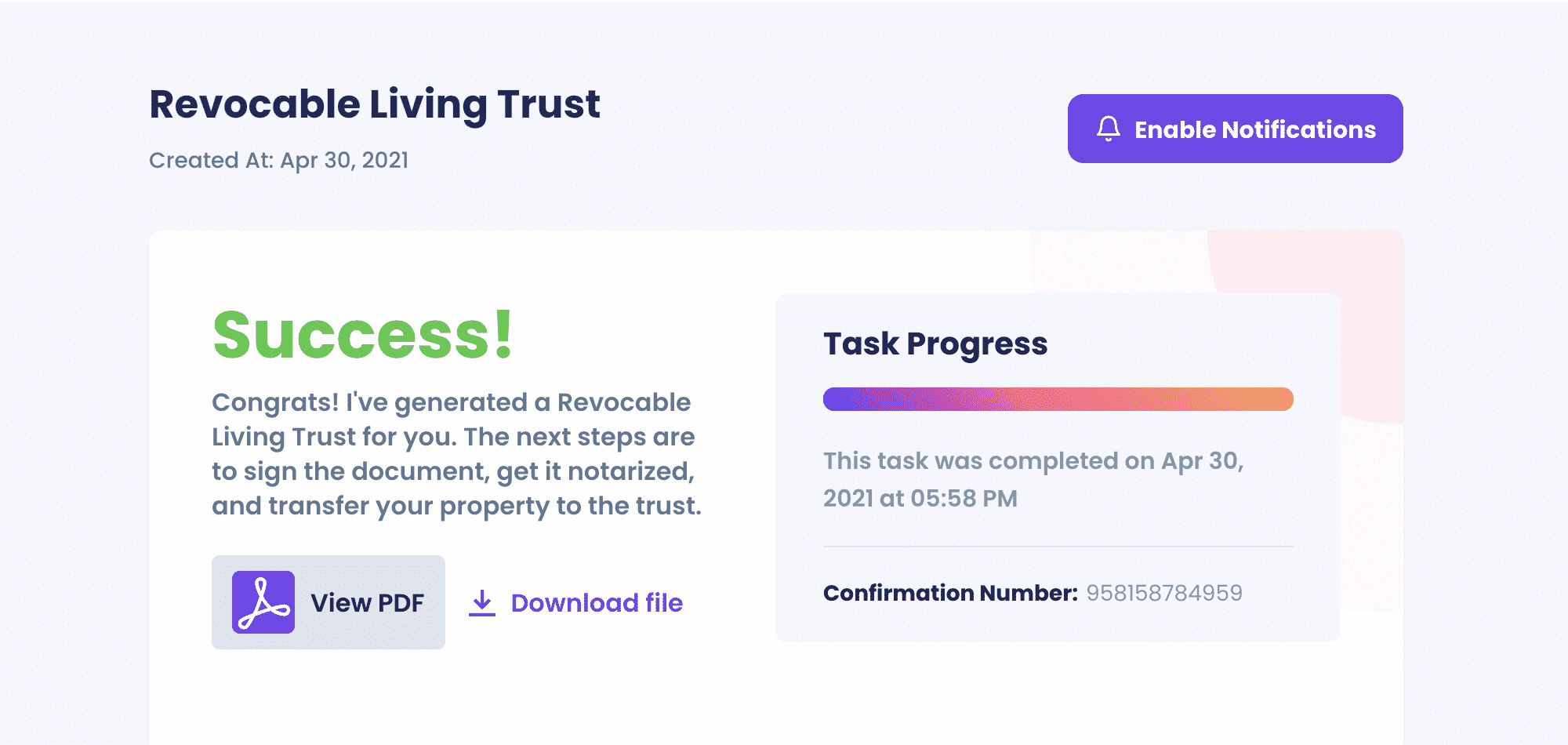 We can help you create living trusts in:
DoNotPay Helps You With...