Living Trust Florida - Explained
One of the best ways to pass the estate to your family and the younger generations is to draft a living trust in Florida. This is most often the cornerstone of any estate management plan. Because of the protection and flexibility it offers, a living trust is often treated as a substitute for a last will and testament. In this article, we will go in-depth into the process of creating a Florida living trust.
What is a Living Trust?
A living trust is a type of estate management fund that the grantor creates in his or her lifetime. All of the grantor's assets and properties are moved into the living trust so they can be inherited by beneficiaries when the grantor passes away. There are two types of living trusts and they are explained below:
Type
Description

Revocable trust

A

revocable trust

is a trust in which the terms can be amended or canceled at any time while the grantor is still alive.

Irrevocable trust

An irrevocable trust is a trust that cannot be modified after it has been signed. A revocable trust automatically becomes irrevocable at the grantor's death.
Benefits of a Revocable Living Trust in Florida
Setting up a revocable trust affords you a bevy of benefits. In addition to the flexibility that it offers, it can also allow you and your beneficiaries to avoid probate. Here are some of the benefits of creating a Florida revocable living trust:
Types of Assets You Can Fund Into a Florida Living Trust
The assets that you can move to a Florida living trust are those that have value and could be tangible or intangible. Properties that are titled under your name or do not have a beneficiary or a survivorship provision may have to pass through probate. Moving these properties into a living trust can prevent them from going through probate. Some assets that you need to be cautious of putting into revocable living trust are as follows:
Florida Homestead – Unless you are single and don't have children, it is recommended to leave a homestead as it is. A homestead that is part of an inheritance of minor children will be passed according to the Florida Homestead Statute and not according to the terms of your living trust. Your spouse will also need to sign a spousal waiver before you can move the homestead into your trust. 

Individual Retirement Accounts (IRA) – IRAs have rigorous procedures when placed into a trust as these are elements of federal law. 
Requirements of a Florida Living Trust
The most important requirement when creating a living trust is that the grantor has the capacity to create the trust. It is the same crucial element also required in creating a last will and testament. Any person 18 years old and above with a sound mind must have the capacity to create a revocable living trust at the time the document is executed. 
According to In Re Wilmott's Estate, a person is considered of sound mind if he or she understands the nature and extent of the estate to be disposed of and their relations to the beneficiaries. To put it simply, you should have a general knowledge of your estate, who the inheritance will go to, and the purpose of the living trust. 
According to Section 736.0402 of the Florida Trust Code, the requirements for creating a valid revocable trust are as follows:
The grantor must have the capacity to create the trust.

The grantor must indicate an intent to create the trust.

The trust must have definite beneficiary/ies.

The trustee must have duties to perform.

The same person is not the sole trustee and sole beneficiary.
Save Both Time and Money with DoNotPay
Hiring a legal expert to create a living trust can cost somewhere between $1,000 to $2,000.  This amount doubles to up to $8,000 for joint living trusts for couples. There are also ready-to-download living trust forms on the internet that you can simply fill out. However, there is no certainty as to the legal acceptability of the languages used by these forms. That is where DoNotPay can help. Our robot lawyer helps users draft living trusts that are technically correct and cost-efficient. 
Log-in to

DoNotPay

and head over to the product
Provide your state of residence

Tell us who your beneficiaries are

Tell us who your trustees are
Allocate your properties and assets
That's it! Your living trust will be created in minutes!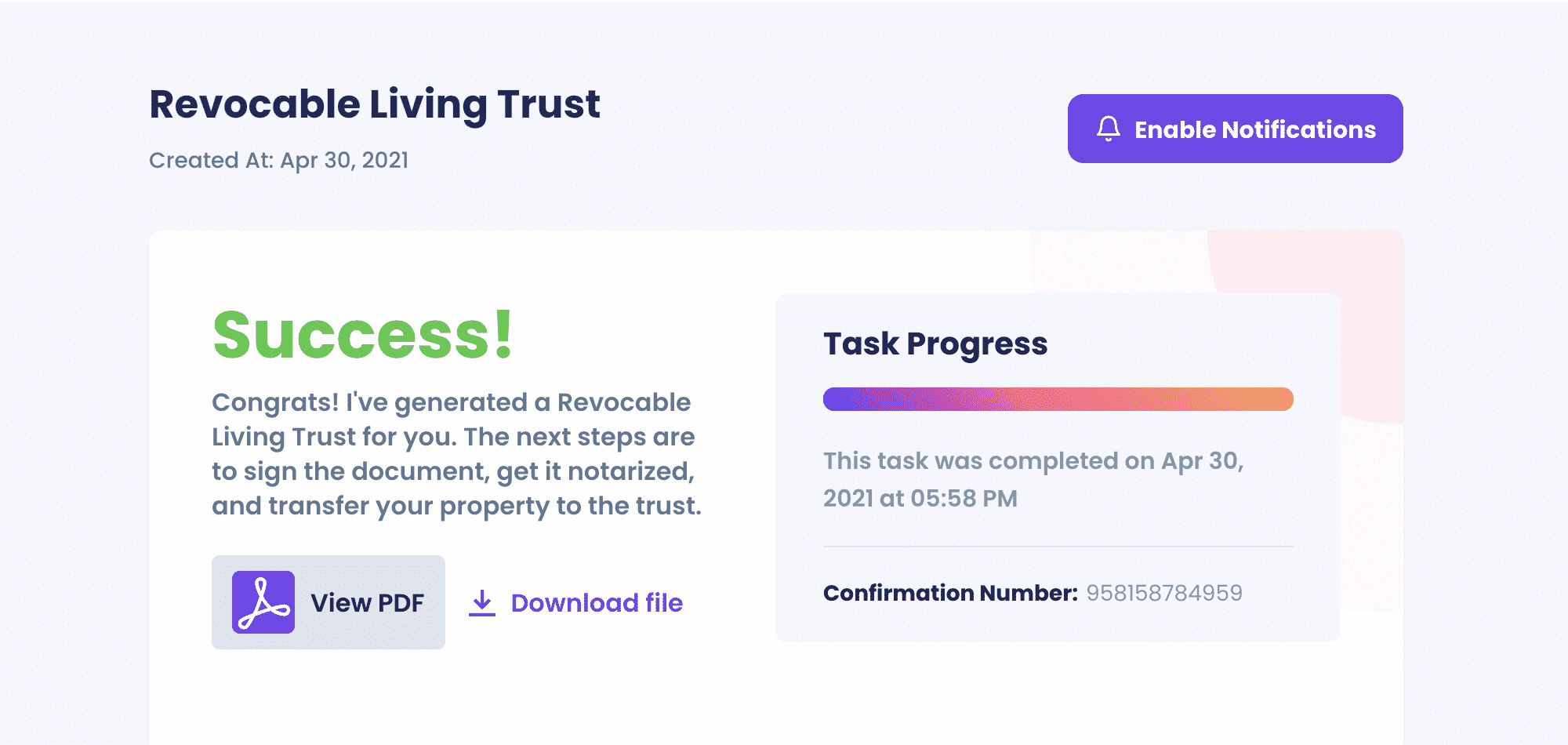 DoNotPay Can Help With…