How Much Does a Living Trust Cost?
During estate planning, you may require that your estate and beneficiaries receive utmost protection but you may also want to keep costs at a minimum. Although a living trust costs less than a last will and testament, the former offers a bevy of benefits that the latter may not be able to provide. In this article, we will explore the pros and cons of a living trust and how much it costs to hire a lawyer to create one.
What is a Living Trust?
A living trust is a legal document drafted by the grantor while he or she is alive. Similar to a will, a living trust indicates the grantor's wishes with regard to the estate and the dependents. A crucial difference between a living trust and a will is that the latter only takes effect after it has entered into probate. There are two types of living trusts; they are explained below:
Type
Explanation

Revocable trust

In a revocable living trust, the grantor appoints him/herself as the trustee and retains full control of the estate. The grantor can amend or cancel the trust at any time.  The assets are distributed directly to the beneficiaries when the grantor dies and without the need for probate.

Irrevocable trust

In an irrevocable living trust, the grantor permanently assigns the estate while he or she is still alive and relinquishes all control. The terms of an irrevocable trust cannot be changed and are not considered part of the grantor's estate and cannot be subject to estate taxes. A

revocable trust becomes irrevocable

once the grantor passes away.
Benefits of a Living Trust
One of the many major benefits of a living trust is the ability to avoid probate. The others are maintaining the privacy and flexibility that it affords. Here are some of the benefits of a living trust:
A living trust lets you avoid the lengthy and expensive process of court probate that could delay the allocation of properties. Assets that are funded to a living trust don't have to go through probate and are automatically distributed by the trustee when the grantor passes away.

The living trust allows you to make changes at any time while you are still alive.

In contrast to a will, a living trust does not go through probate where details of your estate and beneficiaries are made public. 

A standard will can be challenged by family members later on. Meanwhile, in a living trust, you can specify to disinherit family members who dispute your wishes.

Married couples who have a

joint living trust

can easily segregate each of their separate properties from joint property assets.

A living trust can be used to control a guardian's spending habits. It can also authorize the trustee to oversee your trust when you become incapacitated without a need for a durable power of attorney.

With a living trust, you can appoint a professional trustee to manage the property and grow your wealth for future generations. You can specify the number of withdrawals and grant special emergency provisions.

A revocable living trust is not an effective tax minimization tool on its own, you may include special provisions In the trust to transfer wealth through the use of a credit shelter trust. This allows you to reduce estate

taxes

for large estates that exceed the exclusion amount. 
Disadvantages of a Living Trust
Just as with any estate planning tool, a living trust also comes with pros and cons. While there are many advantages to a living trust, there are also drawbacks. These are as follows:
Creating a living trust requires professional legal help. This is why drafting one can cause no less than $2,000. In contrast, a last

will

and testament can be created for only $150.

The work doesn't stop with simply creating the trust. There is also the added inconvenience of updating future assets that need to be registered to the trust and adjusting according to changes in circumstances.

Retitling of property takes up time and effort. Properties must be retitled in the name of the trust which requires additional time and processing fees.

If you name yourself a trustee and retain an ownership interest,  living trusts provide only very minimal asset protection.

If you appoint a bank or trust company as trustee, expect to pay additional professional fees such as investment advisory and trustee fees.

There are a lot of unexpected problems with a living trust concerning title insurance, Subchapter S stock, and offshore real estate.
How Much Does a Living Trust Cost? 
A living trust that was created by a legal expert costs somewhere between $2,000 to $8,000 for couples. Meanwhile, individual living trusts can cause somewhere between $1,500 to $5,000. If you create a trust online, using living trust forms, the fees are somewhere between $100 to $500 depending on the state. Some of the many factors that affect the cost of a living trust drafted by an attorney include: 
Quantity of assets to be retitled

The complexity of the estate plan

Purpose of the Trust

Your tax and financial circumstances

When and how the assets are to be distributed

Appointing a person to manage assets for children 

The estate's value

Provisions of the trust
Get Your Living Trust in Minutes With DoNotPay!
Hiring a lawyer to set up a living trust costs a lot of money. You may also do it yourself but be prepared to exert some effort. That is where DoNotPay can help. We bridge the gap between cost-efficiency and a technically accurate living trust. Our AI lawyer helps users to create a living trust minus the stress and hassle. Here's how to get started:
Log-in to

DoNotPay

and go to the Revocable Living Trust product

Tell us who are your trustee(s)
Provide the beneficiaries and the assets they will be entitled to
That's it! Press "Solved" and your document will be ready for review to be signed before a notary public.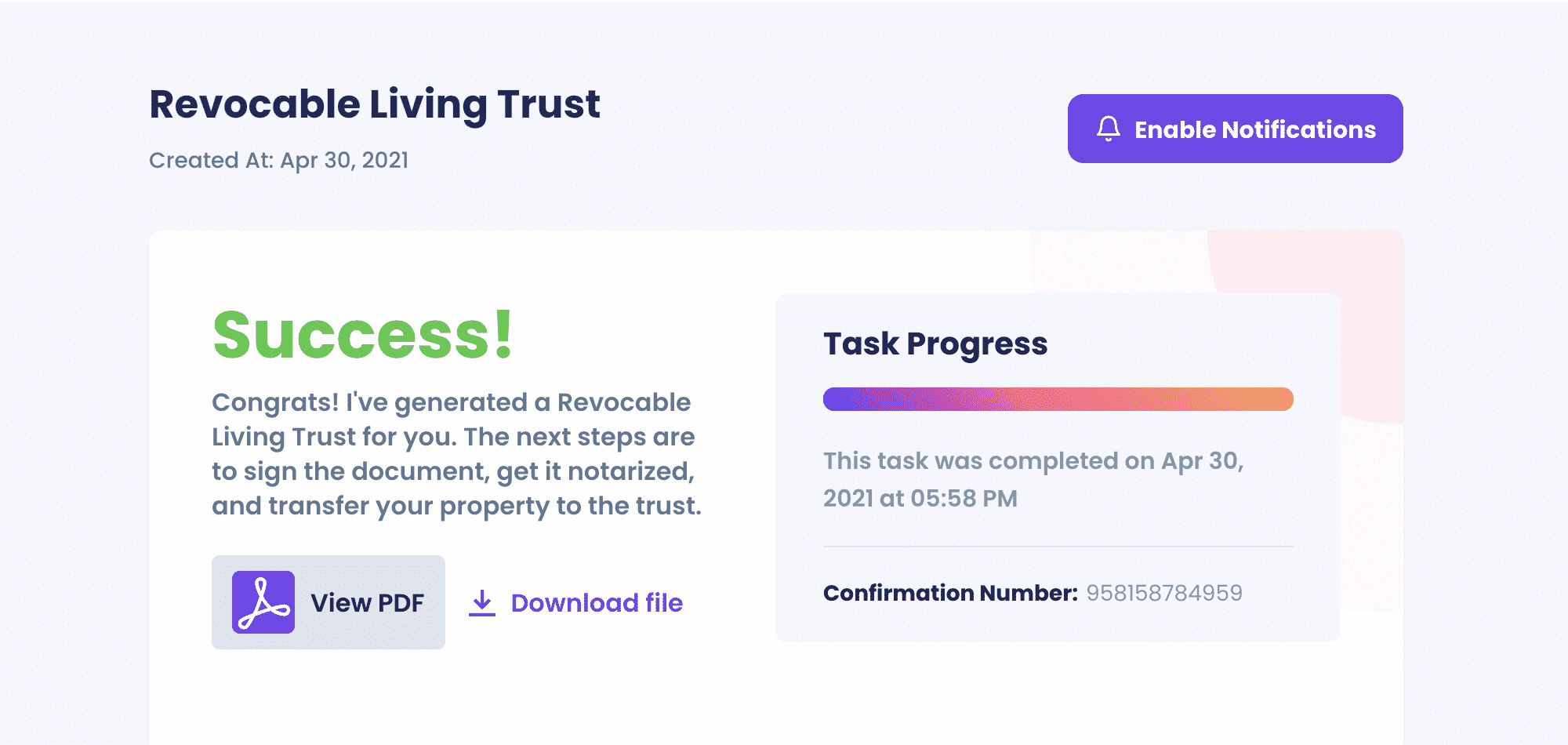 We can help with drafting living trusts in:
DoNotPay Does It All