All About Living Trust Colorado
Creating your Colorado living trust doesn't have to be difficult. Learn more about what steps you need to take to get started and how DoNotPay can help you draft a revocable living trust today!
Colorado Living Trust
A living trust is a great way to plan your estate while you are still alive. While you can create a will while you're alive, the transfer of assets and property must go through probate court and take place after your death. With a living trust, the allocation of your assets and property follow the instructions in the trust. Transfer of property under a living trust does not go through probate and remains private from the public.
You can choose between a revocable trust or an irrevocable trust. Both types of trusts secure your future, but you gain greater control and flexibility with a revocable trust. An irrevocable trust may relieve certain tax burdens, but you will not be able to revoke it or make amends. 
Benefits of Getting a Living Trust
With a revocable living trust you can:
Avoid probate fees

Probate is the costly and time-consuming process of estate identification and clarification in Colorado. If you've got assets that are valued over $50,000, you should opt for a living trust.

Gain privacy

A Colorado living trust gives you utmost privacy over your assets and the distribution of them. This can protect your beneficiaries in the long-run.

Have greater control of your assets

Greater control means flexibility and sole proprietorship of your assets. You can add, remove, and terminate your trust at will.  

Avoid legal battles

A living trust is less prone to legal conflicts due to its clarity and guarantee of privacy. 

Avoid estate tax

Colorado, along with 36 other states, benefit from

zero state estate taxes

with a living trust. You may only have to worry about federal estate taxes if your assets are worth close to $12 million.
Popular Alternatives 
While most people believe the alternative to a living trust is a will, they are quite different. A will is a sworn testament declaring a principal's named assets and his chosen beneficiaries. A living trust specifically designates who gets what and sets a trustee to oversee the transfer of assets.
A will can cover up for certain aspects of your estate a living trust may have missed. If you only have a will, you won't be alive to see it become active. A living trust takes into effect when you're still alive. A will in Colorado is usually:
Public, not private

Required to go through probate (if your assets are worth more than $50,000)

Does not allow for custom distribution

Is prone to litigations 
How to Set-Up a Living Trust in Colorado
To set up your living trust here in Colorado, you'll need to:
Start by making a list of beneficiaries.

These are the people you'd want to have a part of your assets in the future. The FDIC gives an insurance cover worth $250,000 each for up to five beneficiaries. If you have more than five beneficiaries, you may need to insure them privately or risk a lack of insurance. 

Select what type of trust you want. There are

joint and individual trusts

, irrevocable and revocable trusts, and testamentary trusts.

Choose who becomes your trustees.

In Colorado, you can choose to have more than one trustee and even make a list of successor trustees.

Choose assets and properties to go under the trust.

If you are setting up a revocable trust, then it is alright to start with a few. You can always add others later as you please.

Get a living trust form.

You can draft one for yourself by using an online sample, contact a Colorado attorney, or get one from

DoNotPay

.

Title your trust and get a tax ID or SSN for your trust.

For revocable trusts, you can use your social security number as the tax ID. 

Notarize your living trust form in a Colorado court.

If your assets are in Colorado, then you can proceed to a court in-state. Otherwise, notarize the document in the state where most of your assets are situated. 

Open a trust checking account, change the title of your assets, and transfer them to your account. 
Safely keep your trust document.
Create a Living Trust With DoNotPay
If this all sounds like too much stress, DoNotPay can help. No need to spend thousands of dollars on a living trust! Get yours today:
Log-in to

DoNotPay

and select the Revocable Living Trust product
Enter the state you live-in
Assign your beneficiaries and trustees
Provide the assets and properties to go under the trust
Tell us where you plan on getting the trust notarized
That's all you need to do to get your revocable living trust created! All that's left is getting the trust notarized.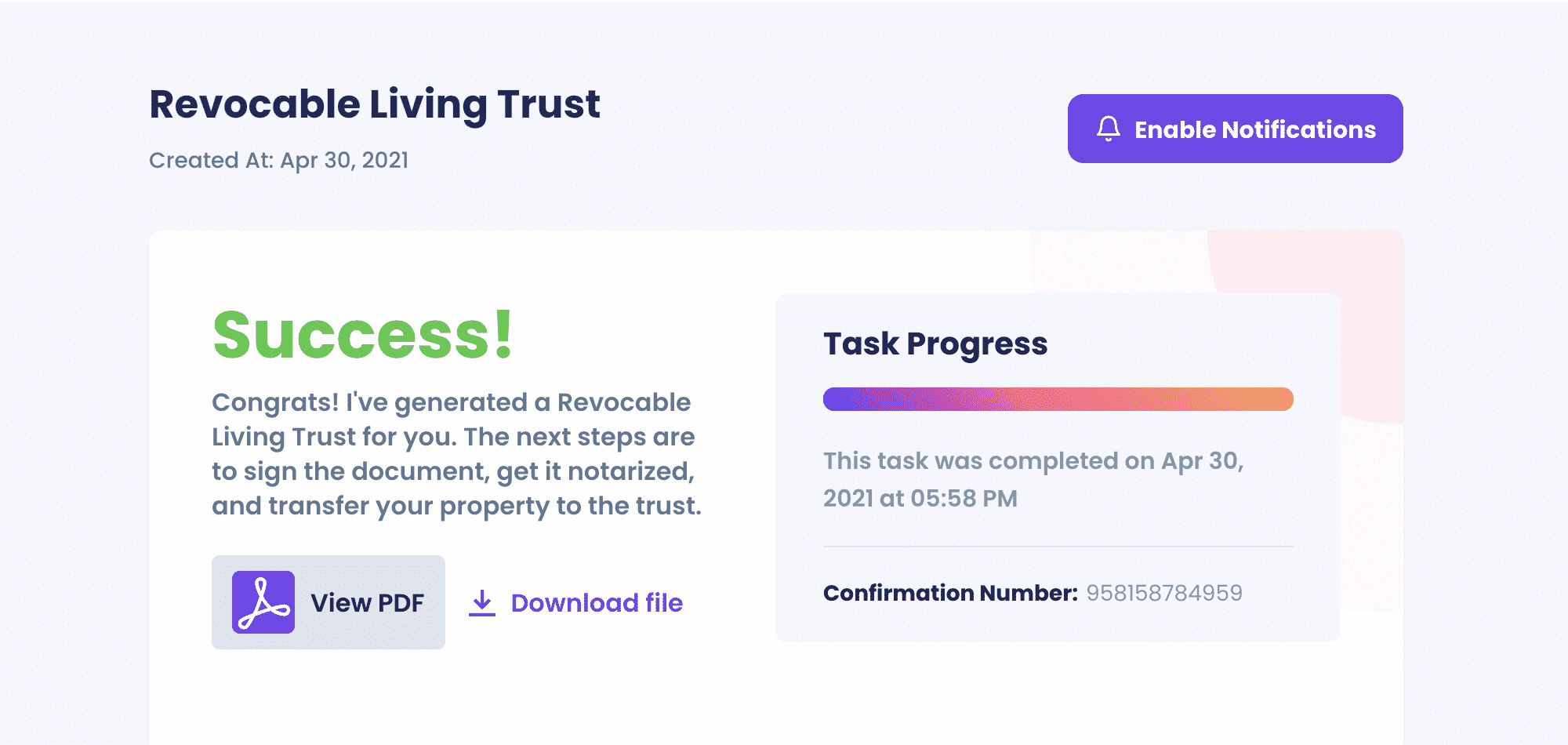 What Else Can DoNotPay Help Me With?
DoNotPay is your personal assistant and lawyer in one app! Have another legal issue? DoNotPay can help you with:
Sometimes, it sucks having to deal with small things yourself. Let DoNotPay work on your chores for you: