How to Set Up a Living Trust California
A living trust is an essential tool in estate planning. If you reside in California and are looking to use a living trust to manage your assets, take note to understand the state and federal rules that dictate them. In this article, we will walk you through the different ways to plan your estate, how a living trust can be helpful, and what you need to do to set up a living trust in California.
Living Trust vs Will
Before anything else, let's first clarify the difference between living trust and will. Take note that if you do decide to draw up a living trust, you will most likely also need a will. There is a possibility that some of your assets will not be moved to the trust. In such a case, a will can direct on what to do with those properties. Here is a table of some of the key differences between living trust vs will:
Living Trust
Will

Can it name a beneficiary?

Yes

Can it allow revisions to be made?

Based on type

Yes

Can it allow you to avoid probate?

Yes

No

Does it require a notary?

Yes

No

Can it name a guardian for children?

No

Yes

Can it name an executor?

No

Yes

Does it require a witness?

No

Yes
Why Set Up a California Living Trust?
Setting up a California living trust comes with a bevy of benefits. Not only does it allow you to avoid probate and ensure privacy but there are other reasons why drafting up a living trust is worthwhile. Here are some of them:
Saves money – Although it is more expensive to set up a living trust than a will, the latter requires you to go through an expensive and time-consuming probate process. 

Saves time – Probate delays the settling of an estate by months and years. Meanwhile, in the case of a living trust, whoever is appointed as trustee can manage the estate with minimal court oversight.

Maintains control – You maintain full control of the assets even after

death

by specifically stating what happens to them and appointing a trustee who will administer the assets as stated in your living trust.

Protects against creditors – In contrast to a will, the administration of a trust does not require you to file a public notice of death. Some forms of trust, i.e.

revocable

or

irrevocable

, may protect you from creditors and limit their access to your assets.
Understanding California's Probate Process
A Uniform Probate Code simplifies the probate process. However, California does not have one which is another reason why you should look into making a living trust. Smaller estates in California can take advantage of two procedures that speed up the probate process. These procedures may apply to:
If your state qualifies under these two categories when you pass away,  you may opt-out of a living trust as the probate process will most likely be straightforward and inexpensive. Additionally, California also allows for transferring real property using a transfer-on-death deed. Take note also that with small estates, you do not need to worry about estate taxes because California only levies taxes on estates that are valued at close to $12 million. 
Creating a Living Trust in California
The main benefit of creating a living trust is to save your family the expense and delay of probate court proceedings when distributing assets. The higher the risk for incapacitation or death, the more it is recommended that you should consider drawing up a living trust. Here are the steps to setting up a living trust:
Determine which type of living trust is suitable for your needs. If married, you may need to decide whether you require a single or

joint trust

. The latter allows you to include assets that each spouse owns individually as well as joint assets.

Decide which assets to move to the trust. Select the appropriate paperwork including certificates of stock ownership, titles to vehicles, records of homeownership, and others.

Appoint a trustee which could either be you or another person. If you name yourself a trustee, make sure to appoint a successor trustee to take over after your death. Identify beneficiaries and what properties will go to which beneficiary.

Draw up the trust document either by consulting with an attorney or by downloading

living trust forms

that can be easily found online. 

Sign and execute the trust in the presence of a notary public.

Fund the trust by transferring property to the trust. 
Get Your Living Trust From DoNotPay - Save Both Time and Money!
Consulting with a lawyer or a financial advisor can rack up fees as much as a couple of thousand dollars. Meanwhile, there are ready to fill out forms that you can easily download from the internet. However, be wary as the language they use may not be legally accurate. That is where DoNotPay can help. Our robot lawyer helps you draft a technically accurate living trust without the expensive fees or time-consuming process. Here's what using DoNotPay will look like:
Log-in to

DoNotPay

and click the living trust icon

Enter the state where you reside
Tell us about your beneficiaries

Assign trustees to manage your trust

Allocate your assets and properties
How easy was that? Your living trust will contain all the information you decided upon.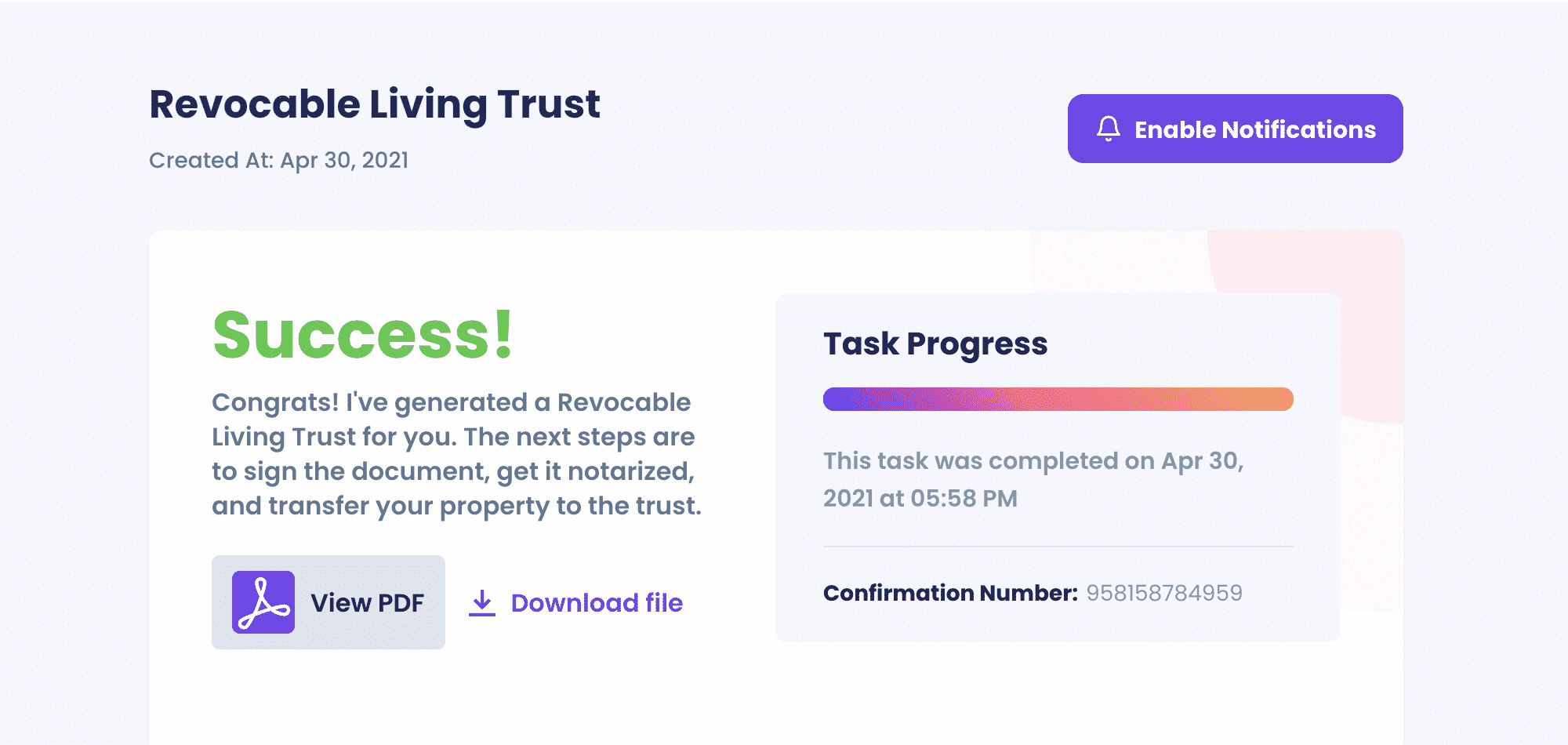 DoNotPay Can Do More