Guide to Living Trust Arizona
Getting an Arizona living trust can be of great benefit if you need help planning your estates. Better yet, Arizona is one of the few states in the US that does not require you to pay taxes on your assets even after transferring them to your loved ones. You would only have to worry about federal estate taxes if your assets are valued at over $11.7 million. 
This article will help you understand how living trusts work and the steps to take to get your living trust ready in minutes using DoNotPay.
Arizona Living Trust
Creating a living trust is one way to plan the transfer of your assets and property while you're still alive. There are many types of living trusts, but the most popular are revocable trusts and irrevocable trusts. Revocable trusts allow you more flexibility and offer ownership of the assets during your lifetime. With an irrevocable trust, your trust arrangement remains unchanged till your demise and the trust becomes its own separate tax entity.
Difference Between Trusts and Wills
In Arizona, living trusts are not as popular wills. The transfer of property under a will is decided by the courts through probate. Probate is a tedious and expensive court method of sorting out the assets of a deceased and reconciling them to a named next of kin or beneficiary. A will can only become active at the death of the principal. Other major differences between a will and a living trust are:
A living trust keeps your estate plans off public records, but a will doesn't.

A will can be subject to litigations but this is unlikely in a trust.

A will does not take effect

until you die

, but a trust begins right from the moment it becomes active.
Getting a will in Arizona costs comparatively less than a living trust. A will involves less paperwork but it doesn't offer the cover and comfort of a living trust.
Cost of Living Trust in Arizona
Despite the benefit of a living trust, people stray away from creating one due to it's high cost. To get your living trust in Arizona, there are three options for you:
Do it yourself

Setting up a living trust by yourself is nothing close to rocket science. You could save yourself hundreds to thousands of dollars by doing your own research and completing the process. But if you work and have less time to file paperwork, it may be a great idea to seek help.   

Get an Arizona attorney

Another option is to get an attorney. You can find good Arizona attorneys who do a great job at helping you throughout the process. Some charge on a commission basis and others charge a one-time fee for the entire process. The average cost can range from $100 - $5000.

Use DoNotPay

The process is reliable and fast using

DoNotPay

!
Top estate planning firms in Arizona
How to Start an Arizona Living Trust
Here are the steps to setting up your living trust in Arizona:
Select what type of trust would be most suitable for your situation - individual or

joint trusts

Select your beneficiaries

Choose your trustees

Make a decision on what properties you want to include in your trust.

Obtain and fill out a trust document

online

or through DoNotPay.

Notarize your trust document

Start a legal title transfer for all assets included in the trust 
Create a Revocable Living Trust With DoNotPay
Setting up your trust with DoNotPay guarantees you speed, ease, and reduced costs. To get started with DoNotPay, simply:
Sign-up for

DoNotPay

and click on the Revocable Living Trust service
Tell us where you plan to get the document notarized
Assign your beneficiaries and trustees
List the assets and properties that will go under the trust
Provide any specifications
After you answer all of the questions, DoNotPay will generate a revocable living trust for you automatically! All you need to do is get the document notarized.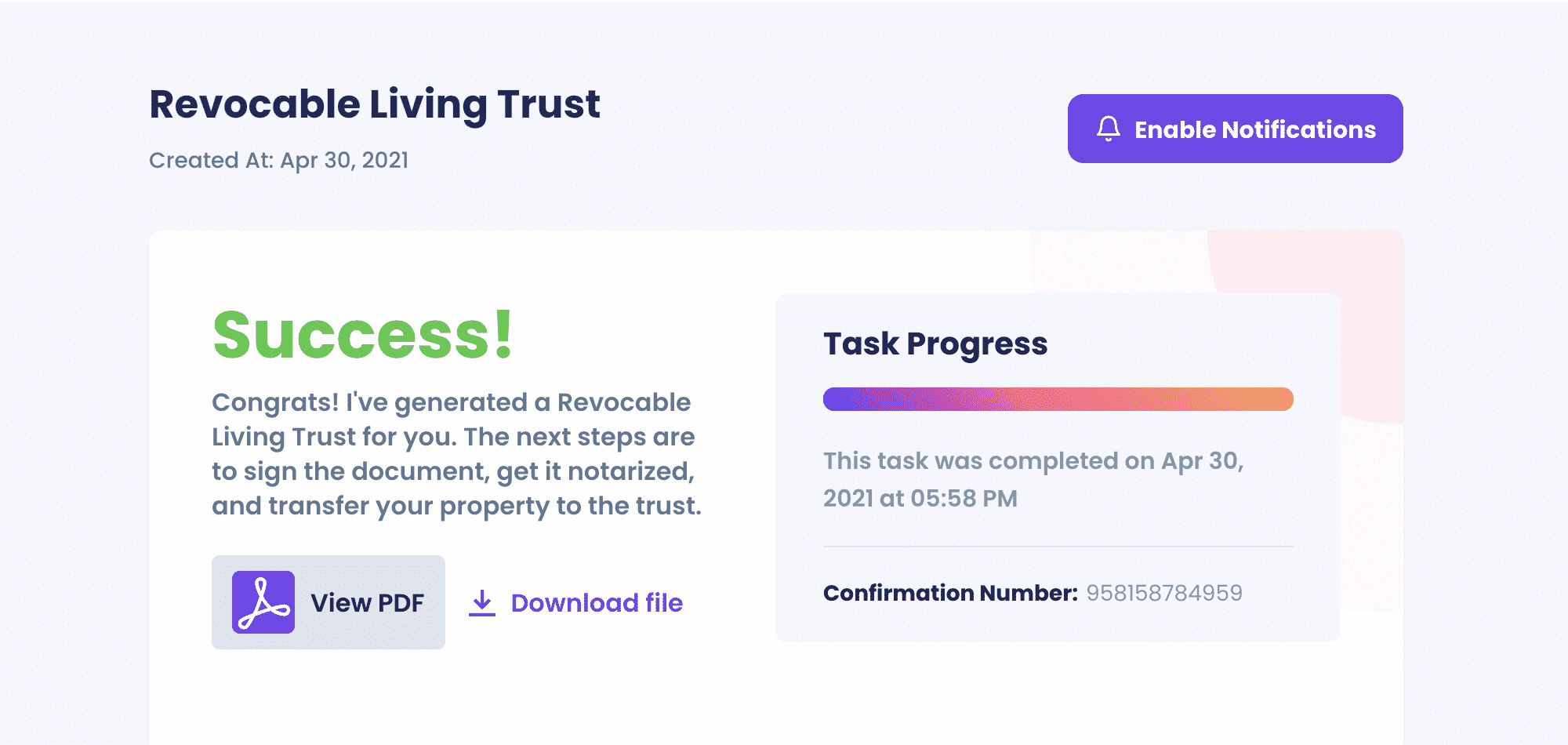 What Else Can DoNot Pay Do?
DoNotPay's AI-powered robot lawyer can help you with daily tasks! Cancel subscriptions, look for tax exemptions, and appeal parking tickets with just a few clicks! 
Take a look at what else we can offer: