Living Together While Divorcing—The Best Tips and Tricks on How To Get Through It
Whether a divorce is friendly or not, going through this process is not a pleasant experience. If you don't know how to cope with this emotional rollercoaster, we can help you out!
In this article, DoNotPay will provide a step-by-step guide on living together while divorcing. If you need assistance with other divorce-related questions, we can provide info on how to:
Why Do Divorced Couples Live Together?
There are several reasons for divorcing couples to live together during or after the divorce process:
To share expenses, especially if one spouse is financially dependent on the other
To show support and provide stability to the children
To figure out the next steps after the divorce
Should Divorcing Couples Live Together?
Although couples can live together while divorcing, you need to consider the following:
Are you at risk of being physically harmed? If yes, then you should ensure your safety first. Either leave the house to live with someone you can trust or obtain a restraining order that directs your spouse to stay away
Are you financially independent? Money is important, especially if you have kids. Sharing the bills will allow you to save money for after the divorce
Do you own the home? If you and your spouse co-own the home and you leave before the process, the chances are that you might lose property rights following the divorce
Do you have children? If you are a parent, you might consider setting the stage for healthy co-parenting after the divorce
Tips on How To Live With a Spouse During Divorce
Even if your divorce was caused by irreconcilable differences, try setting them aside if you and your spouse live in the same house. When living together, you should make an effort to do the following:
Things To Consider
Brief Explanation
Avoid putting your kids in the middle
It might be natural to bring your kids into conflict or say bad things about your spouse to them. Try to avoid this as much as possible because it can cause trauma and affect custody determination
Share financial duties
It can be helpful to share financial responsibilities to make the best out of your living arrangement. You can decide whether you want to pay the bills from a joint bank account or split everything. Be as fair as possible when making financial decisions to avoid putting the burden on one person
Divide real estate and assets
While you are working on the separation agreement, make sure you and your spouse divide the following assets in a written agreement:

Property
Inheritance
Gifts received from third parties
Stocks and shares
Insurance
Bank accounts

You can also consult a lawyer when dividing your assets to ensure a fair division

Be civil and courteous
Even if you have different opinions, try to keep it as civil as possible. Constant fights and disagreements tend to make the divorce ugly and stressful—more than it needs to be
Give space to your spouse
If you have decided to end your marriage while living in the same house, give your spouse some space even if you don't think it is necessary. Consider making decisions such as moving into separate rooms and having meals at different times
Do You Need a Divorce Lawyer for a Settlement Agreement?
In case you're filing for an uncontested divorce, you can consult a lawyer, but it might not be necessary. You can write the agreement yourself by doing thorough research to include all crucial elements.
A better solution is to create your agreement using DoNotPay. Our robot lawyer can draft one within minutes without expensive attorneys.
Create Your Divorce Settlement Agreement Using DoNotPay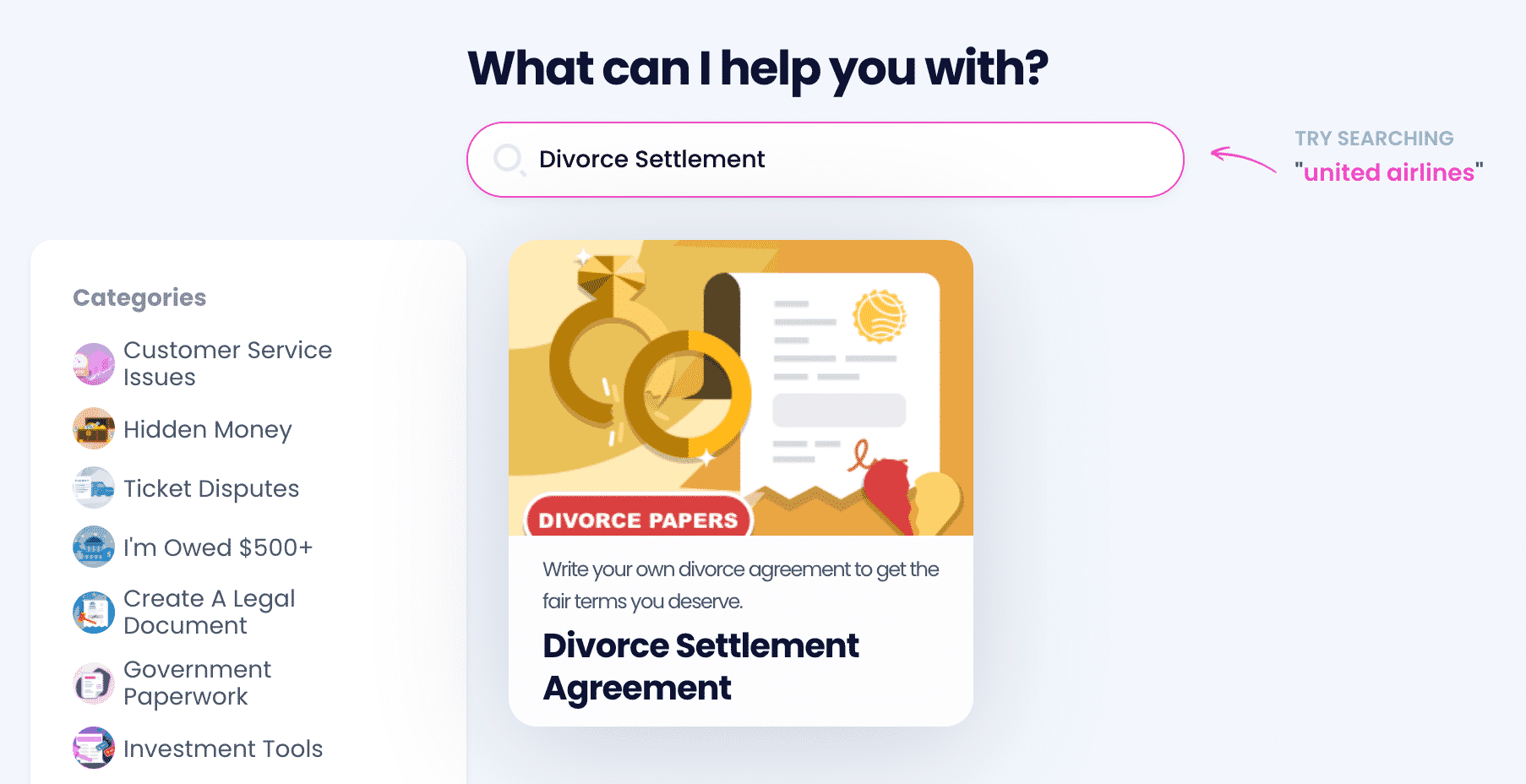 You don't need to waste hundreds of dollars on lawyers to draft a divorce settlement agreement when we can do it for you within minutes. All you have to do is follow these instructions:
Open DoNotPay in your web browser
Choose the Divorce Settlement Agreement product
Provide answers to our chatbot
And you're done! We will draft an agreement and email it to you in less than five minutes. Once you receive the agreement, you and your spouse need to sign it to make it valid. If you want to get the document notarized, you can get it done within the same app.
We Can Provide More Info on Divorce Settlements
If you have more questions about divorces, we are more than happy to answer them for you. Check out the list below to see some of the questions DoNotPay can answer:
If you want to find state-specific divorce information, we can explain divorce procedures in Wisconsin, New Mexico, Michigan, Texas, Florida, Minnesota, Tennessee, Louisiana, North Carolina, Pennsylvania, and any other U.S. state.
DoNotPay Makes All Issues Go Away in Several Clicks
Using DoNotPay comes with plenty of advantages, the main one being that you can resolve just about anything in a matter of clicks. It doesn't get any easier than that!
Do you need to fax a document, draw up an agreement, submit a FOIA request, get a contract notarized, file a warranty or insurance claim, get a burner number, schedule a DMV appointment, or appeal a parking ticket as soon as possible? Sign up now and clear out your schedule because we'll handle it all!
Are you looking for your missing money? Do you need help with your utility bills or property taxes? We're here to help!
Get Rid of Paperwork With Your AI-Driven Assistant
Even though paperwork belongs in the past, we have to keep dealing with it almost daily. To avoid this annoyance, you can just use DoNotPay!
If you need to compose a demand letter to a rude neighbor, submit a claim for a late or missing package, request compensation from an airline, or sue any company in small claims court, we have your back!
All you need to do is sign up, tell us what you need, and resolve any issue in a matter of minutes!