How to Challenge a Liverpool Parking Ticket in Less Than Two Minutes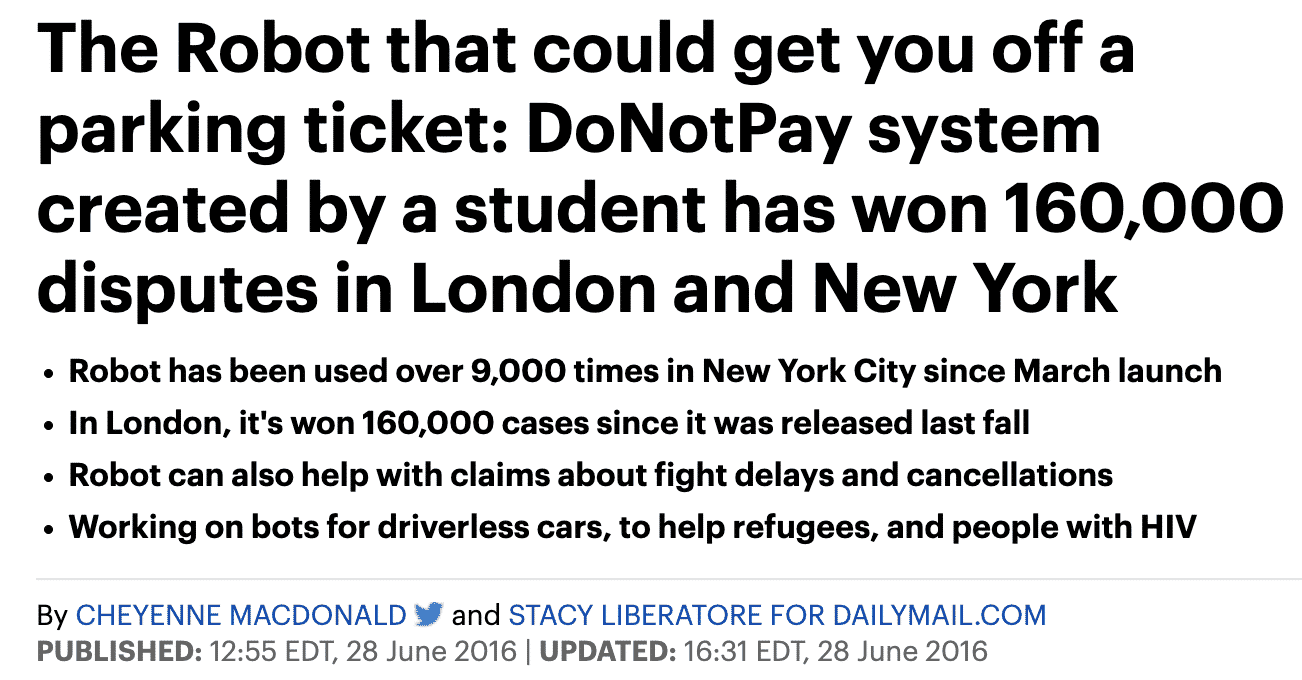 Liverpool is home to nearly half a million people, and it is a common travel destination for foreigners due to its museums, art galleries, and sports teams. Because the city is so populated and widely visited, it is common for those from and out of town to struggle with parking downtown, often leading to frustrating parking violations that can cost quite a bit. If you have received a Liverpool parking ticket, you can challenge the violation quickly and easily using DoNotPay.
People who try to challenge parking violations on their own in Liverpool often spend much more time and money than they initially anticipated, making the challenge a less-than-worthwhile endeavour. Some motorists decide to just pay the fine to avoid trouble.
By enlisting the help of DoNotPay when you decide to challenge your Liverpool parking ticket, however, you give yourself the very best chance at getting your parking fine erased. Learn more about how DoNotPay can help you below!
When Can You Get a Parking Ticket in Liverpool?
You can get a parking ticket for numerous issues in Liverpool, including:
Abandoned vehicles
Parking near a No Parking sign
Parking on double yellow lines
Blocking a driveway or loading zone
Parking in a disabled parking bay without the proper permit
Parallel parking too far from the curb
Parking in an area outside of designated hours
Parking on grass or other non-designated parking areas
And much more
The city of Liverpool has been cracking down recently on parking violations, so be sure to park carefully and legally at all times to avoid fines.
How Much Do Parking Tickets Cost in Liverpool?
If you get a parking ticket in Liverpool, you can expect to be charged between £50 and £70. If you pay your fee within two weeks of the Penalty Charge Notice (PCN) being issued, you can get your fine reduced by 50%.
If you wish to challenge your parking violation in Liverpool, you only have 14 days to do so. This means that you can save money on your fees if they were rightfully issued by paying the fines as quickly as possible, but you also must challenge the PCN right away if it was wrongfully issued.
Challenging Your Parking Ticket on Your Own

If you want to challenge your Liverpool parking ticket on your own, you can do so online or by drafting your own challenge letter. To challenge your PCN online, visit the Liverpool parking site and follow the on-screen prompts. You'll need your vehicle registration number and PCN number to get started. To challenge your PCN by sending in a letter.
You will need to follow these steps:
Write a letter that describes your intent to challenge your PCN
Include reasons why you are challenging the ticket
Write the PCN number and your vehicle registration number
Include evidence to support that you were wrongly given a ticket, such as photos or documentation, when possible
Print your letter and send it to the Liverpool Parking Services in the Cunard Building, Water Street, Liverpool, L3 1AH
It can take lots of time and effort to challenge a parking ticket on your own, whether you choose to do so by post or online. All of that effort may end up going to waste anyway if you accidentally leave out key information or don't make a strong enough argument as to why your ticket should be waived.
If you want someone else to write a letter for you that makes the very best case on your behalf, give DoNotPay a try.
Challenging Your Parking Ticket With DoNotPay
If you received a PCN in Liverpool, and you don't want to try to challenge it yourself, DoNotPay is here to help! Wired wrote about DoNotPay's success in overturning parking tickets and yours could be the next one.
Simply follow these four easy steps:
Log-in to DoNotPay and go to the Ticket Disputes category. Select the Parking Ticket product.

 

Upload a photo of your citation.

 

Provide us with some details on why you believe the citation issued is a mistake.

 

That's it! You'll receive an appeal letter that contains the best argument to win your case.
Once you have received your appeal letter, simply mail it to the correct entity. In Liverpool, you can send a written challenge of your PCN within 14 days of its issue to:
Cunard Building
Water Street, Liverpool
L3 1AH
You should hear back on the verdict of your challenge within four months.
We Can Dispute Your Parking Ticket Anywhere
DoNotPay, the world's first robot lawyer, was designed to help people save time and money. We can assist in overturning tickets whether you received them from within the UK:
Or from the US:
What Else Can DoNotPay Do for Me?
Besides helping you challenge your parking tickets, we can also help with:
If you have a long list of tasks you need to get done, but can never seem to catch up on, visit DoNotPay today to see which items we can check off for you!