A Complete Guide to Making a
Listing Agreement
Finding a responsible buyer for a property is of utmost importance. It is also a demanding task, so it is best to leave that to the professionals like real estate brokers.
If you need a guarantee the real estate broker will stick to their part of the listing agreement but you don't know how to write that contract, DoNotPay can help. 
What Is a
Real Estate Listing Agreemen
t?
A real estate listing agreement is a legal document with which the property owner authorizes a real estate broker to find a buyer for the property in question.
The agreement outlines the relationship between the two parties, the compensation details, and the agent's responsibilities.
How Does a
Listing Agreement
Work?
It is common to mistake a listing agreement for a real estate purchase agreement, but the two are not so similar. The main difference is that there is no transfer of the property between the signing parties when it comes to a listing agreement. A real estate listing agreement can be regarded as an employment agreement since the seller hires the broker.
A listing agreement works under the provision of the Real Estate License law, which states the following:
The agreement must be in written form

Both parties have to sign the listing agreement for it to be enforceable 

Only the broker can list, rent, or sell the property in the seller's name
Real Estate Listing Agreement
Types
There are several different listing agreement types. You can find details of the most common ones in the table below:
| | |
| --- | --- |
| Type of a Listing Agreement | Description |
| Open Listing | It is a non-exclusive type of listing that offers the lowest level of commitment. The open listing agreement allows the seller to hire any number of brokers as agents. The seller is not required to pay the commission to every broker they hire, but only to the one that finds a reliable buyer who is able, ready, and willing. This type of listing agreement grants the seller the rights to sell the property on their own, without having to pay the commission  |
| Exclusive Agency Listing | By signing an exclusive agency listing agreement, the seller authorizes one broker as the exclusive agent to sell their property. The seller retains the right to sell the property on their own, without any obligation to the broker, except when the broker is the procuring cause of the sale |
| Exclusive Right-to-Sell Listing | It is the most commonly used type of listing agreement. By signing the right-to-sell listing, one broker becomes the sole agent of the seller and has exclusive rights to represent the property. The seller is obligated to pay the broker the commission, regardless of who finds the buyer for the property |
What Should a
Real Estate Listing Agreement Form
Include?
A real estate listing agreement is a legally binding contract. To be enforceable, a listing agreement must follow precise protocols and regulations. The contract should also include some predetermined terms and conditions. Specific clauses depend on the seller, broker, and type of listing.
There are a lot of listing agreement templates on the internet, but they aren't the safest option as they often fail to include all the important terms.
If you want to write a listing agreement on your own, here are the basic components you should include:
Full names and contact information of the seller and broker

Start and end dates of the listing agreement

The listing price of the property

Type of the real estate listing agreement you decided upon

Terms regarding the commission and compensation

Terms of cancellation of the contract
How To Cancel a
Listing Agreement
Poor communication, insufficient representation, unethical behavior, or general dissatisfaction are all valid reasons for canceling listing contracts.
If you're considering terminating your listing agreement, here's what you can do:
Ask about a release when signing the contract

Request a release in writing

Request a different agent
DoNotPay Can Help You Draft Legal Documents in a Jiffy
If you want to avoid pricey legal assistance when writing contracts, DoNotPay is the way to go! With our practical feature, you can create almost any legal document without having to worry about making grammatical errors, excluding important information, and consulting the wrong regulations.
Here's how our service works:
Open DoNotPay in a

web browser

Enter the name of the legal document you want to create

Answer a couple of questions from our chatbot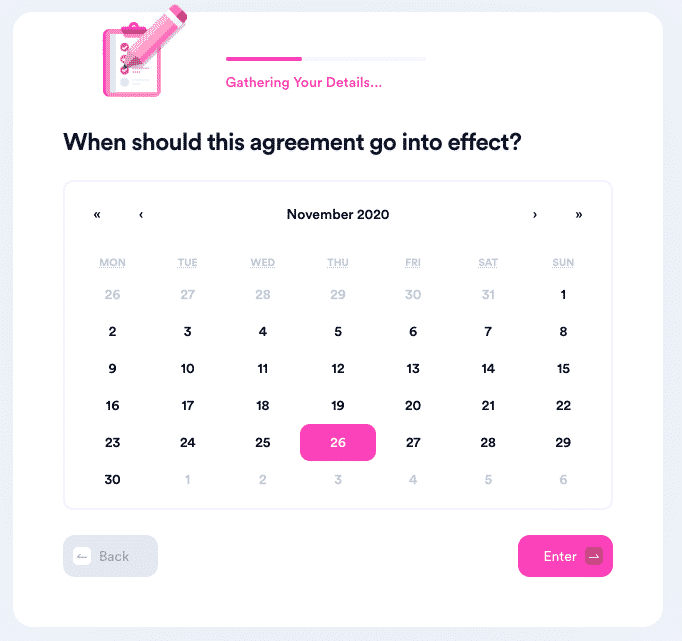 DoNotPay will generate a custom-made contract, which you can later sign, notarize, and even fax to other parties with our handy online faxing service.
What Legal Documents Can I Generate With DoNotPay?
You can use DoNotPay to draw up business, real estate, or other types of contracts, including:
General Affidavit

Quitclaim Deed

General Business Contract

Estoppel Certificate

Promissory Note

Child Care Authorization Form
DoNotPay Helps You Fight for Your Consumer Rights
Did you know that companies often reject first-time warranty claims?
You're probably familiar with how complicated the process of appealing parking tickets is. Trying to get a refund for an unsatisfactory purchase or a delayed flight has likely made you mad at least once.
Not anymore! DoNotPay makes all these issues go away in less than five minutes, and that is not all we can do for you!
You don't have to deal with customer service reps of any company on your own anymore—we do it all for you!
DoNotPay bypasses any bureaucratic obstacle for you—scheduling DMV appointments, delaying bill payments, getting in touch with your incarcerated loved ones, filing lawsuits in small claims courts, and claiming insurance policies.
Keep Your Data Safe With DoNotPay
Do you love free trials but are reluctant to disclose your credit card details, phone number, or email address?
Our app lets you try out different subscriptions in a risk-free way!
Use DoNotPay's Burner Phone feature to sign up for services without providing your phone number! We'll make sure robocall scammers and text spammers cannot harass you!
With our virtual credit card, you can sign up for any free trial and not worry about canceling it! Since the card is not linked to your bank account, no one will be able to charge you once the trial expires. An additional perk is that the card comes with a free email address, which means no spam emails from the company.