Calculating the Liquor Store Startup Costs
Selling liquor is one of the most lucrative businesses in the United States. In 2021 alone, the nationwide revenue reached $249,088 million.
You will need a lot of money to start a liquor store business. Discover everything you need to know about the liquor store startup cost and use DoNotPay to draft a loan request letter today!
Initial Startup Costs of Opening a Liquor Store
The startup costs of running a liquor store can be as low as $25,000, but the expenses can also reach an astonishing $850,000 depending on:
Location expenses
Equipment
Permits
Location Expenses
Depending on the place you choose for your business, you might have to pay the following amount:
Established bars for sale (~$25,000)
Leased space ($110,000–$550,000)
Bought store ($175,000-$850,000)
Equipment
Equipment may cost approximately $6,075–$115,655 and may include:
Bar furniture
Beverage maker tools and dispensers
Cocktail and bartending equipment
Point of Sales (POS) system
Food and kitchen supplies
Permits
You need to register for licenses and permits to sell alcohol. The costs and requirements differ from one state to another but expect to spend around $1,406 on average.
The Recurring Costs of Running a Liquor Store
Once you get the initial overhead out of the way, it's time to budget the recurring expenses of running a liquor store startup, such as:
| Expenses | Average cost |
| --- | --- |
| Alcohol inventory | $5,000–$6,000 annually |
| Liquor liability insurance | $225–$2,060 annually |
| Staff salary | $14,000 annually |
| Rent | $6,000 monthly (assuming you are renting) |
| Other inventory replenishment | Varies |
Various Loan Options To Cover Your Liquor Store Startup Costs
There are plenty of loan options that you can choose from if you need to borrow some money for your business. Some of the best ones are as follows:
Small Business Administration (SBA) loans
Business lines of credit
Long-term business loans
Short-term business loans
Small Business Administration (SBA) Loans
Your business may qualify for an SBA loan if you have a good credit score and track record.
Keep in mind that SBA is not a direct lender. You can file a loan application with a bank or another lending institution that offers them.
SBA loans can be used to afford working capital, such as
You can't use an SBA loan to pay for liquor license fees due to the high risk involved. If the Alcoholic Beverage Control (ABC) department does not approve your license, you will not be able to run your business and repay the loan.
Business Lines of Credit
Business lines of credit are revolving loans you can use as often as you need as long as you don't exceed the limit and you repay them on time. You can use this type of loan to cover various short-term expenses, such as:
Occasional gaps of cash flow
Buying inventory
Urgent repairs
Funding a marketing campaign
Your business needs to operate for at least six months and generate $25,000 in annual revenue so you can apply for this loan.
Long-Term Business Loans
This type of loan offers the longest repayment terms but is harder to get if your business has not been around for at least two years. Applying for long-term business loans is also difficult due to the significant amount of paperwork involved.
Some programs require you to offer collateral in the form of business and personal assets.
Short-Term Small Business Loans
Short-term loans offer a smaller sum, but they are also the fastest and easiest to apply for. The approval process usually takes only a day, and there is not much paperwork to complete.
If you have a bad credit score, this business loan might be for you.
What Documents You Should Prepare for Your Loan Application
While each lender has its own policy, the paperwork required to apply for loans is more or less similar. Make sure you have the following documents prepared before applying:
Business bank statements
Tax returns
Profit and loss statements
Personal and business credit history
Collateral documents
Loan request letter
Increase Your Chances of Securing a Loan With DoNotPay!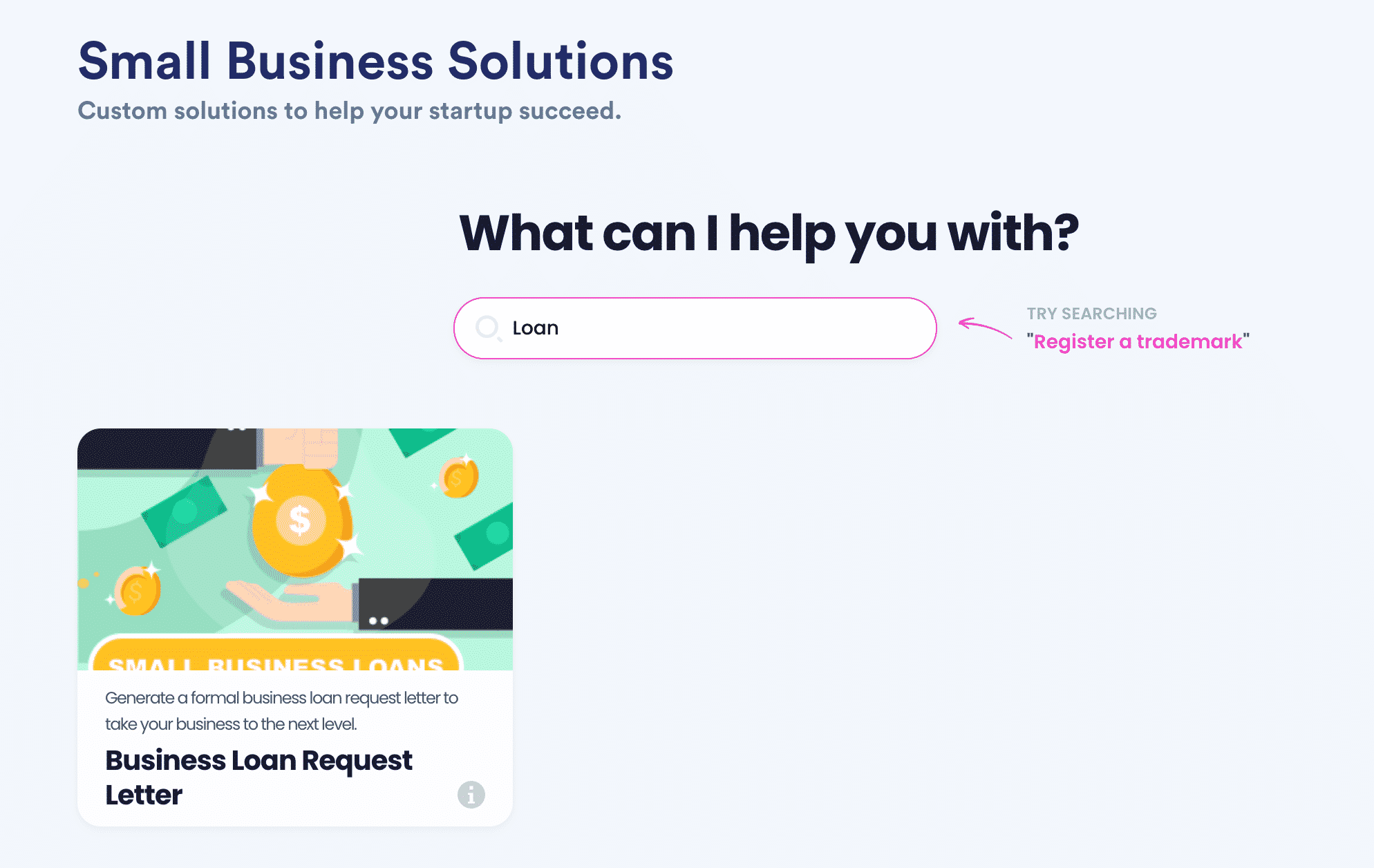 Having a convincing, mistake-free loan request letter can improve your chances of securing funding. The problem is, hiring a lawyer to create the letter for you can be expensive.
Let DoNotPay assist you with the task! We have a product that can create and send compelling loan request letters to various banks and lenders. Here is how it works:
Find our Business Loan Request Letter product
Answer our questions and upload the required documents
You will have a well-written loan request letter ready in no time.
DoNotPay Can Help You Find the Best Lenders With Competitive Rates!
Finding the best lender does not have to be complicated. DoNotPay can help you find them in just a few clicks, as follows:
Access your DoNotPay account
Type Find Online Business Loan Lender in the search bar
Complete the form with the necessary details
You will have a comprehensive list of various online lenders with the best possible loan amounts, terms, interest rates, etc.
DoNotPay Offers More Help for Your Business
Running a small business is no small feat. When you're drowning in red tape, DoNotPay is here to lend a helping hand. Whether you need to register your trademark or protect it later on, we have got it covered. With our help, you will keep your logo, slogan, and business name safe.
Are you also yet to register for an Employer Identification Number (EIN)? Not to worry—our app can file the IRS SS-4 form in a few clicks. With the world's first robot lawyer at your fingertips, you will also be able to create your 83(b) election forms with ease—ready for your employees to sign them right away.
In case you are struggling financially, we can assist you with a business loan application.
Communication Has Never Been Easier With Our App
Keeping up with clients can be challenging, especially if each has a preferred method of communication. Luckily, our multifunctional app makes it easy to both fax and mail contracts, letters, and documents.
You can also count on our assistance when you need to:
Fight fake negative reviews online
Deal with a client regarding a breach of contract
Dispute fraudulent chargebacks
Thanks to DoNotPay, there is no need for back-and-forth communication. We will handle the necessary demand letters and forward them on your behalf.
We can also help you manage your DMCA agent registration and Privacy Shield program self-certification.