A Complete Guide to Lincoln County, WA, Divorce
Are you considering a divorce in the Evergreen State or Lincoln County in particular? There is a way you can avoid costly lawyers and tiresome court hearings! This article will provide all the information you need about a Lincoln County, WA, divorce.
The way to a low-cost divorce is an uncontested marriage dissolution, which DoNotPay knows all about.
One of the most important uncontested divorce papers is a marital settlement agreement. DoNotPay can help you create this document in the blink of an eye. Register on our platform to get your divorce settlement agreement effortlessly!
Lincoln County Divorce—Explained in Detail
Before you file for divorce in Lincoln County, you'll need to know all the divorce rules and regulations in Washington. Check out the table below to discover all the key aspects of a divorce in Lincoln County:
Main Points
Explanation
Residency requirements
To file for divorce in Lincoln County, you or your spouse need to be current residents of Washington at the time of filing
Grounds for divorce
Washington is a no-fault state. This means that the court doesn't recognize fault-based grounds for divorce. You only need to claim the irretrievable breakdown of marriage
Child custody
In Washington, custody is called a parenting plan. The judge will consider the following aspects when assigning custody:

Child's preferences
Emotional needs and development of the child
Preference of the parents
Relationship of the parent and child
Adjustment of the child to home, school, and environment
Spouses' work schedules
Custody agreement signed by both parties
History of child abuse, negligence, addiction, domestic violence, and similar

Child support
The child support will be based on a non-custodial parent's (the one paying child support) income and the number of children in the family
Spousal support
There are three types of alimony in Washington:

Temporary support
Short-term support
Long-term support

Division of assets
When determining the division of assets and debts, the court will consider the following factors:

Duration of marriage
Nature and extent of community and separate property
Economic circumstances
How Much Will a Divorce in Lincoln County, WA, Cost?
The cost of divorce in Lincoln County will depend on the complexity of your case. If you're having a contested divorce, you can expect to pay approximately $13,400. Having children increases the price significantly—your divorce may cost you up to $20,000.
An uncontested divorce will cost you much less—$314 for a filing fee, an additional service fee that is around $50, and any other incurred costs of submitting the rest of the divorce papers.
Can You File for Divorce in Lincoln County, WA, Without a Lawyer?
If you and your spouse can agree on every term of your divorce, you can get divorced without a lawyer and reach an out-of-court settlement.
Attending mediation can help you reach an agreement on all aspects of your divorce. It is a process that is facilitated by a neutral third party who helps you discuss all the differences you might have and reach a friendly or uncontested divorce. Mediation can cost a pretty penny, but it costs less than a trial.
What Forms Do You Need for a Lincoln County, Washington, Divorce?
To start an uncontested divorce process in Lincoln County, you'll need the following forms:
Petition for Dissolution of Marriage
Summons
Acceptance of Service
Findings of Fact and Conclusions of Law
Financial Declaration
Decree of Dissolution
Joinder
Response to Petition
If you and your spouse have underage children, you'll need to file some additional forms, like:
Order of Child Support
Declaration in Support of Parenting Plan
Washington State Child Support Schedule Worksheets
How To File for Divorce in Lincoln County
Follow the steps below to file for divorce in Lincoln County:
Obtain all the necessary divorce forms
File the divorce papers with the Lincoln County Superior Court
Draw up a divorce settlement agreement
Wait for the mandatory 90 days to pass
Attend a hearing
Create the Best Divorce Settlement Agreement With DoNotPay's Help
You don't have to spend endless hours on online divorce services searching for a marital settlement agreement template because DoNotPay can create one for you in a heartbeat. Our platform has a comprehensive database of state divorce laws and regulations, which helps us create a professional marital settlement agreement tailored to your needs.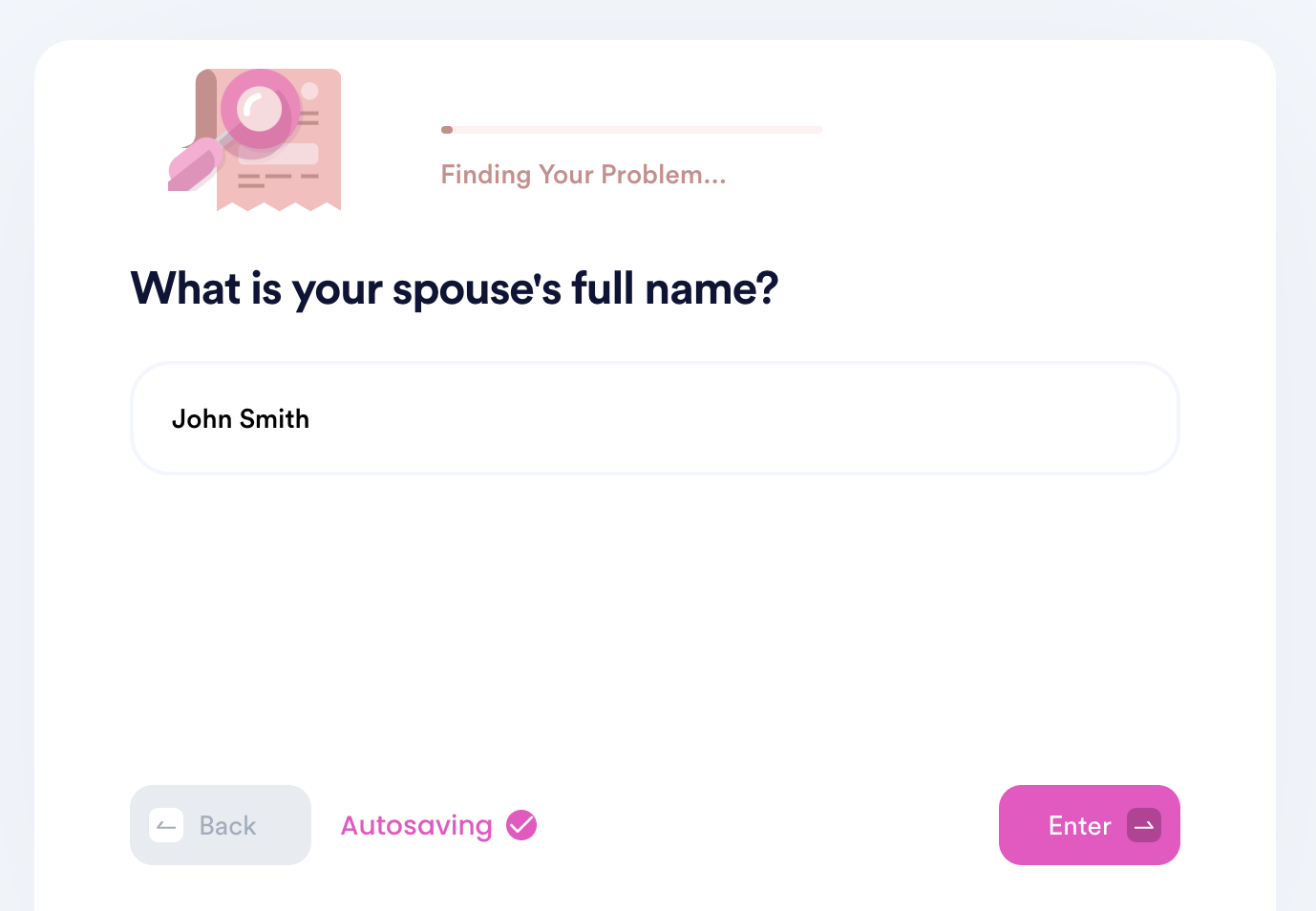 What you need to do is subscribe to DoNotPay and follow these steps:
Type Divorce Settlement Agreement in the search bar
Open the product and add all the required information
Indicate how you want to split your property
As soon as you're done, we'll send you your personalized divorce settlement agreement. We can also help you get it notarized by connecting you with an online notary in Washington who can witness your and your spouse's signing in a video call.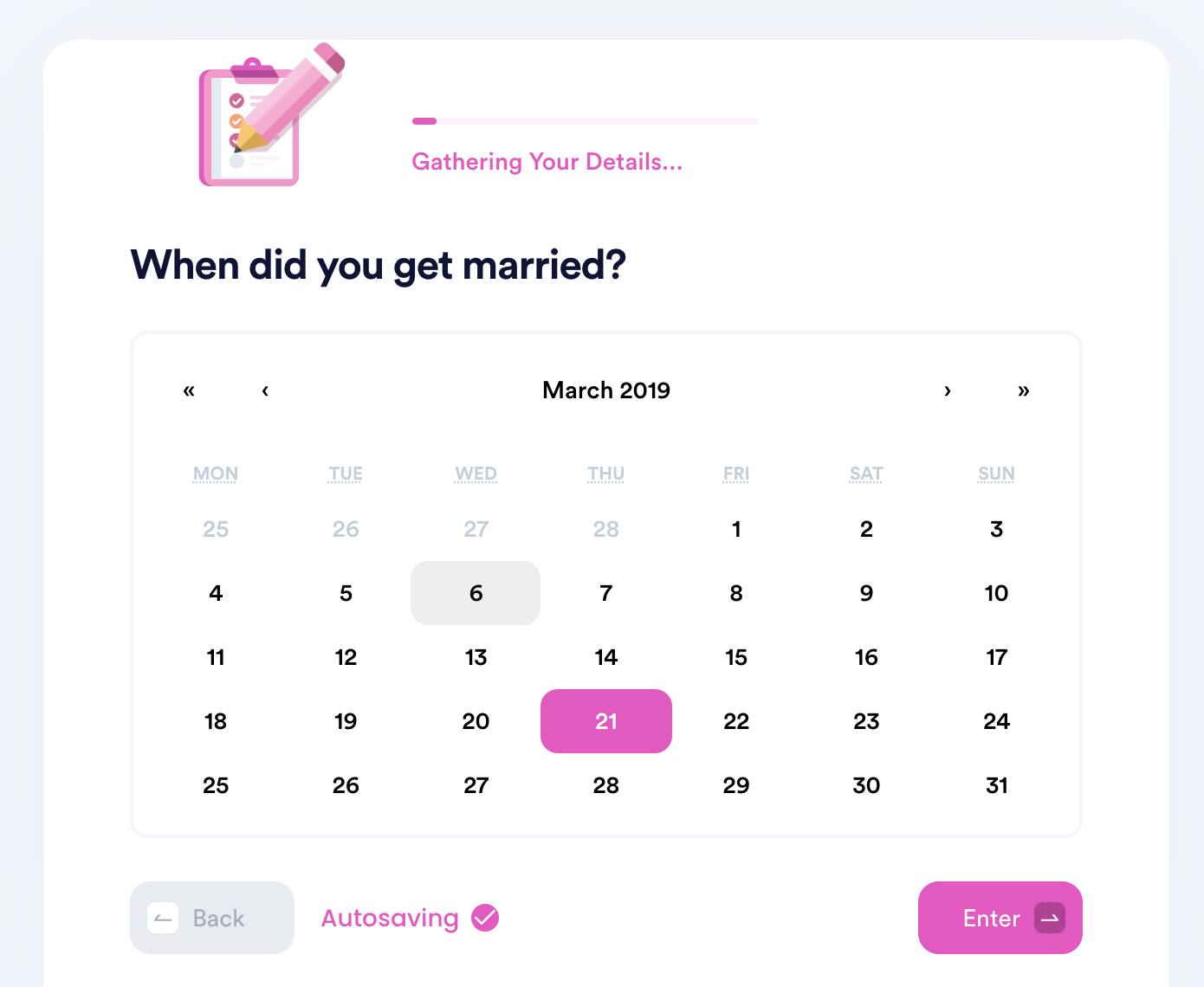 DoNotPay is happy to answer any questions you have about divorces, including:
Use DoNotPay To Deal With a Plethora of Bureaucratic Tasks!
Tired of dealing with bureaucracy? We understand the struggle, and that is why our app makes handling administrative tasks a breeze!
Regardless of whether you need to compose a legal document, such as a power of attorney or a child travel consent form, appeal property taxes or your parking tickets, file a financial aid appeal and a FOIA request, or get a document notarized, DoNotPay has got you covered!
In case you also need to submit anonymous HR complaints, our app will provide you with the easiest way to do so!
Go on a Stress-Free Shopping Spree With DoNotPay
Do you like to shop until you drop? With DoNotPay, you won't have to worry about dropping! We'll make sure you can:
If you need more money to continue your shopping spree, let our app help you find any unclaimed funds under your name and enter numerous giveaways and sweepstakes!