Lincoln County, Colorado, Jury Duty Explained by DoNotPay
If you're from Lincoln County, Colorado, and jury duty service is troubling you, read our article to find out more about it! We will help you prepare for this important duty by:
How Does Jury Duty in Lincoln County, Colorado, Work?
Jurors in Lincoln County are selected randomly from a pool of registered voters and driver's license and identification card holders. To be eligible for jury duty, you also must be:
A citizen of the United States
At least 18 years old
Able to read, write, speak, and understand English
A resident of Lincoln County, Colorado
You will be dismissed if you have a pending felony criminal charge that can be punishable by more than one year in prison.
When you receive the summons, you will have to go to court before the trial to answer a series of questions. The judges and lawyers will use your answers to determine whether you can be an unbiased juror.
Can You Be Exempt From Jury Duty in Lincoln County?
Check out the table below to see in which situations you can be exempt from jury duty in Colorado:
| Situation | Exemption |
| --- | --- |
| Elected official | No |
| Student | No |
| Serious physical or mental illness | Yes |
| Breastfeeding mother | Yes |
| Police | No |
| Medical worker | No |
| Firefighter | No |
| Disability | No |
| Sole caretaker of a permanently disabled person living in the same household | Yes |
You can also be exempt if you have served as a juror less than one year before being summoned again. This law was introduced to ensure citizens don't get called for jury duty too often.
What Happens if You Don't Show Up for Jury Duty in Lincoln County?
Jury duty is your civic obligation, and if you don't show up when summoned, you will be brought to court by the United States Marshal for noncompliance. You will also be obligated to pay a fee of up to $1,000 for skipping jury duty, and you might face prison time or have to do community service (or a combination of the three).
Do You Get Paid for Jury Duty in Lincoln County?
According to the jury duty pay laws, jurors in Lincoln County are paid $50 a day, which is the same amount that federal jurors receive.
Considering that the average length of a trial in Colorado is three days, you can get around $150 for your jury duty service.
Can You Get Fired for Skipping Work To Serve as a Juror in Lincoln County?
Employers in Colorado are legally forbidden from penalizing their employees or firing them if they take time off for jury duty. Nonetheless, if you need to take time off, you should write a leave request letter to notify your employer in advance so they can verify your jury duty.
As writing the letter can be time-consuming, you should and have this important document generated for you in no time!
DoNotPay Helps You Prepare for Jury Duty in Lincoln County, Colorado
Don't want to waste your time writing a leave request letter on your own? to get this key document quickly and avoid any potential issues you might face at work! Our AI-powered app will prepare the letter for you instantly, and all you have to do is follow these steps:
Select our Request Jury Duty Leave tool
Answer our chatbot's questions
Upload a photo of your jury summons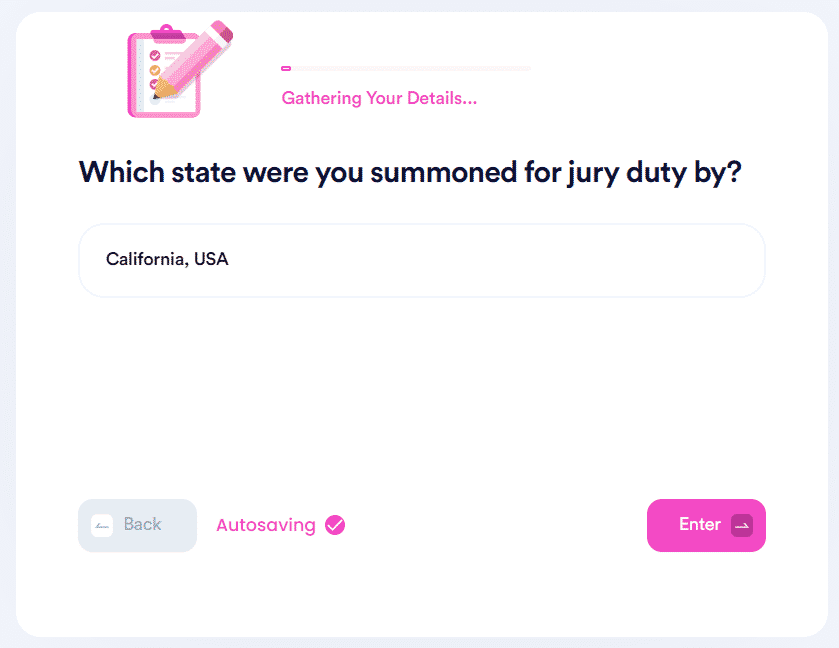 And that's it! Once you submit your request, we will either:
Forward the letter to your employer for you
Send the letter to you so you can download and print it
If you need help with jury duty in other Colorado counties or cities, we can help by providing guides to Adams County, Jefferson County, and Colorado Springs jury duty laws.
Our Platform Makes Your Life Simpler
DoNotPay offers a vast spectrum of life-changing services, including the ones listed below:
| Services | With Our App, You Can: |
| --- | --- |
| Eliminating spam and harassment | |
| Saving and getting more money | |
| Providing other useful services | Convert various files to other formats |
DoNotPay Helps You Get the Necessary Paperwork in a Heartbeat
Do you need to compose a power of attorney, revocable living trust, or a health care directive but don't know how? No worries—DoNotPay can do it for you! If you need comprehensive and valid legal documents tailored to your wishes and needs, there's no better way to get them than subscribing to our app!
We can also draft personalized FOIA requests, divorce agreements, homeschool notices of intent, and various complaints.