Need Interim or Specific Help With Your Lone Star State Finances? A Limited Power of Attorney in Texas Can Do the Job!
As a Texan, there may be a time when you are not able to handle your financial affairs for a period. You may also need help with a specific aspect of your Texas money matters.
This is when a limited power of attorney could be your best course of action.
DoNotPay can help you with the lowdown on a limited power of attorney in Texas—when you need one, how it works, and how you can set it up.
What Is a Limited Power of Attorney Under Texas Law?
A financial power of attorney is a legal document that allows a designated person to manage your financial affairs for you.
The person you designate—known as an agent in Texas—is allowed to:
Access your bank accounts
Pay bills
Deal with your tax matters
Represent you towards creditors and financial institutions
Pay for your family's support
A limited POA gives your agent limited power or a limited agency period. This means that the POA terminates automatically when:
The set period has elapsed
The task has been completed
A limited POA is a useful tool to hand over responsibility for aspects of your finances for a short time.
When Do You Need a Limited Power of Attorney in Texas?
A limited POA can be used in the following circumstances:
Prolonged absence
Medical care and rehab
Investment strategy execution
Business agreement ratification on your behalf
Prolonged Absence
If you are going to be unavailable for a prolonged time, you can use a limited POA to have your agent manage your affairs while you are away. The limit would involve the timeframe of the POA.
Medical Care and Rehab
Unavailability due to an operation and subsequent rehab, or an illness that requires a period of absence for isolation or in-patient treatment, is an opportunity to appoint an agent under a limited POA.
Investment Strategy Execution
Complicated financial dealings, such as investment portfolio management or property deals, require an expert hand. You can grant a limited POA to a financial advisor to act on your behalf for specific deals or transactions.
Business Agreement Ratification on Your Behalf
If you cannot be present for the signing of a contract, you can use a limited POA to appoint an agent to represent you.
Does Texas Have Any Special Laws for Powers of Attorney?
Anyone aged 18 or over in Texas can grant a power of attorney or become an agent.
The only requirement under Texas state law is that the POA is dated and signed in the presence of a Texas notary public or an online notary.
How Do You Set Up a Limited Power of Attorney in Texas?
The Texas state government provides a ready-made form for a durable power of attorney, but you will need to prepare a limited POA document yourself.
The document can be in the form of a POA letter, but it should address the following:
POA Element
Explanation
Choice of agent
You should only choose an agent you trust completely to perform the task in your best interests. Your agent could be a:

Friend or business partner
Trusted financial adviser
Family member

Time frame
The length of your POA should be stated clearly. It will normally become valid on the date of signature
Scope of POA
You need to clarify exactly what your agent is required to do. If you want to give added clarity to the POA, you can list exclusions or prohibited areas of involvement
You may feel you need a lawyer to help you prepare your limited power of attorney. You should go through the expense and hassle of hiring one—you can !
Get Your Limited POA in Texas With DoNotPay

DoNotPay is the expert at providing you with legal documents that work, and powers of attorney are no exception!
We have all the info you need on the various types of POA, including:
To make your life easier, we can generate a power of attorney document for you in a flash—here's what you need to do:
in any web browser
Click on our Power of Attorney product
Follow the prompts and give us the details you want included in your POA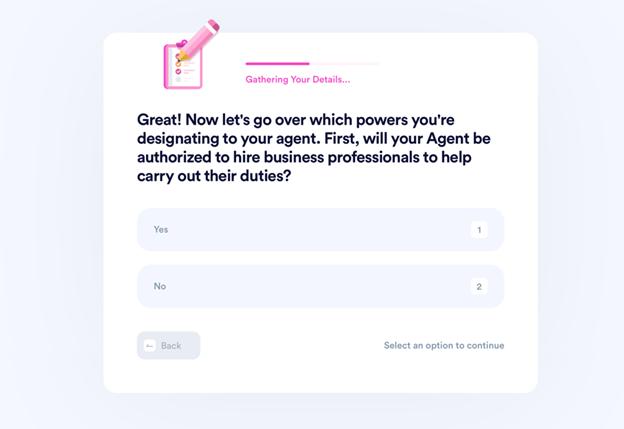 Once you have given us all the details we need, we will go ahead and generate your customized POA. All you then need to do is find a notary and sign the POA in their presence.
If you want to save even more time and effort, you can use DoNotPay's online notary feature for that job as well!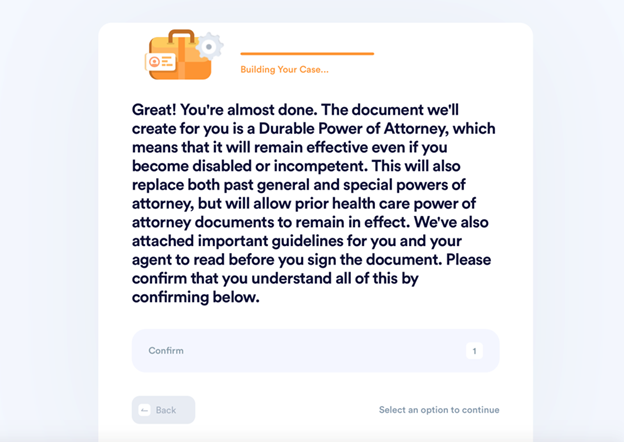 Discover DoNotPay's Product Range
DoNotPay has a vast range of products that help you earn and save money and fight bureaucracy. Check out how to get insurance or warranty, file a FOIA request, send anything through online fax, draw up a tailor-made legal document, get documents notarized, get a college fee waiver, sign up for any clinical trial, and so much more!
Your personal AI-powered assistant can also lend its helping hand if you need to fight email or text spam, get robocall compensation, request refunds from airlines, draw up a child travel consent form, prepare for government tests, and combat workplace discrimination successfully.
Save and Earn Money
The best part of using DoNotPay is that you can both save and earn money. As soon as you sign up, make sure you check out how you can find missing money, get free raffle tickets, get compensation for victims of crime, report a late or missing delivery and get a refund for it, and request gift card cash back.
If you want to sign up for a free trial risk-free, cancel any subscription-based service, request a refund from a company, sue anyone in small claims court, or jump the phone queue when getting in touch with customer service reps, you can always count on us.