Get the Scoop on the Limitations on Property Tax Assessments in Florida!
Property taxes can be difficult to understand and quite pricey to manage. Paying your property taxes and figuring out how to lower them is usually tiring and complicated. That is why we made a guide that will help all the Florida residents find property tax exemptions that apply in their state! We also help you understand the limitations of property tax assessments in Florida and explain what they mean for you.
Aside from finding all property tax exemptions you are eligible for, DoNotPay also assists you in appealing your property tax assessment in various states!
Florida Limitations on Property Tax Assessments—Explained
In Florida, there are two amendments regarding the property taxes:
Amendment 5

Amendment 2
The provision cap on the property assessments in Florida was set to expire in 2019, but amendment 2 was made to solidify the cap of 10% on the non-homestead properties. The school district taxes weren't involved in this provision cap.
Limitations on Property Tax Assessments—Amendment 5
Amendment 5 is the first one concerning property taxes. It includes extending a deadline for applying to move a portion of your taxes to a new home.
Homeowners usually get a two-year window to apply for this, but amendment 5 would serve as a way to extend it to three years. Since money from taxes goes to finance schools, this amendment would reduce property tax income for school and non-school services.
Limitations on Property Tax Assessments—Amendment 2
Amendment 2 was approved with over 60% of the vote to keep current provisions that increase to 10% annually on all non-homestead properties. Non-homestead residences are the properties that are not used or occupied as main residences.
Amendment 2 was created to make the cap of 10% on annual non-homestead properties permanent. The provisions were originally set to expire on January 1, 2019.
Methods of Lowering Your Property Taxes
If you need help paying your property taxes in Florida, you can apply for all the property tax exemptions you are qualified for or try one of the other common methods we provide below:
| | |
| --- | --- |
| Option | How It Works |
| Applying for Property Tax Exemptions | Florida provides you with several options when it comes to property tax exemptions. You can find and apply for the ones you qualify for by yourself, or use DoNotPay for a streamlined guide on property tax exemptions tailored for you |
| Skipping Home Improvement Projects | Avoid doing any home renovation projects before seeing and paying your property tax bill. Improving your home before the assessment can result in your tax bill increasing |
| Appealing the Property Tax Assessment | If you conclude that the assessment of your home or property wasn't done properly and an error occurred, you can use DoNotPay to file an appeal easily |
Checking your tax bill for any inaccuracies and participating while the assessor evaluates your home can also be helpful.
Florida Property Tax Exemptions
You may be eligible for more than one property tax exemption valid in the state of Florida. Check out what some of the most common Florida property tax exemptions are:
Homestead Exemption
The homestead exemption lets you deduct $50,000 from the assessed value of the home or property you occupy as your main residence. You can have the first half of $50,000 completely exempt. The other $25,000 is applied to the value from $50,000 to $75,000, and it doesn't involve the school tax benefit. If the property gets sold, the exemption will be removed. The assessed value will change to fit the market value of that year.
Veteran Exemption
If you are a veteran with less than a 100% disability related to military service, you are eligible for a $5000 veteran disability exemption. You'll have to provide a letter attesting to the percentage of your disability from the US Government or Veteran's Affairs.
Senior Citizen Exemption
The senior citizens are eligible for the Florida senior citizen exemption if they meet the state's requirements. You can qualify for the senior citizen exemption if you are:
The owner of the property

65 years of age or older

Meeting the income limitations set by the state
DoNotPay Makes Lowering Florida Property Taxes Feel Like a Breeze!
Are you tired of searching for ways to deal with your property taxes and looking for a simple, step-by-step guide to reduce them? DoNotPay got you covered! Our Property Tax feature gives you all the necessary instructions and finds every property tax exemption you are eligible for! All you need to do is follow the steps below, and you will gain access to your personalized guide in minutes:
Go to DoNotPay from your

web browser

Locate and select the

Property Tax

tool

Give us a few short answers about you and your property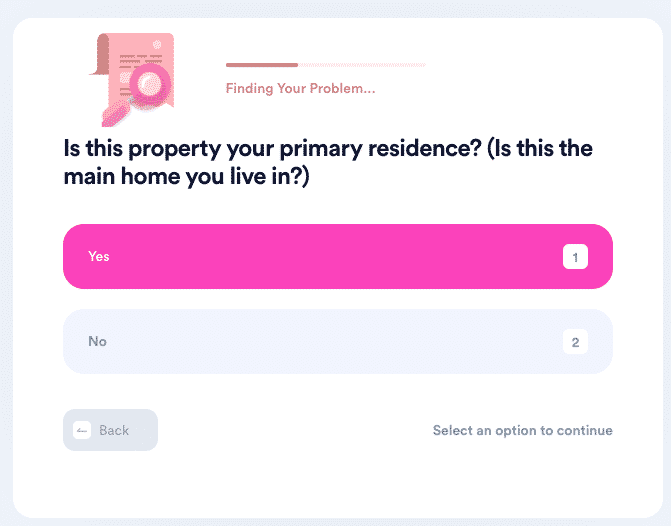 Once you provide us with the info, we will create your guide. You can either download it or print it.
DoNotPay Helps You Claim Your Money
Our virtual assistant app makes sure you get back funds that are rightfully yours. 
Whether you need to claim insurance, warranties, or your property held by the state, we will help you do it in minutes.
DoNotPay can also help you initiate a chargeback on any transaction you disagree with. We can help you secure compensation from airlines, robocall and text scammers, or in case you've been a victim of a crime.
In case you are dealing with an unfair company regarding your subscription cancellation or any other matter, we can help you get your money back by suing them in small claims court. 
Bypass the Administration With DoNotPay
There's no more need for extensive research, abundant paperwork, or endless phone calls with customer service reps. 
DoNotPay brings the administrative nonsense to a minimum. 
Book DMV appointments fast and easy, appeal your parking citations, sign up for free trials without disclosing your credit card info or phone number, or reach your loved ones in jail—all in less than five minutes.
We also generate any legal document, provide full access to public records, offer DMCA protection, and reduce your property taxes with a few clicks.