Life Estate vs Living Trust 
When it comes to handing down your assets to chosen beneficiaries, two commonly used options are life estate deeds and living trusts. They both have the advantage of avoiding probate, but beyond that, there are unique differences that come with each. The rest of the article will explain the major differences between a life estate deed and a living trust to help you decide which is best for you and your loved ones. 
Life Estate 
A life estate deed is a type of deed that lets you automatically transfer your real estate to your loved ones after your demise. You can combine a life estate deed with a will to cover all bases. A life tenant is a person who prepares a life estate deed. The beneficiary of the life estate can also be referred to as the remainder-man. 
With a life estate deed, the house or property still belongs to you as long as you live, and none of your mentioned beneficiaries can evict you out of the house until your demise. A major disadvantage of life estate deeds however, is the inability to make amendments without the consent of the remainder-man. 
Benefits of a Life Estate
Typically, with a life estate, you have the advantage of shedding off some tax burden. Other basic benefits to a life estate are: 
Avoids probate.

Grants full rights to the life tenant or creator of the deed.

It can shield real estate from Medicaid and nursing home deductions. 

It is also a good means to win some tax exemptions..
Living Trust
A living trust, much like a life estate, lets you plan how your assets and real estate will be transferred beyond your lifetime. Living trusts can either be revocable or irrevocable. Revocable trusts can be amended while irrevocable trusts are unchangeable. Most people open a living trust all by themselves, but there are others who operate joint living trusts with their partners.
Benefits of Living Trust
Some benefits to living trusts are:
Skips probate.

Avoid Medicaid costs and provide

tax exemptions

(if you choose irrevocable living trusts).

Managed by a trustee after death.
Differences Between Life Estate and Living Trust
While both look like a perfect substitute for the other, there are precarious differences you need to note to avoid making the wrong choice. The major differences are:
Life estates
Living trust
Sales

Properties registered in a life estate cannot be randomly sold to raise money.

Assets put in a living trust can be easily sold once the owner of the property gives the authorization to do so. 

Rights

Beneficiaries have no rights to the property, except with the consent of the life tenant, until their demise.

Beneficiaries have rights to accounting details and property information once the trust is set-up.

Amendment

The life estate holder cannot make changes to the deed once it has been legally formalized. It must be done with the permission of the stated beneficiary. 

The grantor of a revocable living trust can make multiple changes as they wish without the consent of the beneficiaries. 

Obligations 

It is the obligation of the life estate owner to continue with the payment of all necessary dues, taxes, mortgage, and insurance of the property. 

The grantor of a living trust can delegate this duty to the named trustee in the living trust. 

Creditor protection

A life estate does not protect its parties from creditors. A creditor can place a lien on a property for unpaid debt. 

With a living trust, specifically irrevocable living trusts, the property is immune to

creditors' liens

. 
How to Set Up a Living Trust by State
Setting up a living trust can come with varied clauses and costs, depending on the state. You can choose to fill out a generic trust form, hire an attorney to create one for a high cost, or use DoNotPay. If you have questions about the specific living trust guidelines in your state, click your state below:
Get Your Living Trust Ready With DoNotPay
DoNotPay offers a convenient way to get your revocable living trust set-up. The process is easy and only takes less than 10 minutes. If you have all your information ready, go to DoNotPay and:
Click on the Revocable Living Trust product. We'll ask for the state you live in and where you're getting the trust notarized.
Assign your beneficiaries and assets to be given to them.
Assign trustees to manage the trust when you die.
After you enter all the details, you'll get a living trust in the form of a PDF and DOCX file. Feel free to review and make changes if you would like!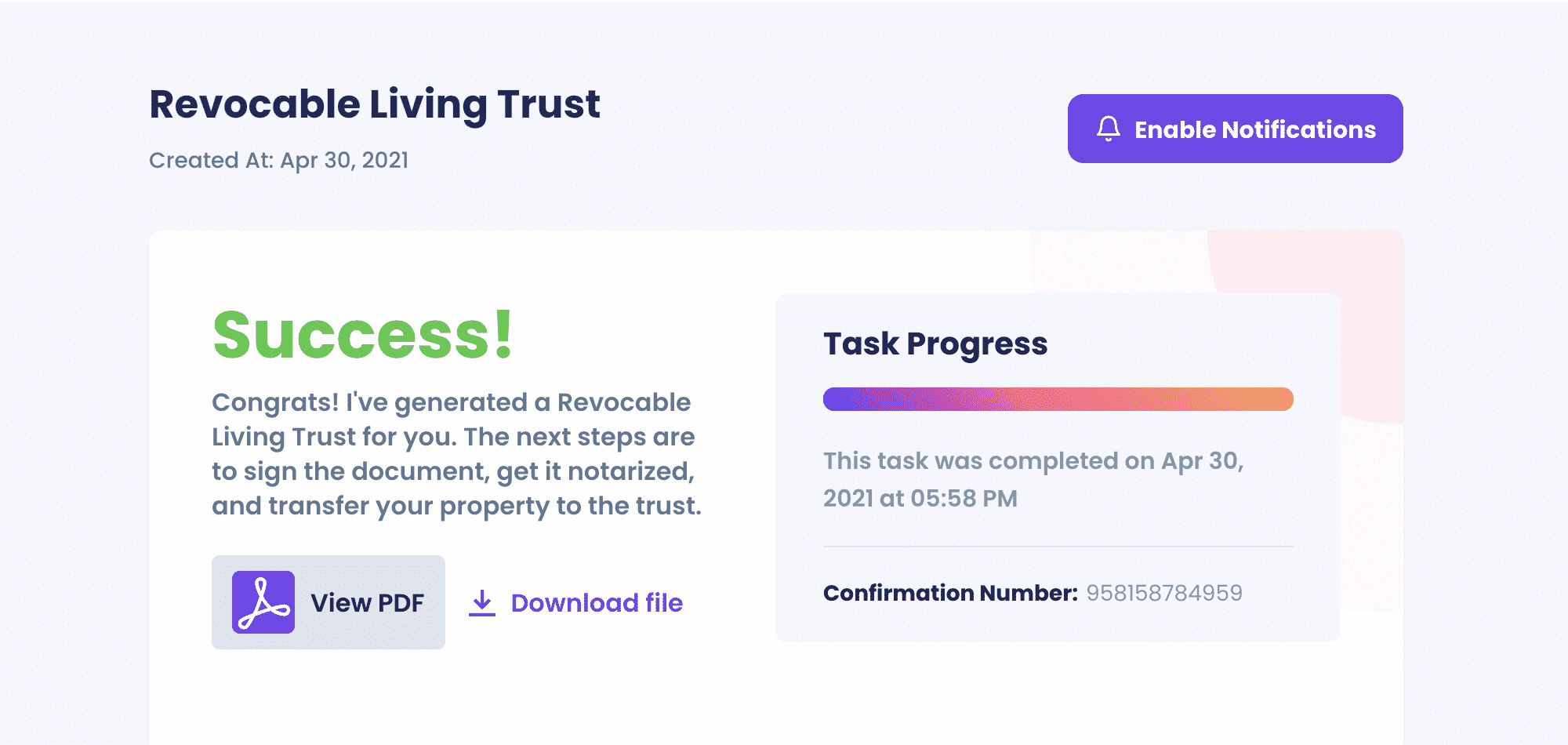 Can DoNotPay Help Me With More?
Yes! Sometimes, it sucks having to deal with small things yourself. Let DoNotPay work on your chores for you: