Understanding a Licensing Agreement

Legal documents can be confusing if you're not a lawyer, but it doesn't have to be this way. We have created a vast knowledge base to break down numerous contracts and agreements in layman's terms and provide tips on writing them.
We'll help you understand the ins and outs of a licensing agreement and create all kinds of contracts!
What Is a License Agreement?
A licensing agreement is a legally-binding document between two parties. By this contract, one party (the licensor) that owns certain assets allows the other party (the licensee) to manufacture a product or use patented technology.
Important factors that come into play in defining a licensing agreement are the following:
Exclusivity

:

Exclusive—The licensee is the only one who has the rights to a property

Non-exclusive—More than one licensee may be involved

Sole—There is only one licensee, but in this case, the licensor can also keep using the property

Territory

—Designating a territory where a licensee is allowed to make and sell a product

Duration

:

Perpetual—The licensee can use the property indefinitely

Term—The licensee can pay a one-time fee that covers an agreed-upon term or pay per use

Payment

—The licensor gets royalties from the licensee. The payment methods and terms differ (e.g., paying a percentage of revenue or a flat-rate)

Sub-agreements

—e.g., a

non-disclosure

and a

non-compete agreement
Types of Licensing Agreements
You should draw up different types of licensing agreements depending on the type of property. Check out the most common types in the table below:
Type of a Licensing Agreement
Brief Explanation

Patent

It typically involves science and innovation

The licensor gives rights to the licensee to manufacture, distribute, sell, and use a patented product

Trademark

It can be used for licensing logos, slogans, and brand names

It outlines how the licensee will use a trademark

Trade secret

This type entails a non-disclosure sub-agreement

The licensee agrees to certain terms of using the licensor's trade secrets without disclosing them (e.g., Coca Cola's or KFC's formulas)

Copyright

Copyright agreements are common for art, movies, songs, and characters

The licensee obtains the right to reproduce and sell a copyrighted product
Important Aspects of a Product Licensing Agreement
Before entering a licensing agreement, whether you're the licensor or the licensee, you need to take a few details into account, including:
Checking government regulations

Doing due diligence, i.e., researching the other party

Familiarizing yourself with taxes

Determining payment details

Thinking ahead in terms of potential ownership disputes

Understanding every clause of the agreement
What Are Some Licensing Agreement Examples?
You may not even be aware of how many licensing agreement examples you're already familiar with. Actors, sports teams, record labels, and film production companies usually need to sign licensing agreements in the following situations:
Actors enter licensing agreements to allow toy companies to use their likeness and manufacture dolls and action figures

Sports teams typically sell trademark licenses so that companies may use their names or logos

Musicians sign licensing agreements with record labels that allow them to duplicate and release records

Movie companies can sell licenses to companies, allowing them to create trademarked products based on movie characters
Real-life examples include McDonald's having a licensing agreement with Disney to use Disney characters as Happy Meal toys.
Can I Get a License Agreement Template and Draw It Up by Myself?
While there are myriads of contract templates on the internet, they're not always reliable or applicable to your specific situation. You can comb through different license agreement samples online and get an idea of what your agreement should look like, but it's best to tailor it to your own needs.
Use DoNotPay To Draft Different Legal Documents
Aside from the licensing agreement, you may need various sub-agreements or entirely separate contracts we can assist you in creating. With our Legal Documents feature, you can generate an unlimited number of agreements.
Follow these instructions to start creating:
Visit DoNotPay in a

web browser

Enter the type of legal document you want to draw up

Answer a few questions
Your answers will help us make a unique and solid contract. As soon as you provide us with the relevant info, our app will let you obtain the document.
The next step for you and the involved parties is to review and sign it.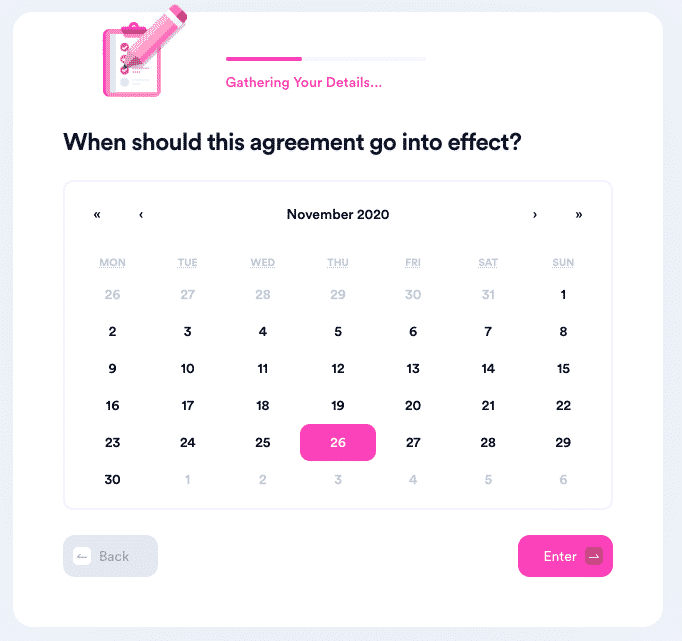 What Agreements Can I Create With DoNotPay's Help?
DoNotPay—the world's first robot lawyer—can come in handy in numerous situations that require a legal document. Not only can we create an agreement in a matter of minutes, but we can also provide tips and guidelines. Our database grows every day, and it includes:
Real Estate
Business
Other

Quitclaim deed

Estoppel certificate

Intent to purchase real estate

Promissory note

General affidavit

Admin Issues Giving You a Headache? Resolve Them With DoNotPay!
Scheduling a DMV appointment, applying for clinical trials, requesting refunds from companies, and getting in touch with your loved ones in prison are all difficult and time-consuming tasks. You have to take many steps before you can get any of these over with, and that's why our robot lawyer app is here to help.
No matter if you need assistance with appealing parking tickets, signing up for free trials, canceling various subscription services, or maybe preparing for government tests, DoNotPay will provide you with easy solutions.
Having Financial Struggles? Rely on the World's First Robot Lawyer
Many Americans struggle to make their ends meet at the end of each month. With that in mind, we've created plenty of features that will save you both time and money in the most efficient way. 
Using our AI-driven app, you can get help with bills, get refunds from airlines, find unclaimed money in any state, or earn off annoying robocalls or stalkers and harassers. If you want to fight for your right, DoNotPay will also assist you in suing any person or company in small claims court.
No matter the admin task at hand, our robot lawyer will provide swift and effective assistance.