File Liberty Mutual Insurance Claims With No Trouble
Liberty Mutual is one of the largest insurance providers in the United States. Based in Boston, Massachusetts, the company operates in more than 900 locations all over the world.
It provides various insurance services and products, such as vehicle, home, life, general liability, group disability, fire, and others. In case you have one of the company's policies and have had an incident, claiming your insurance will not be a problem with DoNotPay.
What Does Liberty Mutual Insurance Cover?
Liberty Mutual offers many insurance options. Here is an overview of all the plans to better understand what you can claim:
Insurance
Covered

Homeowners

Home and other structures

Belongings

Damage or loss due to:

Fire

Theft

Storm

Hail

Water

Liability for:

Injuries of others on your property

Auto

Property damage

Bodily injuries

Medical expenses

New car replacement

Life

The death benefit for a fixed period

Whole life protection

Fixed retirement income
DoNotPay offers efficient assistance in filing any insurance claim on your behalf. Do you need help with Liberty Mutual life insurance claims? We can claim your insurance together!
How Long Do Liberty Mutual Insurance Claims Take?
How soon you will get your money depends on the damage and the type of your claim. This is what usually happens after you file a Liberty Mutual insurance claim:
A representative reviews the details of the incident

He/she gets in touch with you in one or two workdays

You provide further proof or documentation if required

A Liberty Mutual representative sends you a damage estimate

You schedule the repairs and get paid
If you cannot wait for a representative's call, you can track your claim's status online.
File Liberty Mutual Insurance Claims With DoNotPay
Our AI-powered app will help you claim an accident, flood, hurricane, unemployment, or any other insurance policy. We will speed up your claim process and save you a lot of time and energy.
What you need to do is provide some basic information, and the rest is up to us!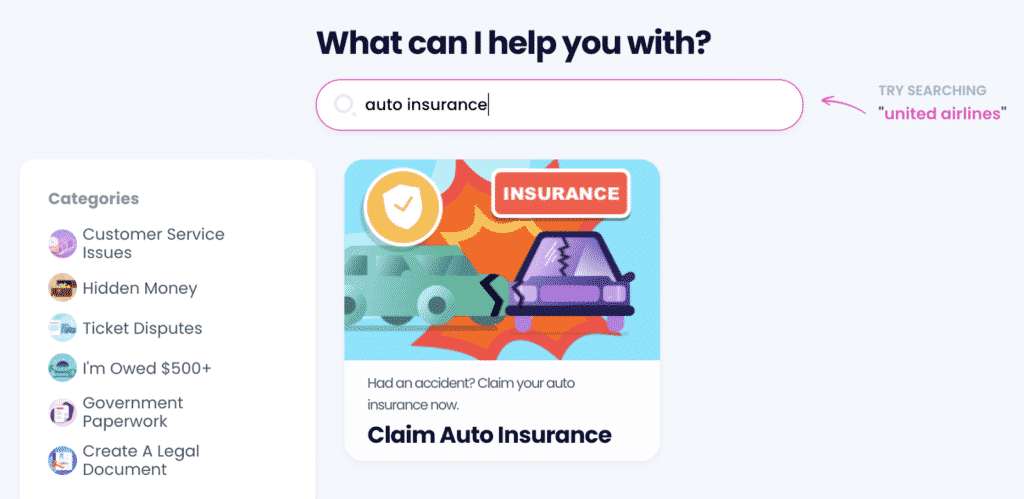 Would you like to see how simple it is? Follow these steps:
Visit DoNotPay in your

Select the type of your insurance

Provide basic information

Indicate why you are filing your insurance claim and enter the details regarding the incident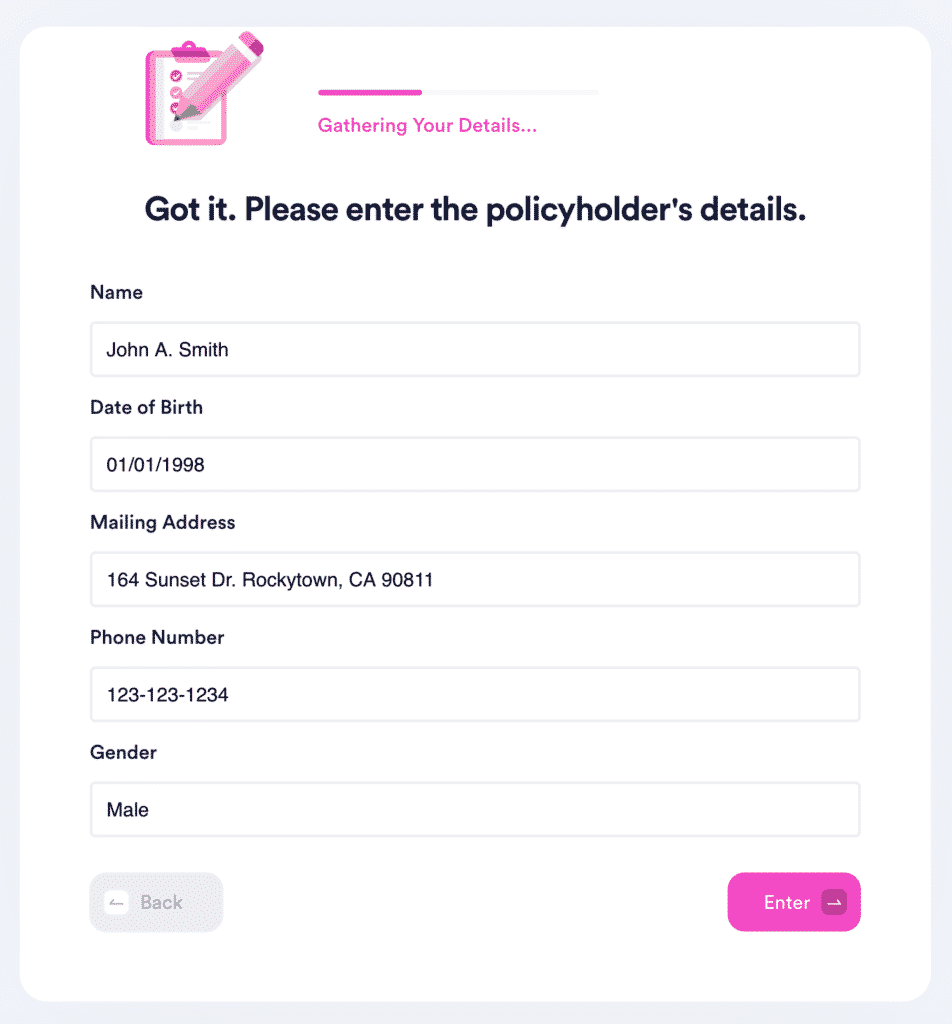 When you finish these four steps, we will create and file your insurance claim. Liberty Mutual will get back to you as soon as it reviews your request.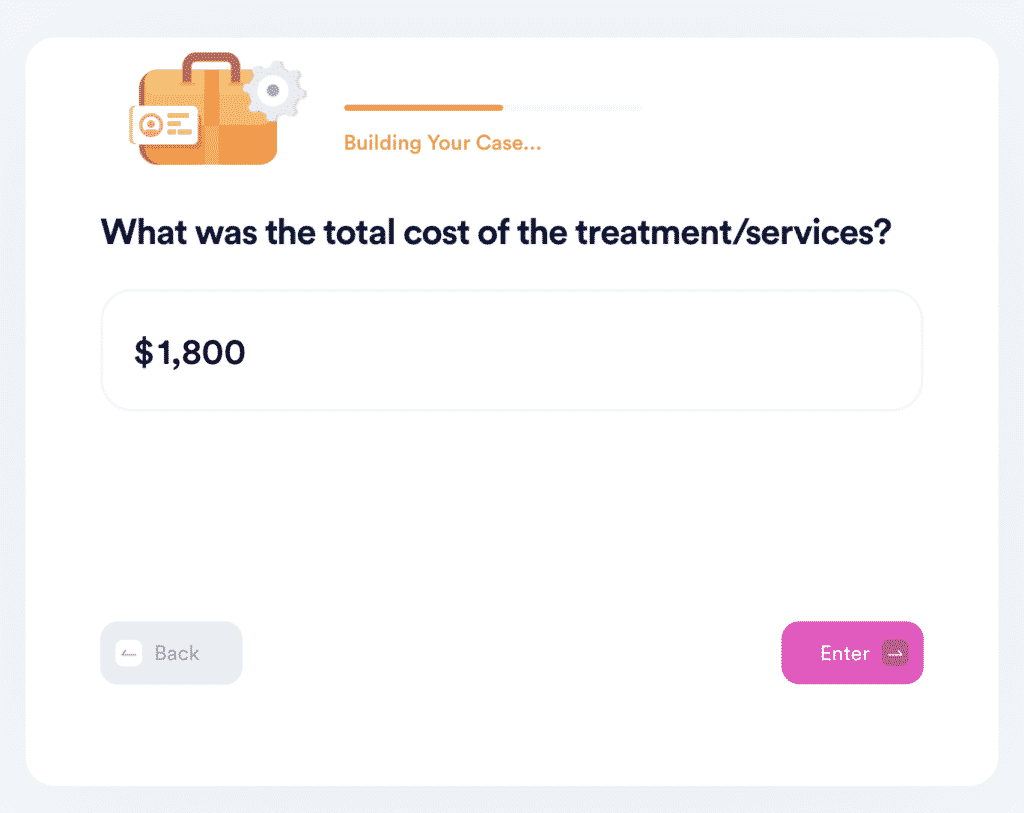 We jump in to streamline the procedure regardless of your provider. The General, Allianz, Shelter, or Hartford—DoNotPay makes sure you go through the process effortlessly!
How To File Liberty Mutual Insurance Claims by Yourself
Filing insurance claims can be challenging, and it takes up a lot of time, so you need to arm yourself with patience. Before filing an insurance claim, make sure you prepare the required information:
Username and password

Policy type and number

Incident date

Details regarding the incident and damages

Make, year, and model of your vehicle (in the case of auto insurance)
You can submit Liberty Mutual insurance claims via:
An online form

Phone

App
File Liberty Mutual Insurance Claims Online
Once you have collected all the above-listed information, you should:
Access the

File a Claim

page

Select your status from the three available options in the drop-down menu

Enter your username or email address

Type in your password

Click on the

Log In

box

Choose the policy type

Enter your policy number

Type in your last name

Click on

Continue

Follow the prompts to finalize your claim
In case your policy type is not offered in the drop-down menu, you should get in touch with Liberty Mutual claim center at 1-800-225-2467.
Submit Liberty Mutual Insurance Glass Claims Online
Submitting a glass damage claim is a bit different, and here is how you claim it:
Visit the

Glass Claim

page

Provide the policy number

Enter the contact phone

Indicate the incident date

Select how the damage happened from the offered options

Enter the ZIP code

Select the state where the accident occurred

Enter the city where the damage happened

Click

on

Get Started

Follow the prompts
Submit Liberty Mutual Insurance Claims by Phone
You can file Liberty Mutual insurance claims by getting in touch with the company's claim center at 1-800-225-2467.
For glass claims, dial 1-800-567-5568 or leave your contact details for a representative to get in touch with you.
File LM General Insurance Company Claims via the App
Another option you can use to submit a Liberty Mutual home insurance or any other claim is in the app. Download it from Google Play or Apple Store.
Apart from filing a claim, you can use the Liberty Mutual app to track your claims, upload photos, request road assistance, or access ID cards.
What To Do if Liberty Mutual Insurance Rejects Your Claim
Insurance claims get denied frequently. As we understand how frustrating it can be, DoNotPay has designed the Appeal a Denied Insurance Claim feature to help you send an appeal letter and get your money.
Here is how you start the appeal process:
Access DoNotPay from any

Choose your insurance type

Click on

Appeal a Denied Insurance Claim

Follow our simple prompts
We are at your disposal for multiple insurance-related and various other administrative issues!
How Else Can DoNotPay Help You Find and Save Cash
Our Missing Money feature helps you find any unclaimed assets in your name in any state. An additional perk is that you can claim your money right in the app—no need for further research!
We can also make sure you don't pay for any unfair parking citations and get the rightful compensation from airlines for any canceled or delayed flight.
Don't let big companies scare you into not claiming your warranties or insurance. DoNotPay helps you file these claims and appeal any rejections in minutes, which brings you closer to getting your money.
We can also delay your bill payments, get your college fees waived, or sign you up for paid clinical trials to earn some extra cash!
DoNotPay Keeps the Spammers Away
Whether you're dealing with email spam, text scammers, robocalls, or severe harassment, DoNotPay can help.
Use our virtual credit card or the Burner Phone feature to sign up for free trials safely—without revealing your real info. DoNotPay will make sure that no company can reach you when you use our tools.
We provide a fake email address, credit card info, and phone number that are in no way connected to your real data.
We can also help you cancel services or request a refund without you having to contact the company directly.