How to Write a Liability Release Agreement In No Time
Looking for useful info about the liability release agreement and an effortless way to draw one up? You're in the right place! We'll break down the liability release agreement for you and walk you through the crucial aspects and mandatory sections!
Subscribe to DoNotPay, and use our neat features to create legal documents in less than five minutes!
What Is a Liability Release Agreement?
Liability release agreements serve to settle legal matters without a trial, relying on a mutual accord between the interested parties instead. By signing a liability release agreement:
Both parties agree to settle a dispute without taking further legal action
The accused party agrees to financially compensate the accuser
The accused party is free from all charges
Liability release waivers can be signed before one parties agrees to perform a dangerous activity to make sure they understand the likelihood of danger. In this case, the signer accepts the responsibility for any physical damage that may ensue.
When Should You Use a Liability Release Agreement?
Some of the instances in which a liability release agreement could be helpful are:
Skipping trial and making a deal with the person that you injured in a car accident
Settling a case in which both parties are accusing each other—mutual agreement
Settling a case outside the court to avoid public scrutiny
Drafting a Liability Release Agreement
A liability release agreement can be a standalone document or a section of a more thorough one. The exact content of the document will be different in each case, but it should always include:
Clause
Meaning
Party specification

The releasee—the person who's making a payment to prevent future legal issues
The releasor—the party who will be compensated so that they don't pursue legal action

Type of liability release
That could include:

Automobile accident release
Waiver for damage to property
Release for personal injury

Accident details

Vehicular accident
Medical negligence
Sports-related accident
Work accidents

Compensation details

The kind of compensation being offered
The amount of the compensation and payment method if the compensation is monetary
What Are Liability Release Waivers?
Liability release waivers are signed before a customer engages in a dangerous activity organized by a company. By signing a liability release waiver, the customer agrees not to pursue legal action in case they are injured during that activity.
Writing the Liability Release Waiver
The liability release waiver is mostly the same as a liability release agreement, but it needs to incorporate some specific clauses:
Clause
Description
Assumption of risk

Both parties acknowledge the danger of the activity
The customer agrees to the terms and accepts the risks involved

Risk involved
The company acknowledges that the activity they're conducting is risky
Insurance
The company and the customer agree that the former won't provide insurance coverage for the latter
Choice of law provision
The contract specifies which state laws will govern the agreement. This is important to avoid loopholes in case one of the parties decides to question the document's validity
The company has the right not to offer the activity if the customer refuses to sign the document beforehand.
What a Liability Release Waiver Does Not Cover
The customer may sue the company in case of:
Ordinary negligence—When the services and facilities being provided are in inadequate condition due to bad management
Gross negligence—When the services and facilities being provided are in bad condition due to deliberate action
Should You Write a Liability Release Document on Your Own?
If you decide to write a liability release agreement or waiver by yourself, you need to make sure it's valid by drafting it in accordance with with the law of a specific state. That can be complicated for someone without a legal education, so the obvious solution would be to pay an attorney to assist you in making the contract or review it upon completion.
Should you need help with other legal documents, DoNotPay can show you how to draft various real estate, legal, and other agreements in only a few minutes!
Use DoNotPay To Draw Up Various Contracts Instantly!
You don't have to spend hours writing your contract or search for unreliable contract templates online! Access DoNotPay in your web browser, and let us take some weight off your shoulders by creating the agreement in your stead!
All you need to do is follow these instructions to get started:
Type the name of the contract you need in the search box
Answer our chatbot's questions to generate the agreement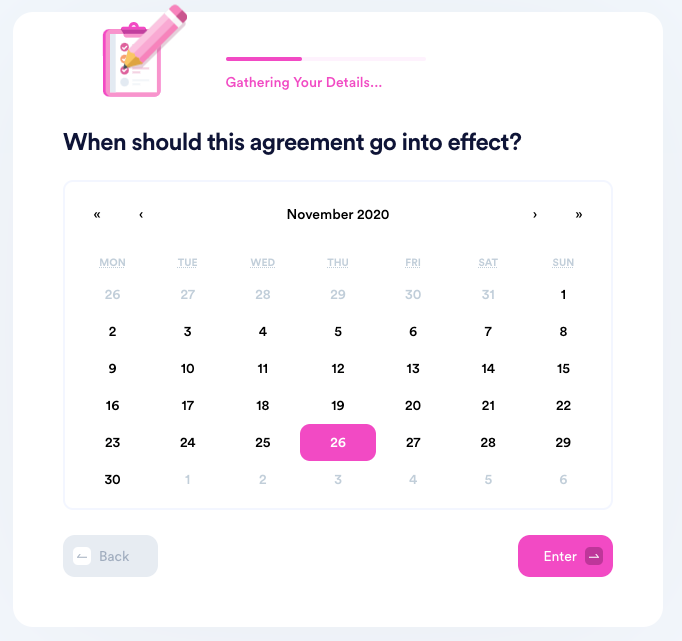 Our app draws up a plethora of documents that you can download in a flash:
General Business Contract
Intent To Purchase Real Estate
Estoppel Certificate
Quitclaim Deed
Promissory Note
General Affidavit
You can also use our services to get these documents notarized and fax them in a flash!
Facing Financial Issues? DoNotPay Can Take the Burden Off Your Shoulders
If you need to count pennies at the end of each month, DoNotPay is here to help you get a payment extension and pay your bills worry-free.
Prospective students who struggle to cover their university-related costs can also rely on DoNotPay to request a college application fee waiver.
Do you think that your property taxes are too high? Use our app to reduce your property tax bill as effortlessly as possible.
Get Rid of Spammers For Good!
Are spam texts and emails cluttering your inbox? DoNotPay has a few products you could benefit from! Rely on us and get rid of spam in less than two minutes. If shady robocalls are testing your patience, you can block them with our help and request robocall compensation right away.
To avoid providing your real phone number when signing up for online services, you should choose our Burner Phone feature and use the number we provide.
What Else Can DoNotPay Assist You With?
DoNotPay boasts many useful products that help millions of Americans handle their everyday hurdles in minutes.
With us, you can prepare for any government test for a low monthly fee, send online faxes in the blink of an eye, and request cash back for your gift cards stress-free.
Do you have a friend or relative who's serving time? Use our mailing service to send letters to inmates with no hassle.
Learn how to fight workplace discrimination and confront a neighbor who's giving you headaches all through the same app!
Log in to DoNotPay and solve any administrative issue—including setting up an appointment with the DMV and filing an insurance claim—by following a few simple steps.