U.S. Laws Still Lag on
LGBTQ Discrimination
While most other population groups in the U.S. are protected by federal laws, the LGBTQ+ community is still open to discrimination in the workplace in many states.
DoNotPay is committed to fighting workplace discrimination in all its forms and can help you understand your rights and recourse to legal protection at work!
Why Are LGBTQ Employees at Risk of Discrimination?
The U.S. has several federal laws in place that make discrimination in the workplace illegal. The most important law against discrimination is Title VII of the Civil Rights Act of 1964, which protects you against discrimination based on:
This legislation is aimed at protecting U.S. citizens and legal residents against all forms of workplace discrimination, including:
Discrimination Type
Examples

Unfair treatment

Excessive workloads for certain employees

Biased promotion practices

Unfavorable hiring and firing

Wage differences

between employees

Harassment

Refusal to change work practices or facilities

Ignoring the needs of disabled employees

Refusing to cater to religious needs in the canteen

Not offering childcare facilities

Demands for private information

Soliciting family planning information

Checking up on private activities

Retaliation

Dismissal or disciplinary action for having lodged a complaint of discrimination
While employees are widely protected under federal law, members of the LGBTQ+ community enjoy no specific federal protection whatsoever.
The major law that would protect LGBTQ+ employment rights at the federal level—the Employment Non-Discrimination Act—was proposed in 2009 but has been stalled in Congress ever since.
Is There Any State Legislation To Protect LGBTQ+ Employees Against Discrimination?
34 states have passed specific laws to protect the LGBTQ+ community, namely:
| | | | | |
| --- | --- | --- | --- | --- |
| Alaska | Hawaii | Maine | Nevada | Pennsylvania |
| Arizona | Illinois | Maryland | New Hampshire | Rhode Island |
| California | Indiana | Massachusetts | New Jersey | Vermont |
| Colorado | Iowa | Michigan | New Mexico | Virginia |
| Connecticut | Kansas | Minnesota | New York | Washington |
| Delaware | Kentucky | Missouri | Ohio | Wisconsin |
| Dist. of Columbia | Louisiana | Montana | Oregon | |
Each state's laws vary in range and scope, with only 16 offering full protection from dismissal due to sexual orientation and gender identity.
LGBT Discrimination in the U.S.
in Numbers
Discrimination in the LGBTQ+ community is a real issue, and a 2020 study of 1,528 respondents by the Center for American Progress highlights the extent to which community members feel under-protected by the law:
36% of LGBTQ+ survey respondents claimed to have experienced workplace discrimination in the past year

53% of

transgender

respondents reported that they experienced discrimination in hiring processes

47% of the same group found that discrimination had a significant impact on their ability to retain a job

65% of the total respondents claimed that their sexual orientation had caused them to alter their behavior to avoid discrimination
What Can You Do if You Face Discrimination?
Although your LGBTQ+ status may not be protected by a specific federal law, you still enjoy protection under the 1964 Civil Rights Act.
A landmark case in 2020—Bostock v. Clayton County—found that discrimination based on sexual orientation or gender identity is illegal under Title VII of the Civil Rights Act, which prohibits workplace discrimination based on sex.
This means that you have strong legal support to fight discrimination in your workplace.
Here's what you need to do if you feel you are experiencing discrimination at work:
Check your

company discrimination policy

Talk to your supervisor and HR

Record all occurrences

Insist on a formal complaints procedure
Check Your Company Discrimination Policy
Your company should have a written policy stating that it is against discrimination in the workplace—get a copy as proof that any discrimination you experience goes against company policy.
Talk to Your Supervisor and HR
You should engage with your line manager and the HR department to highlight your issues. If your supervisor is implicated in the discrimination, you should follow your company's grievance procedure and work with the HR department to resolve the issue.
Record All Occurrences
A diary of all incidents of discrimination adds weight to your allegations and should include:
Dates and times

Names of perpetrators

Identities of witnesses

A description of the incident
Insist on a Formal Complaints Procedure
Your organization may try to downplay your grievances. If that happens, you should insist that your reports are filed formally and logged in the company's HR records.
Following these steps will hopefully lead to the discrimination against you being addressed and halted. If these steps fail, you need to escalate the grievances to the next level—DoNotPay can help you do this!
What's the Next Step?
Your next step is to turn to the Equal Employment Opportunities Commission (EEOC) for help.
The EEOC is the federal body mandated to investigate discrimination in companies of over 15 employees. If allegations are found to be true, the EEOC can launch legal proceedings against a company on your behalf.
Before you can engage with a discrimination lawyer to fight your case, though, you need to file a complaint—known as a charge of discrimination—with the EEOC.
Filing your complaint can take time and effort, but DoNotPay can help you get the process rolling in a few clicks!
What Can DoNotPay Do To Help You?
DoNotPay can help you file your complaint of discrimination with the EEOC in no time—here's how: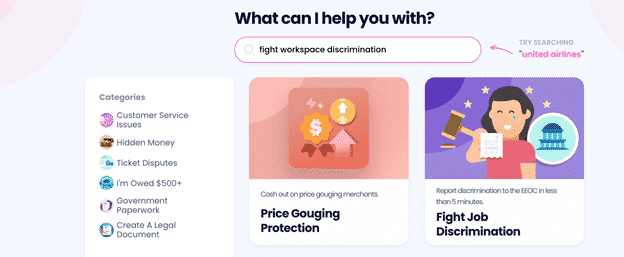 Sign up for DoNotPay

in your web browser

Look for the

Fight Workplace Discrimination

service

Follow the prompts to give us the details of your case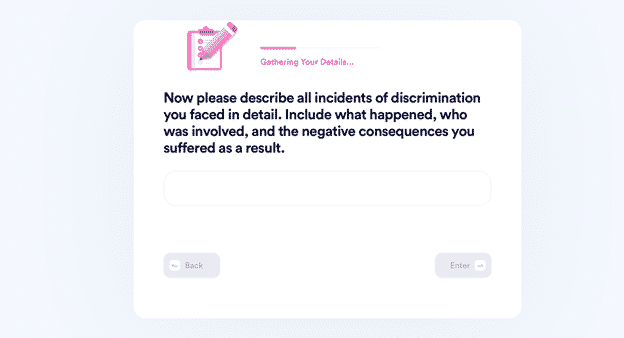 That's it! Your charge of discrimination will be lodged with the EEOC, and you can proceed with your fight for fair treatment from your employer.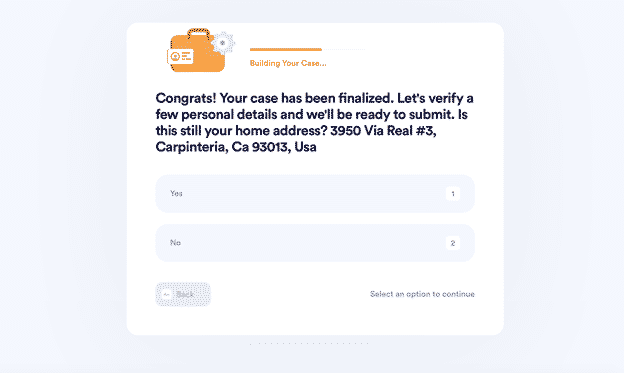 DoNotPay's Other Resources for the Victims of Discrimination
Fighting discriminatory bosses and colleagues is not the only item on DoNotPay's agenda. If your EEOC report doesn't work out, explore the option of suing the perpetrator in small claims court with our help.
Those who experience full-blown hate crimes can use our platform to file for crime victims compensation or deal with insurance claims. Lost a job because of discrimination? Use DoNotPay to get help with bills, reduce your property taxes, or find any unclaimed assets in your name. 
We can also help you create numerous legal documents for personal, business, or real estate matters. You'll have a chance to fax your paperwork or find an online notary in the same app!
Use Our App To Right Other Wrongs
Injustice lurks around every corner, and DoNotPay won't have any of it. That's why we keep creating tools and services to help you fight back against all kinds of unfair treatment. 
With our help, you'll be able to:
There's more where this came from because the good fight doesn't stop here.