The Law Is on Your Side as a Victim of LGBTQIA+ Employment Discrimination
Workplace discrimination of any kind can be damaging both financially and psychologically. Up until recently, LGBTQIA+ employment discrimination was a gray area in law, but several landmark cases have shed light on the legal protection from discrimination the LGBTQIA+ community can expect.
DoNotPay is here to help you understand your rights and your options for fighting LGBTQIA+ employment discrimination and ensuring fair treatment at work!
How Is Your Status Protected Under LGBTQIA+ Discrimination Laws?
Title VII of the Civil Rights Act of 1964 protects employees from workplace discrimination based on:
Gender

LGBTQIA+ status

Nation of origin
Color
Under the terms of the act, you are protected from:
Although it wasn't clear whether the act protected the LGBTQIA+ community, a landmark 2020 case—Bostock v. Clayton County—gave clarity on the question and affirmed that LGBTQIA+ workplace discrimination constitutes sex discrimination and is illegal.
What Did the Bostock v. Clayton County Judgment Say?
The judge's ruling stated that "discrimination based on homosexuality or transgender status necessarily entails discrimination based on sex; the first cannot happen without the second."
This means that LGBTQIA+ employment discrimination must be treated as sex or gender discrimination in the workplace.
This potential makes the path to justice much easier for members of the LGBTQIA+ community.
Is Any Other Protection Available Against LGBTQIA+ Work Discrimination?
Before the Bostock v. Clayton County ruling, several states had enacted local legislation to clarify LGBTQIA+ status regarding employment discrimination. These states are:
States With LGBTQIA+ Legislation
Alaska
Hawaii
Maine
Nevada
Pennsylvania
Arizona
Illinois
Maryland
New Hampshire
Rhode Island
California
Indiana
Massachusetts
New Jersey
Vermont
Colorado
Iowa
Michigan
New Mexico
Virginia
Connecticut
Kansas
Minnesota
New York
Washington
Delaware
Kentucky
Missouri
Ohio
Wisconsin
Dist. of Columbia
Louisiana
Montana
Oregon
Each state's laws vary in the range of protection they offer—only 16 provide full protection against dismissal as a result of an employee's LGBTQIA+ status.
Is LGBTQIA+ Employment Discrimination Common?
In 2020, the Center for American Progress surveyed over 1,500 LGBTQ community members on their experiences of workplace discrimination against them. The results of the survey were as follows:
36% of respondents said they had experienced employment discrimination in the preceding 12 months
53% of those surveyed claimed to have experienced discrimination in hiring processes
47% of respondents found difficulty in retaining a job and attributed this to harassment at work
65% of those surveyed said they had had to alter their behavior to fit in at work
While the numbers of cases may be small compared to the total workforce in the U.S., discrimination at work against the LGBTQ community seems to be more widespread than against other groups.
What Can You Do if You Are Experiencing Discrimination?
If you are experiencing LGBTQIA+ discrimination in the workplace, your first course of action is to try to resolve the matter internally by doing the following:
Keep a diary
Involve your HR department
Check your company's anti-discrimination policy
Look up your state's legislation
Keep a Diary
You should write down every incident of LGBTQIA+ employment discrimination against you, no matter how insignificant. The record should include:
Details of the incident
Names of perpetrators
Details of any witnesses
Involve Your HR Department
Informing your HR department in writing is crucial to proving you have made every effort to resolve the case before resorting to legal action.
Check Your Company's Anti-Discrimination Policy
Your company's policy should be aligned to the Title VII of the Civil Rights Act, meaning that your employer is—in theory—committed to avoiding discrimination at work.
Look Up Your State's Legislation
If you live in one of the states with its own LGBTQ laws, you should familiarize yourself with what the law says.
If these steps do not help, you need to escalate your complaint to the Equal Employment Opportunities Commission (EEOC)—DoNotPay can !
How Do You Deal With the EEOC?
Before you can contact a discrimination lawyer and launch a private lawsuit against your employer, you need to lodge a written complaint with the EEOC.
Your complaint—or charge of discrimination—contains all the details of your allegations against your employer. Once the EEOC has received your charge, they are mandated to:
Inform your employer of the charge against them
Investigate your case
Suggest conciliation to reach a pre-trial settlement
Commence legal action
Give you written permission to sue
Filing your charge of discrimination can be a complex undertaking, but we can make it easier!
What Help Can DoNotPay Offer To Work With the EEOC?
DoNotPay can take over the task of filing your charge of discrimination for you—here's what you need to do:
in your web browser
Search for our Fight Workplace Discrimination product
Give us the details of your case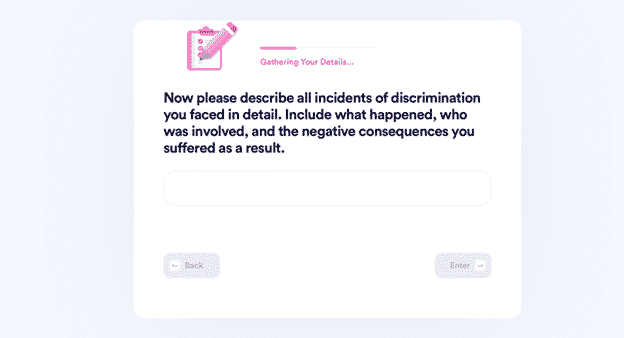 DoNotPay will lodge your complaint with the nearest EEOC field office—they will contact you to walk you through the next steps.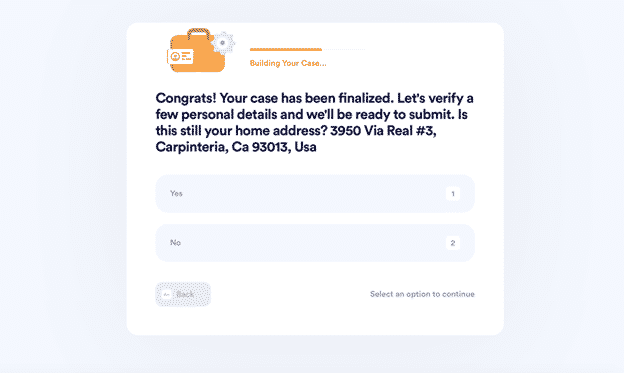 Thinking About Hiring a Lawyer? Think Again!
After you report discrimination in the workplace, you can only hope everything will turn out great. We sure hope so too, but having a backup plan doesn't hurt. If the report with the EEOC backfires, getting a lawyer will be the next logical step.
While you may understand the importance of professional legal help, you might be surprised by how much our virtual lawyer can do for you. Thanks to advanced AI technology, our app can assist you with:
By subscribing to DoNotPay, you won't have to waste hundreds of dollars on lawyers for the help you can get for a few bucks!
DoNotPay Provides Shortcuts Through Bureaucracy
Have you ever thought that corporations and government administration make everything more complicated than it should be? We feel you. That thought is the cornerstone of what DoNotPay is all about!
Our developers keep coming up with products that win against complicated bureaucracy left, right, and center. Some of the tools and services we're most proud of help our subscribers with:
And we're just getting started!