LGBT Discrimination Laws by State That Give You Extra Protection in the Workplace
Although workplace discrimination based on your LGBTQ status is illegal under federal anti-discrimination law, several states offer additional protection with their own legislation to protect you.
DoNotPay brings you the full list of LGBT discrimination laws by state, meaning you can choose your best route to combatting employment discrimination wherever it occurs.
Which Federal Law Protects Against LGBT Discrimination?
LGBT discrimination at work is prohibited under Title VII of the Civil Rights Act of 1964.
Although the act doesn't specifically mention LGBTQ rights, two recent court cases confirmed that the rights of the LGBTQ community are covered under its terms:
Bostock v. Clayton County (2020)
Altitude Express, Inc. v. Zarda (2020)
Bostock v. Clayton County (2020)
In this case, Gerald Bostock was fired from his job after his employer, Clayton County, GA, found out he had joined a gay softball team. The Supreme Court ruled that Bostock had been fired for reasons that would not have applied had he been of different sex and that the firing was an act of discrimination.
Altitude Express, Inc. v. Zarda (2020)
Donald Zarda was fired by the skydiving company Altitude Express of New York after a client complained about Zarda's homosexuality. Zarda claimed discrimination under Title VII and the 2nd U.S. Circuit Court of Appeals found in his favor—unfortunately, four years after his death in a skydiving accident.
These two cases solidified the legal protection against discrimination that the Civil Rights Act offers to members of the LGBT community.
Which Are the States With LGBT Discrimination Laws?
Various states have enacted legislation prohibiting workplace discrimination against the LGBT community.
The laws in force range in power as follows:
Explicit protection
Explicit interpretation of existing laws
Sexual orientation protection
No explicit protection
Explicit Protection
The law in 22 states and the District of Columbia explicitly prohibits workplace discrimination based on gender identity and sexual orientation.
Explicit Interpretation of Existing Laws
In nine states, the existing gender discrimination laws have been extended to cover sexual orientation and gender identity.
Sexual Orientation Protection
State law in one state explicitly states that employment discrimination based on sexual orientation is illegal but makes no mention of gender identity.
No Explicit Protection
Laws in 18 states offer no legal protection against discrimination based on LGBT status.
The states with anti-discrimination laws for LGBT community members and their levels of protection are as follows:
| | |
| --- | --- |
| Level of Legal Protection | States |
| Explicit protection | Washington, Oregon, California, Nevada, Utah, Colorado, New Mexico, Minnesota, Iowa, Illinois, Virginia, D.C., Maryland, Delaware, New Jersey, Connecticut, Rhode Island, Maine, New York, Vermont, New Hampshire, Massachusetts, Hawaii |
| Explicit interpretation of existing laws | Alaska, Arizona, Texas, Kansas, Nebraska, Florida, Pennsylvania, Michigan, North Dakota |
| Sexual orientation protection | Wisconsin |
| No explicit protection | Idaho, Montana, Wyoming, South Dakota, Oklahoma, Missouri, Arkansas, Louisiana, Missouri, Alabama, Georgia, South Carolina, North Carolina, Tennessee, Kentucky, West Virginia, Ohio, Indiana |
Should I Use State or Federal Law To Fight My Case?
If you are facing discrimination at work, you may be tempted to use the heaviest artillery at your disposal—in many cases, this would be federal law.
In each state, the best route may be to choose the legislation that will offer you the best protection, though.
As an example, if you are the victim of LGBT discrimination in Illinois, a discrimination lawyer may advise you that the state legal framework offers you the best option to launch a case against your employer. In Kentucky, you may be better served by federal law.
State courts, conversely, may tend to be friendlier towards companies that bring in significant tax revenue, meaning that you may have to fight harder to get a verdict in your favor. Federal courts are often more willing to deal harshly with employers regardless of their status in the community.
Whatever your choice, the law is on your side and will punish employers who discriminate against you based on your LGBT status.
What Steps Should I Take To Launch My Case?
Your first step is to attempt to solve the problem internally with your employer.
You should approach your HR department and lodge a grievance, making sure that you can produce:
Times and dates of occurrences of discrimination
Names of perpetrators
Details of witnesses willing to corroborate your allegations
If your company is unwilling to change or stop the discrimination, your next step is to take the matter to the state or federal level.
If you choose the federal route, you need to file a complaint in writing with the Equal Employment Opportunities Commission (EEOC), the federal body that enforces anti-discrimination laws.
The EEOC is mandated to:
Inform your employer of your charge
Investigate your case
Suggest mediation to reach a settlement
Launch legal action if no settlement can be reached
Give you permission to begin private litigation
The EEOC deals with all aspects of employment discrimination, including cases based on:
Gender

LGBTQ status
Color
Nation of origin
You cannot begin a private lawsuit against your employer without lodging a case with the EEOC first.
Filing your complaint—or charge of discrimination—with the EEOC can be a tiring and time-consuming process. Thanks to DoNotPay, you can !
Get the Ball Rolling With DoNotPay
DoNotPay is here to help you make life simpler—your dealings with the EEOC are one of our specialties.
All you have to do to get your charge filed with the EEOC is follow these three easy steps:
in your web browser
Go to our Fight Workplace Discrimination feature
Fill in the details of your charge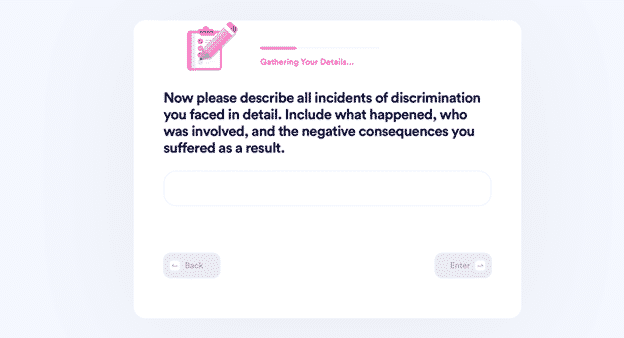 That's all you need to do—we will file your charge, and your nearest EEOC office will be in touch to discuss your next steps.
Money Doesn't Grow on Trees, but DoNotPay Is a Close Second
Experiencing workplace discrimination can affect the victim in more ways than one. Filing a report with the EEOC should help, but in reality, people sometimes lose jobs if they stand up to bullies.
If that happens to you, there are several ways how DoNotPay can help. Our app is a great resource for fighting injustice and administration, but it can also help you save and earn money if you lose your regular income:
We Can Help You Fight for Your Rights
DoNotPay was created to support anyone who feels small and helpless in front of big corporations, confusing administration, or downright criminals.
We can help you get a refund even when companies won't budge, stop email and text message scams, protect your work from copyright infringement, save yourself from stalking and harassment, or even take individuals or companies to small claims court!