File a Lexus Certified Warranty Claim With Ease
Lexus is a luxury car brand by the Japanese automobile company Toyota. The company is known for manufacturing high-quality, high-value cars, vans, and trucks for its clients. 
What Does Lexus Certified Pre-Owned Warranty Cover?
The Lexus certified pre-owned warranty is valid for two years after the expiration of the new-vehicle basic warranty or two years from the Lexus Certified purchase or lease date.
Lexus CPO warranty includes coverage for a complimentary loaner car, roadside assistance, and trip interruption service. The warranty covers the mechanical breakdown of these parts after the expiration of your vehicle's certified warranty.
| | |
| --- | --- |
| Covers | Doesn't Cover |
| Engine | Accessory drive belts |
| Manual transmission | Batteries |
| Automatic transmission | Rotors and drums |
| Axle assembly | Rust and corrosion damage |
| Brakes | Windshield wiper blades |
| Fuel system | Seat covers |
| Cooling system | Heating hoses |
| Air conditioning/heating | Clutch friction disc |
| Computers and electronics | Pressure plate |
How To Claim Lexus Certified Warranty on Your Own
There are several ways you can file a warranty claim on your own. Most companies provide their clients with a few ways to claim a warranty, but the whole process usually takes forever. You can avoid the hassle by choosing an easier and faster solution to this issue—DoNotPay.
| | |
| --- | --- |
| Can You File a Warranty Claim Via | Yes/No |
| DoNotPay | Yes |
| Phone | Yes |
| Email | Yes |
| In Person | No |
| Letter | No |
| Company Website | Yes |
Filing a Claim via Phone
If you want to file the Lexus warranty claim via phone, call them at 1-800-448-1505, and they will assist you through the process.
Filing a Claim via Email
To file your claim via email, go to their website and click on the Email option in the left corner. Provide the necessary information and click Submit.
Filing a Claim on the Company Website
You can also file your warranty claim via Lexus's live chat. Go to their website and click the Chat option in the right corner. Supply the information needed and click Begin Chat.
DoNotPay Will Help You File Lexus Certified Warranty Claim
DoNotPay is the best way to make the overbearing processes of filing and appealing claims more convenient because of its easy-to-use features. The Claim Warranty feature allows you to claim warranties for your car, home, or other purchases. In our app, you can find ways to handle a dealer refusing to cancel your extended warranty or claim warranties for used cars. 
Here's how to use our warranty feature:
Open DoNotPay in any

web browser

Access the

Claim Warranty

feature

Click

Car Warranty

Supply the information needed

Press

Submit my claim
Once you complete these steps, DoNotPay will do the rest. You can expect to hear from Lexus customer support shortly after.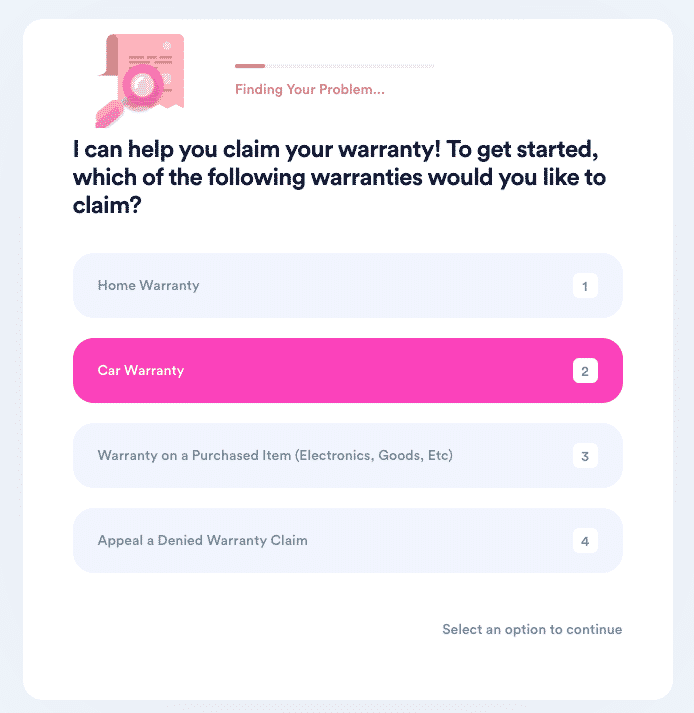 DoNotPay Can Help You Appeal a Denied Warranty Claim
When your claim gets rejected, and you don't know where to turn, you don't have to worry because DoNotPay has your back! Let DoNotPay help you file an appeal in five simple steps:
Open DoNotPay in your

web browser

Access the

Claim Warranty

feature

Select

Appeal a Denied Warranty Claim

Say whether you're appealing against the decision of an extended warranty provider or a

product manufacturer

Supply the information about the company and the original warranty claim
DoNotPay will submit the appeal letter on your behalf at once, and you should hear directly from Lexus about your case.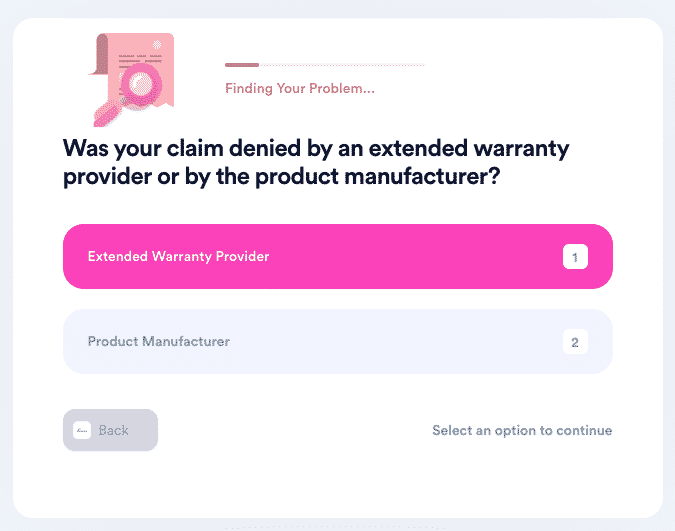 If Lexus Is Being Difficult, DoNotPay Can Help You Sue Them
Companies won't always grant your requests, or in certain cases, they will even deny providing help. In such cases, when everything else fails and the company won't budge, the easiest solution is to sue Lexus with DoNotPay's assistance.
Our app makes it easy to sue companies in small claims court and get the outcome you are seeking easy and stress-free. DoNotPay can ease and speed up the process by:
Checking if your case is suitable for a small claims court

Composing a demand letter

Completing the needed court forms

Filing your complaint

Serving the company
DoNotPay's Other Helpful Features
DoNotPay has a lot of other useful features that are super interesting and helpful! If you are looking to claim warranties from other car companies, such as Audi, Honda, or Mercedes Benz, our app will provide you with all the help you need!
Our platform contains home warranty reviews and information on the best home warranties in America.
Open DoNotPay in your web browser and learn how to:
Fight speeding tickets

Dispute traffic tickets