Challenge a Lewisham PCN in No Time with DoNotPay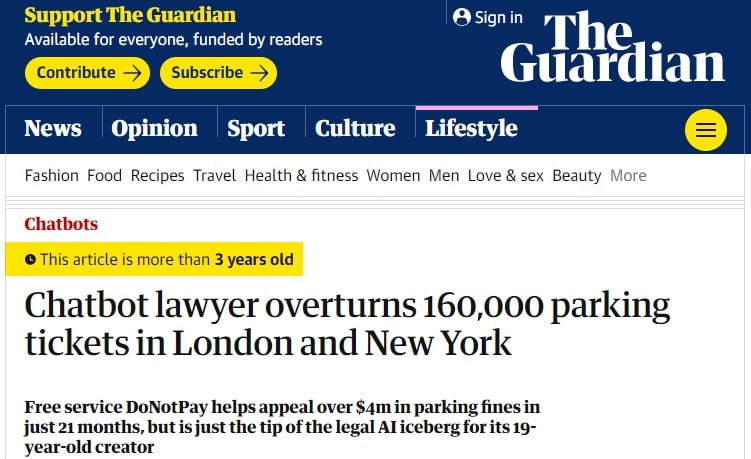 You have just received a Parking Charge Notice (PCN) in Lewisham, even though you truly thought that you were legally parked. It seems unfair that you would have to pay the PCN fine without getting to argue your case.
Fortunately, you have the option to challenge your Lewisham PCN if you believe that it is unfair. Lewisham offers a process for drivers to challenge PCNs on their own. It can be hard to know if you are making the best case to dispute your Lewisham PCN, though. Instead of trying to navigate the process on your own, let DoNotPay help.
Why Do Drivers Receive Parking Tickets in Lewisham?
Generally speaking, PCNs in Lewisham are issued when a vehicle is parked in some way that violates parking regulations. The Lewisham government website gives examples of parking situations that could result in a ticket. Some examples include:
Failing to display a parking permit on a vehicle when needed
Remaining parked longer than the maximum time posted
Parking in an area that is marked as restricted
Methods of Paying a Lewisham PCN
For those who wish to forgo challenging their Lewisham PCNs and pay the fine, the Lewisham government offers several methods of payment. No matter which method you choose to pay, make sure that you have your PCN number and vehicle registration information. 
Here are the ways you can pay the PCN:
| | |
| --- | --- |
| Online Payments | Lewisham PCN Portal |
| Phone Payments | 020 8787 5397 |
| Payments by Post | Send a cheque or postal order to PO Box 209, Lowton Way, Hellaby, S98 1ND |
How Can You Challenge a PCN in Lewisham?
Lewisham has a system in place so that drivers can challenge PCNs. Here's what you need to do if you want to challenge a Lewisham PCN on your own:
Gather your PCN and vehicle registration information, as you will need both of these when submitting your challenge.
To challenge a Lewisham PCN online, go to the Lewisham Challenge a Parking Ticket form.
Fill out your vehicle and ticket information, and explain why your PCN was given incorrectly.
Submit your challenge and wait for a response.
If it is rejected and you still believe that your PCN is unfair, you have the option to dispute it further in a formal representation.
Reasons to Dispute Your Lewisham PCN
The system of giving out parking tickets is imperfect, and because of this, drivers can receive tickets when they did nothing wrong. If this happens to you, you can challenge your PCN so that you do not have to pay an unnecessary fine.
Paying Your Lewisham Parking Ticket on Time Is Important
Waiting too long or avoiding a Lewisham PCN altogether can result in a fine increase. Because of this, it is best to either pay the fine or challenge the PCN by the due date listed on the PCN.
As an added incentive, it also pays to pay or challenge your Lewisham PCN early if possible. Discounts of 50% are given for fines that are paid within 14 days of the PCN being issued, making this helpful for those worried about the costs of tickets. This incentive also applies to those who challenge their Lewisham PCNs as long as they submit their dispute within the same 14-day period.
DoNotPay Helps Challenge Your Lewisham PCN in 120 Seconds or Less
If you believe that your Lewisham PCN is unfair, it is important to challenge it. To take the hassle and confusion out of the challenge process, see how DoNotPay's Parking Tickets UK tool can help. DoNotPay has been making headlines in publications like Daily Mail for its services, and it has successfully handled 200,000 parking tickets already.
To challenge your Lewisham PCN with DoNotPay, all it takes is just 4 steps:
Log-in to DoNotPay and go to the Ticket Disputes category. Select the Parking Ticket product.

 

Upload a photo of your citation.

 

Provide us with some details on why you believe the citation issued is a mistake.

 

That's it! You'll receive an appeal letter that contains the best argument to win your case.

 
DoNotPay Works Regardless of Which City Your Parking Ticket Was Issued
When you challenge a parking ticket on your own, you have to research how each city or county's dispute process works. With DoNotPay, though, the same 4 steps work no matter what city you live in. You can use DoNotPay just as easily in:
Parking Tickets Are Only Part of What DoNotPay Can Do
You might have more tasks to finish than disputing your Lewisham PCN, and DoNotPay might be useful for these as well. Aside from helping with parking tickets, DoNotPay offers many other services, including:
Sign up for DoNotPay and see how the world's first robot lawyer can help you with these tasks and more!