When Is the Right Time To Send a Letter to a Neighbor About Noise?
If you are wondering what to do when neighbors from hell is not only a video game but a real-life situation, you should turn to DoNotPay. This article will tell you when to write a letter to a neighbor about noise and how to do it the easy way!
Is a Noise Complaint Letter to Neighbors Necessary?
You should consider writing a complaint letter to your noisy neighbor after you've tried a couple of other options first. The most logical initial step would be to try talking to the individuals causing the noise. You should let them know that their activities are disturbing your peace and ask them to try and change their habits a bit.
If you are dealing with reasonable people, a conversation might be enough to solve your issue. In most cases, the problem will persist. You can also try finding a compromise with your noisy neighbors—agree on a period during the day when their kid can play the damn drums, but ask not to suffer at night.
If talking in person does not bring any results, you can turn to writing a complaint letter. This option is more formal and may make the neighbors take the issue seriously. If you want to ensure good results, you should include the signatures of all the other people who experience unpleasantries from the same neighbor.
Reasons To Write a Letter to Neighbors About Noise
Your neighbors can be quite creative when it comes to ways of disrupting your peace. Take a look at the table below for all the reasonable situations when you should consider writing a letter of complaint to them:
| | |
| --- | --- |
| Noise Issue | Suggestion of a Solution |
| Loud music | Whether your neighbors like listening to music on too high volume or are passionate about playing instruments, they need to respect other residents of the building. The best solution is to agree on the time of the day when louder music is allowed |
| Loud pets | If your neighbor has a dog that keeps on barking throughout the day, there are two potential solutions. They should either get it trained or find a sitter while they are at work |
| Parties | Handling party noise requires a simple solution that includes a compromise. Suggest that the neighbors throw parties during weekends and try to keep it down after certain hours |
| Construction work | If your neighbor is renovating their apartment, there is not much you or they can do about the volume of the noise. The solution is to agree on when that noise is allowed during the day. You will need to tolerate it until the improvements are done |
How To Write a Complaint Letter to a Neighbor
Once you decide to write a complaint letter to a neighbor, you should know how to get on with that task properly and be taken seriously. Here is what a complaint letter to noisy neighbors should include:
Your contact information (name and address)
Date
The recipient's name and address
Reasons why you are writing the letter
Solution suggestions
Consequences of ignoring the letter
Your signature (and of other building residents if there are any taking part)
If you don't want to bother with creating the letter on your own, you can use DoNotPay to generate a demand letter. Our app will include all the legal actions the neighbor will face if they don't acknowledge your complaints.
Use DoNotPay To Write a Demand Letter in a Flash
If you decide to use DoNotPay to create a demand letter and send it to your neighbors, you can be certain that they will think twice before ignoring your complaints. We will list all the consequences, including the amount of expected compensation they will need to provide.
To generate a demand letter in a matter of minutes, you will only have to follow these steps:
Sign up for DoNotPay in a web browser you normally use
Tell us what the problem is—pets, noise, or harassment
Provide us with more details—issuing date and the details about when you tried talking to your neighbor
DoNotPay will send the letter on your behalf once you complete the short questionnaire.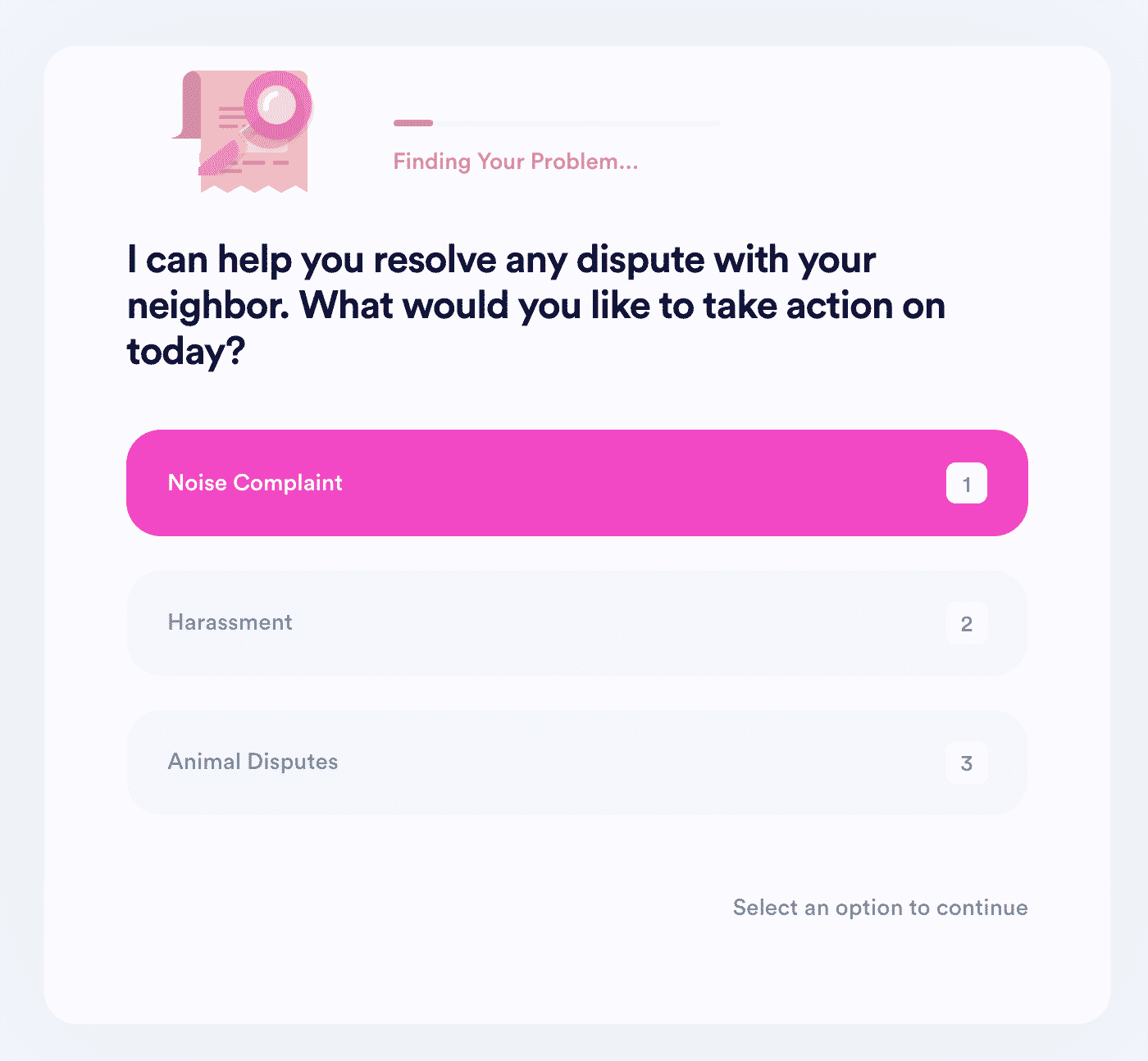 Other Reasons You Might Want To Report Your Neighbor
When it comes to other variants of bad neighbors, noisy ones are not the worst ones you may have to deal with. Some of the following cases may require you to file a complaint against the perpetrators:
Various kinds of harassment—Stalking, privacy invasion, or misuse of shared property
Animal problems—Keeping exotic and illegal animals as pets or not treating the pets properly
Reporting you to the law enforcement all the time without a proper reason—Holding a grudge against you and making up reasons to file complaints about you
Whenever you're dealing with unreasonable neighbors, it would be smart to document the harassment because it can help your case. You should only make sure everything you do is legal.
Explore DoNotPay's Products and Save Both Time and Money
Are you sick and tired of spending ages on the phone with customer support trying to get more info about how to return a faulty product and get a refund? Maybe you'd like to cancel memberships you don't use but can't find that unsubscribe button anywhere? DoNotPay can help you sort out all of these issues in a jiffy!
Contest parking tickets, claim your car warranty and insurance, schedule a meeting with the DMV, and handle your other problems through the same app on your tablet or smartphone.
Getting access to public records or drawing up various legal documents with DoNotPay is child's play.
That's Not All!
The first thing you'll notice when you open DoNotPay is that you can use our app for almost anything.
Do you wish to enter raffles or sweepstakes? Are you interested in applying for paid clinical trials and earning some cash? Would you like to send mail without going to the post office? You're in the right place!
We will help you feel safe while browsing the Internet by assisting you in blocking and reporting spam emails, suspicious text messages, and pesky robocalls.