How to Write a Convincing Letter to a Debt Collector
Have you ever received a notice from a debt collector that just doesn't seem right? Perhaps it's a medical debt that you've already paid or something you don't even remember. You have the power to write a dispute letter and get the issue resolved.
Of course, this isn't always so simple because it's very difficult to deal with debt collectors. They might try to use scare tactics, like threatening to sue you in court or withhold your stimulus check. Instead of dealing with that, let DoNotPay negotiate with debt collectors on your behalf. We can help you write a convincing letter to any debt collector.
Do I Need to Respond to Debt Collection Letters?
Even if you have substantial evidence that you don't owe anything, you should never ignore a debt collection letter. Failure to respond to a written debt collection letter could cause:
Debt collection emails
Debt collection phone calls
A request to appear in court
Wage garnishment
Seizure of certain assets
Negative items on your credit score
You should try to respond to a debt collector within a few days of receiving the original correspondence. However, some debt collectors will behave with hostility towards you after just one day!
Fortunately, the FDCPA (Fair Debt Collection Practices Act) protects consumers from any unfair collection processes. Those can include:
Obscene language from the debt collector
Verbal harassment or intimidation
Threatening to collect a debt outside the statute of limitations
Calling your family or employer to inquire about your debt
This might sound stressful, but many collection agencies are more than willing to hear your case. Even if you can't pay the whole amount, debt collectors can be satisfied with a small payment. Cooperative collection agencies are also more likely to respect a letter disputing how much you owe.
However, if you continue to ignore a debt collection agency, it could be seen as an admission of guilt. Failing to address your debt can also make you exempt from the FDCPA's protections.
Demand Letters You Can Send to Debt Collectors
Whether you owe the debt or not, it's sometimes better to send a formal letter to a collection agency. Here are some examples:
Debt ValidationLetters
A typical debt validation letter is a request for more information about the debt. It is not a notice to the collection agency that you refuse to pay the amount owed. You're simply asking for proof that the collection agency has been authorized by the original creditor to collect what you supposedly owe.
Cease and Desist Letters

Emphasize that you do not wish to be contacted directly and provide your attorney's contact information.

You also have the right to decide how debt collection agencies can contact you. For example, if they've been sending letters to an old address, your letter can direct them to use your current phone number instead.

You can also ask them to stop contacting you altogether. While it will stop the collection notices, you'll still be obligated to respond to any formal legal notices.
Alternatively, if you are certain that you don't owe anything, you could write a dispute letter. Providing as little personal info as possible, briefly explain why you don't owe the debt in question. Reasons could include that you've never had an account with the creditor, or the debt is too old to be collected.
Writing a Letter to Debt Collectors by Yourself
Regardless of what letter you decide to write, it should ask for verification of the following items:
1. The name and mailing address of the original creditor
2. The full amount of the debt
3. Proof that you actually owe the debt (such as a receipt with your signature)
4. Proof that the debt collection agency is licensed to collect your debt
After you've written your letter, you can mail it to the collection agency digitally or electronically. However, it can be difficult to write a good dispute letter if you've never done so before.
While it is against the law, sometimes debt collectors will ignore your letters. Overwhelmed with so much correspondence and the looming debt, many consumers choose to ignore the debt altogether.
Additionally, it can be hard to decide which type of letter would be best for your situation. That's why DoNotPay is here to help!
DoNotPay Can Write Your Debt Collector Letter for You
We understand that many consumers don't have the time to deal with annoying debt collectors. Here's how our simple Stop Debt Collectors product works:
1. Search "debt collection" on DoNotPay.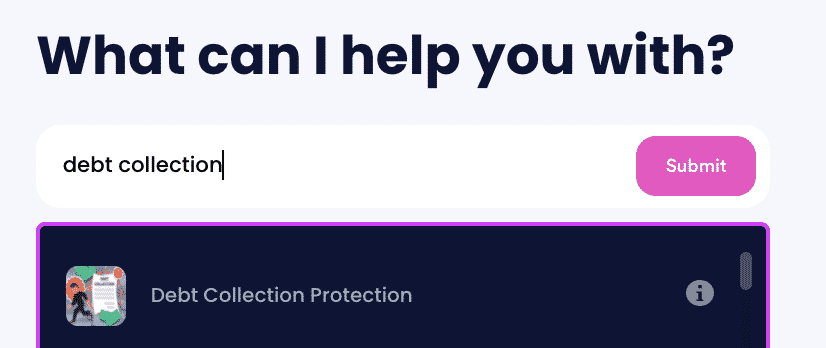 2. Answer a series of questions about the debt collectors, including when you were contacted and how you were contacted, so we can determine if they have violated any debt collection laws.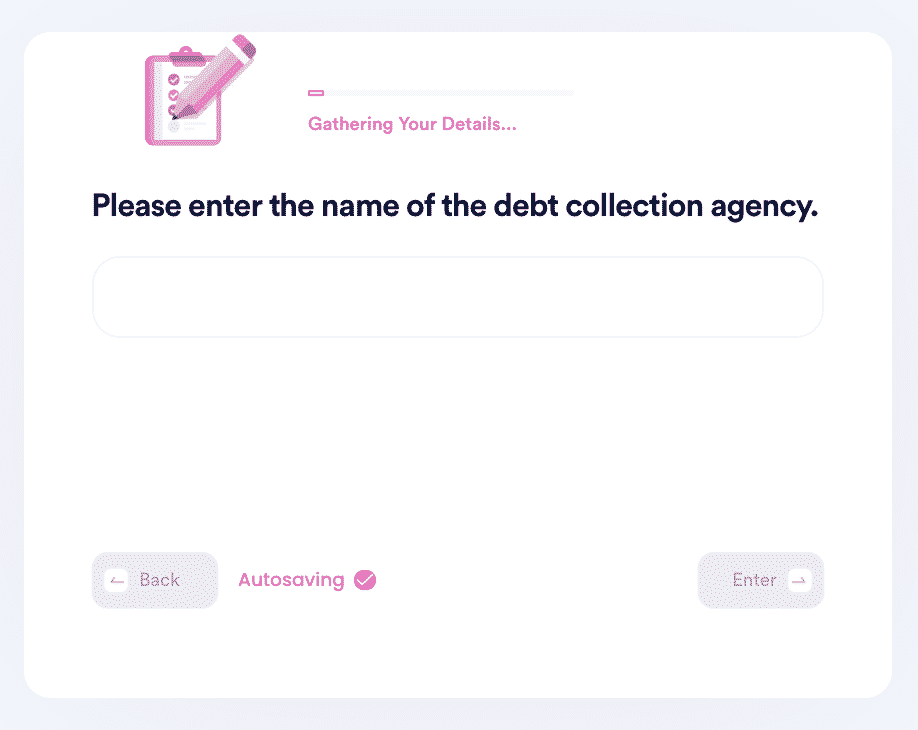 3. Decide which course of action you want to take based on our guidance, such as filing a debt verification request, demanding for the collectors to stop contacting you, or reporting them to the CFPB.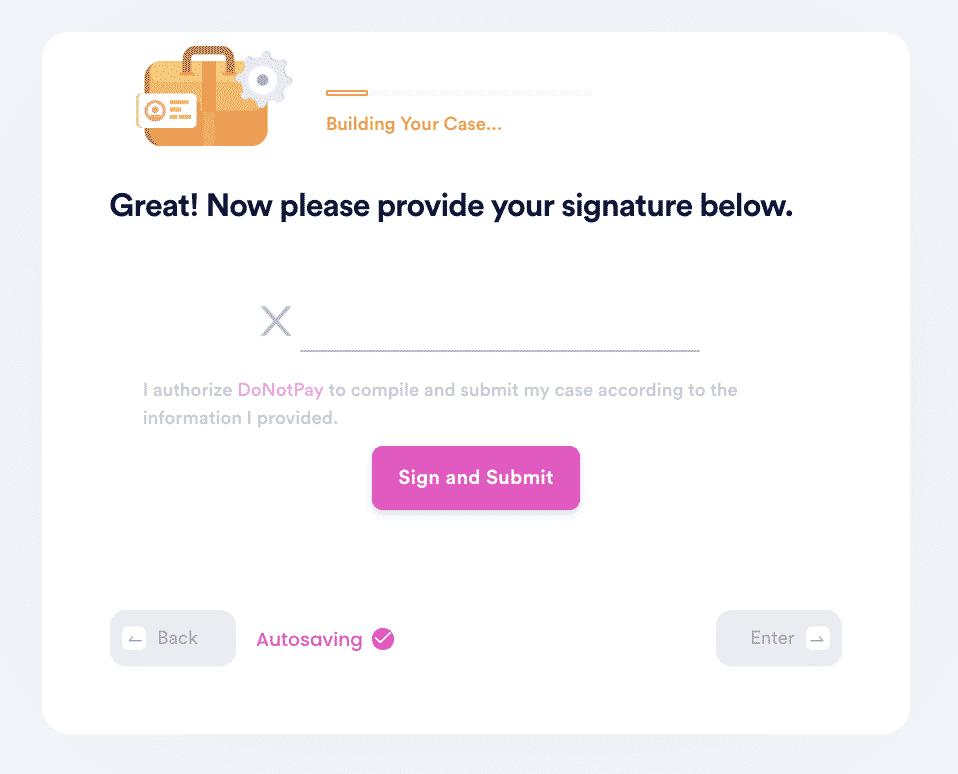 And that's it! Once you choose the course of action you want to take, DoNotPay will handle the rest. We'll deliver your request directly to the debt collectors via first-class mail, or file your complaint automatically with the CFPB so that they're no longer able to use unfair debt collection practices.
You can also check out our other credit products, including Credit Limit Increase and Clean Credit Report!
Why Use DoNotPay to Write Letter to Debt Collectors
The process is always:
Faster than writing the letter yourself!
Simpler, because we don't require any research from you!
Dependable, because we always work to get the best outcome for our users!
DoNotPay Handles Troublesome Debt Collectors Anywhere
Many consumers don't know their rights because lawful debt collection practices can vary between states. Don't worry: DoNotPay is an expert in debt collection violations across the U.S.
DoNotPay Can Make Any Request in Writing
DoNotPay specializes in providing written correspondence to any company on your behalf. Use our products for requesting a loan, disputing traffic tickets, DMA requests, and more. Sign up today to easily negotiate with debt collectors!