Write a Letter Threatening Legal Action for Slander
When we talk about defamation, there are two types: Slander and Libel. Slander means spoken or gestured defamation. When it gets penned down, archived, or posted, then it's libel.
Both are dangerous to any person's reputation and can lead to extreme consequences like suicide, economic losses, and adverse health effects. This article will focus on slander, and the steps you can take to tackle slander if you are being affected by it.
What Exactly Is Slander?
Slander is harder to prove in court than libel. This is because spoken words are transient and hard to prove later on.
Slander is spoken words but not all spoken words are slanderous, so what really constitutes slander? Look at the table below for clarification:
| | |
| --- | --- |
| All slander has to be... | Which means... |
| Presented as a fact | They were spoken (intentionally or not) for people to believe them and make decisions based on the information now termed as slander. |
| Entirely False | There are no truths to the words or comments, and this can be proven. |
| Injurious to a person's reputation | They can expose a person to public harm, diminish their social credibility, strip them of present or future economic gains, and deteriorate their health and well-being. |
| Free from privileges | Privileges protect the slanders from answering to his slanderous remark for the sake of the greater good. They are granted to judges, journalists, and most public officeholders. |
Steps to Tackle Slander
Now that you know what slander looks like, and can draw the line between slander and an insult, it's time to see the steps you can take to tackle slander. You can:
Confront your slanderer
This works best if you know your slanderer very well and find them approachable. Perhaps you are colleagues in the same workplace or they are your neighbors from down the street. You could phone them or visit them in the company of a person who would serve as a witness, should things end up in court.
Nowadays, most slanderers use social media and may hide their true identity, in that case, you could report their handles and their posts to the policy arm of the social media site.
Send them a lettered threat for legal action
It's always a great idea to send them a cease and desist letter threatening legal action if they do not take back their words, issue a retraction and apology, and desist from making future slanderous remarks.
Sue them in court
When all else fails and they continue to make slanderous comments, you can consider taking them to court. Small claims court handles civil cases and you can demand up to $10,000 for monetary compensation, depending on the state you live in.
For cases of slander on social media, do note that most state laws prohibit you from making a case against:
Persons who shared, reposted, or broadcasted your slander
Entities that provides and manages the platform where the slander was made
Internet service providers facilitate the transfer of information, including your slander, across persons.
Writing a Solicitor Letter for Slander
Writing a solicitor letter for slander — also known as a cease and desist letter, demand letter, or violation letter — is not as easy as it seems. There are thousands of templates online but they do very little to address newer and unique slander cases. They could leave you with many legal loopholes that will eventually pose a disadvantage if you eventually head to court.
Typically, when writing a solicitor's letter for slander, you'll need to sound civil and stern at the same time. You'll also need to make your points as clear as possible in as few words as possible. The recipient of the letter must know what your requests are and the options they have before heading to court.
You may opt to ditch the templates and have a lawyer draft the letter for you, but that involves a decent amount of money and could be counter-productive if you're only looking to grab a few hundred dollars as compensation.
Your best bet would be 's tailor-made cease and desist letter for slander. It asks for all the information about your case before drafting a letter. See the process below!
Create a Cease and Desist Letter With DoNotPay
helps you prepare letters to stop slander, defamation, and harassment. All it takes is a little explanation from your end! DoNotPay will help you demand a retraction of defamatory statements and explicitly name consequences for not complying. Here's how it works:
1. Search "defamation" on and select the Defamation Demand Letter product.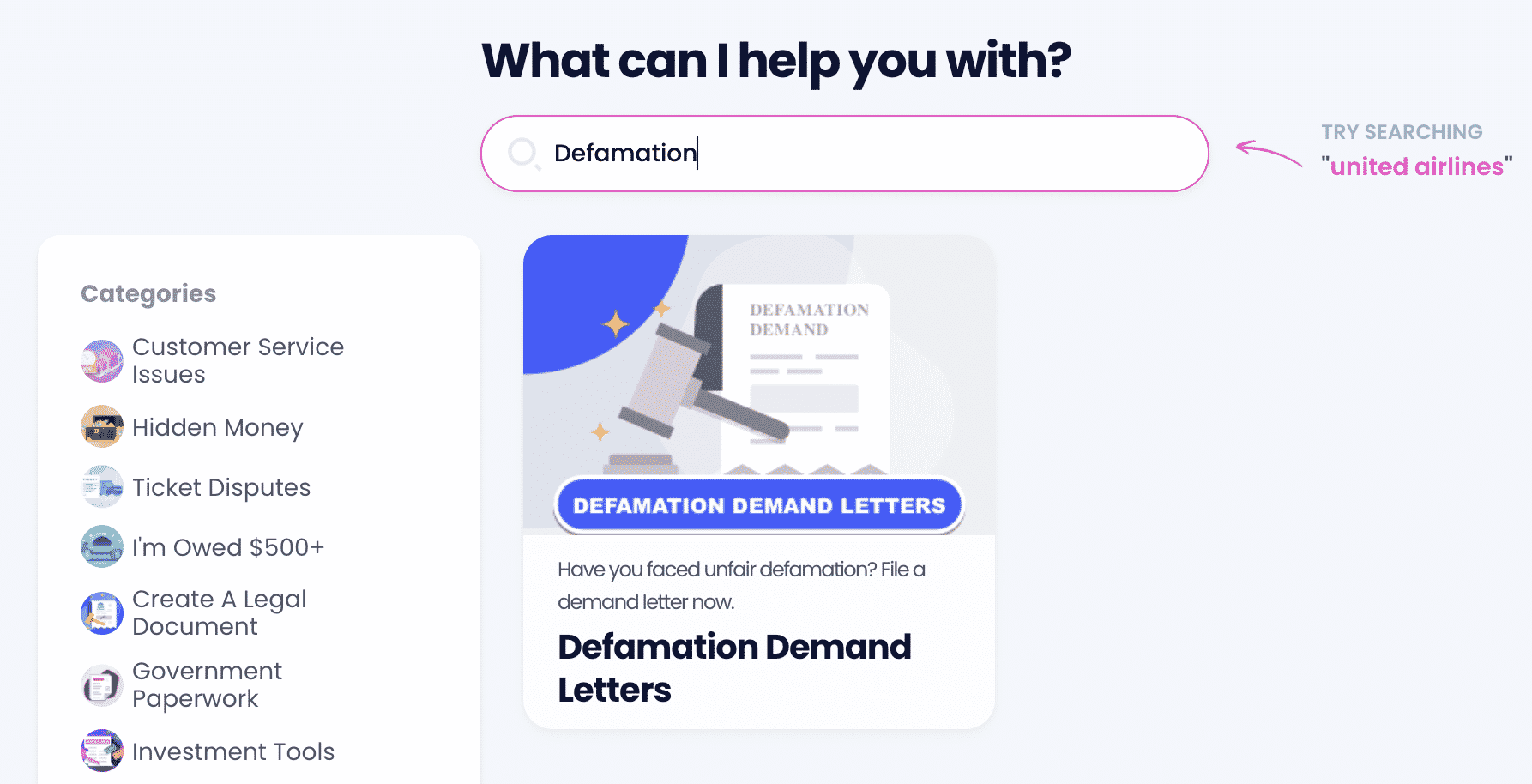 2. Select if you're looking to stop libel or slander, or both.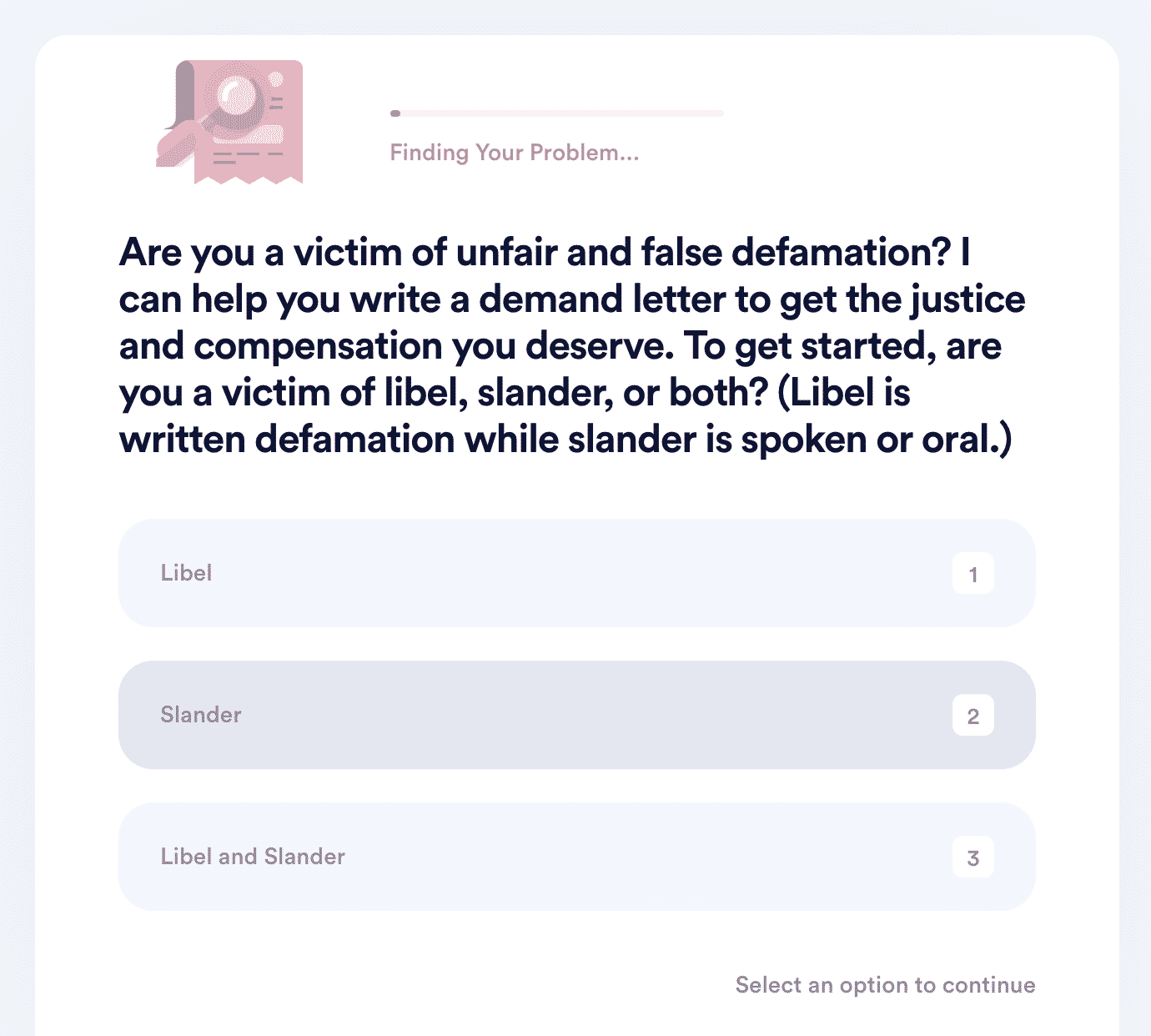 3. Explain the consequences you have suffered as a result.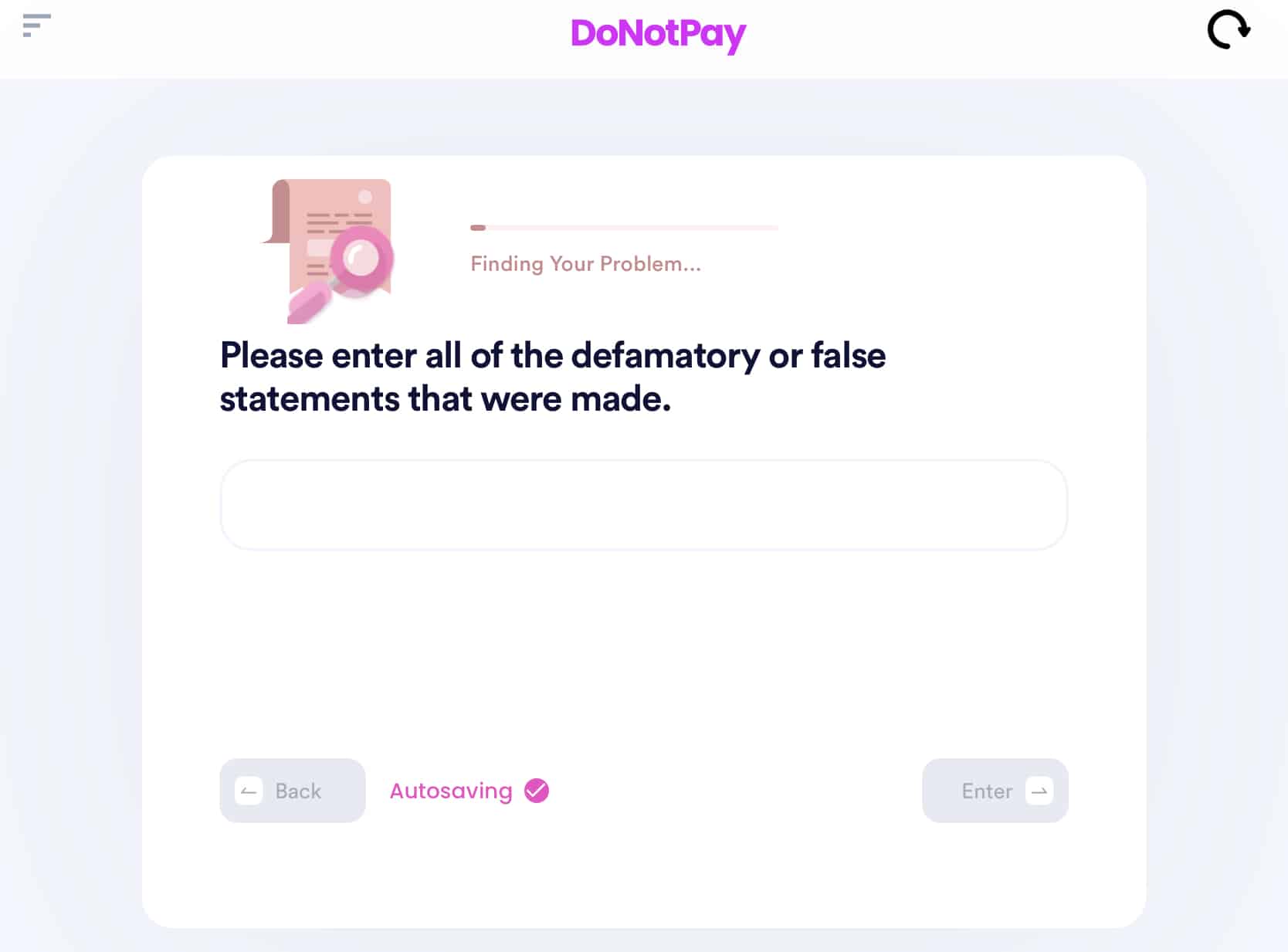 Other Things You Can Do on DoNotPay
Here's some more things you might be interested in:
Divorce settlement agreements