How To Rock Your Letter of Agreement
Legal documents are the best way to establish a contractual relationship with another person. They may refer to various situations, but their primary purpose is to protect you by providing clear rules both sides need to comply with. 
People usually find creating these documents difficult due to the numerous complicated terms and rules that apply. They don't know how to write a contract and include all the necessary details. 
The letter of agreement can be used to regulate various relations and is often a part of buy/sell and real estate deals. Composing a letter of agreement on your own may seem daunting, but with our help, you can learn to make it.
What Is a Letter of Agreement?
The agreement letter is a legal document that outlines specific relationship terms between two parties. It's usually used in negotiations and as a pre-contract document. Its main goal is to clearly define the responsibilities of both parties to prevent any problems or disputes that may occur. 
The letter of agreement can be used to regulate various relations and is often a part of buy/sell and real estate deals.
Why Is the Letter of Agreement Important?
The transparent nature of an agreement letter brings many benefits—you can see some of them in the table below:
| | |
| --- | --- |
| Benefit | Explanation |
| Strengthens the legality | A document like this ensures you are protected in case the other person fails to comply with the prescribed rules |
| Reminds you of your responsibilities | The agreement letter protects you, but it protects the other party too. One of its purposes is to remind you of your duties and the rules you need to comply with |
| Gives you insight into other party's responsibilities | The document clearly defines all the rules the other party or contractor needs to obey. Being aware of their responsibilities helps you make sure they are in line with the proposed regulations |
| Gives you and the other party enough space to expose your conditions | The agreement letter includes all the conditions you and the other person have, no matter how extensive the list of your requirements is |
| Prevents confusion | With all the regulations being clearly stated, you will always know how to act and what you should or shouldn't do while under the agreement. Knowing the rules will also help you avoid problems and misunderstandings with the other party |
What Are the Mandatory Parts of an Agreement Letter?
If you are the one making an offer, you will probably be responsible for creating an agreement. Since the agreement letter is of utmost importance, it's crucial to know exactly what to include in it. 
Here are the main points:
Names and contact detail of both parties

Location/legislation applicable to the agreement in question

Subject of negotiations

Terms and conditions related to the offer

Payment terms—if applicable

Additional costs

Start and end date of the agreement

Signatures of both parties
Is the Agreement Letter Legally Binding?
Should the letter of agreement you created contain signatures of both interested parties, it's legally binding. If the other party doesn't comply with the requirements stated in your agreement, you can present the signed document to the court as relevant proof.
Let DoNotPay Create Legal Documents in Your Stead
Legal documents are a mandatory part of numerous deals and transactions you face at least once in your life. Not everyone is legally-savvy. Many people don't have the slightest idea how to write an agreement letter or what a specific contract should look like.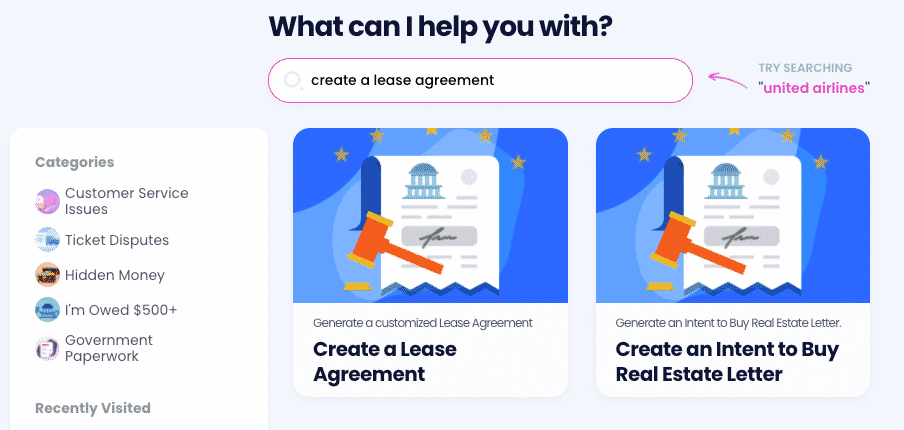 A lawyer may charge hundreds of dollars for a single document, but DoNotPay—your new virtual lawyer—has something more affordable in store! We create personalized legal documents in no time.
Unlike other document template services, our app doesn't set limits—you can generate as many documents as you wish!
Here's how you can get your document in a snap with DoNotPay:
Log in to DoNotPay using your preferred

Search for the document type you need using keywords such as

NDA

,

affidavit

,

lease agreement,

etc.

Provide relevant info—state, names, payment terms, start and end date of the agreement, etc.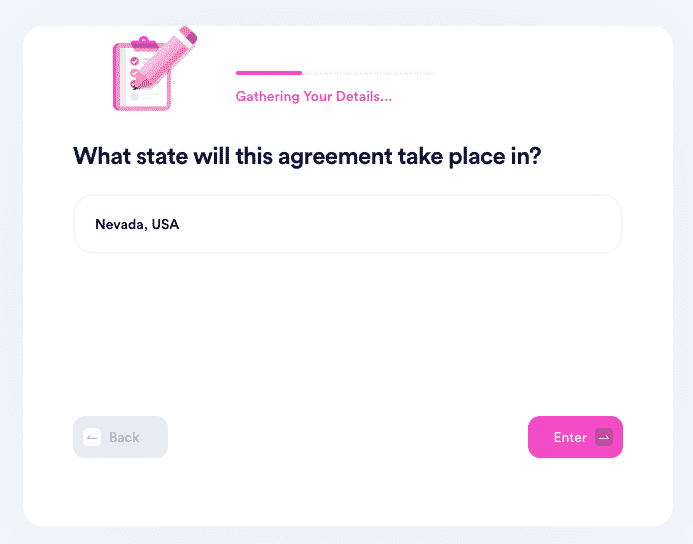 After we receive your details, our app will generate a customized document for you. All you need to do is make it official by signing or having it notarized.
What Types of Legal Documents Can DoNotPay Create?
grows every day! We provide contract templates for numerous documents, including:
General Affidavit

Promissory Note

Child Care Authorization Form

Intent to Purchase Real Estate
You can use our helpful guides to learn more about other legal documents, such as:
Our Robot Lawyer Gets Rid of All Admin Tasks
What makes DoNotPay so unique is that it helps you get back what is rightfully yours in many different ways. You can appeal parking tickets, find unclaimed money, demand a refund for canceled or delayed flights, get help with bills you cannot pay, or get your college application fees waived with the help of our platform.
If you're sick and tired of annoying robocalls, spam emails, copyright violations, text message spam, or stalkers and harassers, DoNotPay can assist you in getting rid of them once and for all.
DoNotPay Can Help You Save Money
Have you ever subscribed to a service's free trial you forgot about after a few days? Many Americans have, which is why DoNotPay has a free trial feature that will help you avoid getting charged once the trial is over.
If you want us to scan all your active memberships and help you not pay for the ones you don't use, connect your email address or credit card to DoNotPay. Our cancel feature will ensure that you don't waste your money on subscriptions you don't even remember exist.
If a merchant charges you once the free trial is over, though, you can use our robot lawyer to request a refund and skip the phone queue when doing so.
In case a company refuses to grant you a refund, you can also use our app to sue them in small claims court.