How to Fight Unfair LetGo Fees and Get Them Waived
Whether you're buying anything online or trading Bitcoin, there always appear to be inevitable hidden costs at the end of the transaction. While these costs may not seem substantial at first, they can quickly pile up. Letgo collects its fees differently than most companies since they don't take a percentage of user sales on their platform. Letgo makes its money through in-app purchases, app downloads, subscriptions, and investor funding.
One of the most appealing aspects of Letgo is the absence of any fees. You don't have to pay anything to list your stuff, and Letgo doesn't take a cut. However, Letgo offers in-app purchases ranging from $0.99 to $4.99. You may pay to have your items featured to get greater exposure. Letgo is not a payment platform for buyers and sellers. As a result, it's critical to be cautious about the payment options you accept.
While Letgo has a more professional appearance than Craigslist, fraudsters utilize this application to offer non-existent products for sale. Therefore, getting scammed on Letgo is very easy, and you will lose a lot of money in the process. Recovering the cash from Letgo will be frustrating, but do not worry. DoNotPay will help appeal your lost money from Letgo fees.
Letgo Fees Explained
Letgo is a free online service for buyers and sellers to trade goods for money. Letgo doesn't charge you a fee to be a buyer or seller on their platform. The only time Letgo charges you is when you enroll in their subscription services or when you make an in-app purchase. Letgo offers three options in their subscription service:
$99 a month subscription if you are a dealer with not less than 30 cars.
$399 a month subscription if you are a dealer with at least 70 vehicles.
$599 a month subscription if you are a dealer with at least 150 cars.
The Lego monthly subscription allows you to bump your post to get more leads and make more sales. It's not a guarantee, though, that paying for the subscription will score you a deal on Letgo.
Letgo provides optional in-app purchases. You may pay for the in-app purchases to increase the visibility of your listings and speed up the sale of your items. You can, for example, pay to 'feature' a listing, which puts it at the top of users' feeds and highlights it with a unique 'Featured' ribbon. It will also have a button that will allow purchasers to contact you with just one press. You can choose to highlight your listing in the following ways if you are a seller:
Pay $1.99 to feature your listing for one day.
Pay $3.99 to feature your listing for three days.
Pay $5.99 to feature your listing for seven days.
How to Avoid/Appeal Letgo Fees
You can avoid Letgo fees by not paying for subscriptions and in-app purchases. You might end up losing money every day if you subscribe or make an in-app purchase since doing this doesn't guarantee you a sale at the end of the day. The subscription offers just visibility that might or might not help you. What matters is a buyer is going to come up someday if you use free marketing tools to attract leads to your Letgo profile.
Does Letgo Have Hidden Fees?
Letgo has no hidden fees as using their platform is free unless you make an in-app purchase or subscribe to the other services. Furthermore, the extra services they offer are optional.
How to Appeal Letgo Fees on Your Own
If for a reason, you subscribe or make an in-app purchase that you hadn't intended to do, you can always appeal for refunds from Letgo. You will contact Letgo support through their email, and Letgo will cancel your subscriptions and in-app purchases. If Letgo doesn't refund your money or cancel your subscriptions, you can always file a dispute that is allowed under their terms of agreement.
Using DoNotPay to Appeal Letgo Fees
Contacting Letgo's support team on your own can be frustrating, as most of the time Letgo may end up not refunding your money back. This can be so heavy on you, but, do not fret because DoNotPay will help you appeal Letgo fees in 2 simple steps.
1. Search "appeal fees" on DoNotPay, choose the Fight and Waive Fees product, and select the type of fee you want to appeal.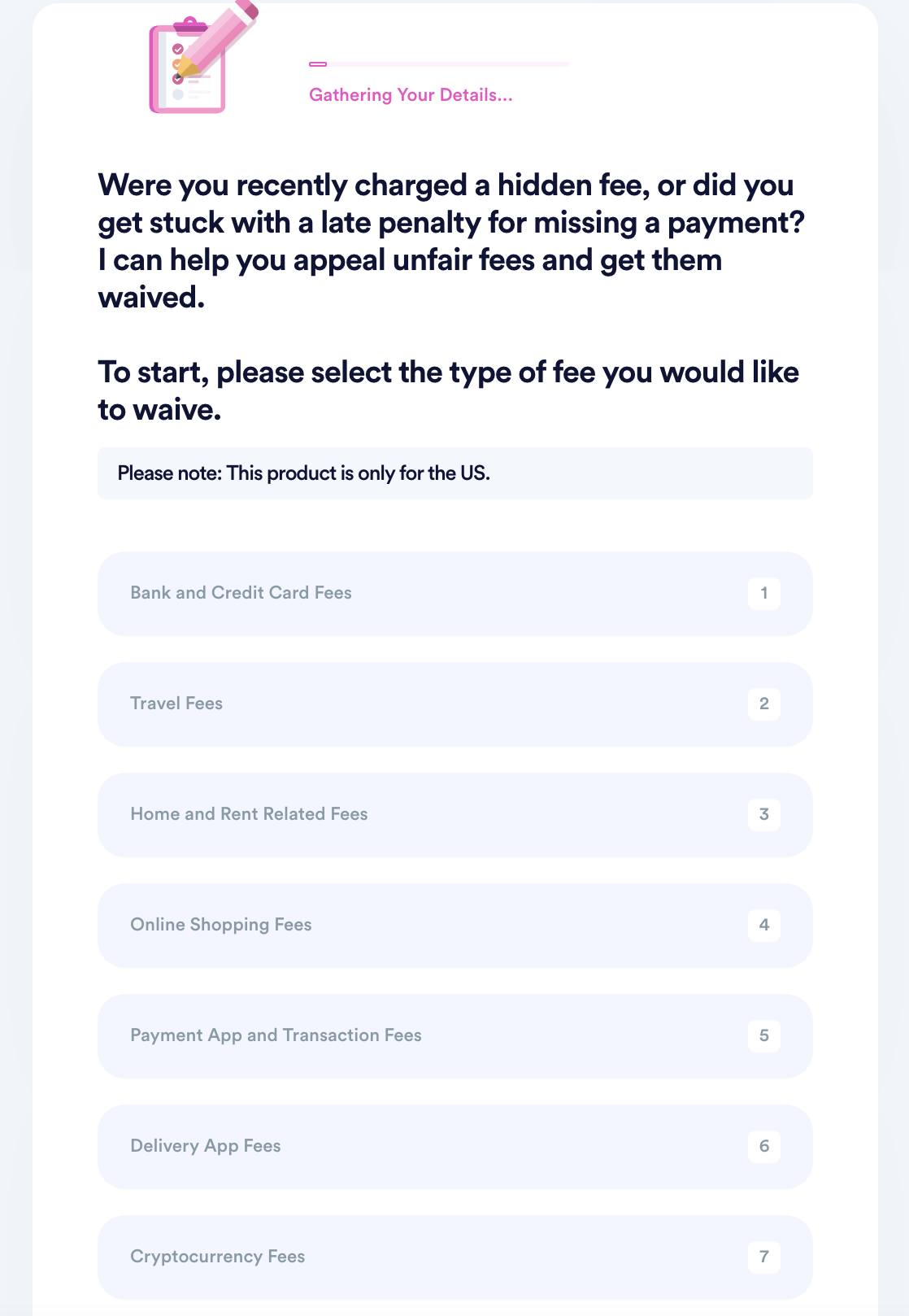 2. Select the merchant you want to appeal fees for and enter your transaction details, including an associated account if you have one.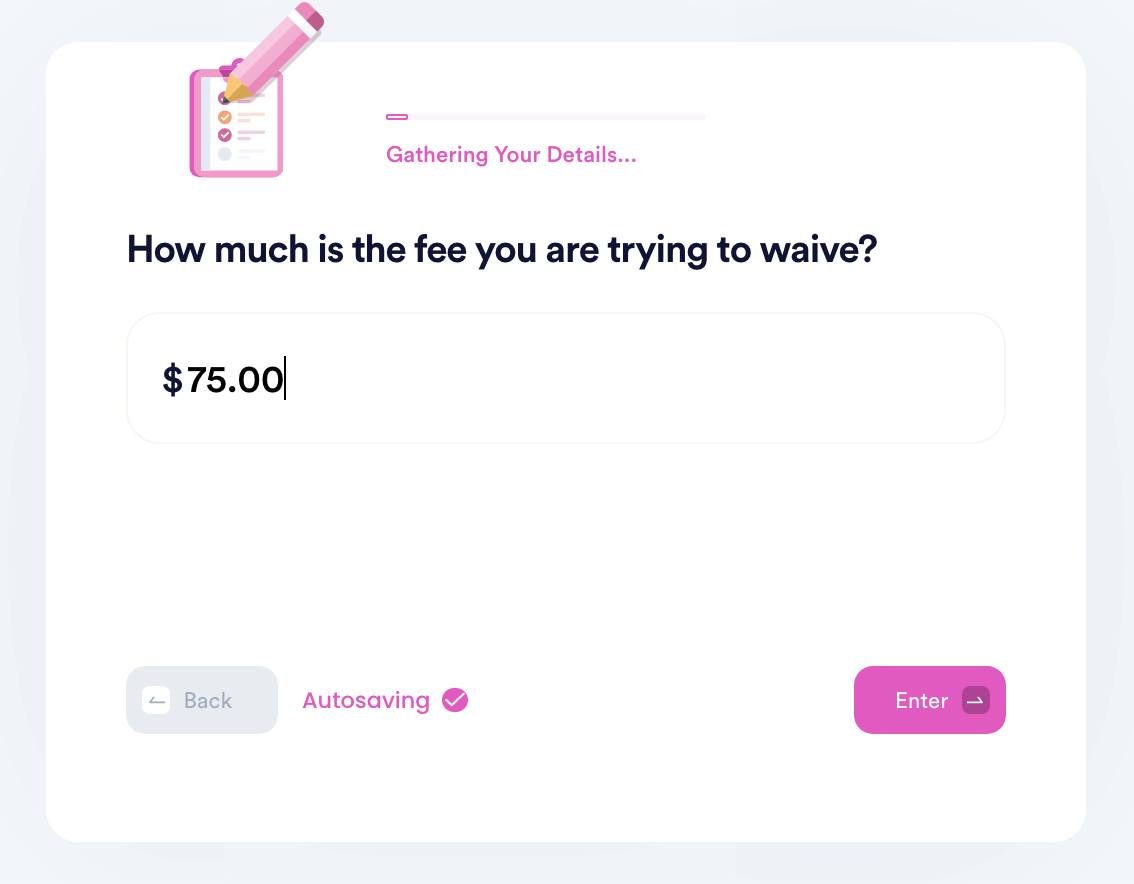 3. Submit your case! DoNotPay will generate the best argument for your case and make sure your fee waiver request gets sent to the merchant for processing.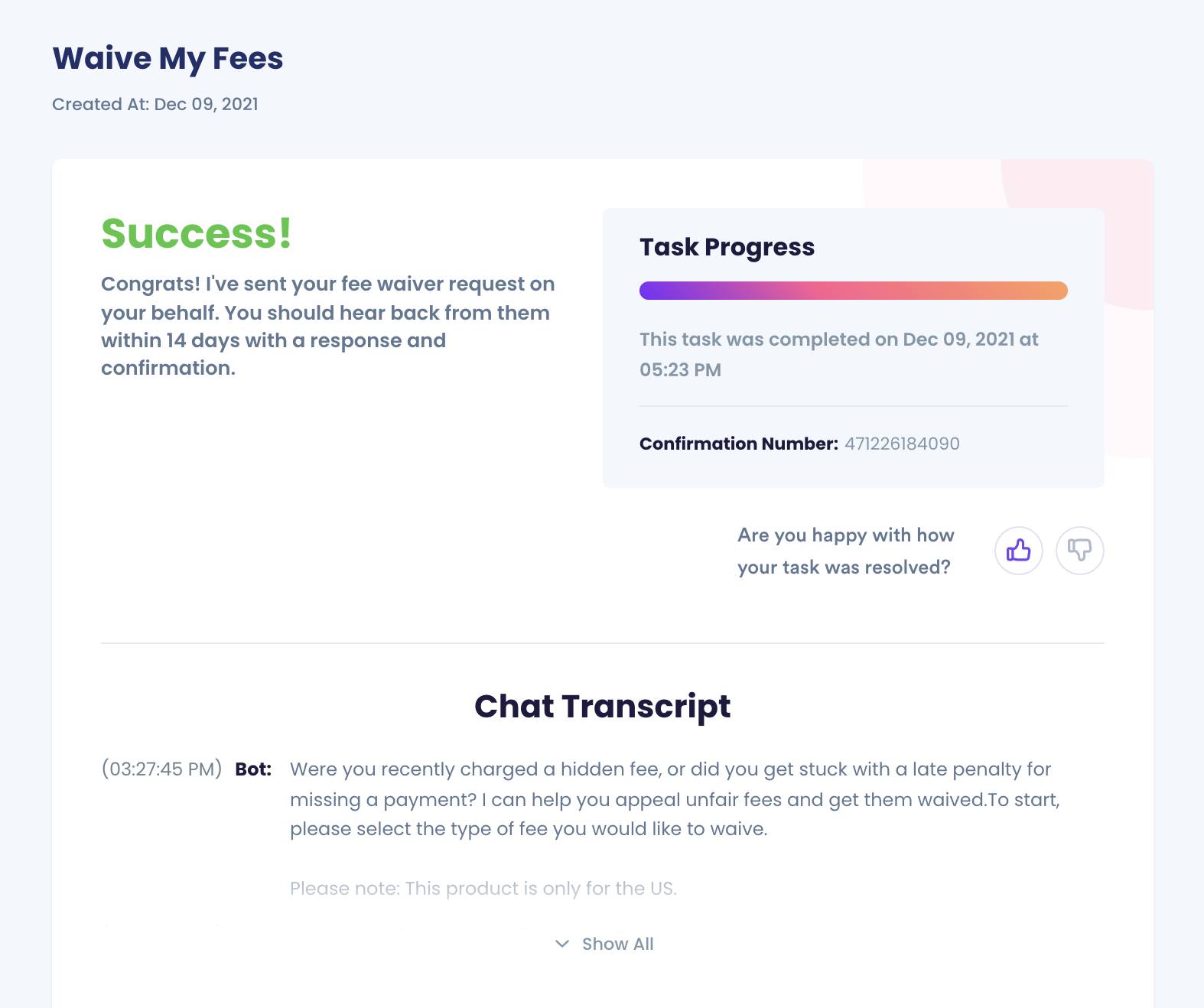 Why Use DoNotPay to Appeal Letgo Fees
| | |
| --- | --- |
| Effective |  You can rest assured knowing we'll make the best case for you |
| Prompt | You don't have to spend hours trying to appeal Letgo fees independently. |
| Affordable | DoNotPay will appeal your Letgo fees at a bargain price. |
| Innovative | Our team of professionals has figured out ways to go around hurdles that occur when appealing Letgo fees. |
DoNotPay Works Across All Companies/Entities/Groups With the Click of a Button
DoNotPay works with various companies, clients, and entities. We will not only appeal your Letgo fees but also:
What Else Can DoNotPay Do?
Appealing your Letgo fees is just one of the many services that DoNotPay can offer you. We also provide services such as:
Join us today at DoNotPay! We are more than ready to help you!