Lehigh County Divorce—All You Need To Know
Divorce can be traumatic—the best you can hope for is that the process is quick, cheap, and as pain-free as possible.
Pennsylvania divorce can be all three of these, and filing for divorce in Lehigh County offers ways to avoid court proceedings and dispense with expensive lawyers.
DoNotPay has all the info you need on getting your Lehigh County divorce filed, served, and finalized with the minimum of fuss!
Who Can File for Divorce in Lehigh County?
If you or your spouse have been a Lehigh County resident for six months or more when you file divorce papers, you are eligible for a divorce there.
The state of Pennsylvania offers no-fault divorces if you and your spouse:
Have been separated for two years
Both agree on an uncontested divorce
A no-fault divorce refers to the situation when you do not have to prove any wrongdoing by your spouse, but the only way for you to obtain a quick divorce in Pennsylvania is to opt for an uncontested or friendly divorce.
Even if your case is uncontested, Pennsylvania law imposes a waiting period of 90 days after you file your papers before the divorce decree can be granted.
How To File for Divorce in Lehigh County
Filing for divorce in Lehigh County consists of the following steps:
Filing divorce forms
Agreeing on a settlement
Filing Divorce Forms
As the plaintiff in your case, you need to fill out the correct forms and file them at the Lehigh County Court of Common Pleas.
If you are filing for an uncontested divorce, you should submit the following forms:
Complaint in divorce
Notice to defend or summons
You can file your divorce papers in person with the clerk of the court or online. You must pay the Lehigh County filing fee of around $200–$250 when you file.
Serving Your Spouse
Once you have filed your forms, you must have them served on your spouse by a deputy sheriff or a private process server.
Your spouse will need to confirm receipt by filling out an affidavit of service of complaint, which you need to file with the court as an addendum to your initial papers.
You do not need to have the papers served if your spouse signs a waiver of notice and files it with the court. This serves as notification that the two of you are working on an out-of-court settlement.
Agreeing on a Settlement
Once both your divorce forms and the confirmation of service have been filed, you have to wait 90 days before your divorce can be granted.
You can use this time to negotiate and draw up a divorce settlement agreement, which is a legal document that covers:
As long as you can file your settlement agreement before the 90 days have expired, your divorce should be finalized with no fuss.
You may have to attend a hearing in court, in which the judge will check that your papers are in order and that your settlement is fair and equitable. If you have minor children, you and your spouse will also have to take a four-hour shared parenting class.
Where Can You Get a Settlement Agreement?
The most crucial document in your divorce process is your settlement agreement.
A judge will not sign your final divorce decree unless your agreement is:
Fair and equitable
In the best interests of any children from your marriage
Designed to allow both you and your spouse to live as comfortably as possible after the divorce
You can have your settlement agreement drawn up using the following services:
Settlement Agreement Resources
Explanation
Lawyer
The default route for many couples is to engage attorneys and let them negotiate the agreement on their behalf. This is a tried-and-tested option but can quickly become expensive.

Divorce lawyers in PA charge around $250 per hour, and a settlement agreement can easily end up costing around $5,000 per spouse.

Mediation can offer a cheaper alternative, with PA mediators charging between $100 and $300 per session

Online
Numerous online providers offer templates for you to fill out. While these can be a cheap option if you and your spouse agree on all the terms of your settlement, you should be careful since many of these templates are too generic to cover your exact needs. A judge may reject your settlement agreement if this is the case
DoNotPay has the solution! You can create a fully customized settlement agreement on our platform and avoid the expense of lawyers and the uncertainty of an online provider!
DoNotPay Clears the Path in Lehigh County!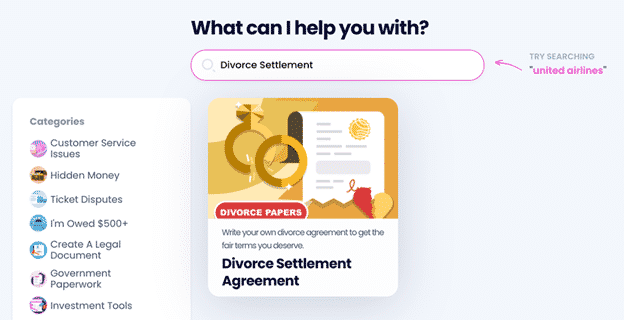 DoNotPay believes that divorce doesn't have to be slow, costly, or painful!
Our Divorce Settlement Agreement product is designed to help you cut out cost, effort, and inconvenience by giving you a watertight, comprehensive settlement agreement that covers all the terms you and your spouse have agreed on.
Here's what you need to do to set your agreement up:
Sign up with DoNotPay in your web browser
Go to our Divorce Settlement Agreement product
Fill in the details you want to be included in your document
DoNotPay will handle it from there—in an instant, your tailor-made settlement agreement will be ready. All you need to do is print it, sign it together with your spouse, and have it notarized.
If you can't find a notary in your area, DoNotPay can help you out with our online notarization service!
More PA Advice From DoNotPay
DoNotPay can help if you're looking for info on divorce in other areas of Pennsylvania—here are some examples of what we can offer:
Use DoNotPay To Complete a Variety of Tasks at Any Time
Why waste time and money completing mundane tasks on your own when you can let DoNotPay assist you? Take a look at the table below to find out what our AI-powered app can do for you:
| DoNotPay Can | Services |
| --- | --- |
| Protect your safety and privacy | |
| Draft legal documents | |
| Help you get your money back | |
DoNotPay Has More in Store for You!
Since communication is key, you'll appreciate our feature that helps you get in touch with customer service reps quickly! We'll also show you how to send faxes online and have your documents notarized by an online notary with ease!
Going on vacation? Use DoNotPay to take a valid passport photo at home or get a tourist visa!