Legal Separation vs. Divorce in Arizona—Which Should You Choose?
Do you want to get a divorce but aren't sure about it yet? This article will tell you what the main legal separation vs. divorce in Arizona differences are so you can make an informed decision.
If you choose to file for divorce, DoNotPay will provide you with instructions on how to get an uncontested divorce that will help you avoid hiring lawyers and going to court. We will also assist you in creating a marital settlement agreement—one of the most important uncontested divorce papers. Subscribe to DoNotPay and get your document immediately!
Key Differences—Arizona Legal Separation vs. Divorce
Divorce and legal separation are similar to some extent when it comes to matters such as alimony, child support, and child custody, but they have some crucial differences. Check out the table below to learn the main differences between legal separation and divorce in Arizona:
Legal Separation
Divorce

The couple is still legally married
No one can remarry until a divorce decree is issued
Separation is reversible
It allows the couple to make an agreement regarding:

The couple stops being married after the divorce
The divorced spouses can remarry
Divorce is final and irreversible
Reasons To Choose Legal Separation Over a Divorce in AZ
A couple may opt for a legal separation instead of divorce for any number of reasons:
To check whether they truly want to get divorced
So that the spouse who was receiving medical or other insurance benefits can keep it
For religious or other social beliefs that don't allow divorce
Because they don't meet the residency requirements
To keep receiving valuable tax benefits for married couples
Because the couple believes that they might reconcile
When To Opt for a Divorce in Arizona
The main reasons a couple might choose divorce over legal separation are:
They want to end the marriage permanently
The case doesn't require a trial separation
One or both of them wants to get remarried
Arizona Legal Separation vs. Divorce—Requirements
You and your spouse need to meet some state-specific requirements if you want to file for legal separation or divorce. You can find out more in the table below:
Separation vs. Divorce
Residency Requirements
Grounds
Separation
You or your spouse need to have been a resident of Arizona for at least 90 days
You, as a filing spouse, need to state one of the following reasons:

The marriage is irretrievably broken
One of the spouses wants to live separately

Divorce
To file for divorce in Arizona, either spouse must have lived in the state for at least 90 days before filing
Arizona is a no-fault divorce state, which means that neither spouse is to be blamed for the breakdown of the marriage. Arizona will allow fault-based grounds exclusively in covenant marriages
What Are the Requirements for an Uncontested Divorce in AZ?
If you want your divorce to be quick, friendly, and low-cost, you should opt for a DIY and uncontested divorce in Arizona. The requirements that you'll need to meet are:
Your marriage needs to be irretrievably broken, which means that there is no possibility of reconciliation
You and your spouse need to agree on the division of assets and debts
Both of you need to agree on the issue of spousal support
If you have underage children, there are some other matters you'll need to settle to fulfill requirements:
Child custody
Visitation schedule
Child support
To file for an uncontested divorce, one of you must have lived in Arizona for 90 days.
Uncontested Divorce in Arizona—The Procedure
Here's how filing for an uncontested divorce in Arizona works and what happens during the procedure:
Reaching a settlement without lawyers and out of court (you can go to mediation)
Obtaining and filling out all the necessary divorce forms
Filing the divorce paperwork
Waiting for the served spouse to respond
Proceeding with the case in accordance with Arizona Family Law Rule of Procedure
The process of getting a legal separation in Arizona is similar to the above-described steps for an uncontested divorce.
Create an Ironclad Divorce Settlement Agreement With DoNotPay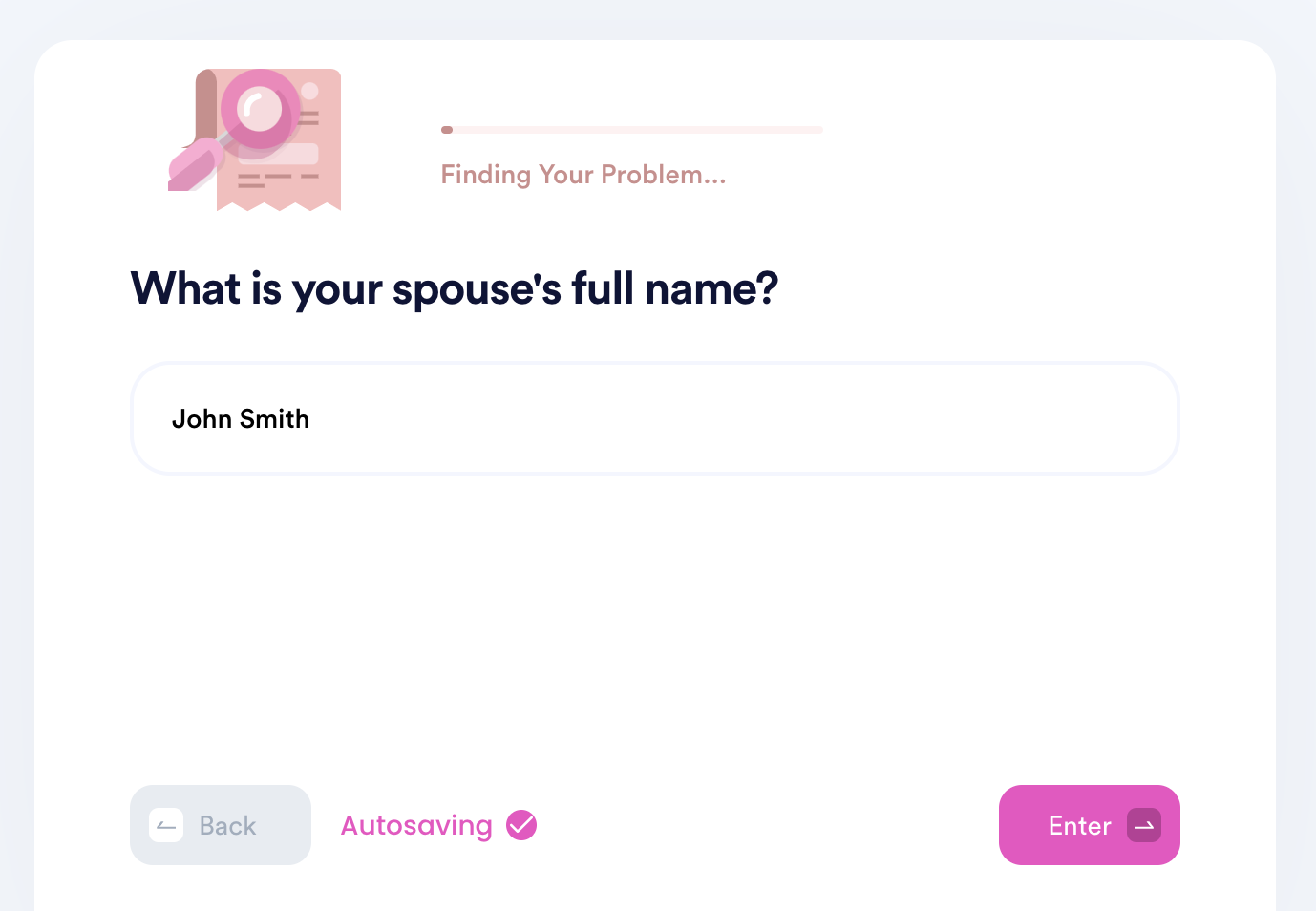 If you want to avoid costly and lengthy divorce in Arizona, you and your spouse need to agree on all terms of your divorce before filing for it. We can help you spell out all those terms in a divorce settlement agreement.
Sign up for DoNotPay, and we will draw up this document for you in the blink of an eye. Follow these instructions to generate your fully personalized divorce settlement agreement:
Open the Divorce Settlement Agreement tool
Provide information about yourself, your spouse, your marriage, and tell us how you wish to allocate your assets
Notify us if you need a notary
DoNotPay will send you a customized document that you and your spouse should sign. We can also connect you with an online notary who will witness your signing over a live video call.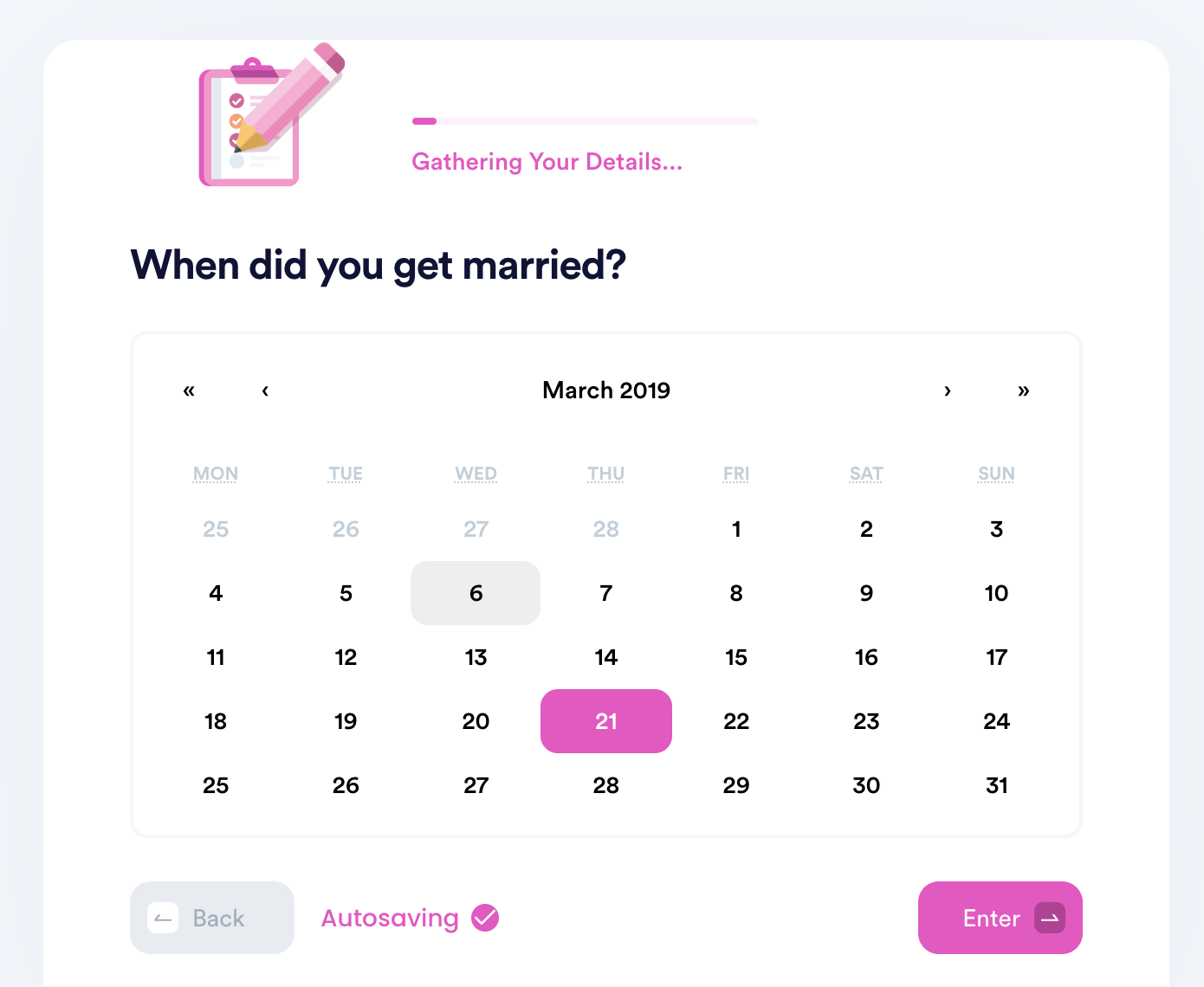 If you still have some questions about divorces, DoNotPay can help! We have a learning center that will provide an answer to all your questions, including:
Use DoNotPay To Deal With a Plethora of Bureaucratic Tasks!
Tired of dealing with bureaucracy? We understand the struggle, and that is why our app makes handling administrative tasks a breeze!
Regardless of whether you need to compose a legal document, such as a power of attorney or a child travel consent form, appeal property taxes or your parking tickets, file a financial aid appeal and a FOIA request, or get a document notarized, DoNotPay has got you covered!
In case you also need to submit anonymous HR complaints, our app will provide you with the easiest way to do so!
Go on a Stress-Free Shopping Spree With DoNotPay
Do you like to shop until you drop? With DoNotPay, you won't have to worry about dropping! We'll make sure you can:
If you need more money to continue your shopping spree, let our app help you find any unclaimed funds under your name and enter numerous giveaways and sweepstakes!