Generate Perfectly Valid Legal Documents in No Time
We all come across some life or business activities that require legal documents.
Do you need to hire a lawyer every time you're in one of these situations? Luckily, no, because some apps can help you prepare everything on your own without too much trouble.
DoNotPay is the world's first robot lawyer, here to assist you in closing any significant business deals for which you need official agreements. We can help you write a contract and provide helpful tips and templates.
What Types of Legal Documents Do You Need?
Legal documents are agreements and contracts that protect your business and personal interests. Depending on your endeavor, you can pick different legal documents to meet your needs and, at the same time, protect you from harm.
We understand how complicated and incomprehensible all that legal terminology can be, but the documents must comply with laws and regulations. 
DoNotPay has your best interests at heart. That's why we've created our Standardized Legal Documents tool that can generate various legal documents to fulfill your needs.
Here's a non-exclusive list of legal documents DoNotPay supplies for you:
| | |
| --- | --- |
| Legal Contracts | Purpose |
| Non-Disclosure Agreement (NDA) | A legally binding contract establishing a confidential relationship between the contractual parties that agree not to reveal any sensitive information; also known as a confidential agreement |
| | A written contract between two parties for implementation of specific projects or services; an individual or a company hires an independent contractor to implement short- or medium-term activities  |
| | A legal document providing the specifics of a sale of products or transfer of properties; the seller transfers the assets' rights to the buyer  |
| General Business Contract | A legal document outlining the terms and conditions of a business deal made by two parties |
| | A contract between an employee and an employer where the employee promises not to compete with the employer in any way upon the employment termination; the employee must not disclose proprietary sensitive information at any time |
| | A key document outlining regulations, rules, and provisions of limited liability companies (LLCs) |
| | A contract between a landlord and a tenant including all the terms for renting a property as a residence |
| Intent To Purchase Real Estate | A document setting the key terms and conditions agreed between a buyer and a seller of real estate before they enter into a real estate purchase agreement |
| | A contract between two people before entering into marriage; the document determines the responsibilities, rights, and conditions of both parties during and after the marriage  |
| | An arrangement in which one party holds property or assets on behalf of the actual owner  |
These are some legal documents you'll be able to generate with the help of our vast legal document database. We keep upgrading our Standardized Legal Documents feature by adding new useful and relevant agreement types and templates. 
Once you provide essential data regarding your upcoming deal or the issue you've been dealing with, we'll generate an appropriate legal document to meet your special requirements. 
Can You Draft Legal Documents by Yourself?
Preparing legal documents takes a lot of insight into different laws and regulations. Contracts contain intimidating words and phrases, the main purpose of which is to secure your (business) interests in the best possible way.
Generating legal agreements takes time for lots of lawyers, too. The seasoned ones have already made solid templates they can conveniently adapt to a client's specific needs. 
How To Write Legal Documents
There are some principles legal documents have in common. In case you want to prepare one on your own, you should use:
Action verbs

Present tenses

Simple words and phrases

The direct and clear writing style

Short sentences and paragraphs

Consistent and parallel structures

Active instead of passive voice, if possible
What To Avoid in Legal Documents
For your legal document to be as straightforward as possible, you should avoid the following:
Redundancy

Gender-specific terminology

Nominals (nouns with verbs inside)
It's not easy to write any documents, let alone the legal ones. Our platform is convenient because you don't need to do it on your own. DoNotPay can generate the whole document for you smoothly. 
Let DoNotPay Produce Legal Documents To Meet Your Needs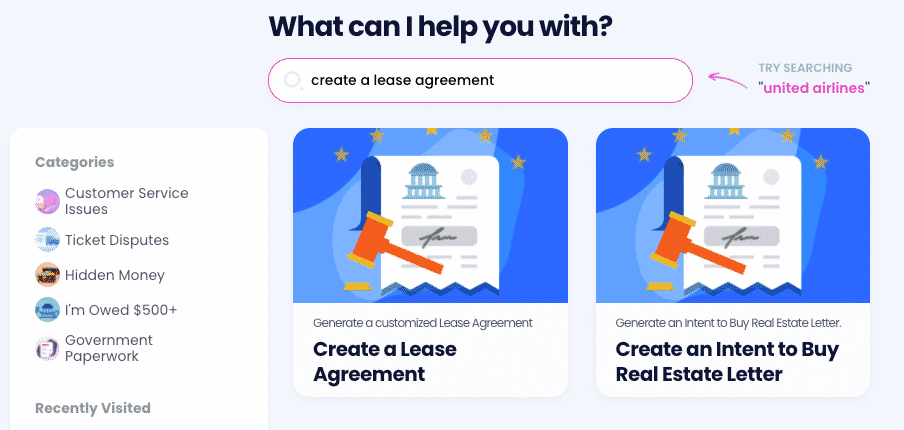 You can try to make an agreement by yourself by searching for legal documents online, but it can be challenging. Creating a contract requires a certain level of legal knowledge.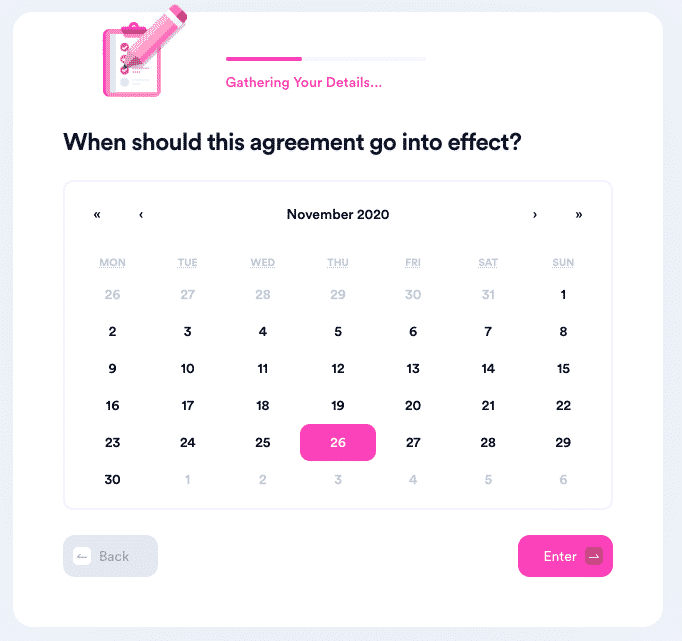 That's why your obvious choice would be to hire a lawyer to prepare a suitable contract. As turning to a lawyer can be a pricey option, DoNotPay can assist you in this matter. 
Here's how:
Access DoNotPay from any

web browser

Type in the name of the document (e.g., a lease agreement)

Provide the necessary details to the chatbot (names, addresses, and other relevant information)
That's all! DoNotPay will now generate a document tailored to your particular requirements and business activities.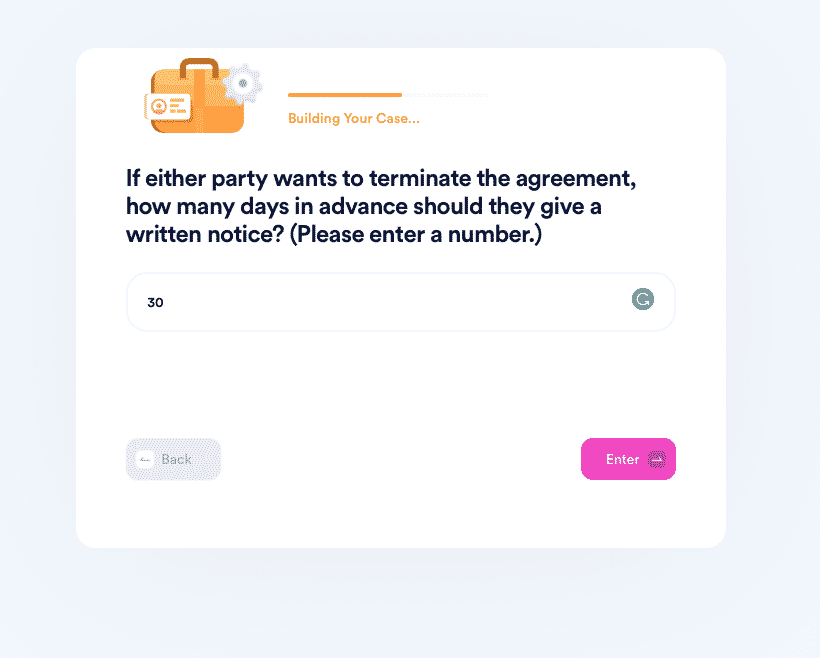 Be aware that these contracts are not official until signed by both contractual parties and notarized. 
What About Related Documents?
When you get the agreement that suits your requirements, you can check what other documents you may need.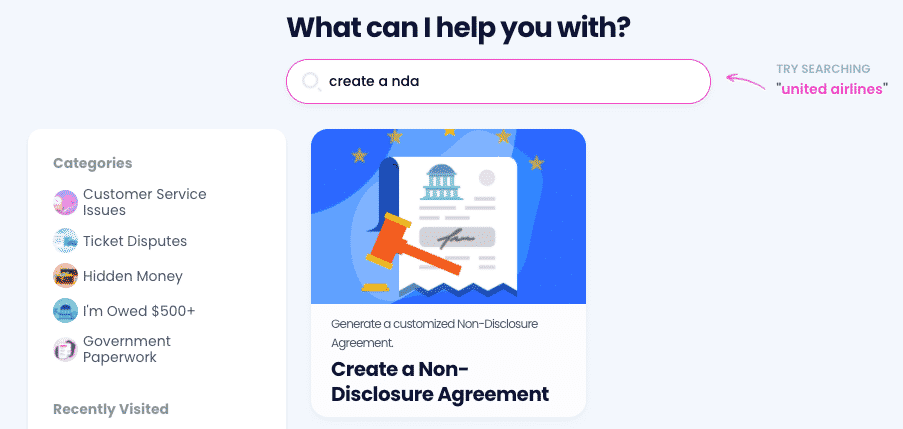 Let's say you've prepared a non-disclosure agreement. This document can follow some other contracts, such as an employment agreement, independent contractor agreement, a freelance contract, etc. 
You can use DoNotPay to prepare any additional documents to make your business and sale procedures rock solid. 
How Else Can DoNotPay Help You Find and Save Cash?
Our Missing Money feature helps you find any unclaimed assets in your name in any state. An additional perk is that you can claim your money right in the app—no need for further research!
We can also make sure you don't pay for any unfair parking citations and get the rightful compensation from airlines for any canceled or delayed flight. 
Don't let big companies scare you into not claiming your warranties or insurance. DoNotPay helps you file these claims and appeal any rejections in minutes, which brings you closer to getting your money.
We can also delay your bill payments, get your college fees waived, or sign you up for paid clinical trials to earn some extra cash!
DoNotPay Keeps the Spammers Away
Whether you're dealing with email spam, text scammers, robocalls, or severe harassment, DoNotPay can help. 
Use our virtual credit card or the Burner Phone feature to sign up for free trials safely—without revealing your real info. DoNotPay will make sure that no company can reach you when you use our tools. 
We provide a fake email address, credit card info, and phone number that are in no way connected to your real data. 
We can also help you cancel services or request a refund without you having to contact the company directly.