When in Need of
Legal Documents Preparation
, Turn to DoNotPay for Help
Legal documents preparation is a vital part of any legal, business, or even domestic matter. Depending on the circumstances, you may need to prepare anything from a prenuptial agreement to a lease agreement. 
What if you don't know how to write a contract? Not all of us have experience with legal terms and requirements. 
You don't have to worry because you've just discovered DoNotPay. Our platform can help you create various legal documents in only three simple steps!
The Troubles With
Legal Documents Preparation
When preparing legal documents, mistakes are your biggest enemy. Contracts with incorrect details can lead to wasted time, energy, and money. Legal documents preparation requires a lot of experience and attention to detail.
Hiring a lawyer to prepare your legal paperwork can be costly—some lawyers might charge up to a hundred dollars per document. Considering their busy schedules, some attorneys might even turn you back, especially if you need just one short document.
When preparing a legal document, you need to take into account many aspects, including:
The document type you need

The goal your document should achieve

Technical guidelines you need to follow—font, paper size, etc.

The language you need to use

Your state's laws and formal requirements regarding the content of the document
How To Do Your
Legal Document Preparation
If you have no legal education, chances are your legal documents preparation will be a huge challenge. For some people, hiring a lawyer isn't an option, so they need to draw up their legal documents themselves. You can use various online document preparation services, but they too can burn a hole in your pocket. There is also a question of how reliable they are. 
If you want to proceed with legal documents preparation by yourself, you have two options:
Finding online templates

Drafting documents from scratch
How To Find Templates for Your Legal Documents
You can search Google for templates, but you'll usually come up with disappointing results. The templates that you'll find are either expensive or free but not detailed enough.
The table below provides an overview of the benefits and drawbacks of online templates:
Pros of Legal Documents Templates
Cons of Legal Documents Templates

You can easily download them

Some of them are free or low-priced

They are editable

Some websites charge a substantial subscription fee for the access

They can be invalid in court

Templates may contain easily overlooked errors
How To Draw Up a Legal Document by Yourself
If you decide to create a legal document by yourself, there are a few steps you'll need to follow:
Prepare an outline

—the more detailed your preparation, the better the final result

Create

a letterhead and a heading with the title

of your legal document (for example, Promissory Note)

State

the date

when the document was created—this detail might be crucial for any deadlines specified in the contract

Write

the body of the document

and pay attention to these details:

Order of provisions

—put general provisions before specific ones, more important before less important, etc.

Unnecessary definitions
Word order and meaning

—legal documents should be anything but ambiguous

If there's a need for it, you can cite

legal authority

Leave space for

signatures

—the left and right bottom of your document is usually reserved for this crucial element 

Check if you

formatted

the document correctly

Proofread, proofread, and then proofread some more

—check for any spelling, grammar, and punctuation mistakes because they might cost you a lot
Does this process look like a nightmare? Yes, we know it does. The good news is that you don't have to suffer—DoNotPay's AI bots will draw up a great legal document of your choice within minutes!
How Does DoNotPay Help With Legal Documents Preparation?
We know how difficult it can be to create a legal document by yourself—that's why we came up with our Standardized Legal Documents tool.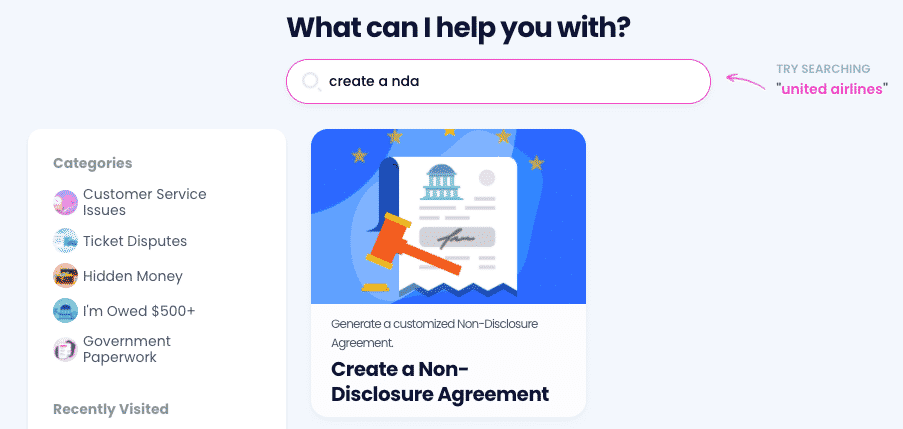 With the help of our chatbot, you'll be able to draft customized legal documents for your business, real estate, or personal needs without losing any sleep. If you , you can draw up the following documents:
General Business Contract

Quitclaim Deed

Residential Lease Agreement

Estoppel Certificate

Intent To Purchase Real Estate

General Affidavit

Promissory Note

Prenuptial Agreement

Child Care Authorization Form
We don't plan to stop here—DoNotPay will keep updating the list of available legal documents and keep making your life easier.
How To Create Your Legal Document With DoNotPay
There are only three steps in DoNotPay's fast process of creating documents. After you from your web browser, do the following:
Type in the name of your document in DoNotPay's search bar

Provide all the details of your agreement to our chatbot

Click on

Proceed
DoNotPay will generate your document immediately, and you can print, download, or even notarize it right away, thanks to our integrated online notarization feature!
Take Advantage of DoNotPay's Time-Saving Features!
DoNotPay comes with a wide array of useful features that will help you overcome any administrative issue in no time. As the world's first robot lawyer, DoNotPay can tackle just about any bureaucratic task that people dread.
You can do anything from reporting stalking and harassment, signing up for free trials, and scheduling a DMV appointment to jumping the customer service phone queue, dealing with high bills, and protecting your creative work from copyright infringement with our app's assistance.
If you want to connect with an inmate, sign up for a clinical trial, report spam emails, or sue any company or person in small claims court, you can count on DoNotPay to provide you with the necessary guidance.
Use Our App To Get Rid of Unwanted Admin Hurdles
Do you want to say goodbye to spam text messages or protect yourself from stalking and harassment? Are you looking for a way to end robocalls and earn off them? DoNotPay can help!
As soon as you sign up for our app, you'll be able to do anything from avoiding phone number verification with our handy burner numbers to acing government tests stress-free!