The Ultimate Guide to Lee County, Florida, Jury Duty
The jury system is an essential part of American democracy because it allows everyone to have a fair trial. Whether you have been summoned for jury duty on a state or federal level, you need to know how to prepare for it.
In this article, we will provide details about the Lee County, Florida, jury duty and answer various questions, such as:
Who is eligible for jury duty?
Do you get paid for jury duty?
How long does jury duty last?
We can also help you prepare a valid leave request letter to take time off from work. Once you , you'll get a formal letter without a hassle!
Who Is Eligible for Jury Duty?
Check out the table below to see the requirements you need to meet to be eligible as a juror in Lee County, Florida:
Eligible
Not Eligible
To become a juror, you must:

Be a citizen of the United States
Be between 21 and 70 years of age
Have a valid driver's license or ID card issued by the state government
Be fluent in verbal and written English
Have a record clear of felony or misdemeanors
Be of good moral character

You are exempted from jury duty if you are:

Nursing mother
Active member of the armed forces
Member of the fire or police department
Physically or mentally unwell
Parent or legal guardian of a child under six years old
How Does Jury Duty Work?
When you receive the jury summons, you need to take the following steps:
Accept the jury summons and fill out the qualification form
Mail the form to the court
Appear in court at the specified date and time of the jury duty
Answer a series of questions to prove that you are eligible for jury duty
Since jury duty is mandatory, you cannot skip it without a valid reason. If you fail to show up at court without prior notice, you can be penalized with a fine of up to $100 or possible jail time.
How Long Does Jury Duty Last?
Jury duty in Lee County usually lasts for one day or one trial. This means that you have to serve one day in court as a potential jury member. If you are selected for the jury panel, you need to be available for the duration of the trial.
Do You Get Paid for Jury Duty?
Courts in Florida do not pay any compensation to employed jury members for the first three days of service. Unemployed jury members are entitled to a compensation of $15 per day for the first three days.
If the jury service exceeds three days, the court offers compensation of $30 per day till the end of the trial.
Federal courts typically offer the same pay in every state, which is as follows:
$50 per day
$0.25 per mile (for travel expenses)
How To Tell Your Employer You Need Time Off for Jury Service
You should show the jury summons to your employer as soon as you receive it so that they can confirm your jury duty. According to Florida law, your employer is mandated to give you unpaid time off and cannot prevent you from fulfilling your civic duty in any way. If they terminate you for skipping work, you can file a lawsuit for wrongful dismissal.
DoNotPay Can Help You Write a Professional Leave Request Letter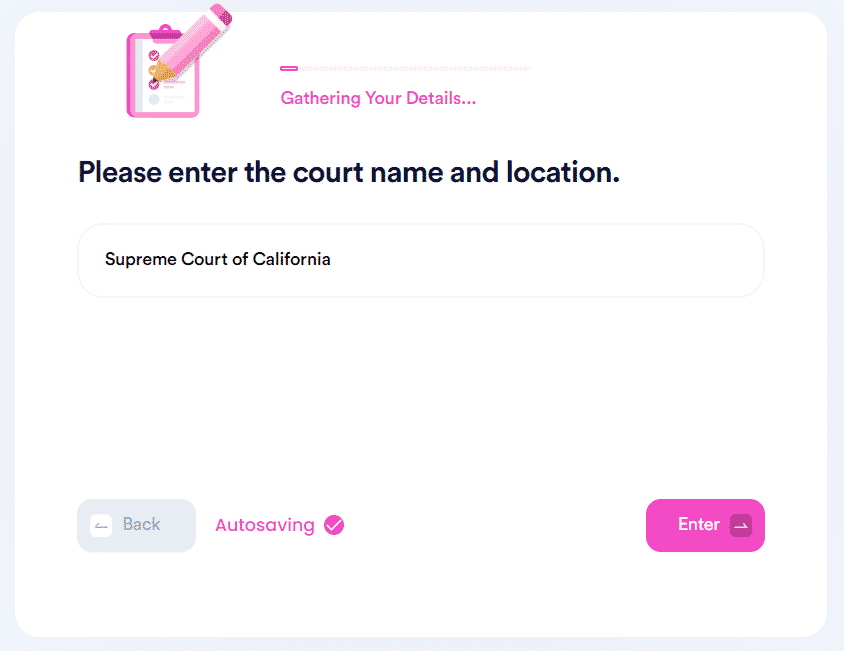 If you need to ask your employer for time off to attend jury duty, DoNotPay is here to help! We can generate a leave request letter that complies with all Florida state laws leaving no room for your employer to deny your request.
Here is what you need to do:
Select the Request Jury Duty Leave product
Answer a brief questionnaire
Attach a picture of the jury summons
Once we create the letter, we can send it to your employer in your stead, or you can choose to print it and do it yourself.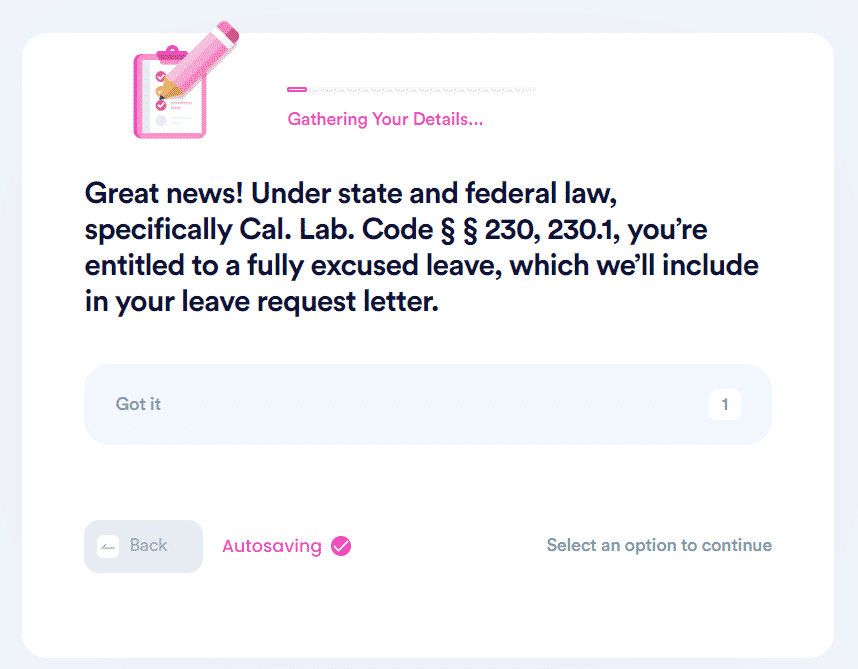 DoNotPay Is Your Ultimate Money-Saver
Don't spend your hard-earned money on subscriptions you don't use—cancel them with our app in a few simple steps! The best part is—that's not all we can do to help you save some coins. DoNotPay can also reduce other expenses by helping you:
Kiss Spammers and Harassers Goodbye for Good With DoNotPay
Our app offers handy features that can assist you with blocking irritating robocalls and getting rid of pesky spam texts and emails. It also gives you peace of mind by helping you fight workplace discrimination, stalking and harassment, annoying neighbors, and defamation.
With DoNotPay, you will always be able to maximally protect your safety by searching updated sex offender databases and avoiding unpleasant situations. Suppose you have already been a victim of harassment or any other crime. In that case, we can help you get compensation with no difficulties!