The Ins and Outs of the Lee County Divorce Process
While ending a marriage is nearly always painful and distressing, the process doesn't have to be as costly and drawn-out as usually depicted. Learning the essential details about divorce in Florida can simplify, expedite, and reduce the expenses of the marriage dissolution procedure in any of its counties.
This article explains every step of the Lee County divorce process—from gathering necessary forms to finalizing the dissolution with a marital settlement agreement.
Divorce in Lee County, Florida—Essential Info
If you and your spouse are considering divorce, thorough research will help you prepare for the proceeding. Check the following table to find some basic information about divorce in Lee County, Florida:
Key Aspects of Divorce in Lee County
Explanation
Grounds for divorce
Florida is a true no-fault state for divorces, which means that it's irrelevant for the court if one of the spouses did something to break down the marriage. You can file for divorce in Lee County based on these grounds:

Irretrievable breakdown of the marriage
Mental incapacity of one of the spouses (lasting at least three years before the petitioning)

Residency requirements
To get a divorce in Lee County, you have to meet Florida's residency requirement of living in the state (either one or both of you) for at least six months before filing the petition
Duration
Many states in the U.S. have mandatory waiting periods for divorce, which have to pass from filing the petition to attending the hearing. The mandatory waiting period in Florida is 20 days, meaning you can't get divorced before that. This isn't the only factor that affects the duration of a divorce in Florida—how long the process will take mostly depends on whether it's contested or uncontested
Expenses
The cost of a divorce in Florida depends on many variables and can range from $400 to $100,000. You have to pay a $400 fee when you're filing divorce papers. The rest depends on the method, duration, and the professional help you might need, such as attorneys, mediators, psychologists, or property assessors
Who Can Get an Uncontested Lee County Divorce?
Many divorcing couples prefer uncontested to contested marriage dissolutions. An uncontested divorce is a quick and low-cost method that doesn't require going to court for trials.
Filing for an uncontested divorce is undemanding and inexpensive since you can do it without a lawyer. You must have a civil and amicable relationship with your spouse to obtain this type of marriage dissolution. You and your spouse also have to meet certain requirements, such as:
Agreeing to file for an uncontested divorce
Meeting the residency requirements
Agreeing on the grounds for divorce
Not having minor or dependent children together
Not being pregnant
Not requesting spousal support
To get an uncontested divorce, if you have children or request alimony, you need to draw up a settlement agreement defining the terms and present it to the judge.
A Step-by-Step Guide to Filing for a Lee County Divorce
Here are the instructions on how to file for divorce in Lee County, Florida:
Find the required divorce papers—Visit the Lee County clerk's office and ask for the necessary forms or download them from the Florida Courts website
Make copies of original documents—You'll need at least two copies of each document, so make sure to make copies before filing the papers with the court
File the petition with the court—You submit your petition and the rest of the divorce papers by visiting your local clerk's office or online through the Florida e-portal
Serve divorce papers to your spouse—If you're filing for divorce without your spouse, you must deliver the papers to them. You can appoint a sheriff or a process server
Draft a divorce settlement agreement—After reaching an out-of-court settlement regarding important issues such as alimony, custody, child support, parenting plan, and division of the property, you and your spouse must finalize the terms of the settlement by writing a settlement agreement. You don't need a lawyer to do that—all you have to do is sign up for DoNotPay, and we'll prepare the document for you in a jiffy
Attend the hearing—After the waiting period, you'll have to attend the hearing in court to hear the judge's final decision and wait for them to issue a final decree
Which Lee County Divorce Forms Do You Need for an Uncontested Divorce?
The divorce forms you need to find and fill out for an uncontested divorce in Lee County include:
Petition for Dissolution of Marriage

With Dependent or Minor Children
With Property but no Dependent or Minor Children
With no Dependent Children or Property

Notice of Current Address
Family Law Financial Affidavit
Notice of Social Security Number
Marital Settlement Agreement
Finalize Your Divorce in Lee County, Florida Effortlessly With DoNotPay!
Writing a divorce settlement agreement is a piece of cake for DoNotPay! Our comprehensive database contains information about divorce laws and rules in any state in the U.S., which helps us draft rock-solid agreements for you.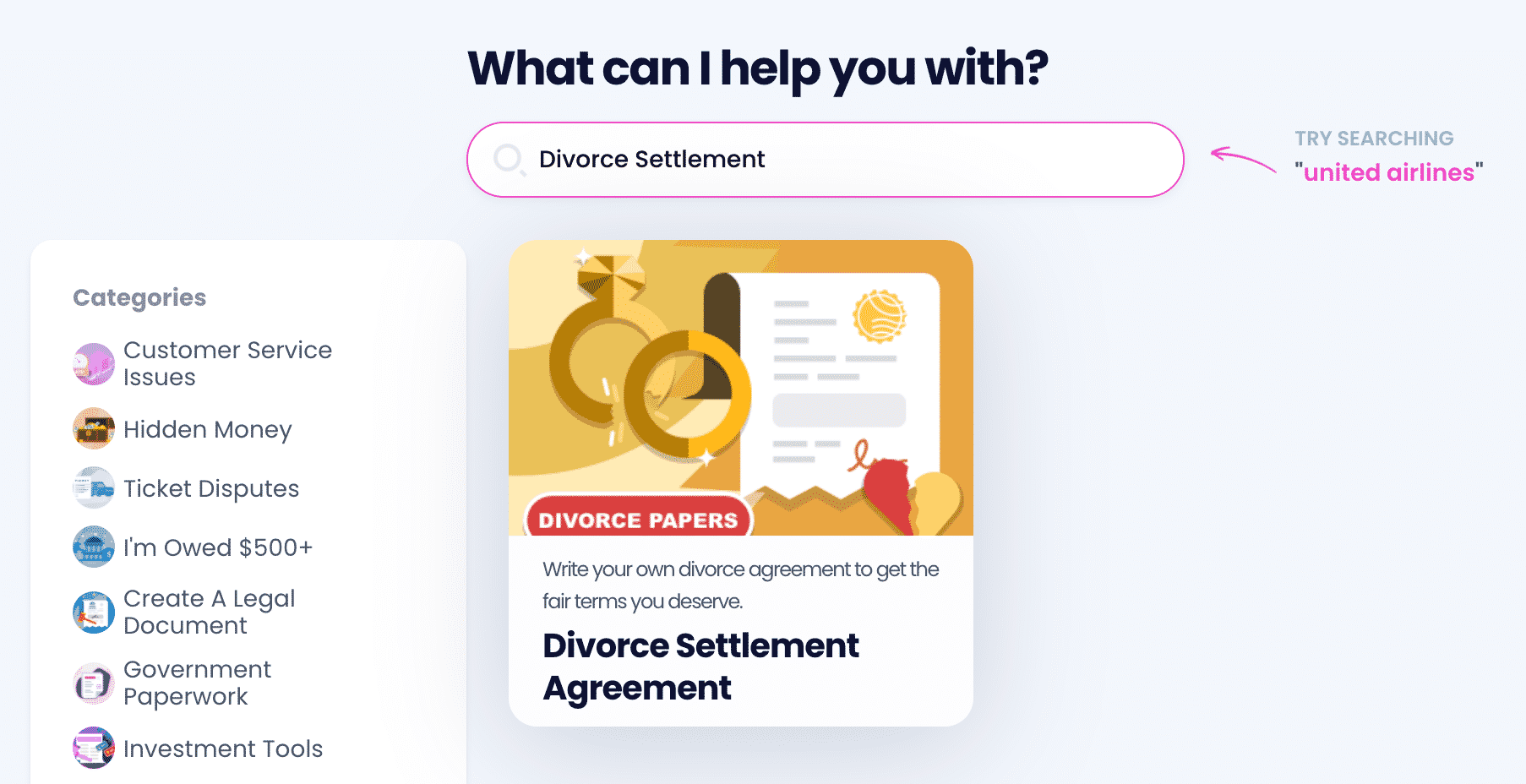 You don't have to waste time and money any longer—acquire a personalized divorce settlement agreement promptly with DoNotPay. All you need to do is:
Choose the Divorce Settlement Agreement service
Answer our chatbot's questions
Inform us if you need a notary public
We'll use the information you provided and our vast database to draft a customized settlement agreement!
DoNotPay can also answer all of your questions about divorces—contested or uncontested—such as:
Our App Solves Your Legal Issues!
Do you really have to set aside astronomical amounts to pay lawyers for drafting legal documents or taking a person or business to small claims court?
The answer is no—all the cash remains in your pocket, thanks to DoNotPay! From now on, you can perform many legal tasks from home with the help of our app. It enables you to create flawless powers of attorney, divorce settlement agreements, and child travel consent forms in a snap.
That's not all—once we generate these documents for you, we also help you have them notarized via a video meeting. No need to waste your time and fuel visiting notary offices.
Check Out Other Perks DoNotPay Offers!
DoNotPay provides a wide selection of services, from creating virtual credit cards and burner phone numbers to getting refunds from companies and canceling subscriptions. Have you received an unfair parking ticket? Appeal it with our app before you know it! Are email spam and robocalls making your life a living hell? No scammer stands a chance against our efficient AI-powered tools and features!
We also work in your favor when it comes to safety. Our app offers perfect ways to prevent copyright infringement, stalking and harassment, work discrimination, sex offenses, and disputes with annoying neighbors.