What Are Lease Violations by Landlord?
A lease violation refers to a breach of contract. You may have a right to compensation if there's been a . After all, if you broke the lease, they'd hold you accountable. They might respond by withholding your security deposit, charging you fees, or even threatening to evict you.
You're entitled to stand up for your rights as a tenant. Given that you pay hard-earned money to live in your rental home, your landlord is responsible for holding up their end of the bargain. When your landlord violates your lease agreement, you may put pressure on your landlord with a demand letter — you can write one yourself, or you can opt for the convenience of having DoNotPay write one for you.
What Are the Common Lease Violations by Landlords?
Landlords are obligated to follow the terms outlined in the lease agreement. Below, we've outlined some common lease violations:
Failure to uphold responsibilities under the lease, such as failure to respond to your requests
Entry of your rental unit without telling you in advance
Refusal to return your security deposit
How to Send a Demand Letter After a Lease Violation by Your Landlord
There are three basic steps to sending a demand letter to your landlord when you're advocating for yourself. Of course, you can always get a lawyer to help you out, but lawyers are expensive, and it's hard to find one that will take on a pro-bono case.
1. Know where you stand as a tenant.
How can you fight a lease violation by your landlord if you don't know how accountable they are to you and your agreement? You should arm yourself by doing your own due diligence, which includes:

Re-reading and understanding your lease
Knowing local and state tenancy laws
Compiling a list of grievances:

Include a timeline for contacting the landlord and alerting them of the issue.
Include documentation and photographs to serve as evidence of the violation.

Contacting your local tenant advocacy board for tips and resources should you need to

file a complaint against your landlord

2. Write a demand letter to your landlord
A demand letter serves as both a formal complaint about an issue with the rental unit (or with the landlord's behavior) and as a warning that you will pursue compensation for any breach of contract on the part of the property owner and their agents. Here is the process for writing a DIY demand letter:

In the first paragraph, write your purpose: For example, "I am writing to address a violation of our lease by [landlord's name or management company)]."
Clearly state the nature of the violation(s).
Indicate the part of the lease that relates to the violation.
Tell your landlord that you wish the issue to be remedied by [give a reasonable date].
State what your actions will be should the landlord refuse to comply. For example:

That you will have no choice but to move and break the lease.
That you will take the landlord to small claims court for compensation or to force compliance.

If your rental has become uninhabitable, let them know how you wish to be compensated for hotel stays or prorated rental days.
Write, "Attached is the relevant section of our lease, as signed on [date]."

Refer to any other documentation you wish to attach, including receipts and estimates.

Include any other information that you deem necessary to state your case, but remain professional.
Sign your letter above your printed name.

Use professional headings, including the name and address of the landlord, the date, and your own name and address. Send your demand letter and evidence documents to the landlord's mailing address, and be sure to send it registered mail with delivery confirmation. Keep the postal receipts for your records.

3. Be willing to back up your demands.
Your demand letter means nothing if you aren't willing to pursue a claim, either through a tenant advocacy board or by suing them in small claims court.
How to Hold Your Landlord Accountable With DoNotPay
Would you rather have a lawyer represent you — without having to pay exorbitant legal fees? DoNotPay is here to guide you through your tenant issues and file your disputes on your behalf.
If you want to hold your landlord accountable, DoNotPay has you covered in 4 easy steps:
1. Search for and open the Landlord Protection product on DoNotPay.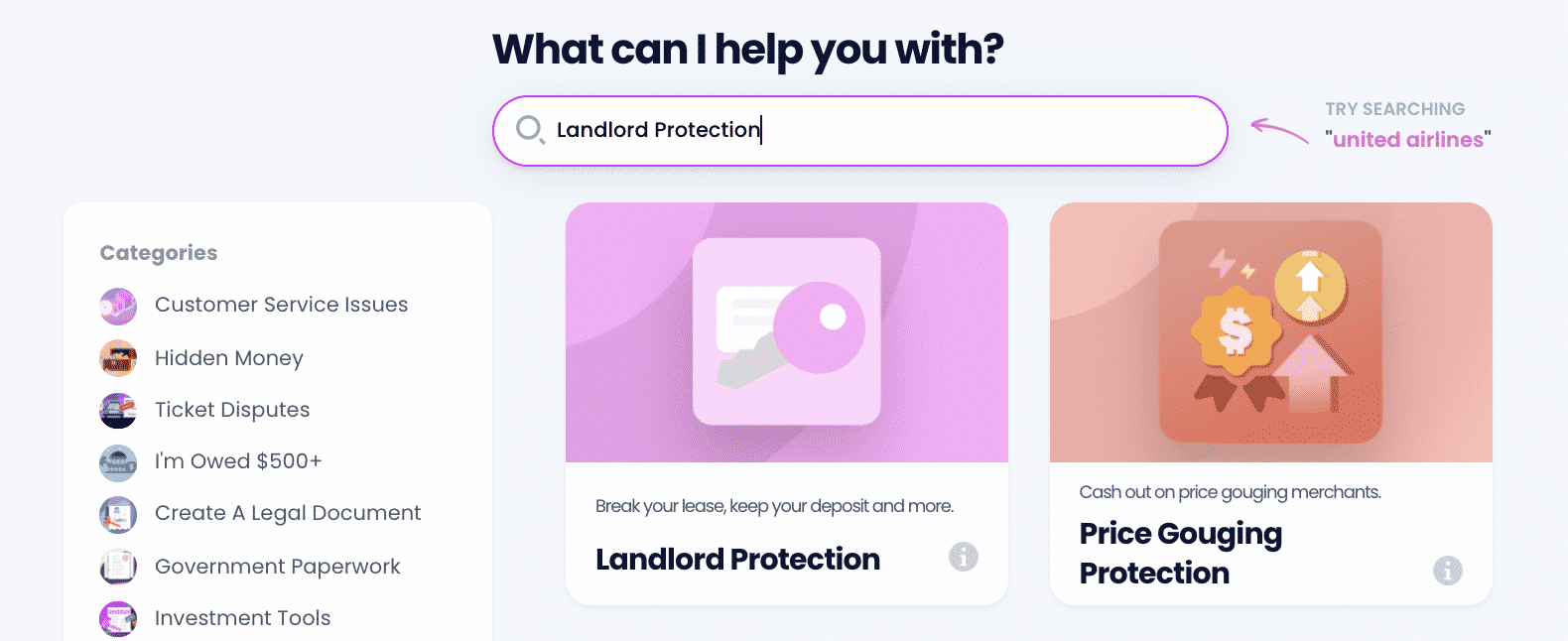 2. Select which issue applies to you.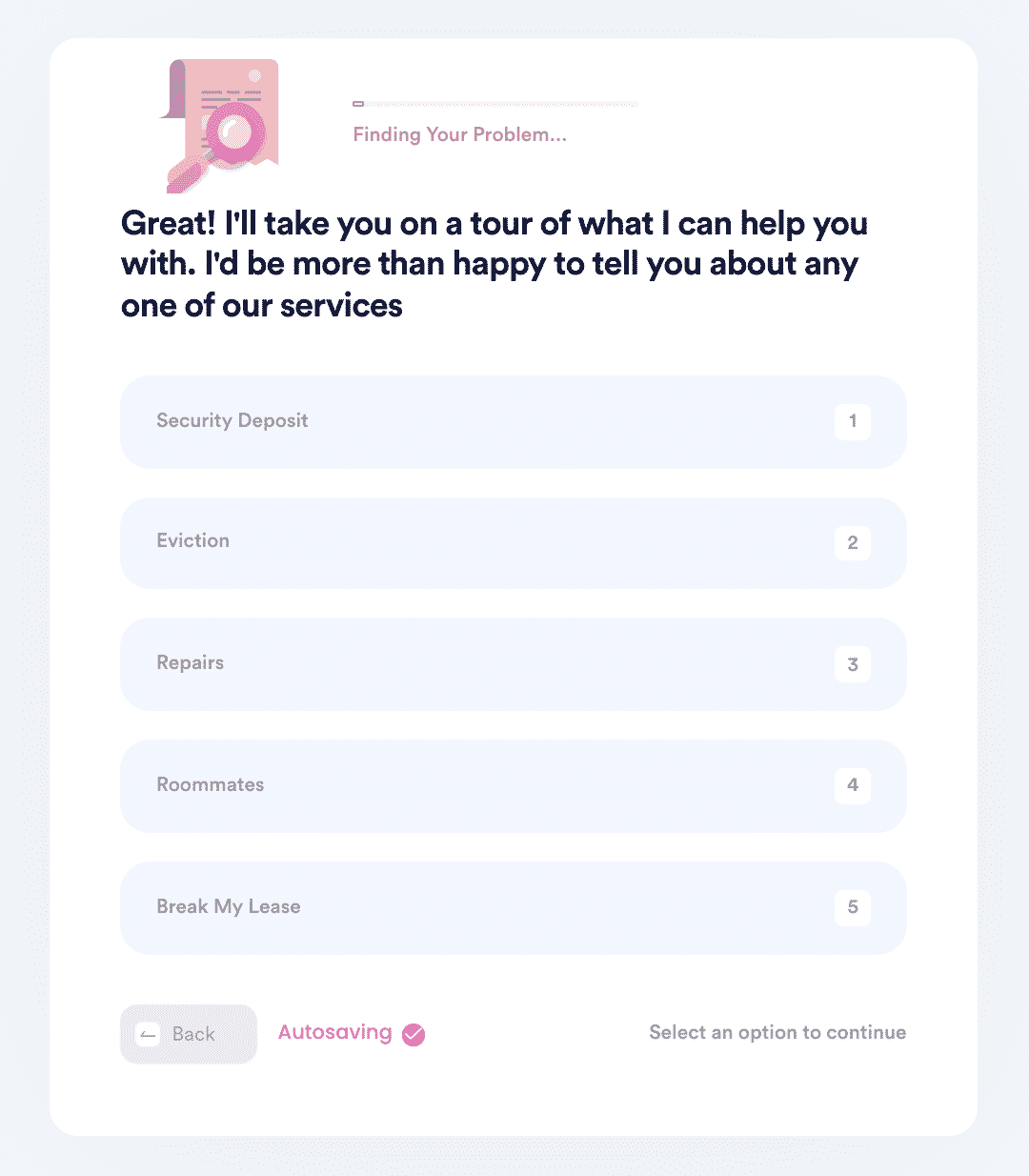 3. Answer a simple set of questions so our chatbot can collect the necessary information to create your demand letter.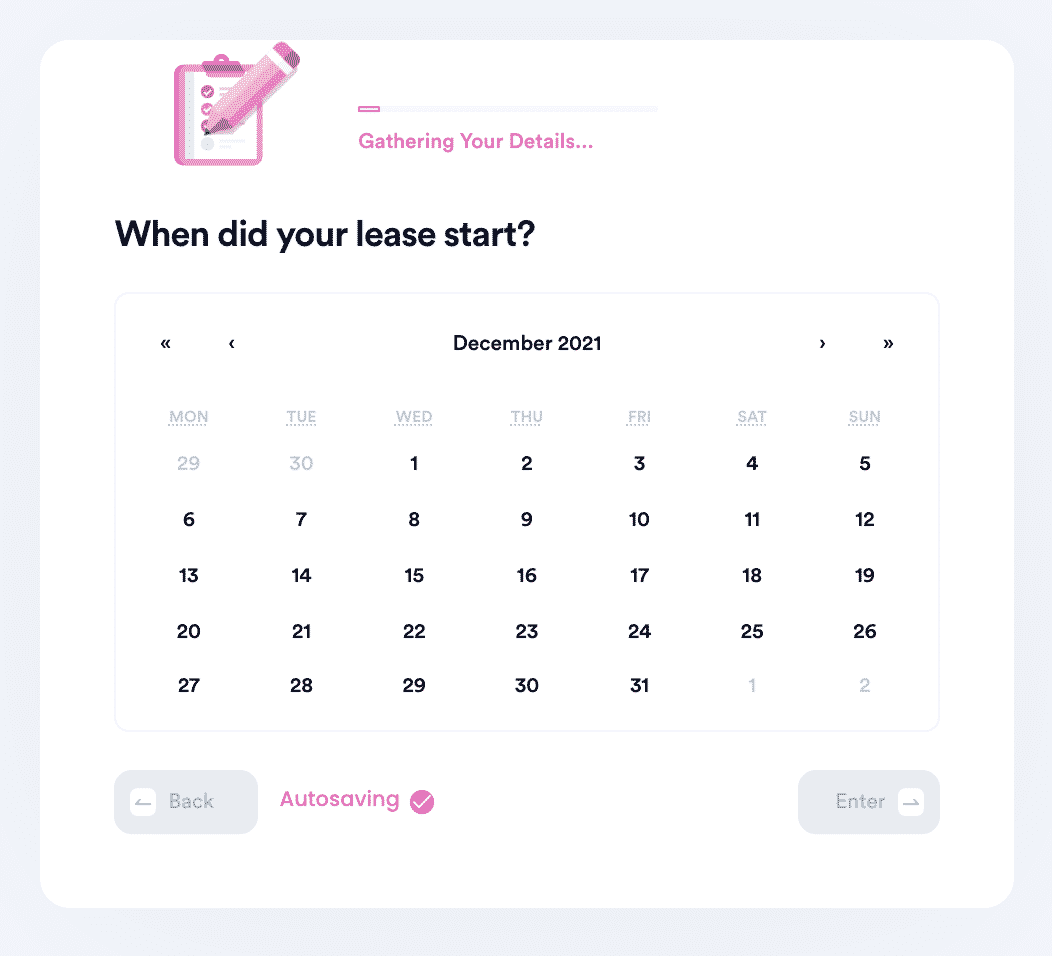 4. Choose whether you want DoNotPay to send the demand letter to your landlord or roommate on your behalf. If you already tried sending a demand letter and it didn't work, we can help you start the small claims court process.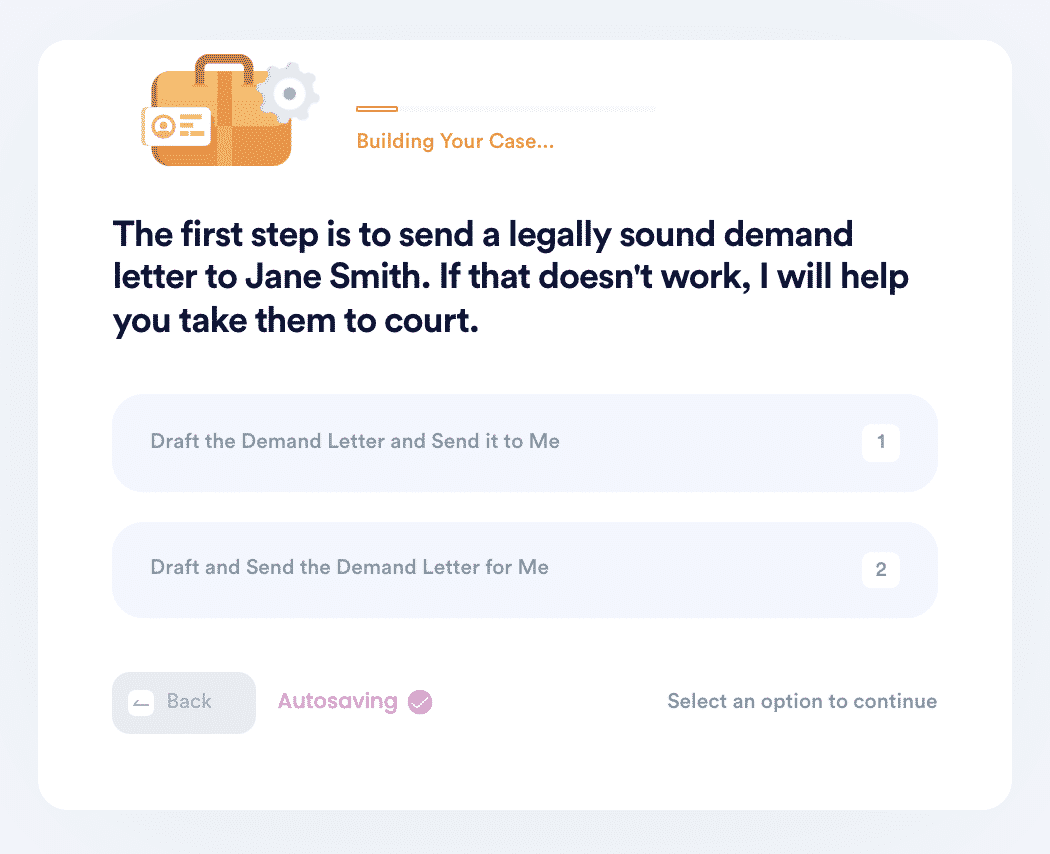 And that's it! You should hear back from your landlord directly once your demands are sent.
We Have All the Resources You Need on Rental-Related Matters
It isn't always straightforward to rent. Let DoNotPay help you deal with the difficult matters on your behalf:
Find out how long a landlord has to return a deposit in your state or city
If your isn't complying with the lease you were required to sign, now's the time to take steps to hold them accountable. . We're likely to end the problem right then and there, but we've got your back if you have to take the next step.