A Step-by-Step Guide to Writing a Lease Termination Agreement

Do you have to move because of a job change or any other life event? If you're a tenant, you might be worried about the consequences of ending your lease before the actual termination date. The good news is—signing a lease termination agreement with the landlord will release you from your obligations.
If you're not sure how to write a lease termination contract, DoNotPay will help you out. We will explain how to create the best lease termination agreement and help you draw up other legal documents in under five minutes.
Lease Termination Agreement Explained
A lease termination agreement is a contract signed between a tenant and a landlord once the landlord agrees to end the lease early. It's usually used when terminating long-term leases since the short-term ones last only a month. Before you sign the termination agreement, you should first inform the landlord about your decision by sending a lease termination letter. 
In the letter, you need to explain the reason behind your decision and specify the termination date. The general rule is to inform the landlord a month or two in advance so that he or she can look for a new tenant. If the landlord accepts your termination, you should suggest signing a lease termination agreement.
You can terminate the lease for a variety of reasons, such as:
Change of job

Medical issue

Landlord's failure to honor the lease agreement 
The landlord has the right to charge a fee for early termination to cover the potential loss. The fee shouldn't be too high—it's usually the amount you'd pay for a monthly rent plus advertising costs. The landlord could be lucky and find a new tenant immediately, in which case you have the right to ask for a fee refund.
Why You Should Create a Lease Termination Agreement
While creating a lease termination agreement isn't mandatory, this contract protects you in case of a potential dispute or misunderstanding. If the landlord decides to sue you, you'll have proof that he or she accepted the termination, which will strengthen your defense. 
A lease termination agreement is a good way of specifying:
Your move-out day 

What obligations you have until you move out

Security deposit return

Additional fees
It also protects you from any future charges—the agreement should state that the landlord won't require you to pay fees or rents after the termination date. 
How To Write a Lease Termination Agreement 
You could hire a lawyer to create a lease termination agreement if you have the means to afford one. If you're on a budget, there are plenty of lease termination contract templates online that you can follow. Since most of them cover only the general clauses, you can use the entire text from the template and add any additional info if necessary. 
Another option is to write the entire agreement by yourself, which can be risky if you don't have experience writing contracts. 
What To Include in Your Termination of Lease Agreement 
If you decide to write the lease termination agreement on your own, make sure to include the following sections:
Introduction

—Identifies the document as the termination of the lease. You should include the termination date and the signing parties' names. The parties on the termination and the original lease agreement need to be the same

Termination

—Acknowledges that both parties want to end the lease

Termination fee

—Specifies if the tenant needs to provide a one-time fee and the amount of the said fee

Yield up

—Includes the tenant's promise to leave the property in the required condition by the end of the termination agreement

Security deposit

—Describes what will happen with the tenant's security deposit

Mutual release of liability

—Includes both parties' agreement not to sue each other

Knowing release

—Indicates that both signing parties are ending the lease of their own free will

Tenant's warranties

—Promises that the tenant hasn't

subleased

the property

Governing law

—Specifies which state's laws will be used to interpret the termination agreement

Signatures

—Includes both parties' signatures
Need Help Creating a New Lease Agreement? Rely on DoNotPay
Are you searching for another apartment? You should consider signing a lease agreement with the future landlord. If you don't want to spend hours searching for the perfect template, DoNotPay has the best solution. We've created the Legal Documents feature to help Americans write professional documents without breaking the bank.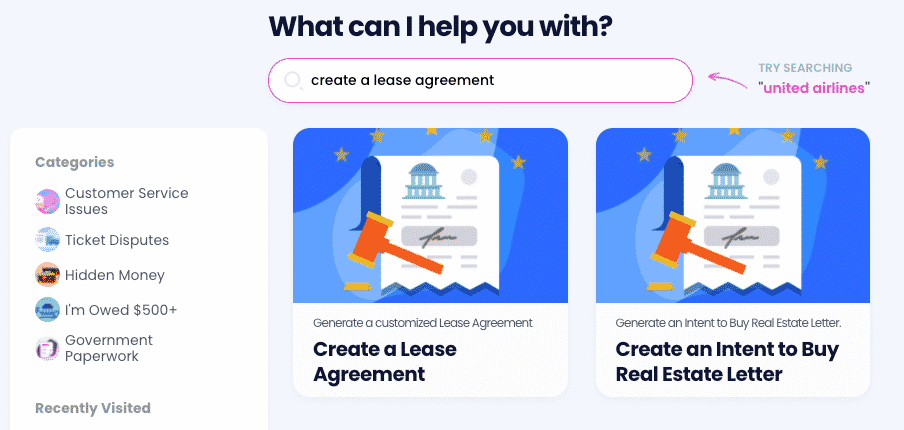 With our help, you'll create a lease agreement or any other contract in a few clicks:
Log in to

DoNotPay

Type in the name of the agreement you want to create in the

Search

bar

Provide the necessary info

Download, print, and sign the document
DoNotPay's affordable feature will help you draw up a lease agreement in any U.S. state, including Florida, California, and Texas. Check out some of the legal documents we can create for you in no time:
Business Contracts

General Business Contract

Real Estate

Estoppel Certificate

Residential Lease Agreement

Intent to Purchase Real Estate

Quitclaim Deed

Other

Promissory Note

Child Care Authorization Form

General Affidavit
Clear Your Schedule With the Help of DoNotPay
DoNotPay is renowned for making our users' lives infinitely easier. Not only can we root out unwanted subscriptions for you—you don't need to do it manually one by one any longer—but we can unsubscribe you from unwanted email and snail mail lists.
Fire up our app and let it navigate the phone tree instead of you or use it to make a DMV appointment at your earliest convenience. Forget about googling clinical trials near you—DoNotPay can sort them out according to your needs and their individual eligibility criteria. 
We can fill out the paperwork that you need to file at your local small claims court to initiate a dispute. You can work around the U.S. penal system and have DoNotPay locate an imprisoned loved one instead of you trying to reach individual prisons attempting to do it yourself.
You don't need to go to great lengths to get in touch with a counselor to sign your college fee waiver either—DoNotPay does it for you and then forwards the necessary documents on your behalf. 
DoNotPay Never Ceases To Amaze
Where there's one useful feature, there are nifty features galore!
Use our Virtual Credit Card to sign up for free trials and stop robocalls and spam text messages from reaching your phone. If you feel a free trial unrightfully turned into an expensive paid membership, we can help you request a refund or chargeback for the inconvenience.
We can further assist you in exercising your consumer rights by making a warranty claim in your place and verifying your online accounts with temporary phone numbers.
We can also break down the Freedom of Information Act for you and introduce you to online fax options and property tax reductions.