Lease Renewal Agreement—How To Renew Your Lease Agreement
If your original lease agreement is about to expire, you may be considering signing a lease renewal agreement.
A lease renewal agreement is a similar legal document to a lease agreement, which you may have noticed if you scrolled through contract templates online. There are some differences you need to be aware of if you want to benefit from the deal. 
DoNotPay can help you understand a lease renewal agreement and write the contract without the help of a lawyer.
What Is a Lease Renewal Agreement?
A lease renewal agreement is a legally binding document between a tenant and a landlord that serves to prolong the original lease. Both parties have to agree to renew the agreement and sign it to make it enforceable. The parties often make additional changes to the original contract.
Whether you are a tenant or a landlord and are considering renewing the lease, you should write a notice to the other party between 30 and 90 days before the original agreement ends.
You should provide a written notice to the other party regardless of whether you:
Wish to renew the lease

Plan to extend the lease

Don't want to extend or renew the lease
Is Renewing and Extending a Lease the Same?
You may have heard the terms lease renewal and lease extension agreement used interchangeably, but the two are different.
Here's what lease renewal and lease extension agreements are, respectively:
Lease Renewal Agreement
Lease Extension Agreement

A new lease agreement that includes changes beyond extending the termination date

The rent is usually increased

The agreement may require that the parties meet in person 

Extension of the original lease agreement without other changes

The rent stays the same

The agreement can be extended through written communication
How To Renew a Lease Agreement
The first step to renewing a lease is sending the notice to the other party. You should check your state's laws on lease renewals to find out how many days before the expiration of the original agreement you have to send the notice.
You should inform your tenant or landlord that you want to renew your lease as early as possible. That way, you allow the other party enough time to make a decision. You ensure that you can negotiate the new terms over an extended period rather than in a hurry. If your offer is declined, you can begin looking for a new tenant or a landlord in advance.
Here are the steps to take if you want to renew your lease agreement:
Send the notice to the other party in writing at least 30 days before the original agreement termination date

Negotiate the new terms with your tenant or landlord

Draw up a new agreement outlining the agreed-upon terms

Sign the agreement with the other party to make it enforceable
Some changes to the original lease that require a new agreement to be made are that the:
Tenant has moved to a different unit within the same building

Tenant or landlord have changed

Rental policy has changed in any way
Benefits of Renewing a Lease for Landlords
Renewing a lease has a lot of benefits for both the tenant and the landlord.
Landlords have to devote time and money to advertise the place, sort out applications, and screen potential tenants. Another reason to keep the current tenant is that taking on a new one is always a risk for the landlord.
If you are on good terms with your tenant, the best course of action is to negotiate the lease renewal options with them and look for new tenants only if your offer is rejected.
You may also lack the time or patience to get used to a new tenant, which is another reason to renew the lease.
Benefits of Renewing a Lease for Tenants
The tenants, on their part, are probably used to the place they currently live in and would also be unwilling to spend time and money on finding a new residence. 
If you don't like the new terms your landlord has proposed, you can always negotiate them. For example, if your landlord has increased the rent, you can demand that they lower it or make changes to the place to justify the increase.  
How Can DoNotPay Help You With Lease Agreements?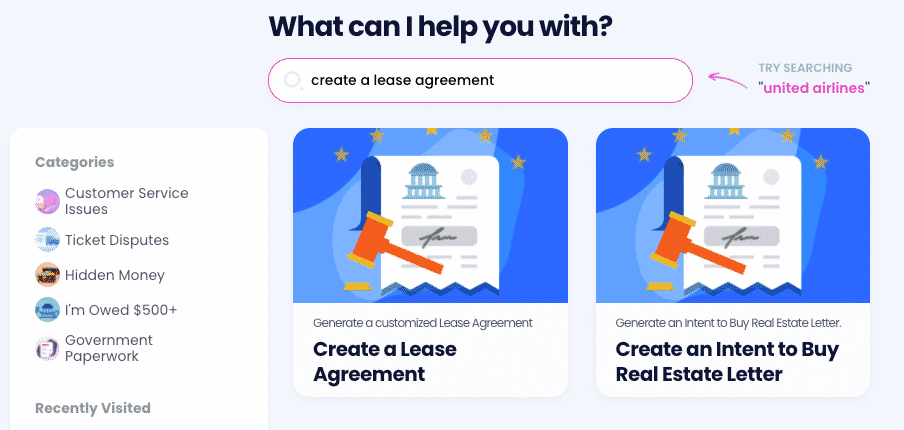 If it seems absurd to hire a lawyer only to draft a lease agreement, you are completely right.
DoNotPay can create a personalized contract in less than three minutes if you:
Log in to your DoNotPay account from any

web browser

Specify what legal document you need

Answer our chatbot's questions to customize your contract
You can now sign the agreement with the other party to make it enforceable—no muss, no fuss! 
If you need any other legal document and don't want to waste time on drafting it manually, DoNotPay can create the following contracts for you:
Residential lease agreement

Promissory note

Estoppel certificate

Child care authorization form

Intent to purchase real estate

General affidavit

General business contract

Quitclaim deed
Do You Know What Else You Are Eligible For?
DoNotPay is a handy virtual assistant that can reveal a world of possibilities that you may not have even been aware of. We've perfected our algorithms to identify opportunities for you to save up and take charge of your rights. 
Here's a fraction of what we can do for you:
What Else Is New With DoNotPay?
DoNotPay boasts several new features that can help make your everyday life so much easier. 
Have you been wondering how to file an insurance claim but weren't sure where or who to turn to? We'll gladly do it for you. 
Are you tired of outdated faxing practices and manual documentation? Our app can provide you with an online fax solution and draft all your legal paperwork in no time at all.
Do you need a safe place to prepare for your upcoming government test? DoNotPay will give you all the prep tests you need.
We can help out with locating an imprisoned loved one and keeping correspondence with them via our virtual mailbox.
See what else DoNotPay has in store by accessing our web app in any browser.