Write a Lease Extension Agreement Effortlessly
If you're a landlord who wants to keep the same tenant, or a tenant who doesn't want to move, we can help you with a lease extension agreement! You may consider hiring a lawyer to write your contract or downloading a contract template, but with our assistance, you'll know how to write a lease extension agreement by yourself.
In case you need a whole new residential lease agreement in the future, can generate it for you!
The Difference Between a Lease Extension and a Lease Renewal
A lease extension and a lease renewal are sometimes used interchangeably, but there are some differences between the two terms. At its core, a lease renewal requires a new lease agreement, while a lease extension agreement extends the existing lease agreement. A renewal may bring back certain terms from the original lease agreement, such as a discount on the first rent.
Some states may view these two terms as one and the same unless it's explicitly stated otherwise in the lease agreement. What you should do is check your state residential laws and consult the other party (the landlord or tenant) regarding your exact plans for the lease.
How Does a Lease Extension Agreement Work?
If both the tenant and the landlord are satisfied with the lease, they can opt for an extension by entering into a lease extension agreement before the lease termination. The original lease terms should remain the same, while the tenancy period will be extended.
A lease extension agreement should either specify the extension length or work on a month-to-month basis.
What Should a Lease Extension Agreement Look Like?
Writing a lease extension agreement should be simple as you don't need to write an entire lease agreement from scratch. Lease extension agreements should include the following:
Full names and addresses of the involved parties (the landlord and all the tenants)

Start and end date of the extension

Date of signing the agreement

Original lease reference

Rent cost

Dispute resolution

Signatures
How Many Times Can I Extend My Lease?
You can extend a lease agreement an unlimited number of times. If you're not sure how many times or for how long you'd like to extend your lease, opting for a month-to-month lease agreement may be the best choice.
What if I Don't Sign a Lease Extension Agreement?
Typically, if you're a tenant and don't sign a lease extension agreement, you need to move out when the lease expires. The landlord and the tenant may, however, come to an informal agreement and continue the lease on a month-to-month basis until they decide to extend, renew, or terminate the lease agreement.
Why Are Lease Extension Agreements Important?
Lease extension agreements add to the stability of a lease. It's a confirmation that both parties agree with the terms of the lease agreement and wish to continue it. In case the landlord is looking for a new tenant or the tenant needs more time to find a new place, a lease extension provides the security and extra time to get everything in order.
Want a New Lease Agreement? Use DoNotPay!
At some point, you'll probably need a new lease agreement, and this is where our app comes in! To save you the trouble of overpaying a lawyer or writing the agreement yourself, we've created a feature that generates various legal documents, including residential lease agreements. DoNotPay won't whip up a basic rental agreement—we make it a point to customize every document to fit your unique situation.
Our chatbot will ask you a few questions and prepare your agreement in a matter of minutes! Here's how it works:
Log in to

Search

Lease Agreement

Give us the necessary info for your agreement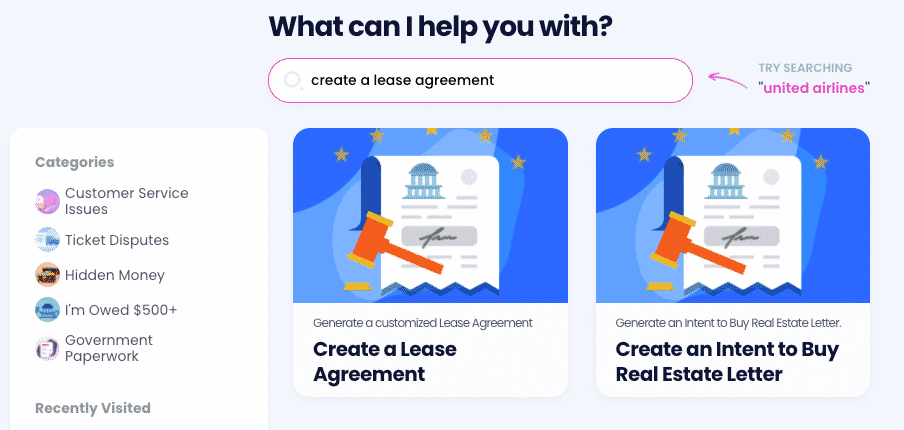 If you want to fax or notarize your document, we'll assist you with that too!
Aside from a residential lease agreement, our app can draw up a quitclaim deed, estoppel certificate, and intent to purchase real estate. Other than real-estate-related documents, we can offer the following:
Business
Other

Promissory Note

General Affidavit
How Else Can DoNotPay Help Me With My Lease?
However you draw up your lease agreements, you should get familiar with your state residential laws as they differ significantly from state to state. Check out our guides on writing lease agreements in Ohio, Oregon, Texas, Florida, Michigan, California, and Washington.
If you want to own the property you're renting, we can show you how to draft a rent-to-own or a lease-to-purchase contract. As a landlord, you may want to sell your property and help finance the purchase, in which case you'll need a real estate purchase agreement with seller financing.
In case you need a roommate, our article on subleasing agreements will explain what you need to do.
Explore our learning center for more useful articles regarding real estate, business, and other matters.
Tired of Companies Not Taking You Seriously? Use DoNotPay To Put a Stop to It
If you're sick of companies that violate your consumer rights, DoNotPay is here to help. If you're struggling with reporting robocalls, requesting a refund, claiming any type of warranty, scheduling a DMV appointment, reporting spam text messages, or anything else, our robot lawyer will help you sue any firm or individual in small claims court.
With DoNotPay, you can also sign up for any free trial, cancel any subscription, avoid getting charged after your free trials end, and much more!
Want Your Money Back? DoNotPay Is Here To Help
Are you looking for your missing money? Do you want to get a refund for a delayed or canceled flight? Are you trying to flip the script on illegal robocalls and earn money off them? DoNotPay will assist you in dealing with any of these pesky issues!
We can also help you bypass phone number verification, sign up for clinical trials stress-free, ace any government test in a jiffy, and block spam emails for good.