Lease Agreements in NJ Deciphered
When you decide to rent a property in New Jersey, your primary concern should be to achieve a solid deal with the landlord to avoid unpleasant surprises that may arise later.
In most cases, a valid lease agreement can help you define your responsibilities and the duties of the property owner.
We will show you some tricks for writing a rock-solid contract in less than five minutes with the best customizable templates you can find!
What Is the Purpose of a Lease Agreement?
A lease agreement is the most common contract New Jersey landlords and tenants use to outline the terms and conditions of their relationship.
Unlike rental agreements, which are usually month-to-month contracts, a lease agreement proposes a fixed rent period and is often long-term. People choose to sign this contract when they are positive they will stay at a particular place for at least six months.
The parties accept the rules to make their collaboration transparent and avoid disputes. Such a document helps maintain a harmonious relationship with the other party and safeguards both entities' interests equally.
Are Lease Agreements Legally Binding in New Jersey?
A lease agreement needs the signatures of both parties to become enforceable. Having it notarized isn't necessary. Some people choose to do it for additional security, even though no laws in New Jersey require it.
What Sections Should You Include in Your New Jersey Lease Agreement?
You can include any clause you deem important as long as it doesn't violate the rights and regulations stated in New Jersey laws. If you have any doubts regarding certain terms or clauses, you can consult the additional manual approved by services of New Jersey.
Here are the recommended sections:
Landlord and tenant info

Full names of both signing parties

Optional contact information

General lease details

Start date of the contract

End date of the contract

Optional additional lease information

Property information

Full physical address

Age

Size (square footage) and number of rooms

Overall condition

Brief description of the premises

Additional information—parking, furniture, etc.

Rent information

Monthly amount

Due date

Security deposit rules and information

Utilities

Various policies

Noise

Smoking

Pets

Late fees

Tenant illegal activity

Maintenance responsibilities

Other additional terms and expectations
Do New Jersey Laws Mandate Any Disclosures?
New Jersey imposes certain obligatory disclosures and provisions to your written agreement:
Flood zone notice

—If the property is located within a flood zone, the landlord needs to outline it in a specific section

Truth-in-renting statement

—This section needs to confirm that all the rules stipulated in the contract are compliant with

Section 46:8-46

of the

New Jersey Revised Statutes

Window guards clause

—If one of the tenants is a child ten years old or younger, the landlord needs to confirm they will provide convenient window guards to increase the safety of the object

Lead-based paint clause

—This term applies to any agreement for a property built before 1978, as these structures may contain lead-based paint. In such cases, the landlord needs to inform the tenants about this

Landlord entry policy

—The landlord must give a one-day notice before entering the property. This section protects the tenant from unwanted visits and invasive behavior of the landlord
DoNotPay Creates Legal Documents in Your Stead
Have you tried to compose a lease agreement but ended up stuffing your Recycle Bin with numerous useless contract drafts? We hear you because writing legal documents is a real inconvenience if you aren't familiar with the law.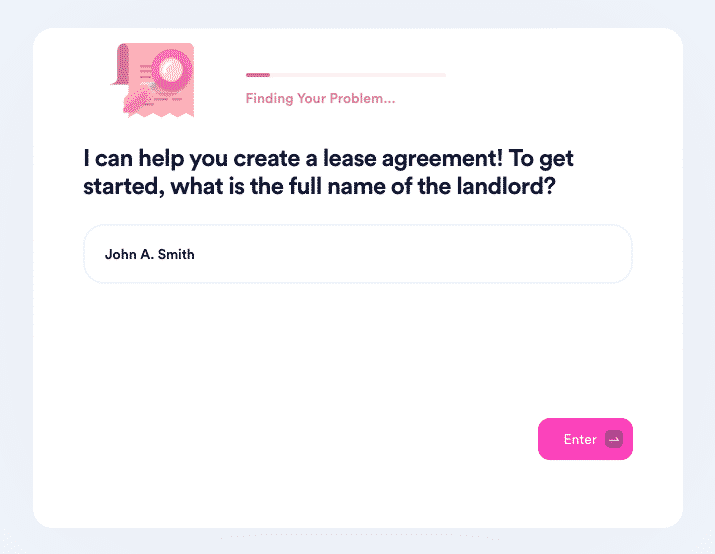 DoNotPay has a simple and affordable solution that will save you loads of time and let you make the best and most comprehensive contract! Forget suspicious online templates and costly services. Our template database is all you need!
Here's what you need to do:
Sign in to DoNotPay in your preferred

Pick the legal document you need from our collection

Enter the required details to complete your agreement
Once we process the information you provided, we will create a personalized contract with all the required details aligning with your state laws. The only remaining step is to make it legally binding with signatures.
You can choose from the following list of templates:
Child Care Authorization Form

General Business Contract

Promissory Note

General Affidavit

Quitclaim Deed

Intent To Purchase Real Estate

Estoppel Certificate

Residential Lease Agreement
Do you want to know more about lease agreements in other parts of the country? We have some handy advice on Colorado, Utah, New Mexico, Oklahoma, Missouri, Illinois, and other U.S. states!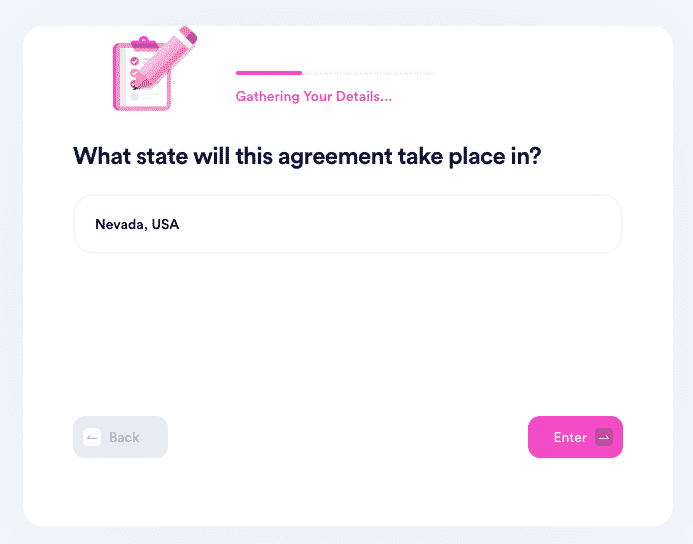 Do You Want To Learn More? Visit DoNotPay's Learning Base
Here are some more amazing guides available in 's learning center:
| | |
| --- | --- |
| Lease-Related Guides | Other Agreement Guides |
| | |
Need Help Fighting Bureaucracy? Use DoNotPay!
As the world's first robot lawyer, DoNotPay can help you resolve a plethora of tedious administrative issues. Our app will assist you in getting justice in small claims court, getting refunds from merchants, reporting annoying spam emails and text messages, reporting copyright infringement, bypassing phone number verification, and so much more!
You can also rely on DoNotPay's help when it comes to subscriptions. If you want to sign up for a free trial, cancel a service you no longer use, and skip the phone queue when doing so, our app will provide its assistance.
Our App Saves You Time and Money
Are you unable to pay your bills? Use the world's first robot lawyer app to cover them! Do you want to appeal your traffic or parking tickets? DoNotPay will help you appeal them in the blink of an eye.
Our app can do so much more than that, though—with DoNotPay by your side, you can sign up for clinical trials, ace government tests, claim any type of warranty, schedule an appointment with the DMV, and handle any other bureaucratic task.