The Best Way To Make a
Lease Agreement 

Making a lease agreement or any other type of legal document is challenging for most people. Hiring a lawyer might seem like a good choice, but it's no secret that they can be super expensive.
If you're not sure how to write a contract, DoNotPay is here to help. You won't have to spend ages looking for a contract template online since we will help you draw up a lease agreement in a few clicks.
What Is a
Lease Contract
?
A lease agreement—popularly known as a lease—is a contract between a landlord and a tenant, which is created to define the rental terms. It can be residential and commercial. Every lease agreement is a legally binding document designed to protect the interests of both parties.
While each lease agreement is different, all of them should define the basic expectations, such as:
Rent amount

Duration of the lease

Pet policy

Payment method

Security deposit amount

Lessee and lessor's names and signatures
Residential leases usually last for one year. If a tenant wants to continue renting the place after the lease expires, he or she needs to sign a new agreement. Commercial lease agreements are more complex and usually valid for up to ten years. There are four types of commercial leases, based on cost responsibility:
| | | | |
| --- | --- | --- | --- |
| Commercial Lease Types | Who Pays Property Taxes? | Who Pays Insurance? | Who Pays for Maintenance? |
| Single-Net | Tenant | Landlord | Landlord |
| Double-Net | Tenant | Tenant | Landlord |
| Triple-Net | Tenant | Tenant | Tenant |
| Gross | Landlord | Landlord | Landlord |
Is a Lease Agreement the Same as a
Rental Contract
?
While lease and rental agreements regulate the same aspects of the rental, these two terms shouldn't be used as synonyms. A lease is a long-term contract, while a rental agreement usually lasts for a month. The rental contract is renewed each month automatically until the tenant decides to move out. 
You should choose a rental over a lease agreement if you or the tenant prefer having an option to change the terms at the end of every month.
If you still can't decide between the lease and rental agreement, the following table contains the pros and cons of both contract options:
Contract
Pros
Cons

Lease

Long-term contract

Stable occupancy

Predictable rental income

Rental cost can't be changed until the end of the contract

Rental

Short term contracts ensure flexibility

Rental cost can be changed each month

Unpredictable rental income

Frequent turnover (potentially)
The Consequences of Breaking a
Lease Agreement
If a tenant fails to honor a lease contract, he or she could face serious consequences, including lawsuits. Tenants can get a derogatory mark on the credit report, which means that they will have difficulties renting a new property. A lessee who needs to break the contract should negotiate with the landlord before doing so. Lessors often allow tenants to break the lease to avoid looking for new lessees. 
Every lease should include an early termination clause to allow tenants to request contact termination without consequences. The clause would protect the tenant in case the landlord doesn't fulfill the obligations under the lease.
Can You Draw Up a
Residential Lease Agreement
Yourself?
Many landlords want to avoid hiring a lawyer to save money. That's why they search for free lease agreement templates to make the contract. While you can probably find lease agreement forms online, making this type of contract on your own is risky. 
Leases need to contain many important terms to ensure both parties are equally protected. If you choose to draw up a lease agreement yourself, you risk forgetting to mention crucial clauses, some of which could be required by your state's laws. Since you can't change the terms of the lease until it expires, you'll have to wait for at least one year before including the forgotten clause(s). 
Draw Up Your
Lease Agreement
the Easy Way—With DoNotPay

If you want to draw up a detailed lease contract without having to waste money on a lawyer, DoNotPay offers a solution. Thanks to our feature, you can generate an unlimited number of legal documents for a low monthly fee.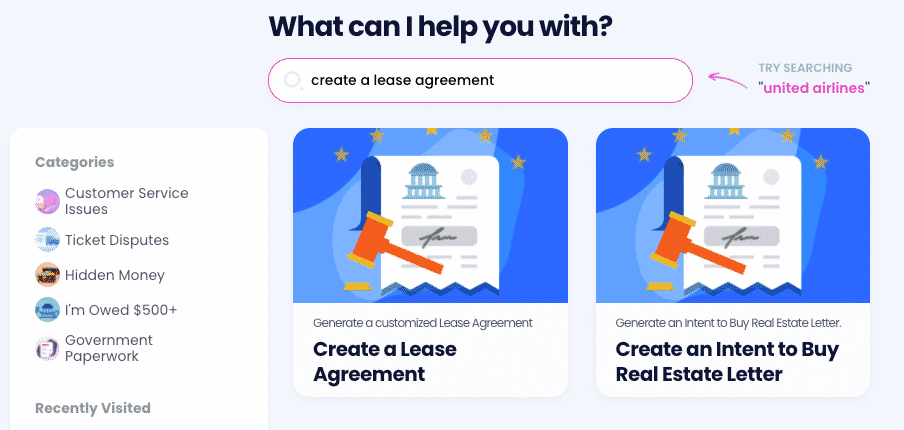 Since each state has different rules regarding lease agreements, DoNotPay will adjust your contract to the state's laws. To create a lease agreement in a few clicks, follow these steps:
Sign in to

DoNotPay

Type in the name of the document you want to create in the

Search

field

Answer our chatbot's questions
We will generate a personalized lease ready for your and your tenant's signature. Our feature will help you draw up a lease for any American state, including Florida, Texas, and California.
What Other Contracts Can DoNotPay Draw Up?
A lease agreement isn't the only contract we can help you draw up. DoNotPay can assist you in creating various documents, including:
General Business Contract

Intent to Purchase Real Estate

Quitclaim Deed

Estoppel Certificate

General Affidavit

Child Care Authorization Form

Prenuptial Agreement
DoNotPay Never Ceases To Amaze
Where there's one useful feature, there are nifty features galore!
Use our Virtual Credit Card to sign up for free trials and stop robocalls and spam text messages from reaching your phone. If you feel a free trial unrightfully turned into an expensive paid membership, we can help you request a refund or chargeback for the inconvenience.
We can further assist you in exercising your consumer rights by making a warranty claim in your place and verifying your online accounts with temporary phone numbers.
We can also break down the Freedom of Information Act for you and introduce you to online fax options and property tax reductions.
Clear Your Schedule With the Help of DoNotPay
DoNotPay is renowned for making our users' lives infinitely easier. Not only can we root out unwanted subscriptions for you—you don't need to do it manually one by one any longer—but we can unsubscribe you from unwanted email and snail mail lists.
Fire up our app and let it navigate the phone tree instead of you or use it to make a DMV appointment at your earliest convenience. Forget about googling clinical trials near you—DoNotPay can sort them out according to your needs and their individual eligibility criteria. 
We can fill out the paperwork that you need to file at your local small claims court to initiate a dispute. You can work around the U.S. penal system and have DoNotPay locate an imprisoned loved one instead of you trying to reach individual prisons attempting to do it yourself.
You don't need to go to great lengths to get in touch with a counselor to sign your college fee waiver either—DoNotPay does it for you and then forwards the necessary documents on your behalf.