All About the Lease Agreement's Appliance Clause
You're watching a movie on a lazy Sunday evening when suddenly, you hear a weird noise coming from the sink you just cleaned. Water starts bursting, and you're calling your landlord, but they aren't picking up the phone. You have to pay the plumber to come over and fix the mess. If you experienced a similar situation, you know how hard it is to determine who pays for the repair or replacement if that's not defined in your lease agreement.
In this article, you can learn about your lease agreement's appliance clause and other important provisions. If you want to avoid writing weak and incomplete clauses, sign up for DoNotPay and let us draw up a flawless residential lease agreement for you!
What Is a Lease Agreement?
A lease agreement, or a lease, is a legal document that obligates two parties—a landlord and tenant—to honor the terms and conditions that the contract outlines.
There are two types of lease agreements:
Residential lease agreement
Besides in their purpose, residential and commercial leases differ in terms of their length. While a standard residential lease agreement lasts from six months to a year, a commercial lease agreement can last up to ten years. Once your residential lease expires, you have to sign a new lease agreement to continue renting the place.
Regardless of the type and purpose, every lease agreement is legally binding and should protect both parties equally.
A typical residential lease agreement should define the rules and conditions regarding some general aspects, such as:
Rent amount
The length of the lease
The amount of security deposit
The payment method
What Are the Landlord's Responsibilities?
Even though it doesn't always seem like it, landlords have a lot of responsibilities towards their tenants. A landlord should honor the warranty of habitability. That means a landlord is obligated to ensure the place is safe, clean, and livable. Here is everything a landlord is responsible for:
Keeping up with safety codes—States can have different safety codes, but they usually include:

Lead paint
Mold remediation
Window guards
Occupancy standards
Smoke and carbon monoxide detectors
Common areas safety
Snow removal and other weather-related laws

Performing repairs—The landlord is in charge of fixing and making repairs on the property. Keeping up with repairs can ensure the tenant's protection and satisfaction, and it can save the landlord a lot of money along the road
Keeping up property maintenance—Every town determines the codes and standards regarding the maintenance of the property. They typically refer to lawn care, trash disposal, snow removal, and outdoor furniture
The Importance of the Appliance Clause for a Lease Agreement
Appliances break down. Often. Whether it's because of the misuse by the tenant, age of the appliance, lack of maintenance, or another factor, the lease agreement should predetermine the following actions.
Here is what the appliance clause in a lease should cover:
List of appliances provided by the landlord—Keep in mind that a landlord is not obligated to provide any appliances at all. If they do, here's what that can include:

Refrigerator
Stove and oven
Microwave
Dishwasher
Clothes washer
Clothes dryer

An appliance inventory list—To keep track of the appliances they provided, the landlord should insert an inventory list in the contract. Besides the inserted list of appliances, the inventory list should include:

Dates of purchase
Warranty information
Model and serial number of each appliance
A detailed description of each appliance
Repairs, maintenance, and inspection lists
Other notes about appliances
Photos of appliances (optional)

Landlord's and tenant's responsibilities—This provision should cover the responsibilities of each party. Determining who is responsible for repairs and maintenance helps avoid disputes and potential termination of the contract. It also saves both parties time and energy when an appliance breaks down
What Other Maintenance Responsibilities Should a Lease Agreement Cover?
Besides the appliance clause, every lease agreement should include provisions regarding the following maintenance responsibilities:
Plumbing, heating, and air conditioning
Exterior door and window locks
Common areas
Landscaping
Pest control
Management of known toxins
Fire alarms, carbon monoxide detectors, and sprinkler systems
Can DoNotPay Draw Up a Lease Agreement for Me?
Glad you asked! Yes, we can draft a residential lease agreement in no time! Say goodbye to contract templates—they are not valuable if you don't already know how to write contracts.
Our Standardized Legal Documents product enables you to create personalized legal documents. That way, you can add all the clauses you find important and get the agreement on your terms!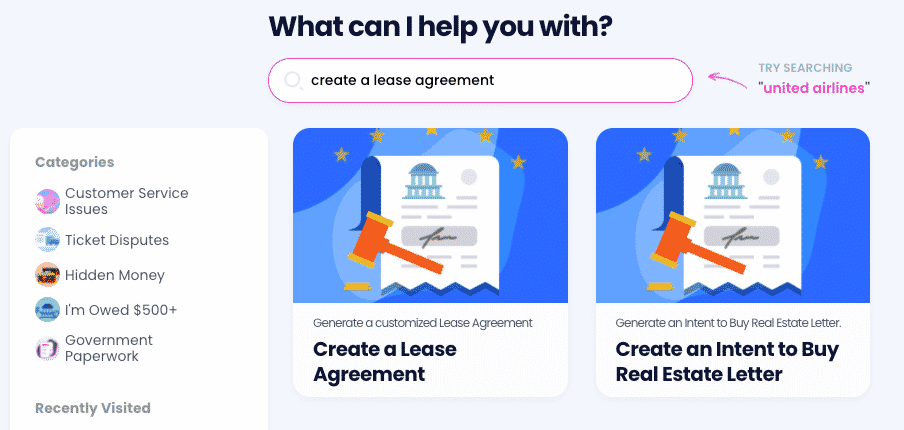 Follow these steps to get a custom-made lease agreement:
Type Lease Agreement in the search bar
Specify the details of your lease agreement
Get your hands on a customized lease agreement with zero effort!
What Other Legal Documents Can DoNotPay Create?
Check the following table to see some of the legal documents we can draw up for you:
Real Estate Documents
Business Documents
Other

Quitclaim Deed
Intent To Purchase Real Estate
Residential Lease Agreement

General Business Contract

Promissory Note
General Affidavit
Child Care Authorization Form
DoNotPay—A Pocket-Sized Assistant
If you need protection from stalkers and harassers, we know what to do. Whether you want to deal with a rude or noisy neighbor or fight workplace discrimination, DoNotPay has got your back. Even spammers don't stand a chance against our AI-powered app—both the texters and the robocallers.
If your situation takes a turn for the worse, you may need to take the issue to court. In this case, the world's first robot lawyer swoops in to help! You can count on DoNotPay to assist you every step of the way, regardless of whether you need to take a person or a company to small claims court.
Our App Helps You Through Numerous Red-Tape Issues
Dealing with paperwork doesn't have to be tedious. With DoNotPay's help, cutting through red tape is fast and easy. With a few clicks in our app, you'll be able to: