A Contract Labor Form for Your Project Explained
Preparing legal documents can be intimidating, especially when you do not have enough funds to hire a lawyer to do that for you. New projects and activities may require creating new contracts. 
What contract labor forms are necessary for your upcoming project? DoNotPay provides the answer and can help you draw up suitable agreements and documents to secure your business operations. 
Who Is an Independent Contractor?
An independent contractor is a person or company that performs labor or provides goods based on a verbal or written independent contractor agreement. These workers do not have the same status as full- or part-time employees. 
Unlike a regular employee, a contractor is a person or business that:
Needs to submit invoices for:

Billable hours

Implemented projects

Can:

Use their equipment

Be dismissed at any time

Claim more deductions for the expenses related to work (e.g., maintaining a home office)

Is not entitled to:

Paid benefits

Workers' compensation

Controls the number of hours they work

Requires a contract before starting the project
The main difference between employees and independent contractors is that the latter group of workers has a higher level of control over their work. 
Hiring Independent Contractors Requires Contract Labor Forms
If you are a business that would like to hire an independent contractor or freelancer to perform some work, you will need the following forms:
Contract Labor Form

Additional Information

Form-SS8

If businesses that hire workers—especially when they require the same tasks from workers—are not sure how to classify these employees, they should:

Consult a lawyer

File Form SS-8 with the Internal Revenue Service (IRS)

When opting for the latter option, the IRS will:

Review the provided proof

Determine the worker's status 

If a worker is classified as an independent contractor, the forms listed below are necessary

All contractors need to fill out Form W-9 to provide their:

A TIN can be either:

A Social Security Number (SSN) or 

An Employer Identification Number (EIN)

A contractee needs to keep Form W-9 on file for at least four years after hiring the contractor

Independent contractor agreement

This contract should outline the:

Project

Project fee(s)

Expected results

Dates for deliverables

Each new project should have a different agreement with the specifics of the ongoing project

Invoices

A contractor needs to provide invoices:

For all payments 

Corresponding to Form 1099-MISC

Form 1099-MISC

All U.S. businesses that give over $600 to an independent contractor for services provided throughout the year need to:

Report all transactions to the IRS

Complete and file Form 1099-MISC
Contract Labor Form W-9
When you work as a freelancer or independent contractor, you will need to fill out Form W-9 because a person or company that is paying you needs your TIN to report the amount to the IRS. 
If you are asked to fill out Form W-9, you can expect to get Form 1099-MISC from the contractee, i.e., the individual or business paying you. 
Contract Labor Form 1099-MISC
As an independent contractor, you will need Form 1099-MISC to fill out a tax return at the end of the year. You should not miss any amounts reported on Form 1099-MISC since:
They are taxable

You will face penalties if you fail to:

Report your income 

Pay tax on it
Unlike for independent contractors, where a contractee needs to file Form 1099-MISC, employers must fill out and file Form W-2 for their full- or part-time employees. While these two forms might seem similar, Form 1099-MISC is simpler as it only reports the contractor's gross payments.
Secure the Project With an Independent Contractor Agreement
Regardless of whether you are an employer that is considering hiring an independent contractor or a freelancer entering into a project with a legal entity, you need to have an independent contractor agreement.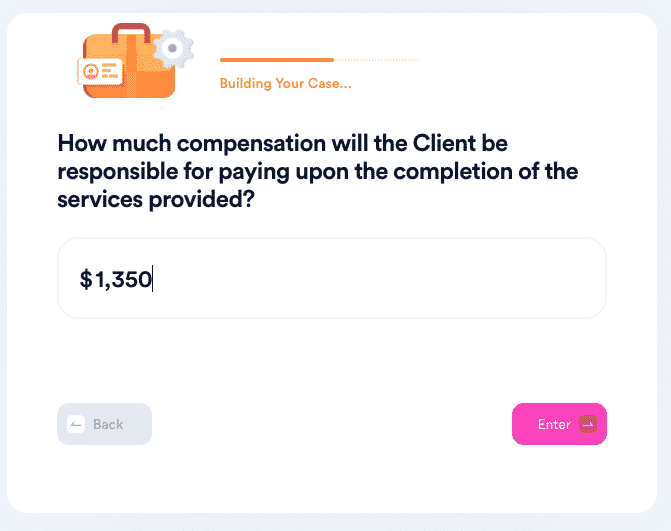 To prepare one, you could:
Use online

contract templates

that are too general and might not be suitable for your project or expertise

Consult an attorney, which might be a good option but also quite an expensive one

to use our efficient yet affordable

Standardized Legal Documents

product to generate a contract tailored to your upcoming project
DoNotPay Will Help You Create Solid Documents and Agreements
DoNotPay is a reliable solution for your personal and professional contract needs. 
Our app is the best option if you would like to save your:
Energy trying to deal with daunting legal aspects 

Time browsing through online templates 

Money hiring a lawyer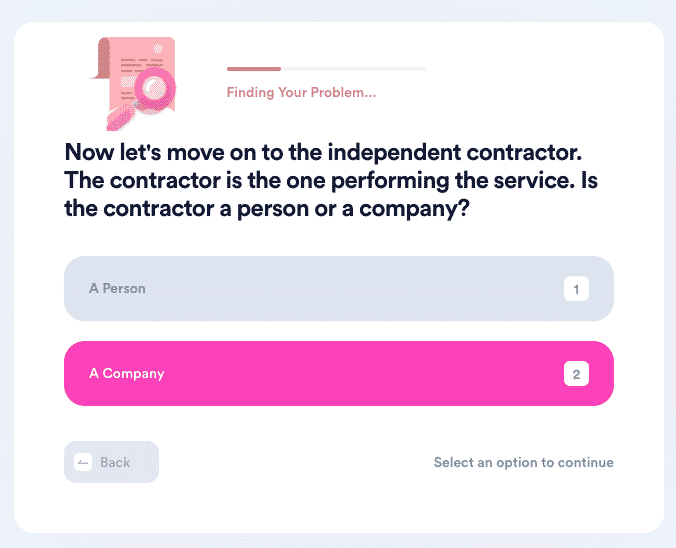 Turn to DoNotPay to get personalized contracts, including NDA, lease, operating, and non-compete agreements or bills of sale.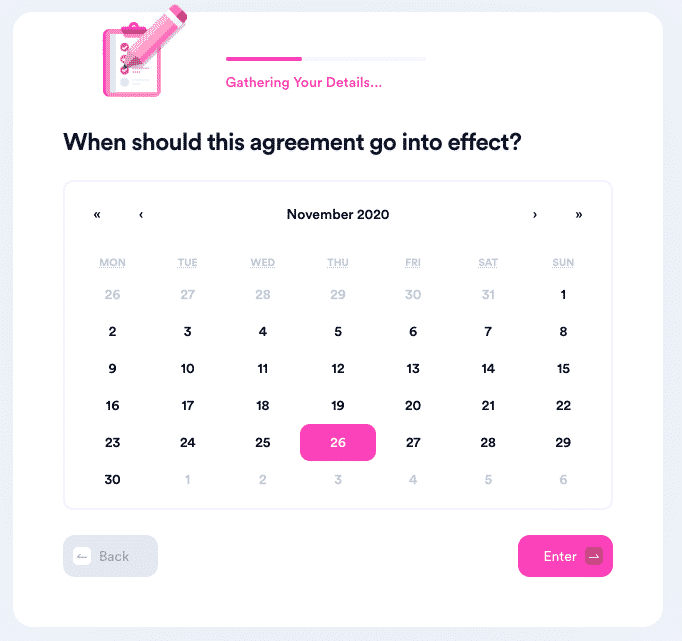 To create lots of various documents and agreements, and follow these simple steps:
Select the

Standardized Legal Documents

feature

Enter the name of the document (for instance, an independent contractor,

prenuptial

, or

custody

agreement)

Give the necessary details to the chatbot (like names, addresses, and other relevant information)
DoNotPay will then generate a document customized for your specific requirements and projects. 
DoNotPay—The Quickest Way To Deal With Greedy Companies
Spending hours on the phone with customer care reps struggling to get a refund or cancel certain services due to complicated procedures can be tiresome. 
If you sign up for DoNotPay, we can help you:
Unsubscribe from all unused subscriptions in a few clicks

Get a refund for faulty products and late deliveries

Request

compensation from any airline

because of canceled flights, poor Wi-Fi, and similar

Return an item that's damaged or defective
Has a company refused to accept your warranty claim even though it was valid or wronged you in any other way? Make sure to serve them justice by bringing them to small claims court with DoNotPay's help!
Use Our App To Resolve Any Issue
DoNotPay has numerous products you can use. We can help you resolve any problem in a few clicks. 
Do you want to find unclaimed money? Would you like to know how to protect your work from copyright infringement? Are you wondering how to apply for a college fee waiver because the application fee is too expensive for you? If you rely on us, you will solve all of these and many more issues stress-free!
Even victims of violent crimes—such as stalking—can use DoNotPay to solve their problems. Having a stalker is traumatic and potentially dangerous. We can tell you how to deal with the situation and apply for crime victims compensation in your state if you need help covering counseling expenses.
We can simplify the document notarization process and help you send online faxes and mail letters from the comfort of your home in less than five minutes.