Connect With Someone Behind Bars in Leake County Correctional Facility
Leake County Correctional Facility is a medium-security prison in Mississippi. Housing up to 460 men and women, it takes in both convicted inmates and those awaiting trial. Supported by recreational activities, education opportunities, counseling services, and more, prisoners are encouraged to reflect and reform while improving their lives before release. If you happen to know someone housed at Leake County Correctional Facility or are looking for someone to talk to, you can let DoNotPay help you connect with one of the facility's inmates today.
Where is Leake County Correctional Facility Located?
Leake County Correctional Facility is located in Leake County, Mississippi. Whether you live in the area or somewhere else, the following information can help you connect to inmates held there:
| | |
| --- | --- |
| Physical address | Leake County Correctional Facility, 399 C. O. Brooks Street, Carthage, MS 39051 |
| Inmate mailing address | Leake County Correctional Facility, 384 Goodman Rd E 217, South Haven, MS 38671 |
| Phone number | (601)-298-9003 |
| Website | https://www.mdoc.ms.gov/Institutions/Pages/Regional-Facilities.aspx#Leake |
| Email address | warden@co.leake.ms.us |
How to Contact Inmates at Leake County Correctional Facility
There are a few ways you're able to get in touch with inmates at Leake County Correctional Facility. All of them will inevitably require some level of hassle, so it's often the better option to let DoNotPay handle the hard work. Whatever you decide to do, though, you'll likely be choosing between one of these options to start with:
1. Letters
Writing to a prisoner is one of the main ways to correspond with them in Leake County Correctional Facility. As one would expect, the mail sent to prisoners is inspected once it shows up to make sure no contraband items or concerning messages get passed along. Keep in mind that mail other than what's contained in an envelope will not be accepted and may even be confiscated or destroyed.
2. Phone Calls
You're allowed to receive calls from inmates at Leake County Correctional Facility, but you cannot call them directly. If you're interested in talking to someone from prison on the phone, you'll need to discuss it over text first and clear it with the prison personnel.
3. Emailing
While inmates are not allowed to use the internet at Leake County Correctional Facility, they can send and receive emails through a service known as JPay. Like with letters, there are various rules you and the inmate must follow when talking to each other, and emails can only be exchanged at certain times.
4. Sending Money
Money can be sent to inmates over the internet. This is accomplished through using the JPay service, which adds funds to an inmate's commissary account.
5. Visiting
Inmate visitation is allowed for most inmates. Visitation is only available on weekends, and anyone wishing to visit an inmate must be cleared by the prison. Visitors need to follow certain rules, as well as adhere to a dress code.
Connecting With an Inmate at Leake County Correctional Facility On Your Own
Connecting with an inmate who's held at Leake County Correctional Facility is possible to do on your own, though it can often be troublesome and tedious. There's a lot of red tape to cut through and regulations to follow, which is why DoNotPay is uniquely equipped to help simplify what you need to do. However, you can certainly attempt it on your own. To do that, try these steps:
Find the inmate you wish to contact, including their name and ID number.
Decide which means of correspondence you'd like to have with the inmate.
If you're planning to send a letter, simply draft it and send it to the mailing address listed above. Address the letter to the inmate with their ID number.
If you're planning another method, contact the prison directly to set things up before moving forward.
Wait for the prison to approve your request. Provide any information they ask for to make the process go more quickly.
Get in Touch With an Inmate With DoNotPay
If you're having trouble getting in contact with an inmate on your own, DoNotPay can make the process a lot easier. Just follow these five steps to get things started:
1. Locate the Connect With an Inmate service on DoNotPay.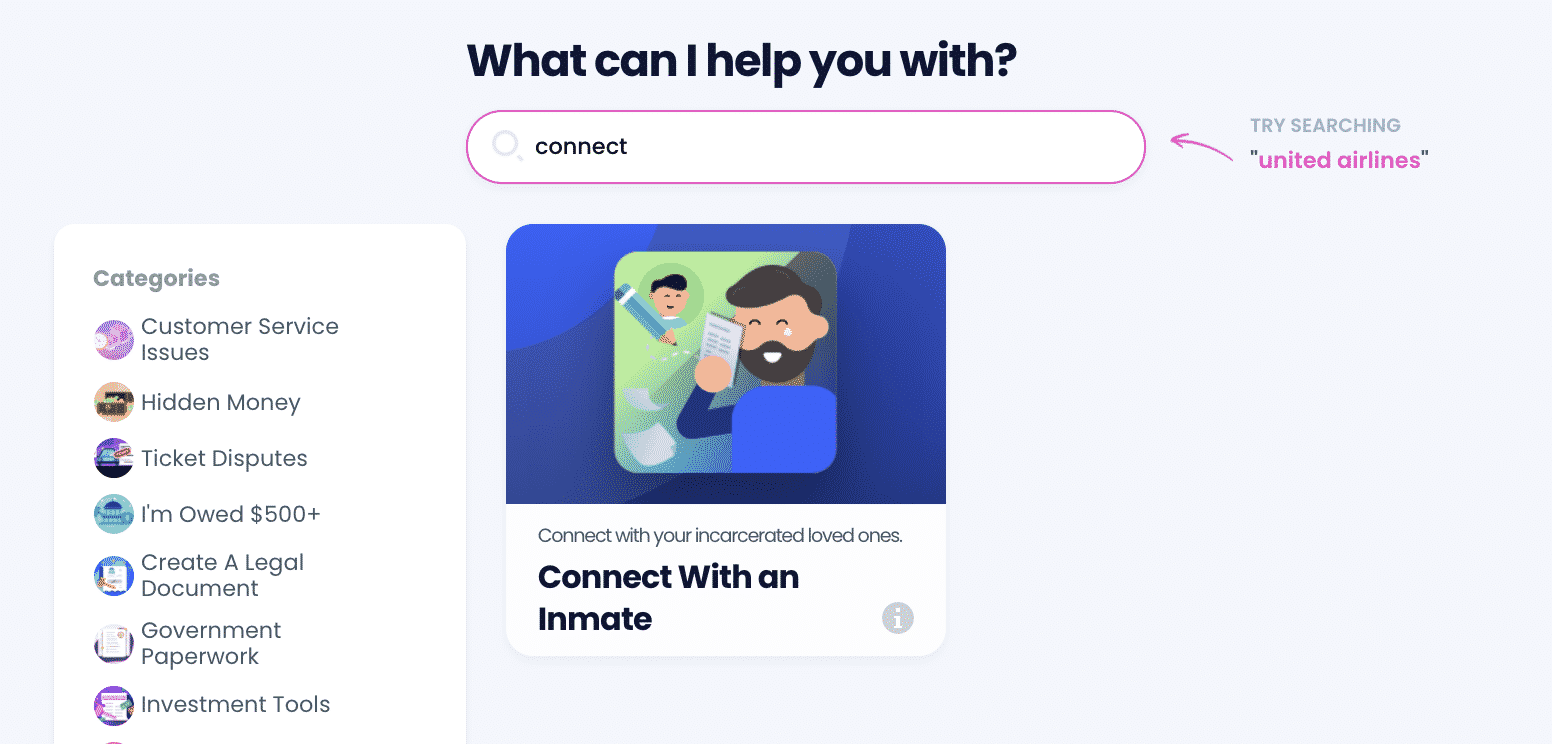 2. Choose whether you want to locate a loved one, create a virtual mailbox, or send a personalized letter.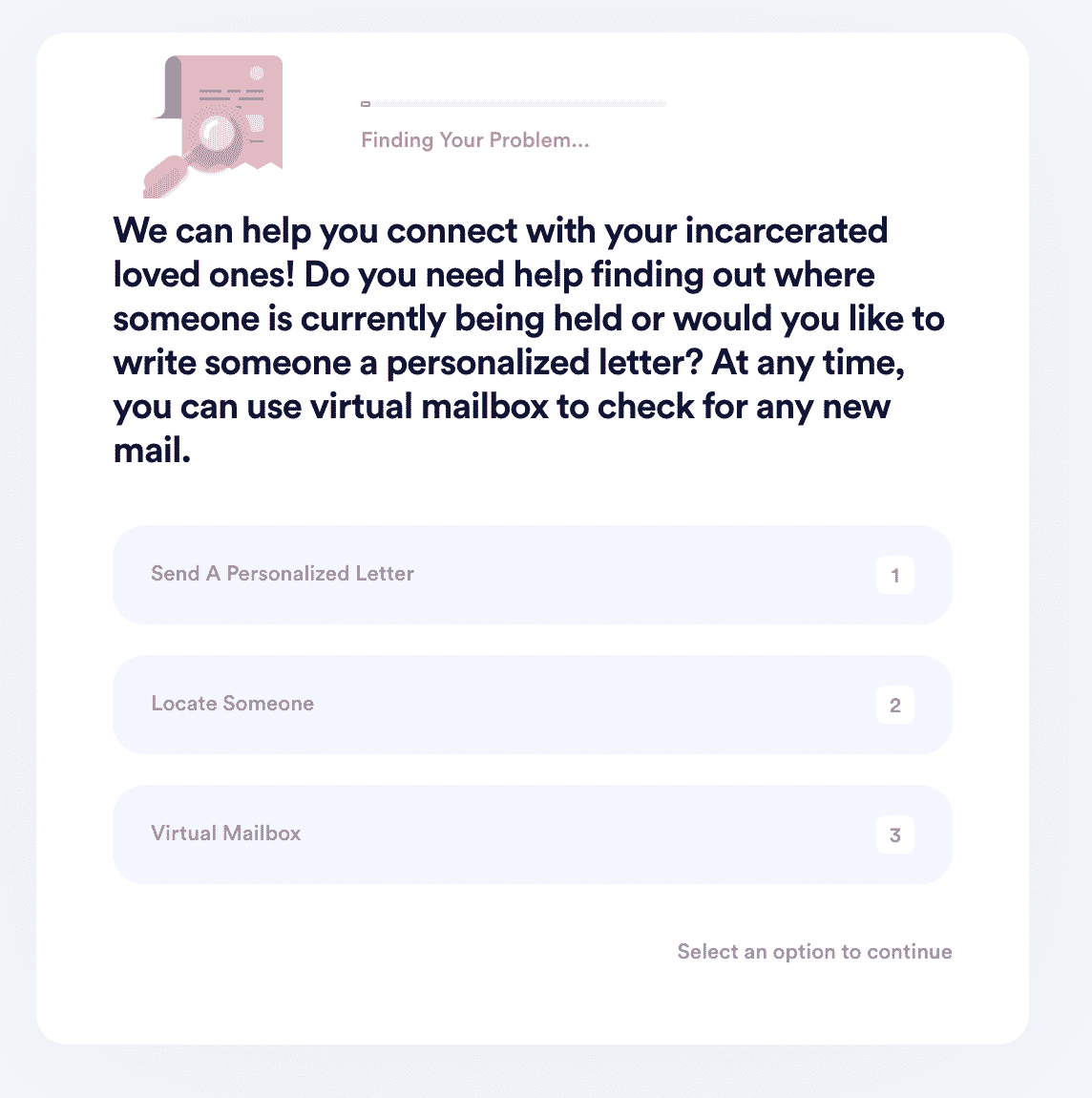 3. If you want us to find your loved one, provide his or her personal details and the state they are located in. We'll then conduct a search on the appropriate state database.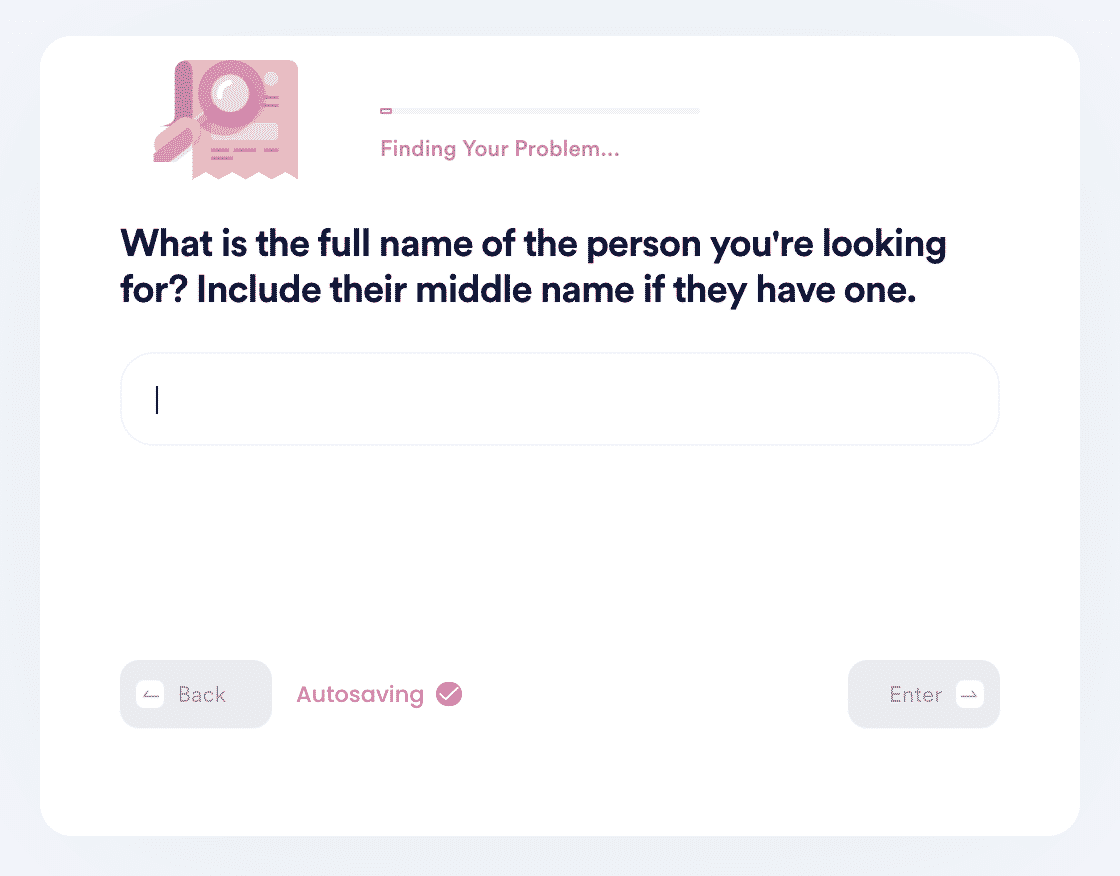 4. If you want to create a virtual mailbox, just provide your full name! We'll set one up for you so you can easily receive incoming mail from your loved one.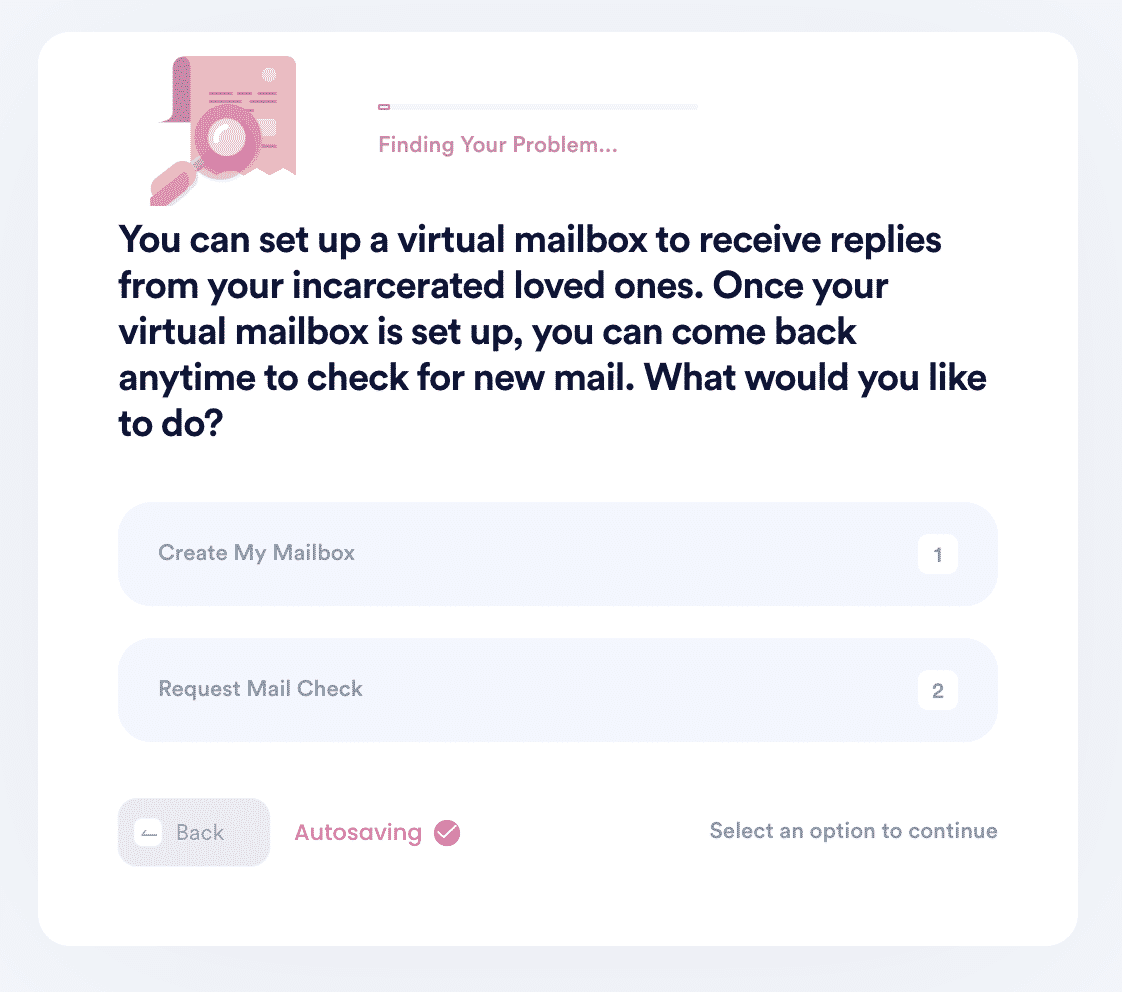 5. If sending a personalized letter, tell us which facility your loved one is located in and what you would like to say to them. You can even include a photo! Your letter will be delivered automatically - just wait 10 days for it to arrive to your loved one!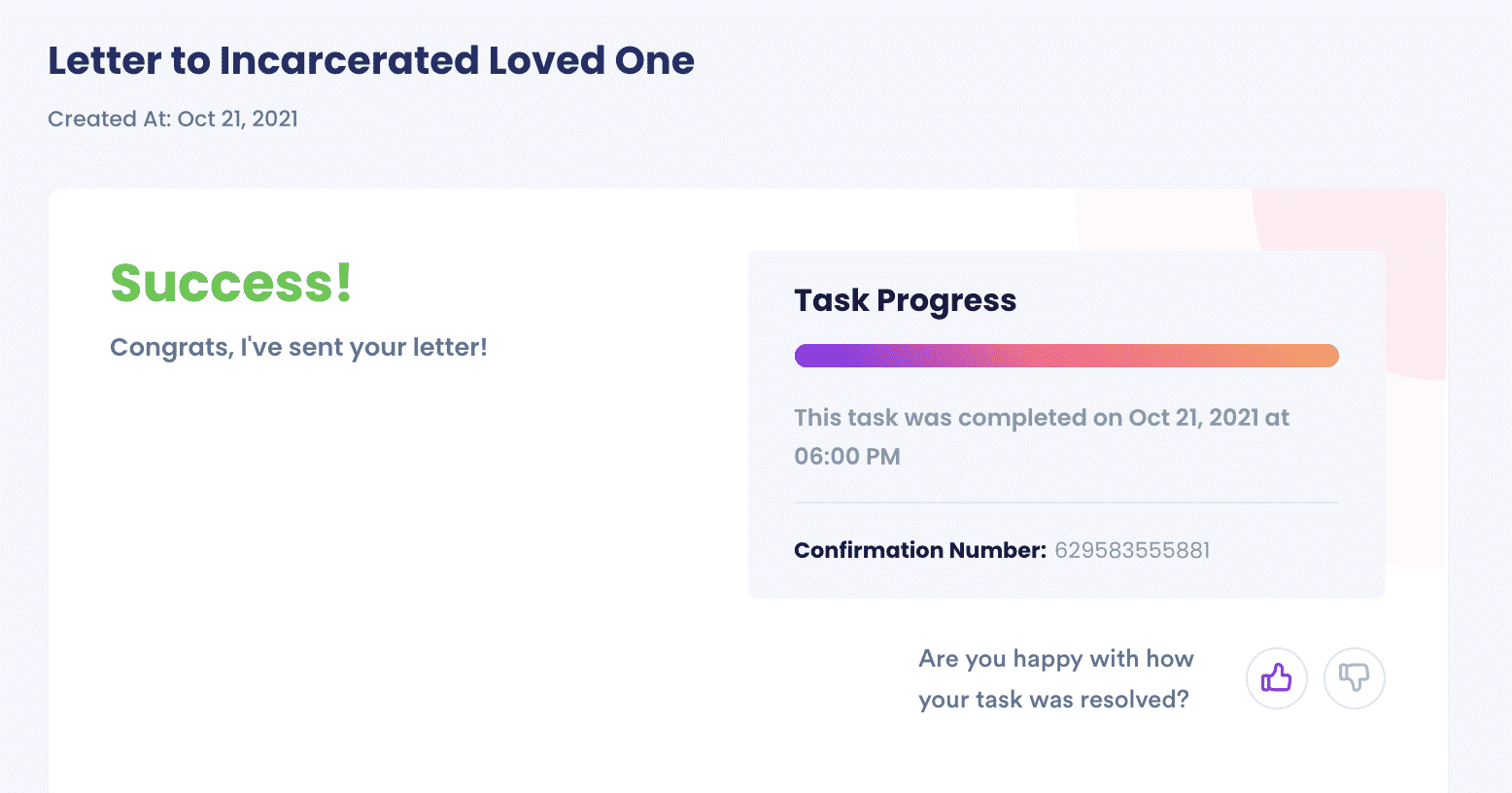 From here, DoNotPay will take the next steps to help you start writing letters to inmates.
What Else Can DoNotPay Do?
Connecting with inmates isn't all DoNotPay can help with. We offer a ton of great services to our users, some of them being:
Whether you're trying to contact an inmate or anything else, DoNotPay can help you. Give the app a try today to start saving time.