A
LawDepot Child Travel Consent Form
in a Nutshell
LawDepot is a web-based legal documents service company from Canada. The company offers numerous contract templates that you can download, customize, and use. One of the documents that you can create with the help of LawDepot is a minor travel consent form.
In this article, we will break down the LawDepot child travel consent form. DoNotPay will help you decide if LawDepot is the right choice for you and offer an alternative!
When Do I Need a Child Travel Consent Form?
A child travel consent is needed whenever the child is traveling without both parents. A minor travel consent form enables the child to travel both domestically and internationally. 
Common situations where a child travel consent form is required are when a minor is traveling:
Alone

With a group (a church group or sports team)

Accompanied by another family member (such as a grandparent)

With any adult who is not a parent or legal guardian (for example, a friend, coach, school teacher)

With one parent
It's a good idea for both parents to sign the child travel consent, but one signature will do for official purposes. If the child is traveling with one parent, the parent who is not accompanying the child must sign the form. 
What Happens if I Don't Have a Child Travel Consent Form?
According to the U.S. Border and Customs Protection, all children under 18 who travel unaccompanied by both parents should have the child travel consent form. 
Transportation Security Administration (TSA), customs officers, and immigration agents have the right to ask for the form if they notice something suspicious. Failure to produce the document upon request can result in the child and the adult being detained until the situation is clarified.
How To Create a
LawDepot Child Travel Consent Form
LawDepot enables you to create your document by typing in the relevant information. The website incorporates the details you provide into a customized child travel consent form. Here is what the process entails:
Go to the LawDepot website

Type in the name of the document in the search engine

Choose the type of travel you are consenting to

Click on

Create My Document

Enter the information manually one by one, including:

Information about the child

Details about the guardian

Information about the non-traveling parent

Choose a subscription plan

Provide your contact and payment information and hit

Submit
Does
LawDepot.com
Offer a
Free Child Travel Consent
Form?
LawDepot offers a one-week free trial, during which you can create forms without charges. After the free trial expires, it will renew automatically to a monthly subscription. 
If you decide to use LawDepot long term, here are the prices:
Monthly subscription—$33 for creating various

legal documents

Yearly subscription—$95 (you can pay upfront or $7.99 monthly to access all LawDepot services)

Per document—$39 for a child travel consent form
If you are already subscribed to LawDepot but don't need the company's services anymore, we can help you cancel the LawDepot subscription in a few simple steps.
Drawbacks of Using a
LawDepot Child Travel Consent
Form Template
LawDepot won't allow you to download the form unless you disclose personal information, including your credit card details. If you, by any chance, forget to cancel the subscription after the free trial, you'll be stuck with a monthly payment for a service you don't really need. 
Many customer reviews testify that the prices are too high. Some users even complain that they still got charged even though they canceled the free trial after a couple of days.
You also need to enter all relevant information the first time. In case you don't have all the details regarding your child's trip straight away, you will likely have to pay to update it. 
Do I Have To Get My
LawDepot Child Travel Consent Form
Notarized?
After downloading a LawDepot child travel consent form, you still need to have it notarized. Notarization guarantees that the signatures on the form are authentic. Customs officers and immigration agents are less likely to question a notarized child travel consent form.
Since LawDepot only provides the document, you will have to look for the notary yourself. You can choose between one of three options:
| | |
| --- | --- |
| Notarization Method | Details |
| Visiting a local notary | You will have to find a local notary, schedule a meeting, and go to his or her office in person. This method is considered outdated and lengthy |
| Hiring a mobile notary | A mobile notary will come to your house or office to notarize your document but will also charge you significantly for travel expenses |
| Using an online notary | An online notary notarizes your document during an audio-video call. You can finish the whole process from the comfort of your home |
Use DoNotPay To Create a Child Travel Consent Form and Get It Notarized
Our app is all about saving you money and time. We realize how hectic a parent's schedule can be and have come up with the perfect solution. DoNotPay can help you create and get a child travel consent form notarized online—all from the same platform!
We will generate a customized minor travel consent form if you complete these simple steps:
Access DoNotPay

from a web browser

Find the

Child Travel Consent

product 

Answer quick questions about your child, the trip, and the accompanying adult

Opt to get the child travel consent form notarized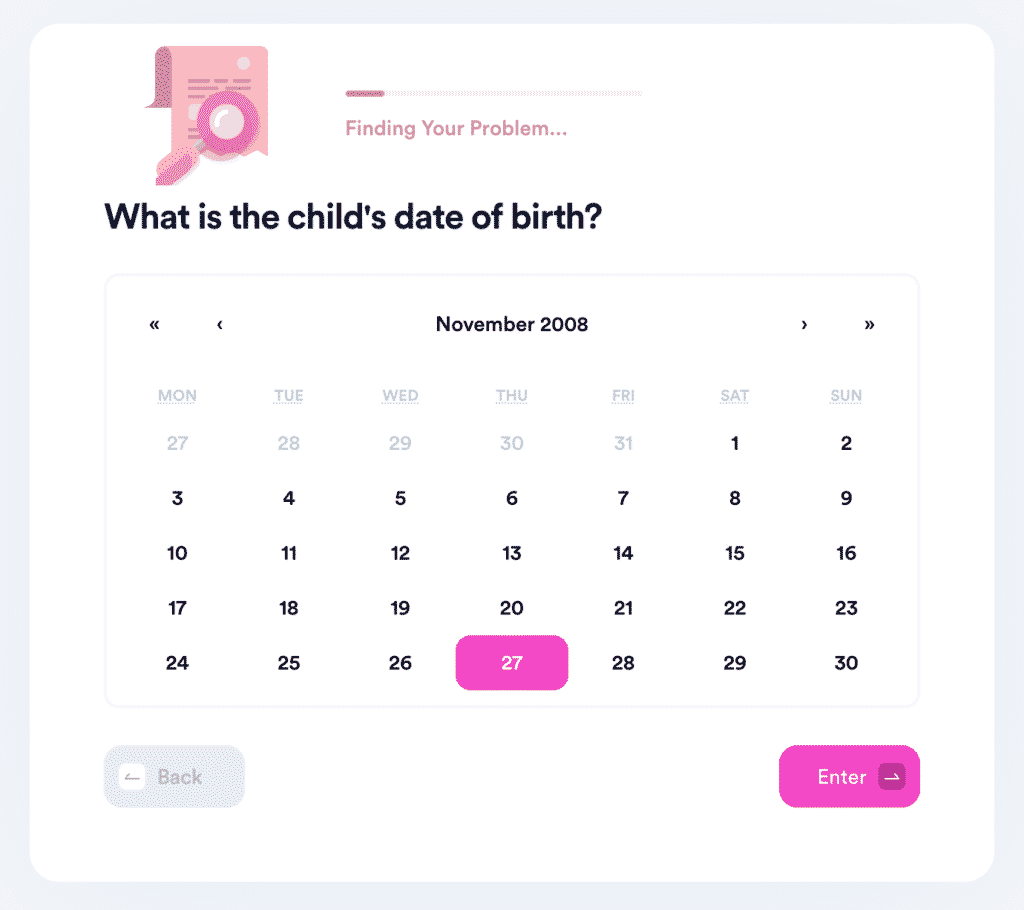 After we generate the document, click on the link we send you via email to get it notarized. The link will take you to a webpage where you can schedule an appointment with an online notary. Our notaries are available 24/7, so you can choose any time that suits you best.
The online notary will witness you e-signing the form in a virtual environment and notarize it with an electronic signature, stamp, and seal. 
No matter where you travel—be it Mexico, Canada, India, the UK, or another destination—our app can help you create a document that fulfills state-specific requirements. In case you decide to add a child medical consent form, use our app to get it notarized in a jiffy!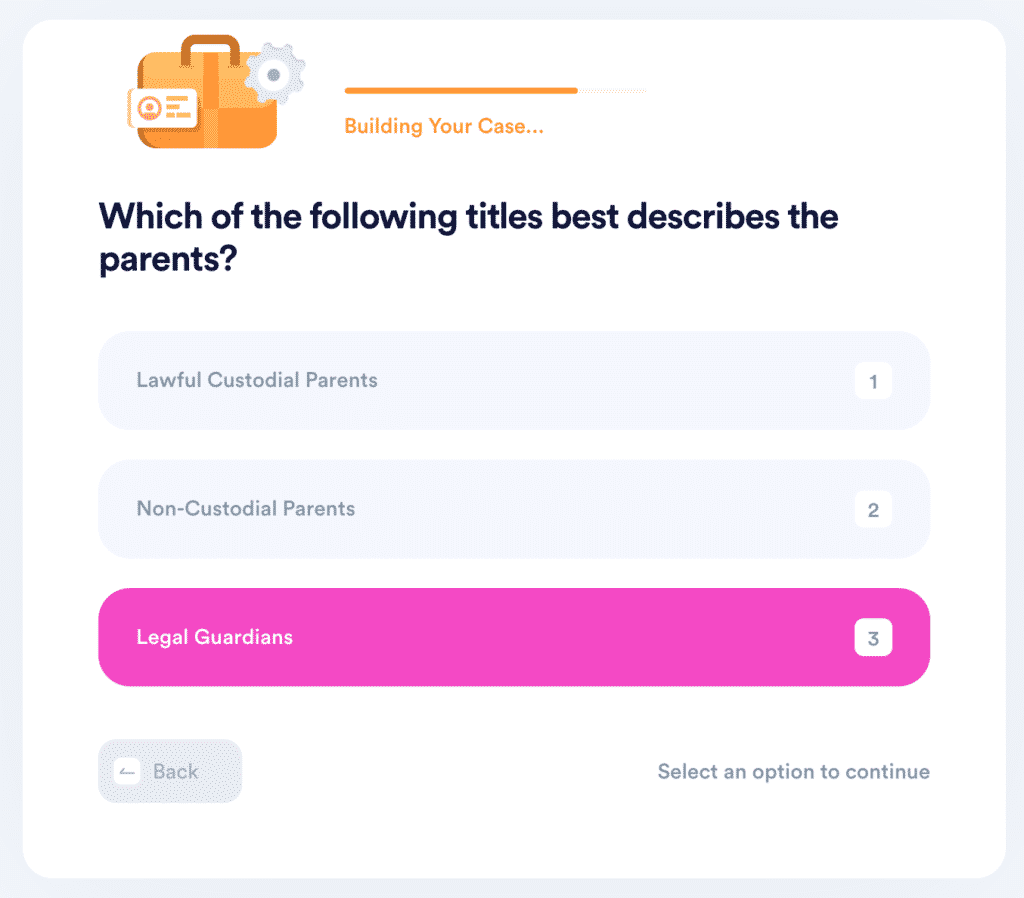 Organize Your Day With DoNotPay
Using DoNotPay to draft travel consent forms for your child is only a fraction of what you can do with our app. 
Discover an assortment of fascinating time-saving features DoNotPay offers.
You'll never have to spend hours navigating a phone tree of a company to reach a customer service representative. We do it all for you:
Anything you need, you can do from the app!
You will also never have to go out of your way to get a document notarized or use a fax machine! DoNotPay lets you draft, notarize, and fax any document using only your phone! 
Get That Cash With DoNotPay!
Do you know that DoNotPay can help you get money back from unused gift cards? We can also help you find any unclaimed money to your name (in any state) and claim it.
How else can you get your hands on some cash with DoNotPay?
You can also avoid spending extra money by reducing your property taxes, disputing parking tickets, or signing up for free trials with our virtual credit card.