Law School Scholarships—Discover the Low-Cost Way of Achieving Your Dreams
Studying law is one of the most expensive decisions a student can make. The grueling coursework paired with a ton of debt many law students are forced to carry can take a toll on anyone. Thankfully, there are plenty of law school scholarships for current and potential law students—if you know where to look.
The fact that there are numerous law school scholarships and grants can be a blessing and a curse—do you have the time to go through multiple websites to find the perfect opportunity? You can forget about endless digging through the Internet by using DoNotPay to find a comprehensive list of scholarships that fit your needs!
Which Universities Offer Scholarships for Law Students?
Various law schools in the U.S. offer lucrative scholarships to students of all kinds. Some of these schools include:
Suffolk University
San Francisco State University
University of Colorado Denver—Downtown Denver Campus
University of Missouri
What Kind of Law School Grants and Scholarships Are There?
Multiple factors are taken into consideration when looking for scholarships as a law student. You may find scholarships for:
Academically gifted students
Students in financial need
Scholarships for Law Students Based on Merit or Need
Several scholarships are available to students based on academic achievements, financial need, or both. The table below outlines a few such scholarships and the amounts awarded for each:
| Scholarship | Amount |
| --- | --- |
| American Bar Association Legal Opportunity Scholarship | Up to $15,000 |
| The NAACP Legal Defense Fund's Scholarship Program | $2,000–$10,000 |
| Sidney B. Williams, Jr. Scholarship | $10,000 |
| Rizio Liberty Lipinsky Lawyer Scholarship | $10,000 |
| Judge John R. Brown Award | $1,000–$10,000 |
Scholarships for Female Law Students
Law school scholarships for women include some of the following opportunities:
Mike Eidson Scholarship
American Association of University Women (AAUW)
Dorothy L. Weller P.E.O. Scholarship
Ms. JD Summer Scholarship
Horizons Women in Defense Scholarship
Justice Pauline Davis Hanson Scholarship
P.E.O. International Peace Scholarship Fund
Law Scholarships for Minorities
As issues related to minorities become more prominent, the need for representation in legal fields is also becoming more urgent. In an effort to provide equal opportunities to all aspiring law professionals, several scholarships for black law students, Hispanic students, Native American students, and other minorities are offered, including:
Milbank Diversity Scholarships
Farella Braun + Martel LLP Diversity Scholarship
Bradley Arant Boult Cummings Diversity Scholarship
AAJ Richard D. Hailey Law Student Scholarship
ABA Diversity Fellowships in Environmental Law
Defense Research Institute Diversity Scholarship
Baker Donelson Diversity Scholarship
Foley & Lardner Minority Scholarship Program
ABA Legal Opportunity Scholarship Fund
Frederickson & Byron Foundation Minority Scholarship
American Intellectual Property Law Education Foundation Scholarship
Faegre & Benson Diversity Scholarship Program
Law School Scholarships for Graduate Students
Finding graduate scholarships is often harder than undergraduate ones. Here are a few options available to graduate law students:
Anhelo Dream Project Scholarship
Richard D. Hailey Scholarship
Legal Opportunity Scholarship
Earl Warren Scholarship
Herbert Lehman Education Fund Scholarship
MALDEF Law School Scholarship
Attorney Ken Nugent Legal Scholarship
ABA Academic Merit Scholarship
LimNexus Scholarship
La Raza Foundation Scholarship
Law School Scholarships for International Students
Many international students aspire to study law in the USA but are discouraged due to the expensive tuition fees and high cost of living. Check out a few opportunities that can help make law school more affordable for international students:
The Law Student Fellowship Program
The Meldon Law College Scholarship Essay Contest
The Public Interest/Public Service Scholars (PIPS) Program
What Should You Do To Get a Scholarship for Law Students?
In addition to passing the LSATs and filling out the FAFSA form, many institutions and scholarship organizations will require you to write scholarship essays and have exemplary grades to qualify for a scholarship. They may also ask you to submit a resume, a cover letter, and one or more letters of recommendation to apply. Some schools administer their own qualification tests or host competitions to select recipients of awards and scholarships.
Find the Best Law School Scholarships in a Few Clicks With DoNotPay
As difficult it is to get into law school, it can be even more difficult to find the right scholarship. Whether you are a veteran, a high school senior, or a doctoral student, you can save your energy by using the DoNotPay app to find scholarships!
Here is what you have to do:
Sign up for DoNotPay in your preferred browser
Search for the Apply for Scholarships product
Select your current level of education and provide a few details about the degree and scholarship you want to pursue
Our app will show you a customized list of scholarships you can apply for! If you want to escape essay prompts and the competitive scholarship application process, choose the no-essay options and apply automatically through our app!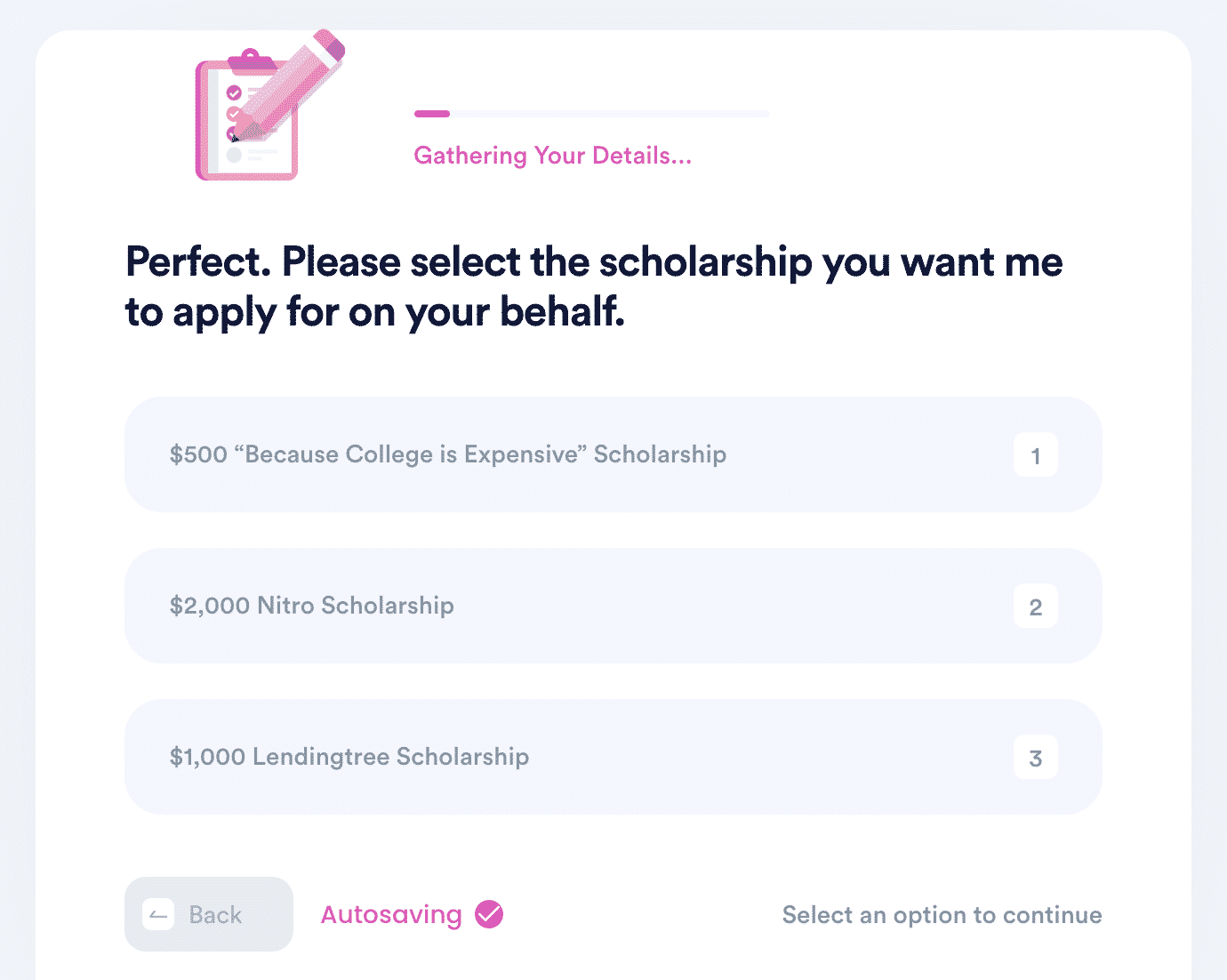 Don't Stop There—Check Out DoNotPay's Product Range
DoNotPay has many tricks up its sleeve—no matter the admin or legal issue at hand, our AI-enabled app can power through it in a split second. Look into our product range to find out how you can:
What Else Do You Need? DoNotPay Will Provide!
If you want to cancel a subscription before your free trial expires so that you don't get charged, you can count on our virtual credit card to do it in your stead! We can also make sure that you get what's rightfully yours—be it a refund, insurance, warranty, unclaimed money, flight refund, raffle ticket, or gift card cash back.
You no longer have to go through legal or administrative hurdles on your own—as soon as you sign up for DoNotPay, you'll get access to our app's assistance and will be able to use it to fight injustice.