All You Need To Know About the Laundromat Startup Cost
Are you looking to start a laundromat business? Taking out a loan for a startup business can help you cover the steep expenses associated with the industry. Read our article to:
We will also teach you how to use our app to find a suitable lender and send a professional loan request letter effortlessly.
One-Time Laundromat Business Startup Costs
Starting a laundromat business can be an expensive endeavor. Consult the table below for a brief rundown of one-time costs that you will have to cover:
Expense
Amount
Land/Space

Buying a land of 2,000 square feet: 200,000 to $500,000
Franchise: $75,000 and $300,000

Washing machines and dryers

Top loader: $500 to $700
Front loader: $3,500 to $20,000
Stacked dryers: $5,000 to $6,000

Licenses and permits
Sewer line installation
$1,333 to $5,179
Water heater
$15,000 to $40,000
Card reader
$40,000 to $80,000
Security system
$6,000 to $10,000
Electrical panel upgrade
$2,000 to $30,000
Folding table
$150 to $1,500
Bill and coin changer
$500 to $3,000
Automated Teller Machine (ATM)
$2,000 to $7,000
On average, the initial cost of opening a laundromat business can reach over $1 million.
Recurring Laundromat Startup Expenses
Once your store is open for business, you need to keep up with the ongoing expenses that are necessary to sustain it.
When planning your budget, consider the following:
Expense
Amount
Insurance

Commercial property insurance: $1,000 to $2,000 per year
Employee insurance: $936 per employee annually

Staff payroll

Laundry attendant: $9.16 per hour
Cleaner: $11.08 per hour
Customer service: $10.92 per hour

Washing supplies
$750 to $1,000 monthly
Marketing
7–8% of your total revenue (assuming your net profit margin ranges from 10% to 12%)
Choosing Small Business Loans for Laundromat Startups
The costs of opening and running a laundromat startup are high—almost no one can cover them. That is why it is crucial to find the best small business loan that fits your business needs.
You can qualify for most loans if you have a good personal and business credit score. Most banks and other lenders may also require you to have a clear business plan, some experience in the industry, and collateral assets.
Some of the most popular business loans for laundromat startups include:
When evaluating your small business loan options, consider aspects such as the:
Create a Flawless Loan Request Letter To Boost Your Chances of Getting a Loan
Even if you qualify for a loan, lenders can still reject your request on the grounds of incomplete paperwork or missing information. A key document for your loan application is a loan request letter that needs to be professional, error-free, and convincing.
An attorney can help you draft a letter and gather the necessary paperwork, but their service does not come cheap.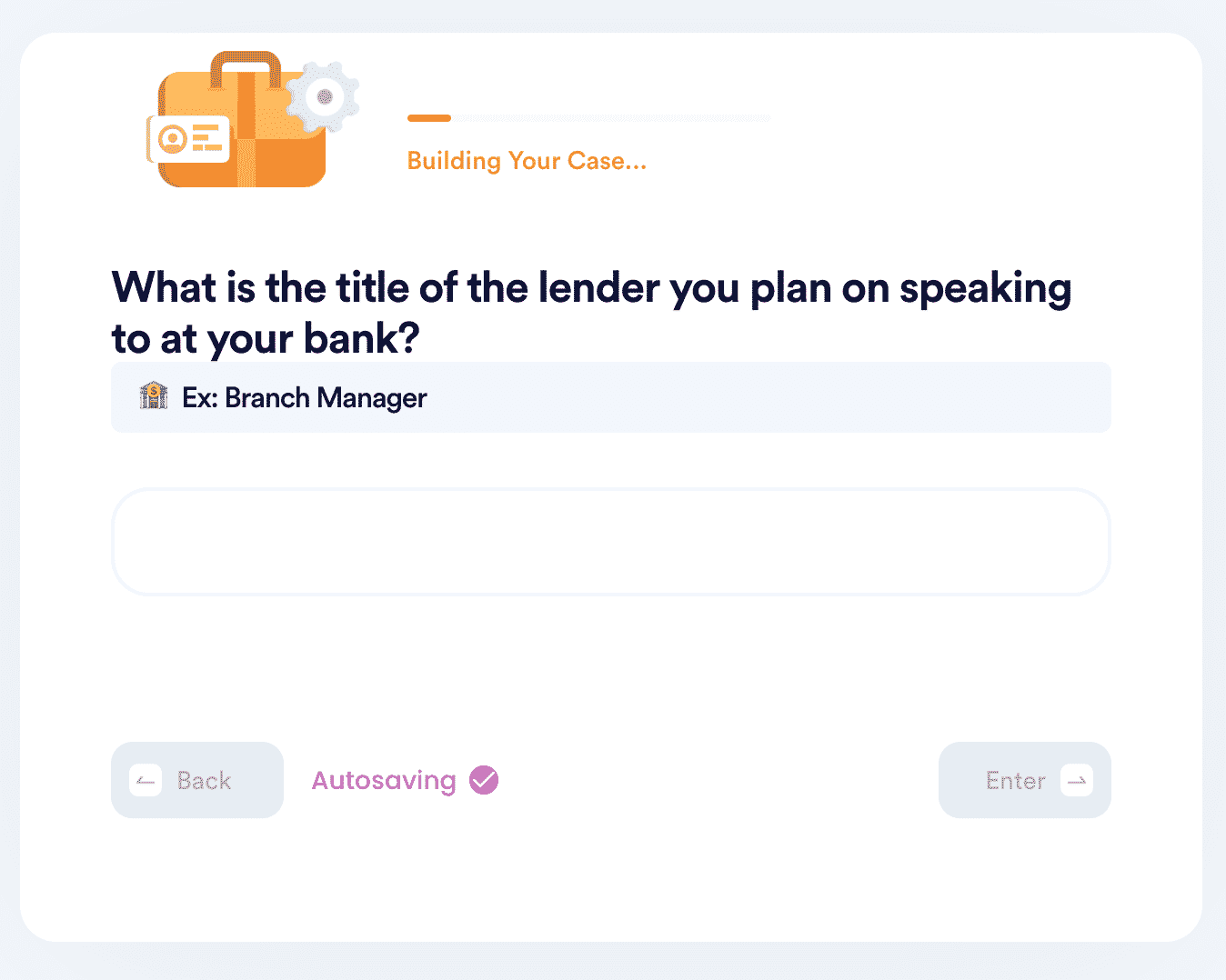 To get a properly written letter without breaking the bank, you should rely on DoNotPay—the world's first robot lawyer that can assist you with various tasks, including writing a professional loan request letter. To use our app, you must do the following steps:
Open the Business Loan Request Letter product
Collect your credit scores and prepare relevant business statements
Provide the required information and upload the documents
Within minutes, our app will generate a mistake-free loan request letter and send it to the lending institution of your choice.
DoNotPay Offers a Hassle-Free Method of Finding Top Lenders
Don't know how to find a suitable lender? DoNotPay can find the best online lenders in no time. Here is what you need to do:
Locate the Find Online Business Loan Lender feature
Answer some questions regarding your loan requirements and business priorities
Describe your business type and industry
We will compare various options based on possible loan amounts, rates, terms, and processing speed and list the best ones.
Common Laundromat Startup Mistakes To Be Aware Of
There are a number of reasons why a laundromat business may fail. You can prevent that from happening by avoiding the following mistakes:
Purchasing poor-quality equipment—While it is essential to keep expenditures low, you can save so much money in the long run by investing in high-quality equipment initially
Ignoring maintenance and repairs—Your equipment needs regular maintenance so it doesn't break down. Set aside enough money for this expense so you can cover repairs right away
Neglecting customer engagement and marketing—While it is easy to lose yourself in the routine of running your business, you must not neglect advertising and marketing to foster customer loyalty and attract more clients
Get Down to Business With DoNotPay
If your to-do list is getting longer by the day, we offer numerous solutions. You can focus on growing your business while we handle the endless administrative tasks.
Here are some of DoNotPay's products and services that will assist your company tremendously:
DoNotPay Feature
Our App Will
Trademark Registration

Complete your company name, logo, or slogan registration application
Submit the application in your stead

Trademark Protection

Perform monthly checks
Notify you in case there is any trademark infringement
Help you file cease and desist letters

EIN Registration

Fill out and file your Employer Identification Number (EIN) application
Notify you of your new EIN

Register a DMCA Agent

Complete the DMCA agent registration process
Register the designated agent with the U.S. Copyright Office
There Is Even More We Can Do for You
Navigating the business world can be overwhelming. If your paperwork is piling up and disputes keep emerging, start using our app and declutter your workday from numerous chores.
The world's first robot lawyer can help you deal with the following: