All You Need To Know About the Latvia Tourist Visa
Can you visit Latvia without a tourist visa? DoNotPay explains the entry requirements of the land of 12,000 lakes and 3,000 rivers and offers information about whether a Latvia tourist visa is necessary to enter the country!
Is a Latvia Tourist Visa Necessary if You're From the U.S.?
No, Latvia allows U.S. citizens and passport holders to stay in the country for up to 90 days within six months without having to apply for a tourist visa.
Despite not needing a Latvia tourist visa, the country requires you to provide the following to be granted entry:
A U.S. passport, the validity of which must exceed the duration of your stay by at least three months
A health insurance policy
The QR code you receive after you complete the mandatory COVIDpass form
If you want to stay longer than 90 days, you will have to contact the Office of Citizenship and Migration Affairs in Latvia to obtain a temporary residence permit.
COVID-19 Restrictions in Latvia
The Centers for Disease Control and Prevention (CDC) issued a Level 3 Travel Health Notice for Latvia because of the previous high presence of the virus and the increased number of infected people in the country. Despite being labeled as a high-risk country, Latvia allows entrance to tourists under the following conditions:
Travelers aged 11 or older must provide a negative PCR test taken no longer than 72 hours before arrival
Tourists can avoid PCR testing if they provide proof of

Vaccination
Recovery from the virus

Passengers who test positive for COVID-19 on arrival will have to pay for their self-isolation accommodation
At the time of writing this article, a PCR test costs about €29 (or around $35) in Latvia.
Since new cases are on the low, Latvia is likely to alleviate some of the restrictions, but you should check the website of the Latvian Embassy for any updates.
Who To Call if You Have Questions About Latvia's Entry Requirements
Take a look at the following table to find contact information for all Latvian diplomatic missions in the United States:
Diplomatic Mission
Phone Number
Email
Address
Embassy of Latvia in Washington DCs
202-328-2840
embassy.usa@mfa.gov.lv
2306 Massachusetts Ave., NW Washington DC 20008
Latvian Honorary Consulate in Houston
713-888-0404
spayne@swbell.net
# 5120 Woodway Drive, Suite 5004

Houston, TX 77057

Latvian Honorary Consulate in Margate
954-201-6933
bmowell@broward.edu
3122 West Buena Vista Drive

Margate FL 33063

Latvian Honorary Consulate in Chicago
312-730-7459
rblumbergs@msn.com
# 230 W. Monroe Street, Suite 1125

Chicago, IL 60606

Latvian Honorary Consulate in Marietta
404-496-4050
casebier@me.com
3225 Shallowford Road

Suite 910

Marietta, Georgia 30062

Latvian Honorary Consulate in Los Angeles
844-277-2639
bunkis@ocps.com
4501 Birch Street, Suite B

Newport Beach, CA 92660

Consulate of Latvia in New York
917 402 2853
info@latvia-newyork.org
35 Christopher Street, Suite 1D

New York, NY 10014
How Can DoNotPay Help You on Your Trip to Latvia or Any Other Destination?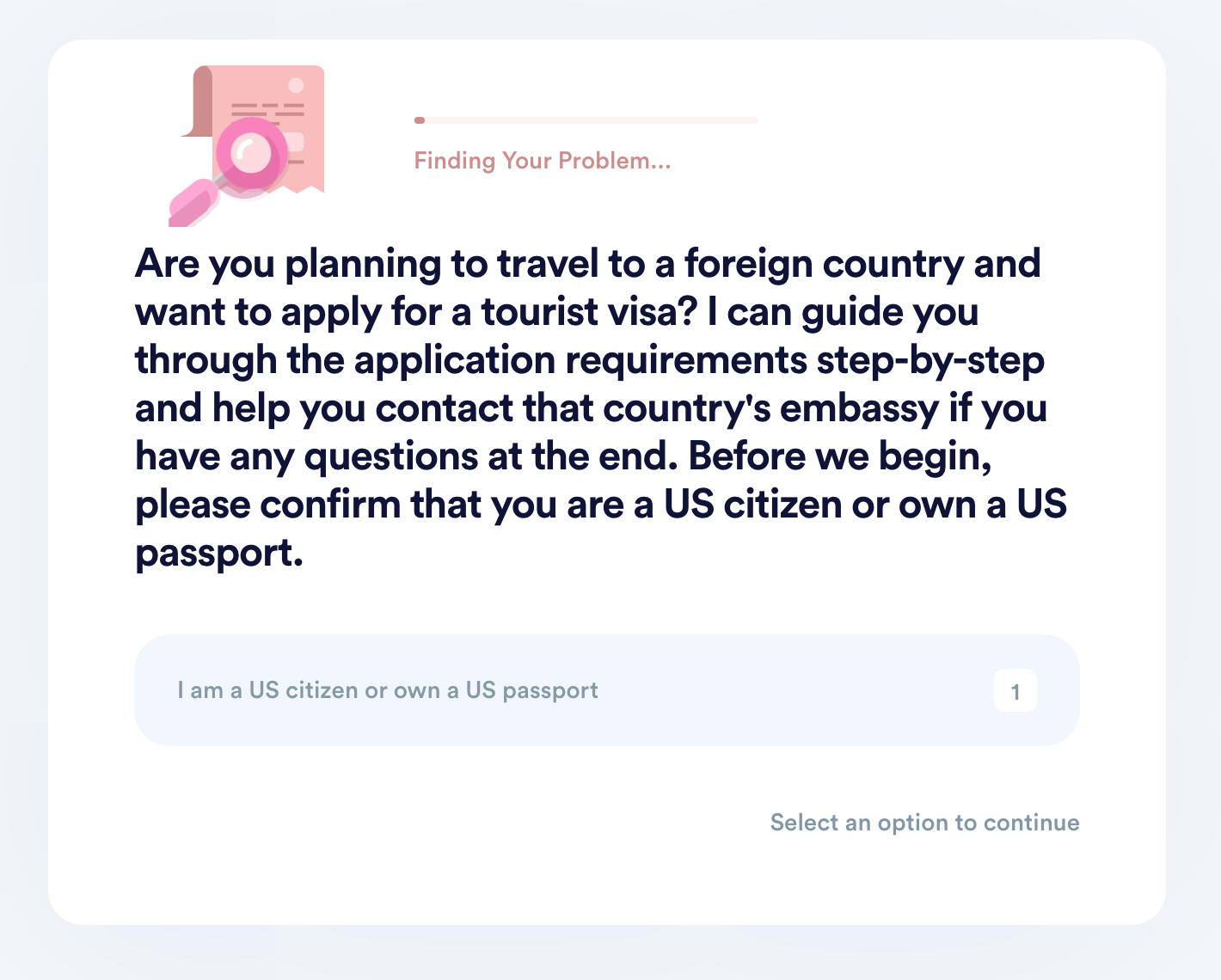 DoNotPay—your virtual assistant—is a reliable source you can turn to when you need up-to-date information about any tourist visa in the world. Not only do we provide essential resources for your tourist visa application, but we also check for the fastest application method available so you can secure your tourist visa before your vacation.
Our app will:
Check whether your next destination requires a tourist visa
Inform you about the allowed duration of your stay if a tourist visa is not necessary
Walk you through the required paperwork to ensure you have everything you need
Contact the country's embassy to inquire about remote application options and provide you with a direct link if there is one
To get the latest information about the tourist visa for Latvia or any other European country, follow these steps:
Access the Tourist Visa Gude feature
Enter your next destination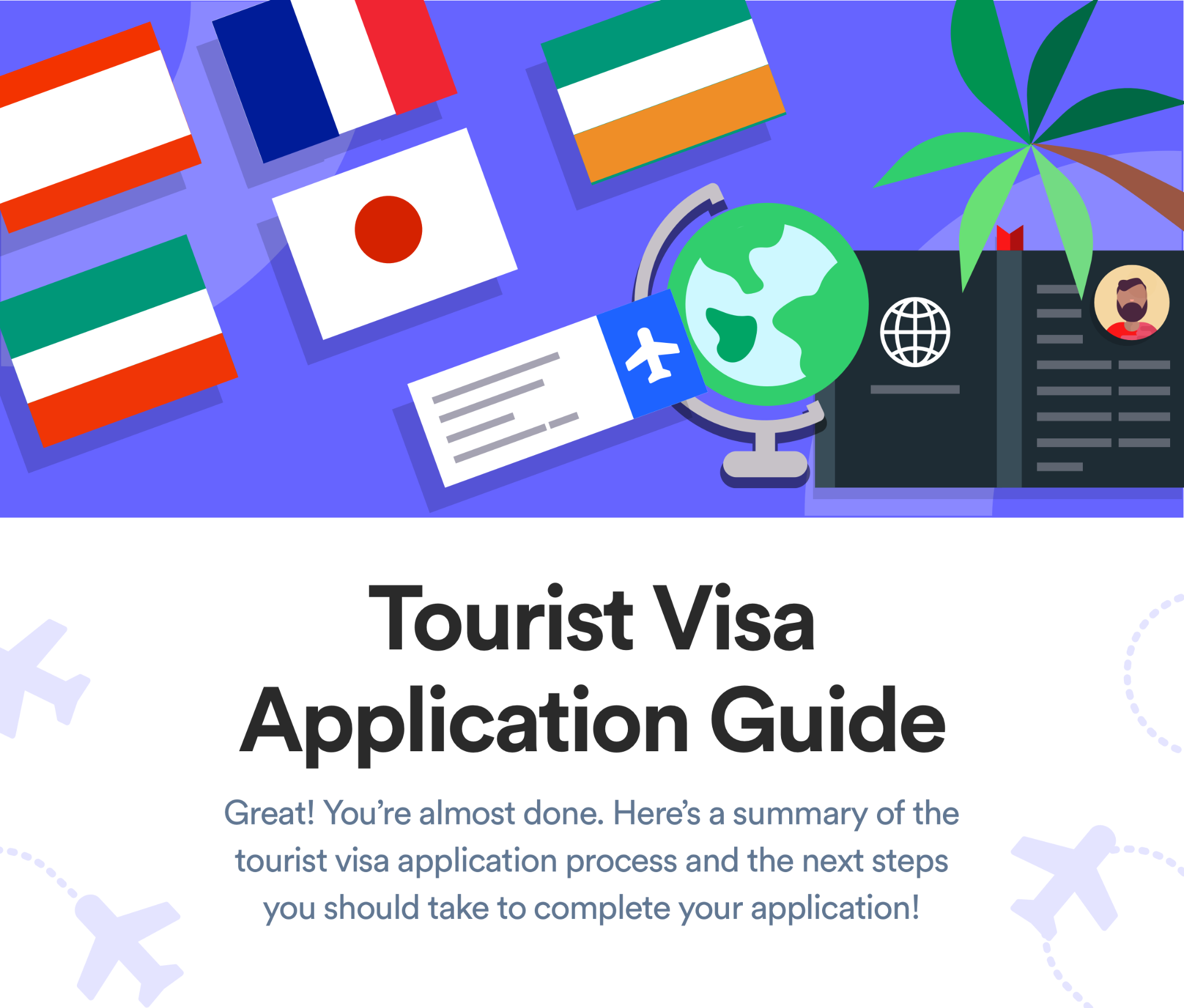 Latvia—Travel Recommendations
Take a look at the table below to learn more about interesting locations you should visit and local dishes you must try in Latvia:
Interesting Locations
Parks and Beaches
Local Dishes

The Town Hall Square in Riga
The Seaside Open Air Museum in Ventspils
The Ligatne Bunker
The Old Sigulda Castle
Bauska Castle
The Latvian National Opera
Turaida Museum Reserve
Riga Zoo

Kemeri National Park
Razna National Park
Jurmala Beach
Ventspils Beach
Saulkrasti Beach
Rocky Seashore of Vidzeme
Vecaki Beach
Lackrogs lake

Pelēkie zirņi ar speķi
Maizes zupa
Rupjmaize
Frikadeļu zupa
Kliņģeris
Skābeņu zupa
Griķi
Aukstā zupa
Karbonāde
Pīrādziņi
Travel Worry-Free to Any European Country With DoNotPay
Subscribe to DoNotPay to ensure smooth sailing with any European tourist visa application. The following table contains only a fraction of the European countries whose entry requirements we explained in detail:
DoNotPay Goes the Extra Mile for You
We are dedicated to providing solutions to difficult and time-consuming tasks you may have on your to-do list. If you are struggling to reduce your monthly bills, contest parking tickets, or set DMV appointments, DoNotPay will help you do it in no time!
We have also created numerous easy-to-use features that can make the following procedures run smoothly:
Get Justice From Companies That Wronged You
Do you feel like you have been played by a company? Instead of wasting your time writing requests, demand a chargeback or refund or claim a warranty via DoNotPay! If the company doesn't seem too cooperative and keeps refusing to return your money, our app can assist you in suing it in small claims court.
To help you save some coins or regain what's yours, DoNotPay will also help you locate unclaimed funds, submit insurance claims, lower your property taxes, and cash out gift cards.