The Las Vegas Victims' Fund Helps Victims of the Route 91 Festival Shooting
On October 1, 2017, a gunman opened fire on attendees of the Route 91 Harvest Festival in downtown Las Vegas. Of the 22,000 festival visitors, 60 were killed and 411 injured, and the Las Vegas Victims' Fund was set up to collect and distribute compensation payments to the victims.
Being the victim of violent crime is traumatic and can have long-term repercussions. DoNotPay is your partner in understanding what compensation is available, how you can access victim compensation funds, and how to recoup at least some of your losses.
What Is the Las Vegas Victims' Fund?
Similar to the fund set up to compensate the victims of 9/11, the Las Vegas Victims' Fund (LVVF) was established in the aftermath of the Harvest Festival shooting to collect money for distribution to victims.
By March 2, 2018, over 90,000 donors had contributed more than $31.4 million to the Las Vegas shooting victims' fund, split roughly as follows:
$5.2 million from the Vegas Strong Fund (comprising Las Vegas Sands, Wynn Resorts, Caesars Entertainment, Boyd Gaming, and Red Rock Resorts)

$4 million from MGM Resorts

$1 million in matching funds from Zappos

$700,000 from the Vegas Strong benefit concert

The remainder from private donations
The fund was overseen by the LVVF Board, which determined how the money was to be distributed and who was eligible for compensation.
Who Was Eligible To Claim From the LVVF?
The LVVF Board decided that claimants should fulfill the following criteria:
| | |
| --- | --- |
| Claimant Category | Explanation |
| Survivors of victims | The surviving spouses of victims killed in the assault were eligible for the highest level of compensation, as were minor dependents |
| Victims with permanent injuries | Victims with permanent brain damage or requiring permanent care as a result of their injuries were offered the next level of compensation |
| Victims with temporary injuries | Those victims with recoverable injuries were eligible for the third tier of compensation |
How Much Money Was Paid Out in Compensation?
In the aftermath of the shooting, 532 claimants were identified, and the LVVF Board developed a plan to compensate them according to the injuries they sustained.
On top of the LVVF's funds, state and federal grants boosted the compensation amounts to reach a total of over $800 million. These were distributed among the victims using complex calculations involving:
Severity of injuries sustained

Expected lifetime earnings of the victims

Medical costs incurred

Recovery prognosis of the victims

Long-term health implications as a result of the crime
The amounts paid out directly by the LVVF were in the region of $275,000, and the funds went to the 58 families of the murdered victims and those who suffered permanent brain damage. Victims hospitalized for 24 days or more as a result of the shooting were paid $200,000 each.
Nevada sets a limit of $35,000 in compensation to the victim of a violent crime, so the LVVF payments represented a significant increase compared to the norm.
The LVVF was wound up after all payments had been completed and a final auditor's report had been compiled at the end of 2018.
What Can You Do as the Victim of Violent Crime?
If you are the victim of violent crime, you suffer pain and trauma that no amount of money can recompense.
You may be eligible to receive compensation for expenses you have incurred as a result of the violent crime, though, such as:
Medical expenses

Loss of earnings

Direct costs
Medical Expenses
You can claim compensation for medical expenses, including:
Hospital stays

After-care and rehab

Counseling

Dental work
Loss of Earnings
If you are unable to work as a result of injuries sustained or have to take time off work to attend court proceedings, you can claim compensation for the amounts lost. The families of homicide victims are also eligible for compensation.
Direct Costs
Funeral or burial costs are claimable, as are emergency expenses for victims of domestic abuse or relocation costs to rehouse these victims.
Your state will have a crime victims' compensation board that will be able to help you receive the compensation you deserve.
How Can DoNotPay Help You?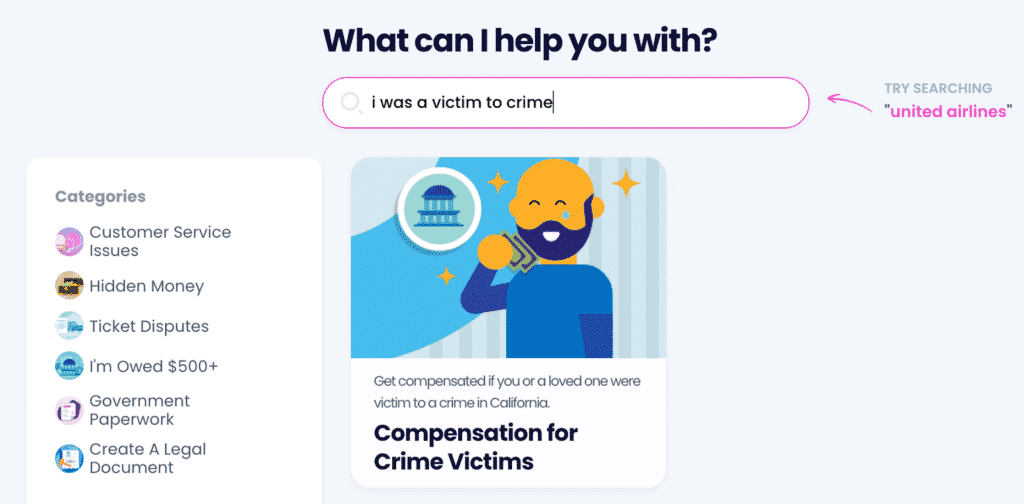 We understand the pain you are suffering as a victim of crime, and DoNotPay is here to help. We have created a feature to in a few clicks—all you have to do is follow these steps: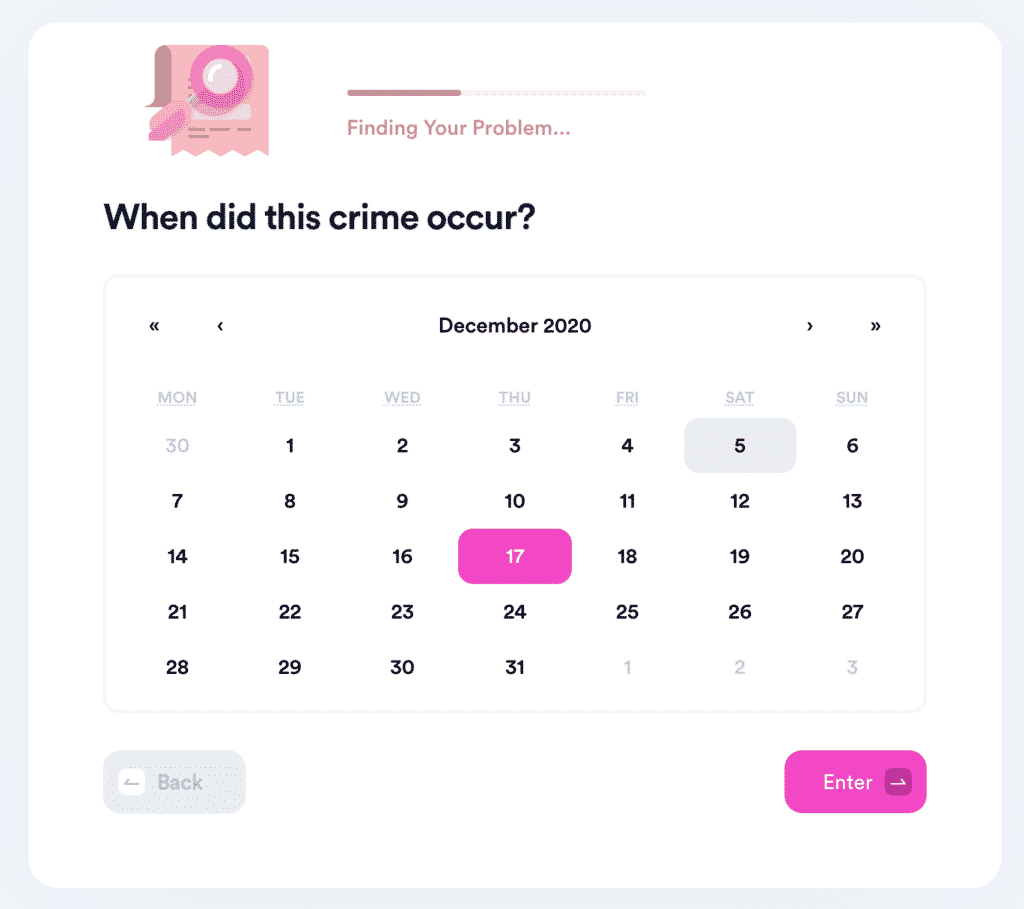 in your web browser

Find the

Compensation for Crime Victims

feature

Let us know whether you are the victim or another claimant

Give us the details of the crime that we need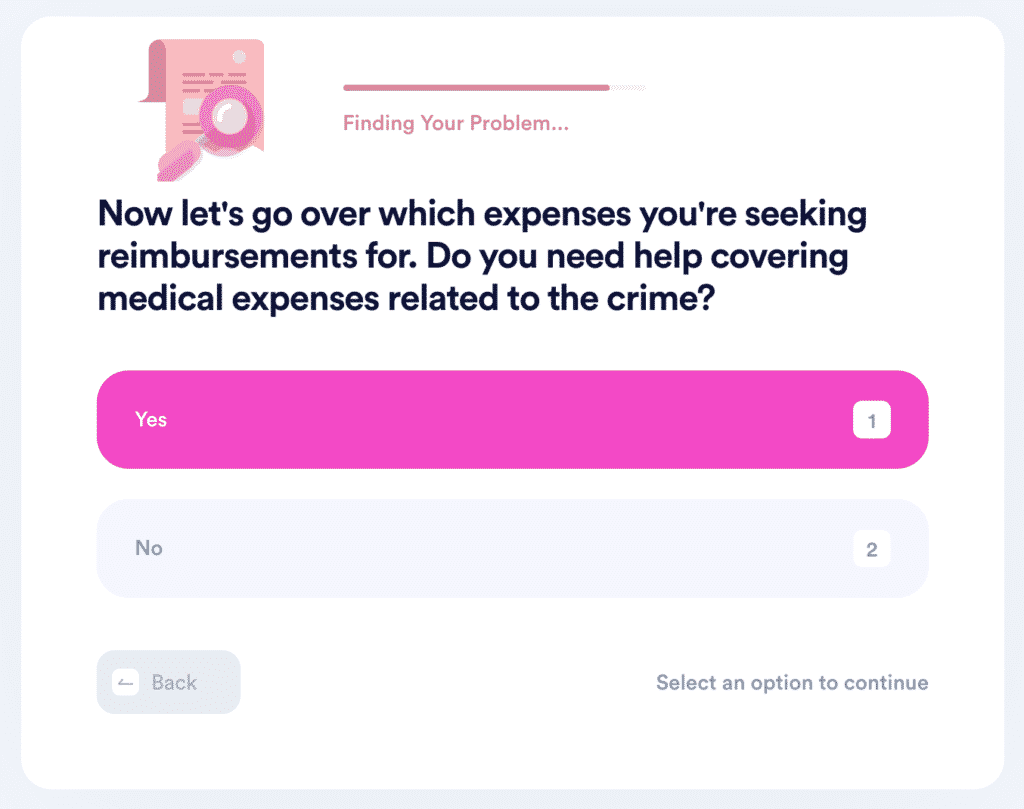 What Happens Next?
Once your claim has been lodged, the crime victims' compensation board in your state normally expects to process it within 30–90 days.
If you are unhappy with the outcome of your claim, you are allowed to appeal the board's decision. Each state has different regulations regarding the appeals process, but your compensation board will help you with these.
DoNotPay—The Easy Way To Save Money
If it looks like your wallet has a hole and the money keeps pouring out for unnecessary expenses, it might be time to come up with a better saving strategy.
DoNotPay uses AI-powered technology to identify the best opportunities for some serious penny-pinching or earning a few extra bucks:
Do You Need Help With All That Paperwork?
Saving money is great, but cutting the time wasted on bureaucracy sometimes sounds even better. DoNotPay joins the best of both worlds and helps you avoid boring paperwork while preventing future unnecessary charges and expenses.
With our help, you can enjoy free trials without any risk, file insurance claims, or handle issues with credit cards.
You won't have to waste time on researching the right procedures or pay for help if you need to stop stalkers and harassers or put together all sorts of legal documents.